After figure skating star Adam Rippon came out publicly in the fall of 2015, he became the first openly gay U.S. athlete to qualify for a Winter Olympics. Through his ensuing LGBTQ activism, he's become a hero to queer youth around the world.
And since hanging up his skates, the two-time national silver medalist and 2018 Olympics bronze medalist has received even more accolades for his LGBTQ advocacy. Most recently, on April 27, the San Francisco Gay Men's Chorus (SFGMC) honored Rippon with the Trailblazer Award at its 41st Season Crescendo Gala, an evening of performances and awards recognizing this year's agents of change, who use their public platforms to uplift and support LGBTQ youth.
Other honorees at the gala, which took place at The Fairmont San Francisco and benefited SFGMC's anti-bullying program RHYTHM and the It Gets Better Project, included Tony Award-winning actress and singer Kristin Chenoweth and Zendesk CEO Mikkel Svane.
48 Hills spoke to Rippon, whose YouTube show "Break the Ice" debuts this week and whose memoir Beautiful on the Outside is due out this fall, about being a trailblazer on and off the ice, the bullying he experienced growing up, and how it can indeed get better after coming out.
48 HILLS What does it mean to you to be the recipient of the Trailblazer Award tonight?
ADAM RIPPON It's a little surreal. I'm just feeling really lucky to be here, especially to be honored by the San Francisco Gay Men's Chorus. They're the original trailblazers and continue to do such great work around the country. So to be honored by them tonight is something that's so incredible that I've been looking forward to for such a long time.
48 HILLS One of tonight's beneficiaries, SFGMC's RHYTHM, works to eradicate bullying, something that many of us in the LGBTQ community have experienced. Is bullying something you suffered in your own life?
ADAM RIPPON When I was young, of course, I got bullied and teased. I was always the smallest kid in my class. Then when I started skating, I was in school just a few days a week, because I'd be traveling to go and train, so I was so focused on skating that it never bothered me.
Now, I know that's not the case for a lot of kids growing up and it can be very intense and very stressful. But the older that you get, you find people who become your extended family or your additional family or just your family. When you find those people — sometimes it takes a few years and making mistakes and learning more about yourself — but when you do that, that's what really embodies the "it gets better" part.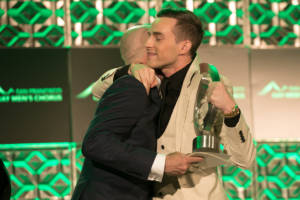 48 HILLS Speaking of the It Gets Better project, how has it gotten better for you over the years?
ADAM RIPPON I think it got better when I finally realized that I had nothing to lose because I took more chances and more risks.
And sometimes you feel that taking a risk is just going outside and being yourself. But when I was able to do that, that's when I was my best in my personal life and in my professional sporting career. So that's when I really started to embrace who I was and just be the best version of myself.
48 HILLS The choice to come out is a very personal one. But for those who are currently grappling with living more authentically, can you talk about the pros?
ADAM RIPPON I think coming out is really personal, but I believe that if you're comfortable and feel good in your own skin and you come out, you're giving permission to someone who's in a situation where they don't feel comfortable, where they feel like they're gonna be excluded or lose people in their life that they love, to be themselves, too.
It's so powerful to see somebody like you being successful, doing good things, and achieving their dreams. When you see that, you almost feel like it's possible for you.
I was inspired by people who came out before me in sports and I watched so many coming out videos on YouTube back in the day. Watching those inspired me when I was young and wanted to do the same thing.
48 HILLS You have a YouTube show premiering this week and a new book coming out this fall. What can you tell us about these latest projects?
ADAM RIPPON I just launched a YouTube channel and my favorite part about it is that starting May 1st, I'm gonna be premiering a show called "Break the Ice" that I produced at Portal A.
Basically, the concept of the show is that I bring someone onto the ice for the first time and interview them. While I'm interviewing them, they get a skating lesson, and at the end of the episode, they have to put together a performance for me. So we had so much fun and I was lucky for our first season that I got some really incredible people like Billy Zane, Manny MUA, Gus Kenworthy, and the Ziegler sisters.
I have a book that's coming out on October 15th called Beautiful on the Outside. The book is about me, the thing I know best. But I think it was so fun to write because, in this period of my life where everything is so different and changing, it was like therapy. If you can get therapy and also be paid to write a book, it's a win-win.