An advocacy group for homeless people has just released a stunning set of videos that demonstrate how police and city workers are taking away – and never returning – the property of homeless people, in violation of local rules.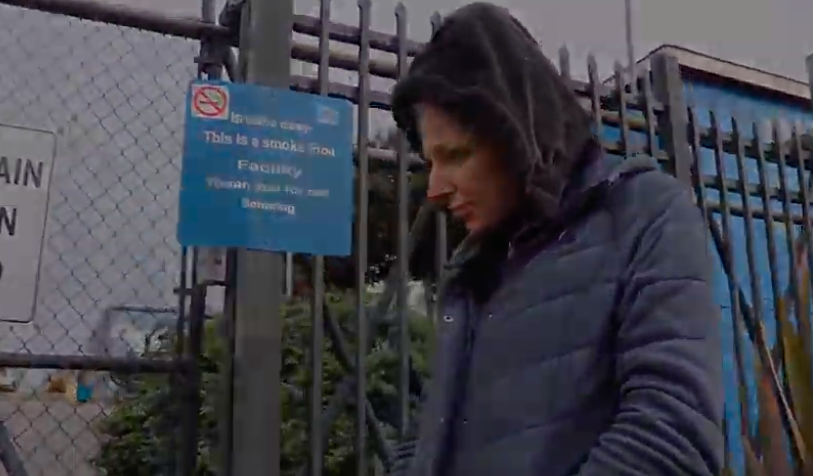 The videos by The Stolen Belonging project, a collaboration with Leslie Dreyer, Coalition on Homelessness, and unhoused San Franciscans, include an interview with a former worker for the Department of Public Works who says that he was never trained to tag or protect the possessions of people caught up in homeless sweeps and that – at the direction of the cops and his supervisors — most of their stuff is simply thrown away:
INTERVIEWER(S):Did you ever come upon homeless encampments or people's belongings when you worked for DPW?

FORMER DPW WORKER: Yes.

INTERVIEWER(S): And what did you do with those items that you came upon?

FORMER DPW WORKER:The company and the supervisors would say to throw the belongings away, like their tents and all that and their clothing and their belongings they got.

INTERVIEWER(S): Okay. Would your supervisors ever tell you about the correct policy?

FORMER DPW WORKER:Yeah, I was never trained to see the policy and the rules and all that. They never told me nothing, to do none of that.

INTERVIEWER(S): You just followed the supervisors?

FORMER DPW WORKER:I just followed the boss' commands what to do, so that was about it.
More:
INTERVIEWER(S): But once you've decided, or you've been ordered by police, to confiscate their stuff? Do you give them any sort of receipt? Do you bag and tag it?

FORMER DPW WORKER:No

INTERVIEWER(S): Does it just go in the back of the truck?

FORMER DPW WORKER:Just toss it.

INTERVIEWER(S): So what happens at the DPW yard when these people come to get their stuff?

FORMER DPW WORKER:Their belongings?

INTERVIEWER(S): Um, hm.

FORMER DPW WORKER:Well, they'll try to get them back, but it's too late.

INTERVIEWER(S): It's usually gone?

FORMER DPW WORKER:It's gone.
The former worker is, of course, anonymous, but SF Weekly's Nuala Sawyer confirmed that the person was, indeed, a DPW employee.
By law, if DPW and the police seize the property of homeless people in the sweeps that are still going on under Mayor London Breed, that property has to be put in a bag and tagged with information that would allow the owner to come and get it.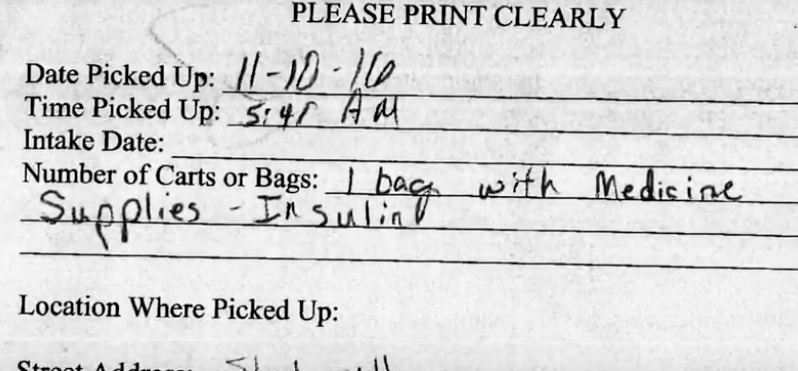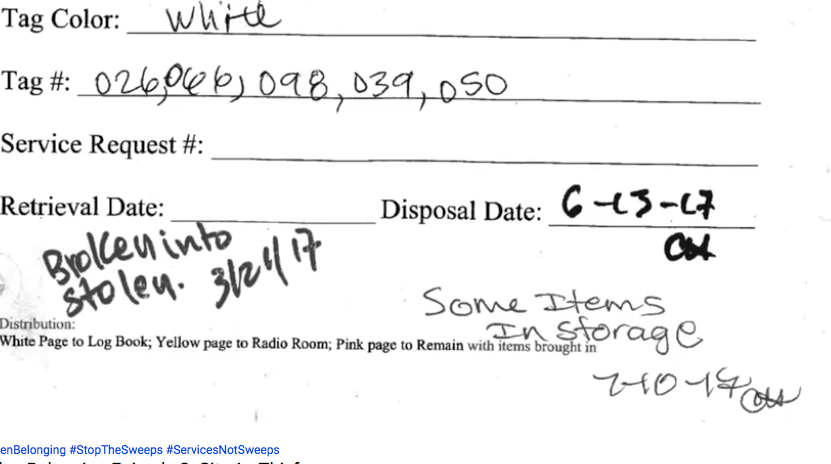 The site, stolenbelonging.org, includes a remarkable video of what happens when a homeless person tries to go to the DPW lot and reclaim her possessions.
She waits. And waits. In the rain. And then the place closes.
Homeless advocates say almost nobody ever gets their stuff back.
The group filed a public records request for all the "bag and tag" sheets, and found that many of them are vague, have no locations or names – and include critical things like insulin medication that have been taken.
I asked Rachel Gordon, the spokesperson for DPW, about this, and she hasn't gotten back to me. She told Sawyer that the lot where the homeless people's property is stored is prone to break-ins, and that a lot of the material gets stolen.
Dreyer, who helped produce the videos, told me that "we interviewed people all over the city," and that the reports were consistent: The city takes people's property – including critical items like medicine and shelter that they need to survive – and there's really no way to get it back.
This is what the sweeps look like under the current administration.