It's getting to the point where the term "best of" is just a part of every news outlet's annual marketing plan. Newspapers, magazines, websites, even TV now have "Best of San Francisco" features.
But the Bay Guardian was the first, the publication that started this concept, and it's still going strong after 45 years with our 2019 Best of the Bay.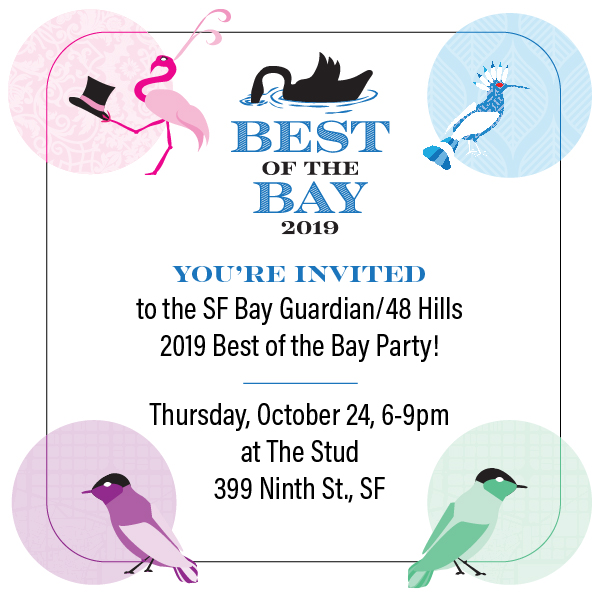 Back in 1974, Esquire Magazine decided to do a feature called "the Best of America." City by city, its reporters would track down the "best" from a short list of items ("Best Piano Teacher, Best French Croissant.")
When it came to San Francisco, Esquire realized that the Bay Guardian was perfectly positioned to do the local version; we were the only independent outlet involved in the feature.
For Esquire, it was a one-time thing. For the Guardian, it became a tradition. Year after year, we tracked down the "best" in what became an ever-growing list of categories. Then we decided to ask our readers what they thought —and the response was overwhelming.
This year, 7,000 people voted on 100 categories, selecting the best businesses, organizations, events … all of the wonders of this city.
And the Bay Guardian is celebrating Thursday/24, with a party at the Stud that will honor our winners – and promote the annual election endorsements issue.
It's 6pm–9pm, at the Stud bar, 399 Ninth Street— come and have a cocktail (and some cupcakes) and celebrate a San Francisco tradition.