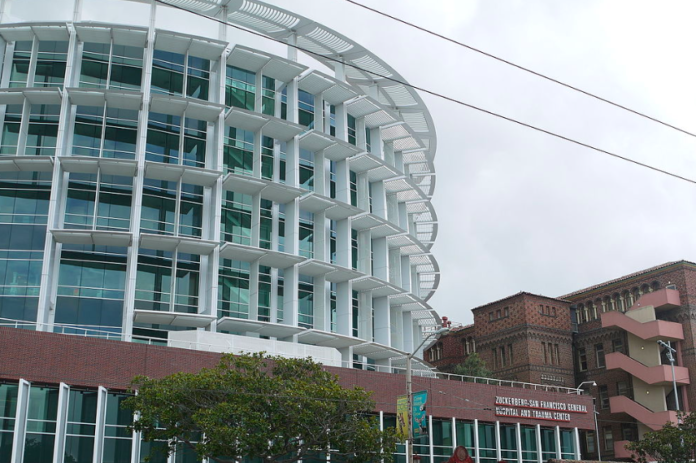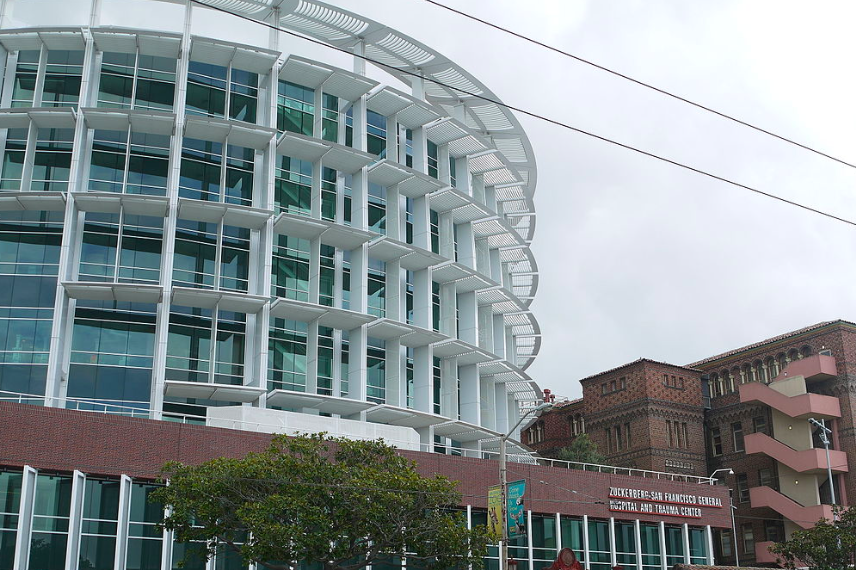 As a trauma nurse at San Francisco General Hospital, I fear that in the inevitable case of disaster San Francisco wouldn't be able to serve everyone.
Taken directly from San Francisco Department of Public Health webpage, "SFGH is the city's busiest emergency room and the only Level One trauma center providing life-saving care to the 1.5 million adults and children of San Francisco and northern San Mateo County."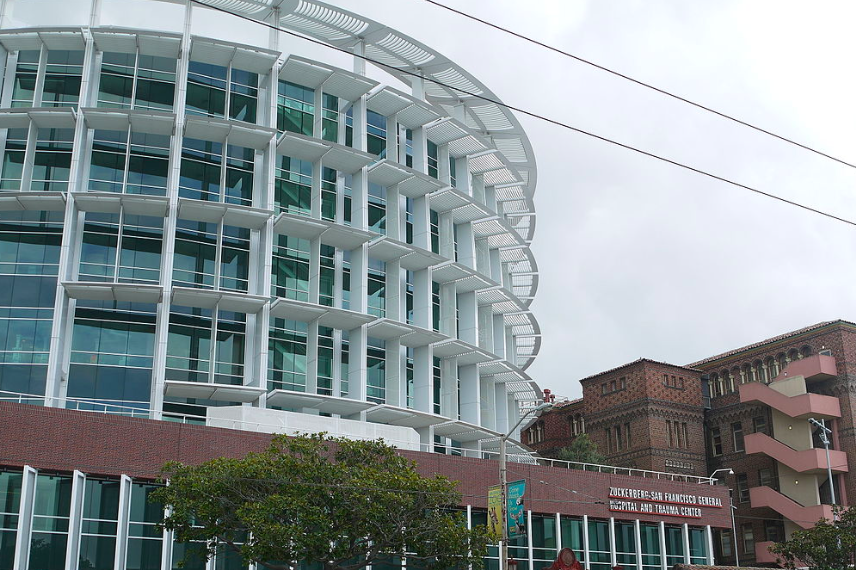 When I was hired, I was given a "disaster worker badge" that gives me access to a disaster zone as an emergency responder to help those in need during a catastrophe. I learned that in a citywide emergency, there are two lists the city can call from. The first list is frontline workers who live in SF, and the second list is all staff that live outside the city.
A large percentage of first responders can't afford to live in the city and resort to living in the East Bay or even farther away. I imagine it would be almost impossible for the majority of staff to cross the bridge or ride BART and help out in a crisis situation — particularly something like an earthquake that created widespread power outages.  This is bad news for our patients.
On Sept. 11, 2001, the world watched emergency response teams committing their lives and time away from their families to save lives and search for thousands of people. Knowing that SF is one of the largest cities in the US, it would be naïve for our leaders to assume something similar couldn't happen here.
A nurse colleague of mine recalls the Asiana plane crash at SFO in 2013 where 307 people were on board – and 187 passengers were injured and 49 seriously injured. She was in the emergency department that day and recalls a paramedic from SF fire department say something happened at SFO airport. A quick web search confirmed what was happening.
She immediately notified our leaders, helped direct a "multi casualty incident" activation and searched for Korean-speaking staff members. Minutes later, the calls started piling up. It was, indeed, a multi-casualty incident, which had the paramedics and SFGH staff working long hours to save every patient that came through the ambulance bay.
Thankfully, all the patients who arrived in our ambulance bay that day received the care they needed. I have unending respect for our frontline emergency response team and know they'd be as dedicated as those brave workers on 9/11 and the Asiana flight. But it scares me that today our leaders don't seem as dedicated to staffing for unpredictable and even predictable events, as they know disasters do and can happen any day in a large city like SF.
Our city leadership has allowed first responders to work over the last years in less-than minimum standards for emergency preparedness. The true number of vacant positions for frontline emergency staff is debatable due to the lack of transparency by city officials. What I experience first-hand is staffing that reflects up to 11 nurse vacancies in the emergency department at any given time.
SFGH advertises that the emergency department has 58 beds. Recent data shows that between 15 and 25 of those are beds closed every day due to lack of staffing. On multiple occasions, another 10-20 of those beds are taken up by patients who should be cared for in non-emergency wards upstairs – but there are not enough nurses upstairs.
So, in reality we often only have about 13 of those 58 beds actively open to serve true emergencies.
One SFFD paramedic told me he was concerned because on any given shift, there are fewer than 20 ambulances to serve the entire city. During my shifts, I usually see the same ten or 15 paramedics. On a KTVU News Investigates article dated October 8, 2019, Fire Chief Jeanine Nicholson voiced her concern about the need for additional paramedic staffing, "We run at level zero on a daily basis and level zero is when there are no ambulances available to respond to an incident. That speaks volumes to me." It speaks volumes to me as well. Every time a call is put on hold because an ambulance is not staffed, the more likely our patients will have delayed and possibly detrimental outcomes.
In addition, during contract bargaining in May 2019, our nurses' union, SEIU 1021, made claims that last year our administration allowed for about 40 percent of our SFGH nursing hours to be replaced with per-diem workers. A local news platform, Mission Local, tracked down the financials in an article dated May 28th, 2019 and were able to confirm on the SFGH financial reportsrevealing "a years-long pattern of busting budgets when it comes to per-diem nurses" and "through seven months of fiscal year 2018-19, it had already spent $34.3 million, despite budgeting only $17.8 million."
Mission Local goes on to say that, "These budget overruns dwarf the costs associated with increased staffing currently dividing the union and management — leading to charges from the unionized workforce that, in its refusal to add full-time employees, the Department of Public Health is being pennywise and pound-foolish."
I was able to research our emergency department schedule for October/November 2019. Simply by counting, it shows that 31 percent of our scheduled nurses are temporary and as needed nurses and 28 percent  of permanent staff are part time, ultimately showing that our leadership has allowed a situation where 50 percent of our currently scheduled staff are either temporary, per-diem, or part time.
This is a serious problem: The majority of temporary workers and some as-needed staff have no access to, and are not trained on, the city's disaster plan, and many are not specialized trauma nurses. That leaves our community in a very vulnerable state — many temporary workers are not invested in the whole picture of well-being for our city the way permanent workers are, and they have not been trained accordingly to our specific city procedures.
City officials aren't taking disaster and emergency preparedness seriously. The SFGH emergency department is constantly overcrowded. Many of the patients we see on a regular basis are forced to misuse our emergency services. On a typical shift, our emergency department is filled with homeless patients looking for a safe place to stay, drug addicts seeking detox assistance, and patients who struggle to schedule appointments with their primary care doctors earlier than three or four months in advance.
It's not their fault. The city isn't putting up the resources, and our patients are begging for help.
SFGH is the only level-one trauma center in San Francisco — which means if you experience a traumatic event, you come to us despite what insurance policy you have. We are also the main hospital to receive the incarcerated, unfunded, and under-served population.
I have had the pleasure of attending multiple Health Commission and joint conference meetings where supposedly highly qualified leaders present the concept of "The SFGH way." But the mission statement does not include a staffing plan or how our poor staffing will truly affect patient care.
It didn't used to be like this. I think the crisis is caused by multiple losses in oversight that have built up over time to create a systemic failure in the city.
It seems as if SFGH administration never actually addresses the concern for the fact that we constantly face overcrowding and chronic low staffing in every aspect of our SF community health system. Consistently, frontline staff has expressed their concerns that disaster preparedness programs will never work and our patients will suffer, if we are not properly staffed and trained.
We, the frontline first responders are here. We are ready for what might happen and we want to help every person who needs us. But our leaders are still busy making power-point presentations to distract our city from the impending doom they are failing to address. When will they wake up?
Christa Duran, RN, is a trauma nurse at SF General Hospital.