Tis the season to think of gifts for loved ones. If you're like me, your calendar starts filling up and you have so little time to go out and buy these gifts. Also, I don't have a lot to spend because all my money goes to staying in this crazy city.
This year, I decided to take care of it all with a few well planned stops. First, I went by my favorite thrift store, that or a dollar store of some kind would do. I picked up some Christmas mugs for fifty cents each. There was plenty to choose from and you can go for any look you like: modern, vintage, kitties, etc.
Next I stopped by a grocery store and picked up tea bags, hot chocolate mix, candy canes, and a couple of bags of candy. I chose Nestle's Candy Cane Kisses and Ghiradelli Chocolate's Peppermint Bark Squares. You can also pick up some plastic wrap or paper lunch bags to wrap up your presents.
Now, off to your favorite dispensary. I saved this for last because it's the most fun. I stopped by the Vapor Room on 9th Street near Mission to visit with my good friend Carson Higby Flowers who certainly has a name fit for someone working at a cannabis dispensary.
On a budget of less than $100, I bought fun stuff for my friends. I recommend all these items for use at any time, but in this case, it is for gifting.
First off, buy a starter joint just for you. I recently enjoyed a $7.50 joint from Pacific Reserve called Tropicanna Sunset. It was delicious and potent! I picked it up at ReLeaf on Mission. There were four bins of cheaper joints. All the bins were full except for one that had like 10 left. That's the one I chose, and BINGO, I had a Tropicanna Sunset party.
I also like the pre-rolls from Leprechronic ($5) which are cheap and always available at Grassroots near Polk and Post. The flower is good, and I just love their name and logo.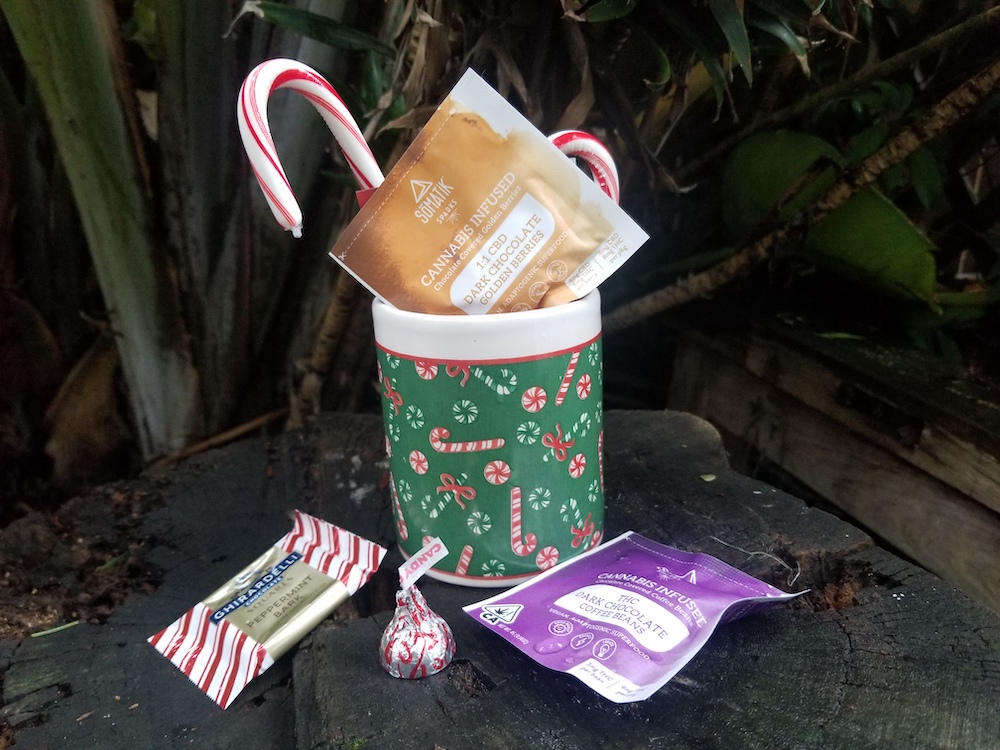 So you smoke your starter joint and turn on some holiday music (or whatever kind of music fits your mood), and bring together the three bags of stuff to mix and match.
First, I combined two amazing Kikoko products, the Cannabis Infused Manuka Honey Stick ($25) and Tranquili-Tea cannabis infused tea ($10), with some jasmine tea bags and some candies. 
Make the jasmine tea and swirl the honey stick until part of it melts into the liquid, sip, warm up and get a nice buzz. The Chamomile Lemon Myrtle tea bag is perfect for a good night's sleep. It doesn't kid around! Also, Kikoko is a women-owned and operated business!
Next, I combined some small Somatik products in a mug along with assorted candies. Somatik is a gay-owned and operated local company run by Chris Schroeder and Clayton Coker. I am a big fan of their products. It is quality microdosing whether it is their infused coffee or chocolate-covered Goji berries, golden berries or coffee beans. You can buy bigger containers and bottles of coffee as well to put in your mix (around $20 per bottle). These guys make a quality product, and they also give back to their community.
Thirdly, I combined candies and hot chocolate mix with Mellows, the cannabis infused gourmet marshmallows. I chose Strawberry Shortcake and Birthday Cake as my flavors. ($5 each) Now your loved one can make a nice hot chocolate with a tasty treat on top bound to bring a little bit of a lift in the end. 
See how easy it all is! You can make up all kinds of combos.
With some of my gifts done, let's turn to stocking stuffers. 
This year I chose Space Gem, the cannabis infused "Passion Fruit Gem Juice" made with premium "Ice Water Hash." ($18) It's a sweet syrup that tastes FANTASTIC. The box says "Pour 6ml onto your pancakes, ice cream or drink straight. New users: Start Slow." So beware, this nectar is so delicious, but it will bite back, in a stoney way. Yummy! Be sure and shake it well—the hash has a tendency to gather at the bottom.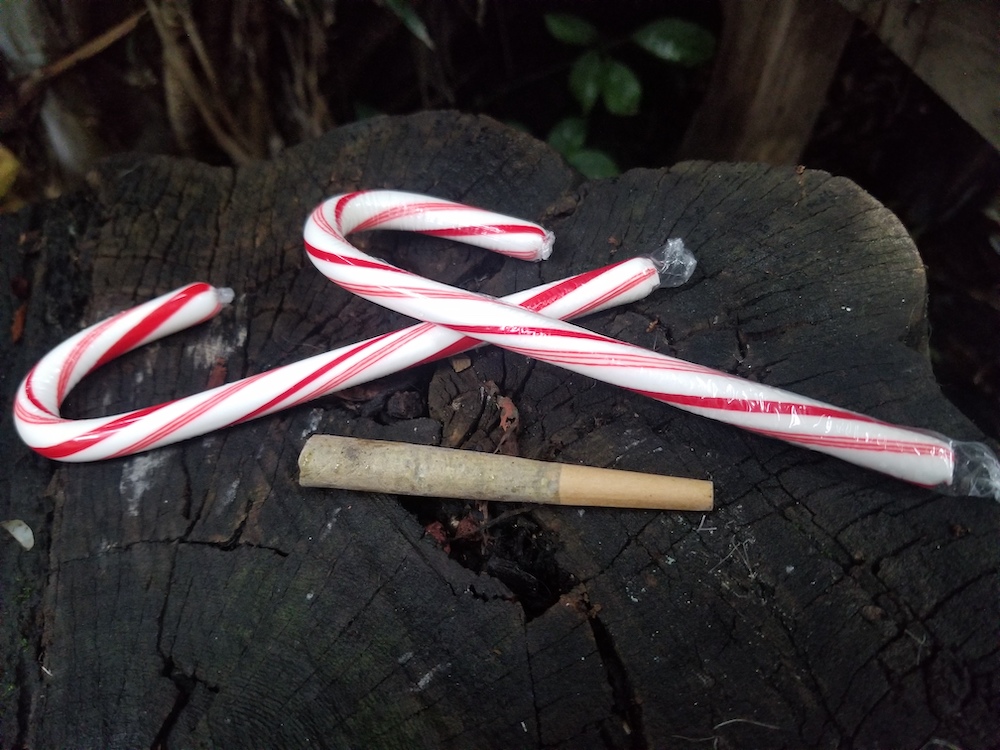 For me, the ultimate stocking stuffer is a pre-roll. My favorite new one this year is African Queen ($15) which is a terp infused, 1 gram joint that is made with sativas from South Africa. It tastes great and gives a great, light, social buzz perfect for a holiday get together. I couldn't find it on the internet, but have seen it at several dispensaries. 
Nug has packed up 6 pre-rolls in a handy round case. I tried the Watermelon Zkittles (Hybrid) pack, and they were tasty and did the job. ($38) I like the packaging which works well with putting them in your pocket.
So buy up your cannabis for the holidays and remember the wonderful State of California is raising your taxes on all cannabis products in the new year! There will probably be some amazing sales during the last days of this year so be aware. 
For now, let's enjoy what is left of 2019. Celebrate with friends, family and weed!
It's time to light up!