The first time artist Ana Teresa Fernández entered the Creativity Explored studio, she says she fell in love with the space.
"It's like what you think of as a little kid that Santa's workshop would be like," she said. "There's a bunch of individuals furiously working, and there's this energy and creativity. I wanted to attempt to replicate this and extract this and create it somewhere else."
The show of immersive installations the artists from Creativity Explored created working with Fernández, Of Here From There—De Aquí Desde Allá, will open Fri/6 at the San Francisco Art institute Fort Mason campus, and be on view through April 26. Animated and time lapse videos will be projected onto large-scale sculptures designed by CE artists—flowers, dragons, clouds, floating boats—that surround the visitor. Fernández videotaped the artists as they painted on translucent vellum, documenting their brushstrokes from the other side of the easel, like those of Jose Nuñez's repeating bird figures and Roland Record's growing labyrinths of lines.
As a visiting artist-in-residence, Fernández, who received her MFA from SFAI in 2006, did more than 15 workshops with CE artists, who have developmental disabilities. She explored the ideas of migration, home, and place with the artists, a large number of whom are from South America and Central America.
Fernández says she was fascinated by the way the artists made marks, the language of those marks, and how art was a means of expression for the artists. She's taught at many schools in the Bay Area including Stanford University, University of California at Berkeley and SFAI, and the CE artists had something special.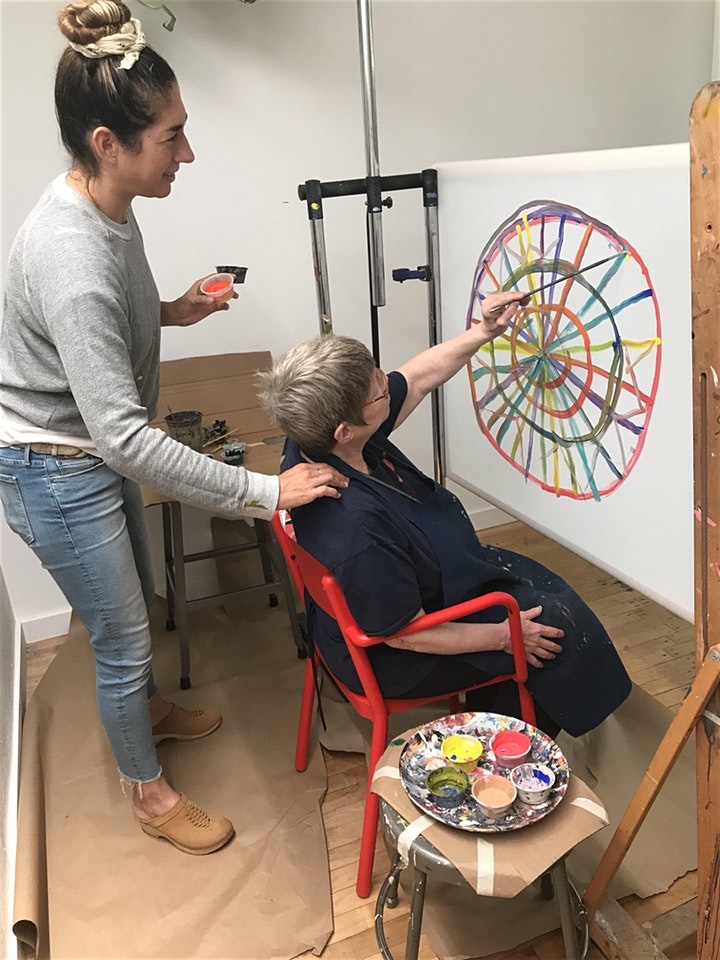 "There's a certain obsessiveness when you watch them work and see the finished pieces, the layering. Like Corine [Raper] has her pastel in her hand and does it over and over in yellow, and then comes over it with pink and then blue," she said. "Enkh-Amar Shagdarguntev did this piece in which he drew where he lives, and he does this beautiful line work to draw this building in orange. He drew in windows and doors. The line is almost like an Etch A Sketch. It overtook entire image, and it's this entirely orange painting. For me, it's like that line becomes the entire space and it begs the question are we who we are because of the community around us or is our community that way because of us?"
Fernández loved her year and a half of working with the artists at CE—and they loved working with her right back, says CE director Linda Johnson.
"I think that's another part of Ana Teresa's magic that she became a friend and mentor to the artists she worked with of whom there were dozens and dozens," Johnson said. "She came in with incredible ideas and ran with their ideas, and whenever she shows up, she's immediately surrounded by artists."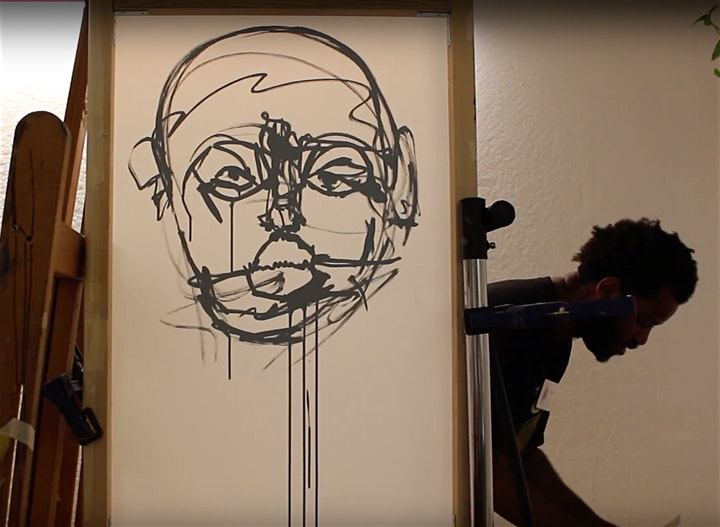 The staff wanted to do a large-scale public art project as a way to connect CE artists with a broader community, Johnson says, and Fernández was the perfect partner.
"Our staff was impressed with her work, particularly her social sculptures and the way she interacts with issues and environments in a meaningful humble, and exploratory way," Johnson said. "When she came to the studio, we immediately knew we made the right choice."
Johnson says she's excited the artists' work will be at the Fort Mason campus of SFAI, and she particularly looks forward to seeing Jesus Huezo's paleta cart that he and Fernández collaborated on, which has paleta shaped postcards for the public to share reflections on.
The opening reception of Of Here From There—De Aquí Desde Allá on Fri/6 from 6-9pm is free and will include performances by poet Leticia Hernández Linares, dancer Vanessa Sanchez, and musicianTommy Guerrero.
OF HERE FROM THERE—DE AQUÍ DESDE ALLÁ
Opening reception Fri/6. On view through April 26.
San Francisco Art Institute—Fort Mason's galleries
Free. More information here