When the Los Angeles based musician Lionel 'Vinyl' Williams—grandson of acclaimed film composer John Williams, whose 1977 Star Wars score remains an idyllic cinematic feat—speaks about his obsession with harmony, the genius of Brazilian producer Arthur Verocai, and channeling the baroque sunshine pop of The Free Design, push back that Zoom meet and make time. It's a low-key hang type of situation that merits full attention. "Millennial Ballroom" his 2018 single and homage of sorts to record producer Curt Boettcher, who many regard as the progenitor of sunshine pop, created space among genre-collecting occupants.
A bit more ornate with tempo changes and chord progressions than Tame Impala, and more pleasurably optimistic in lyrical verve than MGMT, Vinyl Williams, who spoke with us in advance of his upcoming fifth album, Azure, has carved out a delicious niche in the psych milieu since 2010.
Playing and touring with Chaz 'Bear' Bundick of Toro Y Moi early on (Bear's Carpark imprint Company Records released two of the LA resident's pop projects), and directing music videos for Unknown Mortal Orchestra and Tears For Fears kept the multi-hyphenate Williams' many talents engaged for a decade. With creatively aerodynamic stealth, his trippy vibe gets boosted by way of homegrown visuals.
Makes sense right? The upcoming Azure project comes with a fully interactive website allowing day-trippers, who dig on kaleidoscopic melds, to uncover secret symbols hidden in the world, advancing to each next song. Add to it interactive video worlds, 360º videos, web art, and downloadable environments, inhabited by hyperdimensional palaces you might find in an ultimate future. Whew.
Trust. Dude is not talking out the side of his neck. Take a look at the cover art for 2018's Opal or any of his previous albums. Stare long enough, you may think somebody dosed you while sheltered in place… But it's the music that lights the candle, burns the incense, and provides traveling without moving energies. Visuals are enhancements, not prerequisites. The first single "LA Egypt," equal parts hazy joy and driving rhythms, furthers Williams's trip. It's his sound, Mang. Even at its weirdest moments, it remains assertive. That forward-moving dream-pop, stepped-up tempo's, odd time signatures-nervous Talking Heads funk-recorded to VHS tape for trademark opaque texture. 'Azure' is worthy of 'locked-on' awareness.
48 HILLS Greetings. I just want to say upfront thanks for doing this. Off the top, "LA Egypt" sounds plush, atmospherical, aggressive, and just good for the soul. The last time we chatted, the last question I asked you was to name some artists you've listened to that you can't get enough of. Besides shouting out Once And Future Band, from the Bay Area, as the single largest modern influence on your record "Opal"—and we are fans of O&FB as well—you mentioned Brazilian composer Arthur Verocai. Now with Azure, coming in June, you stand again on Verocai and The Free Design as influences here. What is it particularly that keeps these artists pushing you?
VINYL WILLIAMS Thanks for the correct elucidation! There's this feeling I'm sure a lot of people experience, which is this mysterious kind of aesthetic reminiscence of an unknown origin. What we can do is just listen, and whatever subtly stimulates that nerve, can be understood as a true resonance. It's revelatory to see how similarly harmonious music affects people—the mental freedom of Brazilian musicians such as Arthur Verocai and everyone involved in the artist collective Club De Esquina, approach the portrayal of universal harmony. And that's exactly what I'm looking for. See Pablo Amaringo for some of the best visual representations of nature's hidden harmony.
48H Azure was recorded from 2018-2020 in Los Angeles, at three locations of Non Plus Ultra (a Los Angeles nonprofit that develops a community appreciation of the arts by sponsoring and organizing all-ages events, such as concerts and screenings). At the same time, you collaged hundreds of paintings together in a string of new works to create the album art. Was this the visual expression of the Azure project? To dedicate so much to art, what was it specifically you were hoping to bring to the surface?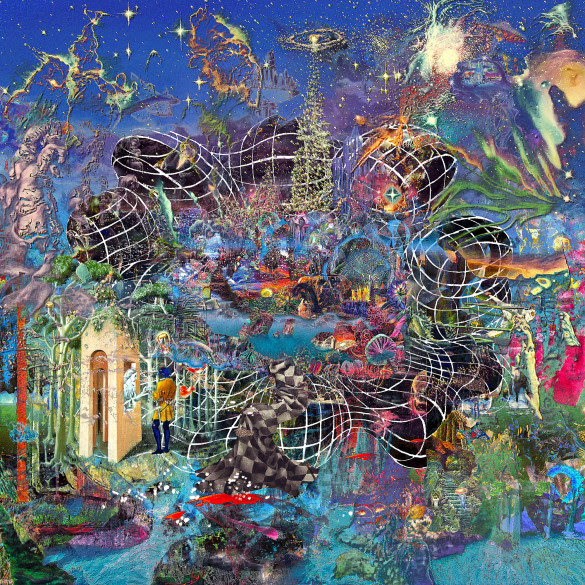 VW A lush oxygen-rich exoplanet, which has reached an octaval balance, sublimating the vacuum into crowns of living organic mobile architecture, whose solar roles are to protect and shelter. But just on the event horizon of inner and outer worlds, is an inter-dimensionally invisible realm, that inhabits the phased-out corridors of celestial construction. And Azure is the color of the robes the entities within wear.
Azure is also a direct result of being stimulated by those around me at Non Plus Ultra and always having the ability to record & make art.  It was the freedom I always needed since moving back to LA in 2010.  When my buddy Rich (basically the maximum musical mentor) first showed me Songs Of Innocence by David Axelrod, it opened up a new palette of chamber sounds that I immediately started invoking. I think within the same month I discovered Verocai in late 2017. Changed my life forever.
The artwork is always a synthetic semblance of the music. It's always reaching for this ineffably beautiful realm. I have to give most credit to the painters I collaged to create the front cover and other pieces. The process involved collaging two-colors, or a small isolated area from each painting & combining them together, to see how the forms of a multitude of artists land over each other's compositional space. It's kind of related to the musical homages on the album, as "LA Egypt" is a compositional collage of Velho Parente by Verocai, mixed with my own original composition.
(Full list of painters & artists collaged for the art of "Azure": James McCarthy, Gilbert Williams, Wojtek Siudmak, RaffaeloOssola, Gustave Moreau, Bruce Pennington, Aec Interesni Kazki, Jim Shaw, David Chewing Lee, David Hardy, Adrian Kenyon, Dustin Yellin, Neo Rauch, Marty Morales, Kate Klingbeil, Shane Moulton, Jordan Speer, Kay Nielsen, Ton Haring, Tuco Amalfi, Mario Martinez, Derek Carpenter, Luke Schroeder, Jonathan Solter, Toshio Matsumoto, James Sienna, Yoshi Sodeoka, Adolph Schaller, Remedios Varo, Roger Dean, Marcelo Germana, Henry Hudson, Sergio Macedo, Waldemar Borowski, Micah Ofstedahl, Christian Riese Lassen, Tokyo Aoyama, Carlos Ochagavia, Derek Sabiston, Brian Cooper, Sam Balfus, Michael Macari, Elvis Barlow Smith, Hiro Isono, Tsunehisa Kimura, Jacquelyn Blair, Rodeny Matthews, Robert McCall, Vangel Naumovski)
48H I'm curious to know if this time around you recorded each track onto a VHS camcorder, as well as using handheld cassette devices like before?
VW I definitely used this Panasonic RQ handheld cassette recorder for a lot of the acoustic guitars and for some sound fx on the album. It time-locks somehow, so when I transfer the cassette audio back to digital, it lines up pretty well. I think this is why it warbles so organically, cause it's constantly correcting to a timecode, similar to how camcorders time-lock to sync A/V together.
48H So when I first came across Brunei from 2016 I had no frame of reference nor info about you, but it caught me open first listen. I'm repeating myself here but it's true. The nervous Talking Heads-type funk of "Feedback Delicates," the warm segment of keyboard melodies in "L'Quasar" and "Celestial Gold," it just moved me. Not having any history of your music at all. I cannot urge people enough. Those who might have missed it in 2016, go search out Brunei. You will be pleased.
Can you describe an album that caught you open, off guard, on first listen and why?
VW This album Violet City Lantern by Murals really put me in a pastoral beach of wonder on first listen.  Caught me super off guard, being from Louisville, Kentucky—that's a new association to the region. Also must mention Warehouse from Atlanta. When I first heard both of their albums Super Low and Tesseract I felt like there are more of us in the world.
Vinyl Williams new album 'Azure' is out 6/5 via Requiem Pour Un Twister.