Do artists hail from a small and extraordinary group of people, or have they individuals who have simply learned to channel the sacred discipline of paying close creative attention, of asking questions, and imagining what's often unseen? And then, what happens when millions of people are rendered "unseen" inside the concrete walls of prisons? MoAD's new online exhibition, "Meet Us Quickly: Painting for Justice from Prison" is an opportunity to ask such questions and to engage with visual art by incarcerated artists themselves.
Curated in collaboration with Rashaan "New York" Thomas and "apparatus-based" dance company Flyaway Productions, "Meet Us Quickly" spotlights work by artists serving time at San Quentin State Prison. Though its array of volunteer-run programs are often portrayed as part of a national model for rehabilitation, San Quentin is still a high security penitentiary—and site of one of the deadliest COVID-19 outbreaks in the nation. The health crisis has further limited the safety and agency of San Quentin's incarcerated population.
Centering incarcerated artists in our appreciation of new works is urgent. Angela Davis once said that penitentiaries do not vanish social problems as much as they invisibilize human beings.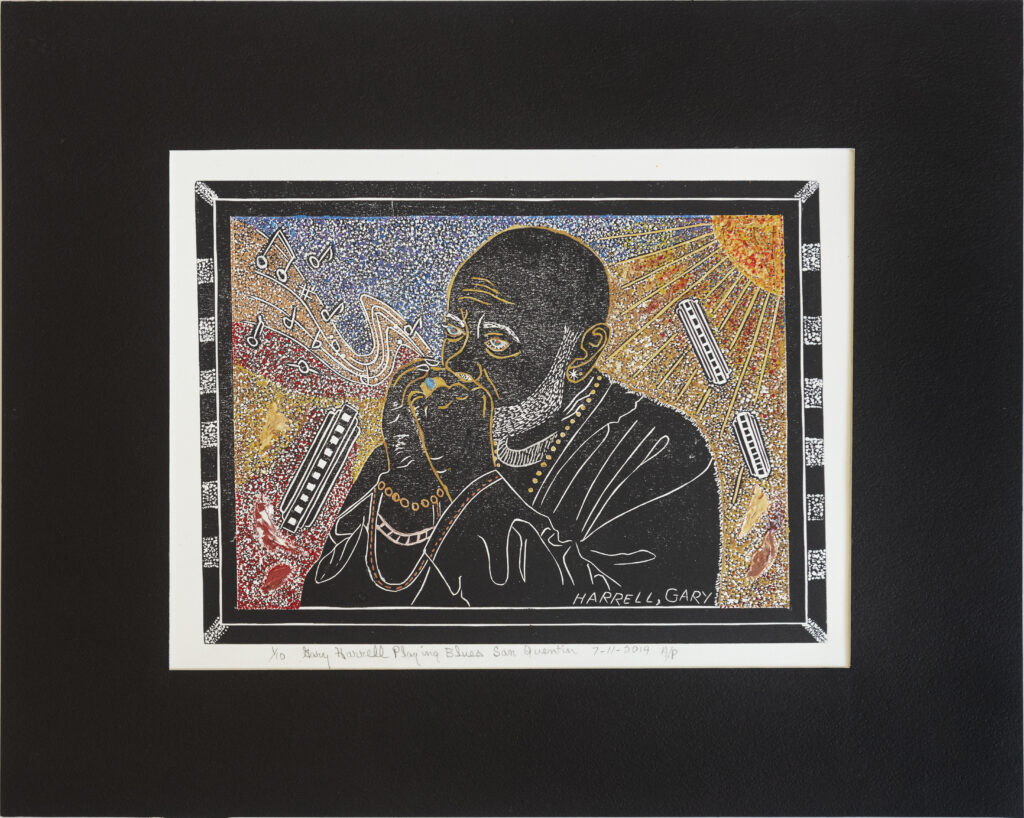 Through visual works that are influenced by both the Harlem Renaissance as well as pointillism and neo-constructivism, "Meet Us Quickly" magnifies the imaginations of artists that are too often overlooked. Curator Rashaan Thomas is perhaps best known for his participation in the popular "Ear Hustle" podcast series. A multi-talented leader at San Quentin, he also helps lead the Prison Renaissance project. Thomas opens the MoAD exhibit with an essay entitled "The Art of Proximity," in which he describes his firsthand experience with incarceration. Thomas writes that, "according to the laws of physics, everything that occupies space is matter, but when you're serving a life sentence it feels like you defy physics, you occupy a cell but don't matter to society."
His powerful framing of the devastating effects of imprisonment are echoed in the visual collection. One eye-catching piece "Gary Harrell Plays Blues" incorporates black block printing, pointillism, and bright hues. Its artist Gary Harrell has spent 42 years of his life in prison. He remarks that he paints to "hold on to his humanity." Harrell's second piece "The Queen" is a stunning lino-print on paper with matte board frame.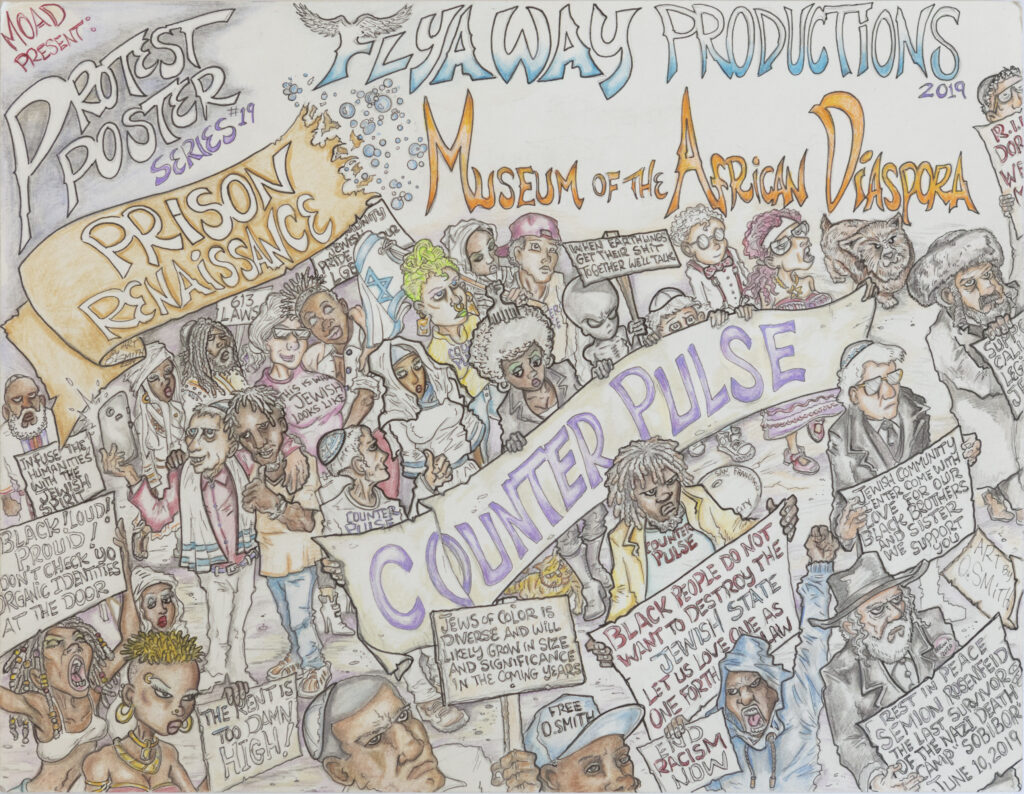 Similarly, Lamavis Comundoiwilla's detailed painting "Sisters" features two Black women adorned in traditional African attire. Comundoiwilla writes that, "art is when the wisdom of life meets the divine," and indeed, many of the pieces in the collection depict Black women's divinity.
But there's a diverse array of visual mediums showcased as well. Works such as "Which Lives Matter" by David Gabriel feature intricate comic art style drawings, a window onto the artist's vivid mind. "Protest Poster #19" is part of a graphic novel series by O. Smith, one that sheds light on the injustices of the carceral system. Smith's second piece "Formulaic Principal" is a storyboard of cycles of harm that depicts how hurt people hurt people.
Look closely or you might miss that "Meet Us Quickly" even includes a portrait of the late Ruth Bader Ginsberg. Its artist Bruce Fowler writes that his visual art allows him to "heal," and that he is "opening up emotions … locked away so long ago." His Ginsberg portrait is inspired by the fact that, "she suffered terrible losses and conquered unimaginable odds to become the most powerful woman in America."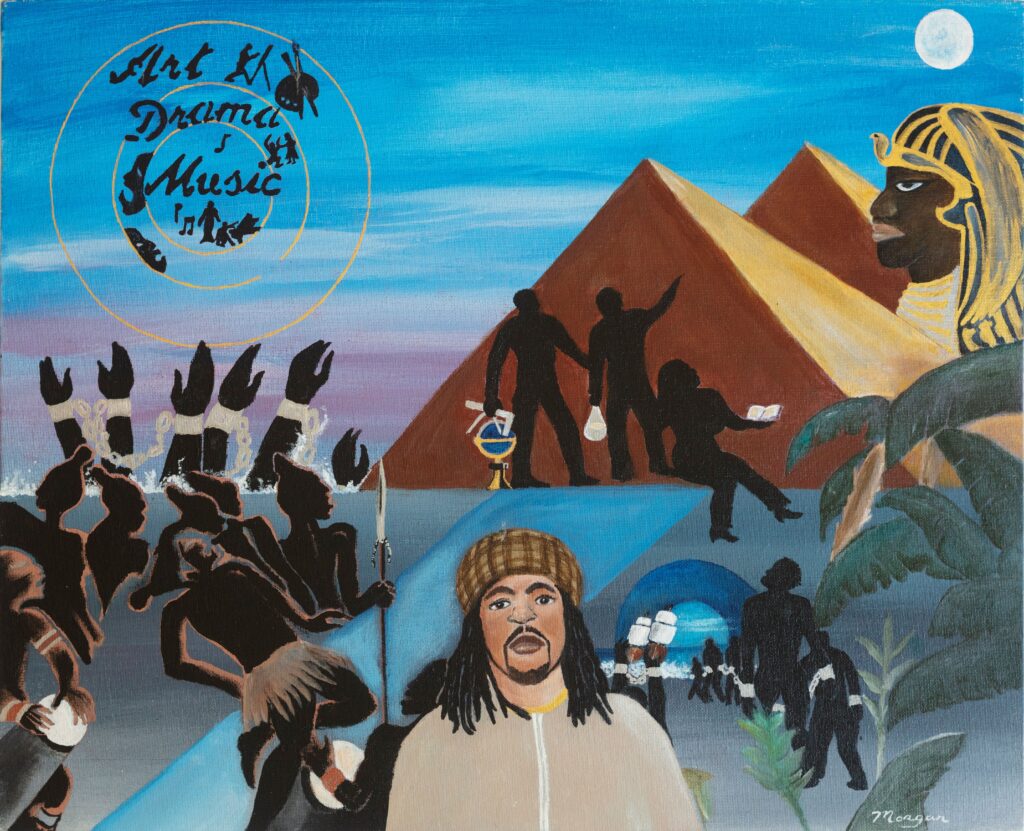 The exhibition seeks to build bridges between Black and Jewish communities, even offering an online dialogue called "Finding Mercy: Black and Jewish Voices against Mass Incarceration." Flyaway Production recently premiered an extraordinary dance piece called "The Waiting Room," which spoke to the experiences of the loved ones of incarcerated people. It serves as a poignant reminder that incarceration harms not just the individuals that are locked away, but their partners, children, and communities. Although the upcoming Flyaway Productions' piece also entitled "Meet Us Quickly With Your Mercy" has been postponed, art lovers are welcome to learn more about how collaborators are continuing to engage audiences in innovative ways. Prison Renaissance's will be auctioning off "Meet Us Quickly"'s works—keep an eye on MoAD's website for more info on that event.
"Meet Us Quickly: Painting for Justice from Prison" will be on view at the MoAD website through January 31.