Never—before the various tribulations, upheavals, demagoguery-soaked lows, and abolishment-possibility highs of 2020— have the words "I need a drink" been closer to our lips. As the reckoning of the election and its aftermath draws near, we though a saucy little menu of cocktails both curative and aspirational may help float us all through the inevitable encroachment of the next disaster, and whatever comes after that.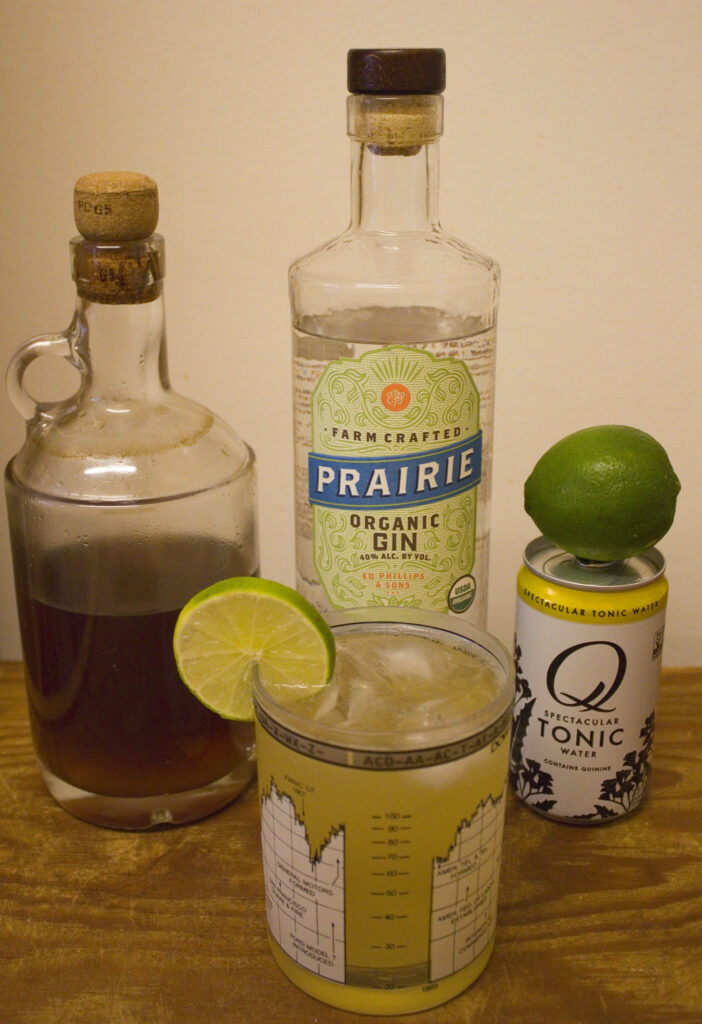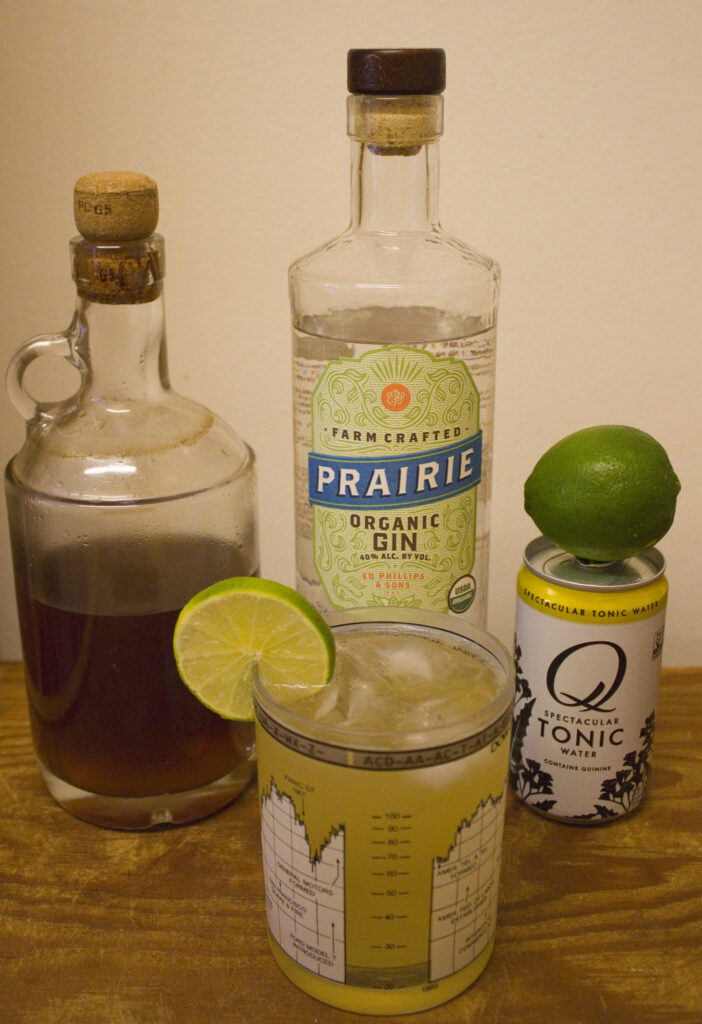 GOOD OL' G&T
Let's start with an ultimate comfort cocktail. The Gin and Tonic is one of those drinks where everything you need to know about it is in the name: two ingredients, gin and tonic (as opposed to a drink like the Long Island Iced Tea which tells you utterly nothing). I have always loved Gin and Tonics because it really is a miraculous drink, the gin manages to actually make tonic water palatable (seriously, who drinks that without gin or vodka?). The belief that G&Ts have miraculous healing powers goes back to the 1700's, when it was first discovered that the quinine in tonic water could help fight malaria. British soldiers realized that the best way to drink this bitter medicine was by adding some gin and lime juice (which also helped with scurvy).
Note: No one at 48 Hills is suggesting that a G&T can cure COVID (it can't!), but it is something less harmful and tastier to ingest than bleach.
Recipe
Add 2oz of gin to a tumbler glass.
Add ice and fill the glass with tonic water.
Stir and garnish with a lime wedge.
Optional: Squeeze half a lime into the gin and tonic for a more robust lime flavor, or add a float of triple sec for a sweeter take on the G&T.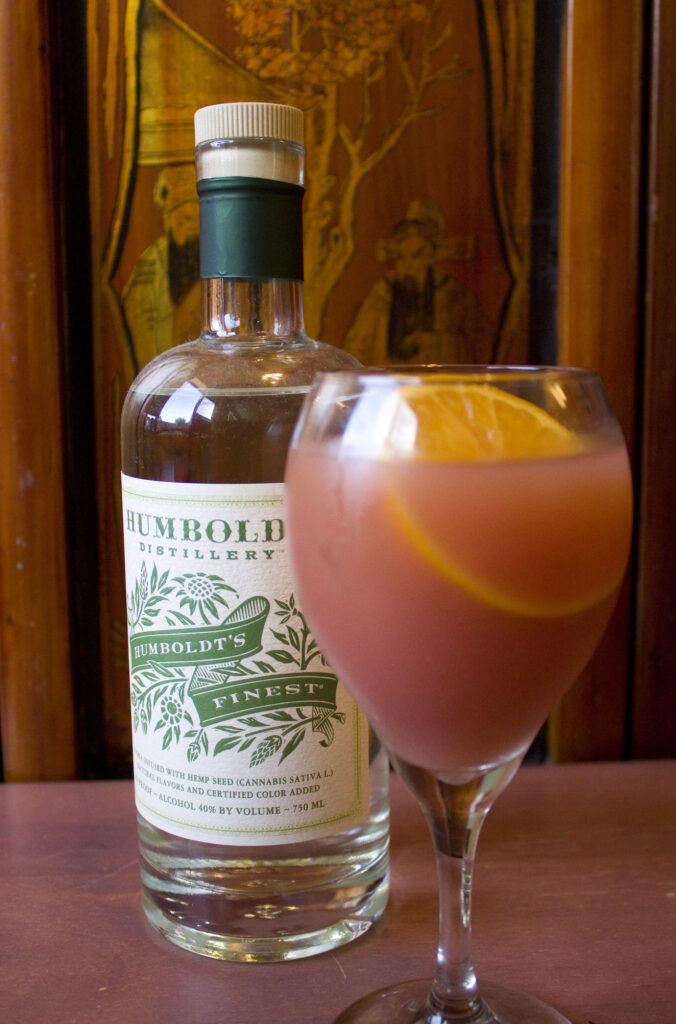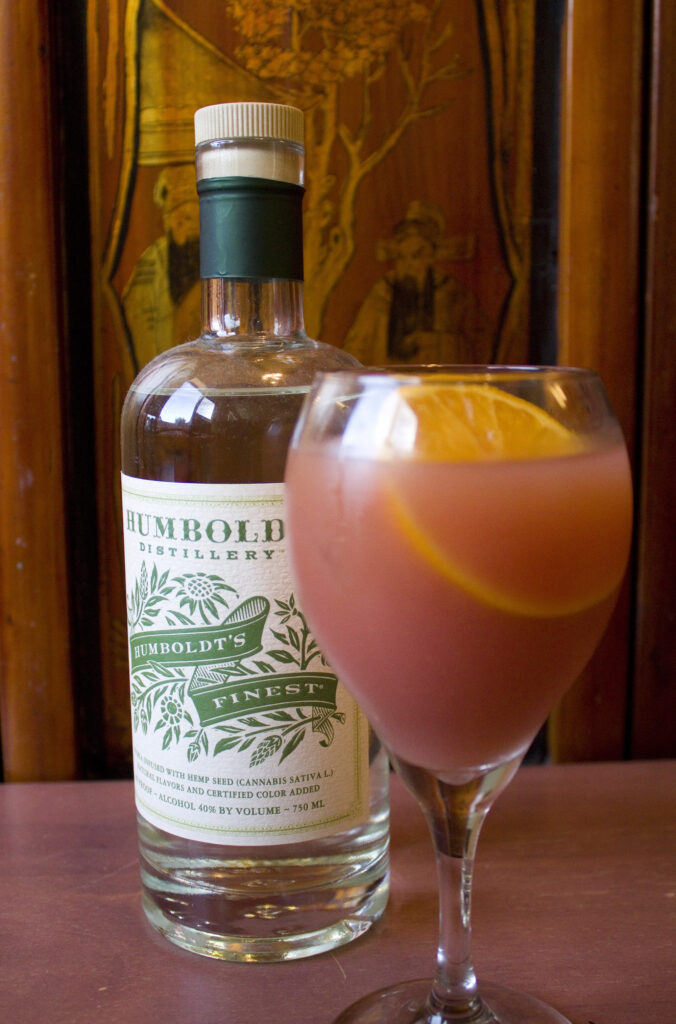 CALIFORNIA SIPPIN
Shelter in Place (or SIP, if you will) has gone on far longer than many Californians expected, and while we are all trying to find a new normal, an occasional cocktail might help us find our way back to the way it was. California SIPpin is my take on Ryan Chetiyawardana's Shelter Spritz, a light and refreshing drink for those hot summer days that often linger into fall and winter out here in the West. Humboldt's Finest is a vodka that includes cannabis as a botanical for flavor, but does not contain any cannabinoids. So while it will give that California flavor, it will not get you high. 
Recipe
Add a shot of Humboldt's Finest cannabis vodka to your glass.
Add ice and fill glass with kombucha (I used guava kombucha, which worked great)
Optional: Add 0.75oz vermouth or sherry (I am not a big fan of vermouth so I did not add any).
Stir and garnish with an orange wheel.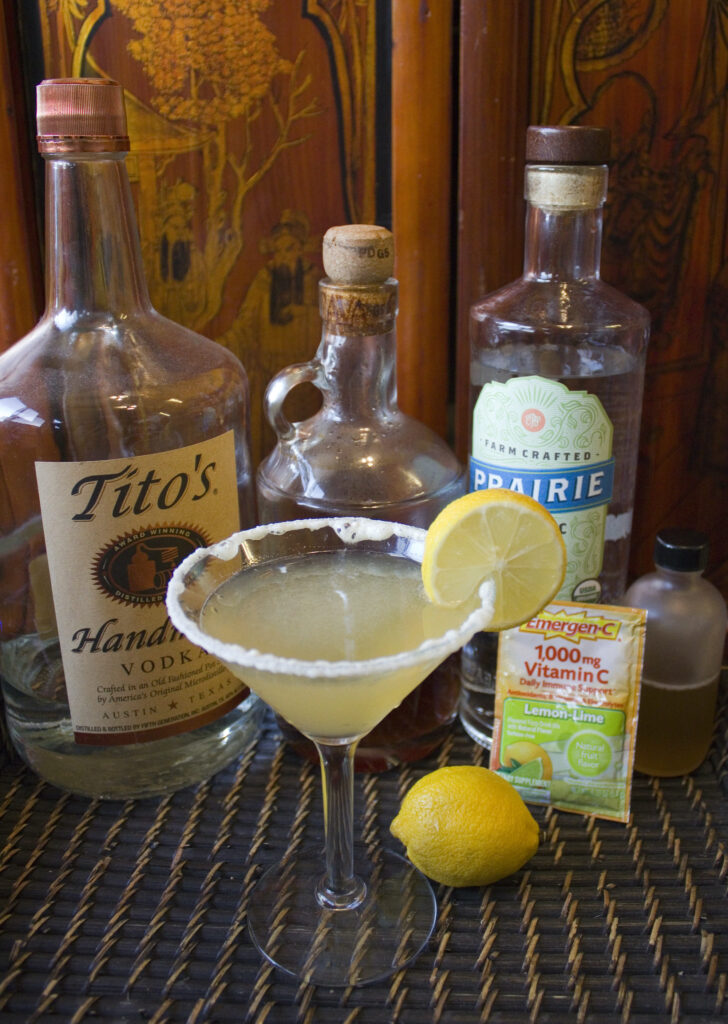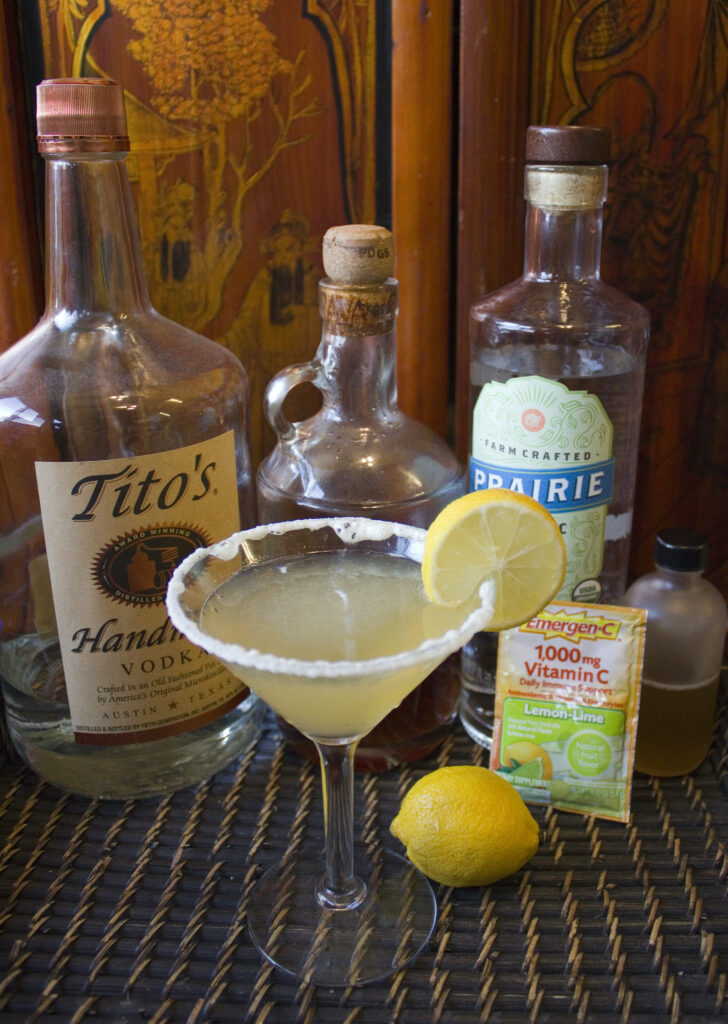 QUARANTINI
Any list of COVID cocktails would be amiss without including the Quarantini, a quarantine-themed twist on a lemon drop martini. Like with many martinis, you can make the Quarantini with either vodka or gin, in this case I used vodka. What makes the Quarantini really unique is the glass rimmed with Emergen-C, which both looks pretty cool and will boost your Vitamin C and could help your immune system. 
Recipe
Prepare the glass by rubbing the rim with a wedge of lemon. Have a small plate nearby with the Emergen-C spread out in a circle, about the size of your glass. Rub the moistened rim of the glass on the plate covered in Emergen-C. You should now have a glass rimmed with bubbling Emergen-C.
Add 3oz of gin or vodka to a shaker, along with 2oz of fresh squeezed lemon juice, and 2oz of lemon syrup.
Shake and carefully pour into rimmed glass.
Garnish with a lemon wheel, wedge, or twist.
Optional: Add a triple sec float.
MURDER HORNET
While a big reason 2020 has felt like the end of the world has to do with the COVID pandemic that has swept the globe, but that has not been the only crazy thing the world has been subject to this year. When I was a kid everyone was terrified of the Killer Bees coming to America, oh how naive we were back then. In 2020, we have gone from fears about Killer Bees to Murder Hornets. Here's a twist on an old classic, the Bees Knees, in honor these new vespid terrors.
Recipe
Add 2oz of gin (or vodka if preferred), 0.75oz of lemon juice, and 0.75oz of Caged Heat ghost pepper syrup to a cocktail shaker.
Shake and strain into a chilled martini glass.
Garnish with a lemon wheel.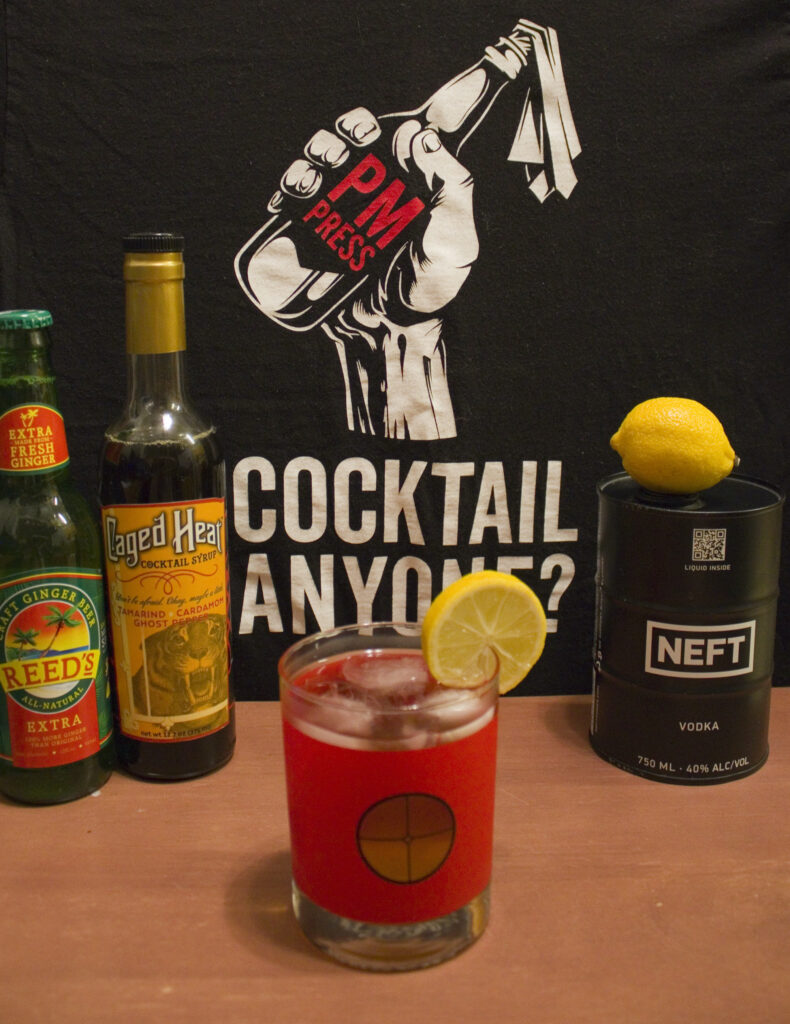 MOLOTOV COCKTAIL
Besides the murder hornets and COVID, 2020 is a year that has been marked by extreme civil unrest, as armed militia groups have hatched plans to kidnap governors and clashed with anti-fascist protestors seeking to assert that Black Lives Matter. In the midst of all this, including a Molotov Cocktail recipe felt pretty on brand for 2020. If you look around for recipes for drinks called a Molotov or Molotov Cocktail you will find many different options, often with little in common other than vodka. I didn't feel that any of them quite captured the fire and heat that comes with a Molotov Cocktail, which was something I wanted to play up in my cocktail. If the ghost pepper didn't bring enough heat, the Reed's extra ginger beer definitely would kick things up a notch. 
Add 2oz of vodka to a tumbler glass.
Add 0.75oz of Caged Heat ghost pepper syrup.
Add ice and fill the glass with ginger beer.
Garnish with a lemon wheel.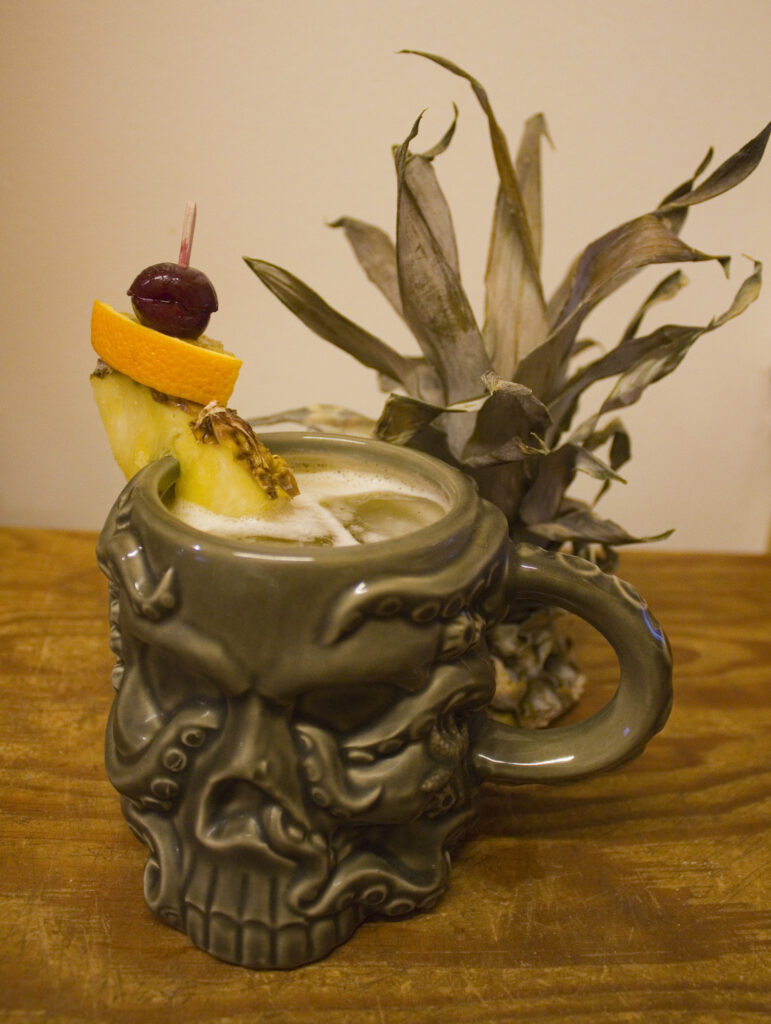 SCORPION
Sadly, due to COVID restrictions, Americans can't travel to all the places we used to be able to. Even though a lot of Caribbean countries are still letting in US tourists, you may not be willing to put yourself (let alone the workers tasked with serving you) at risk by flying during a pandemic. If you want a taste of the tropics without having to leave your own kitchen, might I suggest a tiki cocktail, such as the Scorpion. Like with many tiki drinks, there are myriad versions of the Scorpion, and I encourage you to explore the variations to find the one you like the most. While the Scorpion is often served as a huge bowl of punch, this recipe will be for an individual drink, based on Dale DeGroff's recipe from The Craft of the Cocktail. If you're digging the tiki mug, you should check out Pagan Idol in San Francisco and get one for yourself while supporting a local business which needs all the help it can get.
Recipe
Pour one shot of gin and one shot of rum into your glass.
Add 2oz of white wine.
Add 0.75oz orgeat syrup.
Carefully add ice (by adding your ice a bit later in the process you have less melt water).
Fill glass with a roughly 50/50 mix of orange and pineapple juice.
Stir and garnish with edible flowers, pineapple, orange, mint, maraschino cherries….whatever strikes your fancy.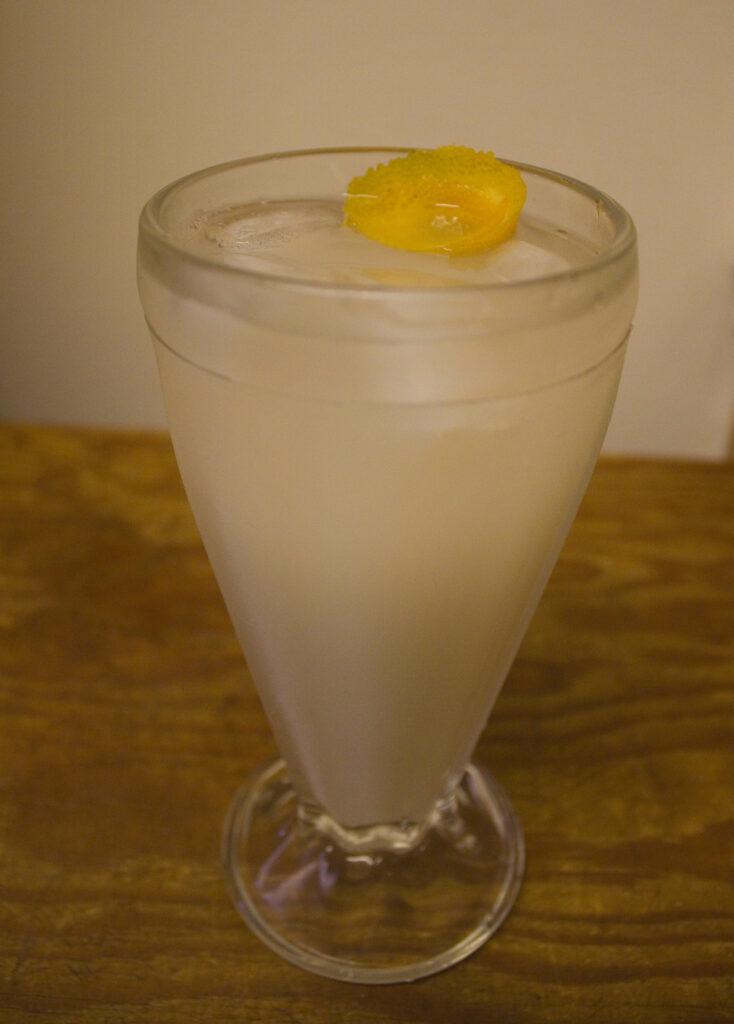 CHAI SODA
While many people have found themselves drinking more to sooth the insanity of 2020, others have used their isolation without bars as a chance to drink less. In the Time Before COVID, I had the pleasure of working as a bartender at Berkeley's award-winning vegan restaurant, Millennium, also known for its craft mixology cocktails featuring house-made ingredients. In addition to cocktails, Millennium has some delicious sodas, like this chai cream soda.
Recipe
Make the Chai Syrup: Begin by crushing around a dozen green cardamom pods using the flat edge of a knife. Toast the crushed cardamom with one cinnamon stick, one star anise, six allspice berries, and five cloves (adjusted to your taste preferences) on a baking sheet for 350 degrees for five minutes. While toasting, bring 2 cups of water and sugar to a simmer on the stove then add the toasted spices and cook for an additional ten minutes. Strain out the solids and bottle. The syrup will stay fresh for up to a month in the fridge.
Add 1oz of chai syrup to a pint glass filled almost halfway with ice.
Fill almost all the way with mineral water.
Mix the drink by tossing the contents of that pint glass into a second, empty pint glass.
Add a splash of vegan creamer (I used a coconut based vanilla creamer).
Garnish with a blossom of orange peel (peel a strip of orange and twist it up to form a flower).