In a remarkable interview with KQED's Joe Fitzgerald Rodriguez posted yesterday, former Mayor Willie Brown said that nobody should be particularly upset about the City Hall bribery and influence scandals—since nobody did anything all that bad.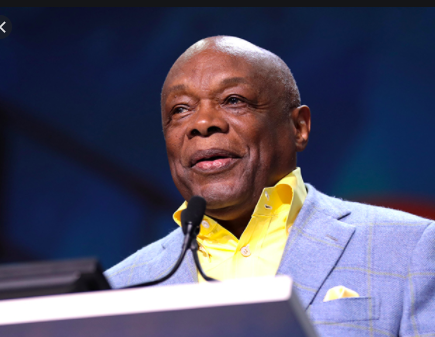 In essence, he said, Harlan Kelly and Mohammed Nuru had just taken some "entertainment" and been "more tolerant of those who entertained them."
Willie Brown: I don't understand what the object (of people's ire) happens to be, frankly, because the kind of thing they're talking about, and the kind of thing they're doing, doesn't seem to have a whole lot of implications for the operation of city government.

It's not like someone built a bridge and used inferior products to build the bridge, and therefore risked the lives of lots of people. Or built a rail line and built equipment that risked the lives of people.
Brown said he doesn't believe that city contracts should go to the lowest bidder. He said that in all his time in politics, he has seen very little corruption or undue influence.
He said, again in essence, that it's fine for someone in government to take favors from people who are seeking government contracts or approval:
But people do not think, I don't think, in terms of someone buying you a drink, or buying you dinner, or anything of that nature, that there's anything that caused them to influence or give up their responsibility to public service for the benefit of the public.
Read the entire interview. It's a perfect example of how Brown ran the city: A little favor here, a little campaign donation there, promotions and high-paid jobs for people who are loyal—and in the end, who cares?
The problem is that this attitude fundamentally undermines people's faith in government.
Brown also implied that he disagreed with the decision of the late district attorney Terence Hallinan to charge the top police brass with a coverup in the notorious Fajitagate case:
For instance, (during my administration) the (district attorney) indicted my whole command structure of the police department. He indicted everybody, period.

I had to literally tolerate that. Ultimately, the courts ruled he never should have done that, and the courts gave them all back their lives for career purposes, without them having to ever answer that they were indicted. They all walked into my office and placed down their guns and badges. Except for the chief, he came in by himself.
As if indicting senior cops for an alleged coverup designed to protect the chief's son was a terrible thing to do, something the mayor had to "tolerate."
We are all used to Brown by now. His legacy remains profound – almost all of the players in this scandal in one way or another got their start with him. He still has his column in the Chronicle.
But for a former mayor to say that a bit of corruption is just fine still makes me sick. We cannot solve the crises facing humanity unless we can restore trust in government. This is not the way to do it.