Organizers from Poor Magazine, an independent Bay Area publication and activist group founded in 1996, are calling for Oakland's City Attorney Barbara Parker to expedite review of legislation that would waive construction fees for buildings where 95 percent of the units are affordable housing.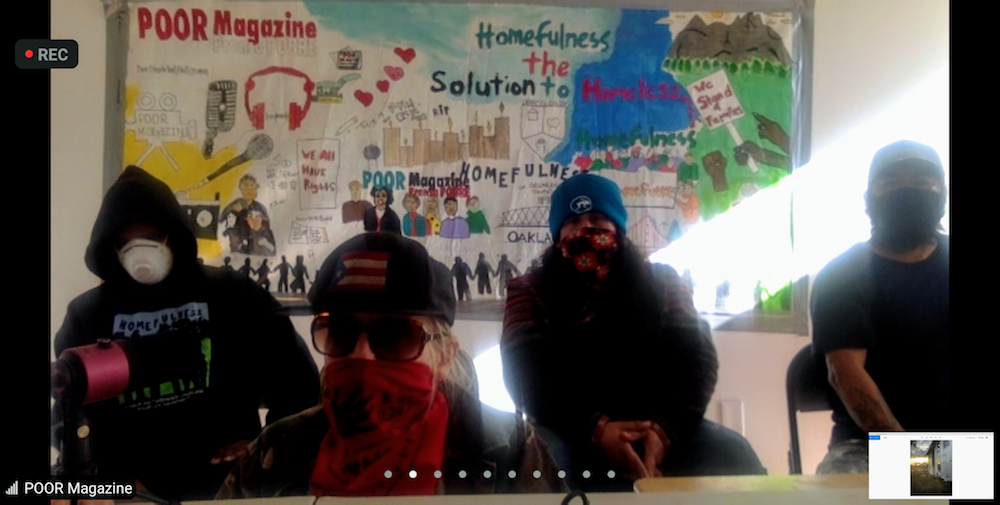 The draft ordinance has been under review since October, and organizers say they have waited long enough.
"There's really no good reason why it's stuck there," said Tiny Gray-Garcia, editor of Poor Magazine (and occasional 48hills writer). "[Parker's] feeling was, because it deals with the budget and it's political, it talks about centering the voices of the poor, that it's controversial. But it will definitely help and it needs to happen…the community needs to put pressure to get it through."
The ordinance has received support from City Council Members Carroll Fife, Nikki Fortunato Bas, and Loren Taylor, whose district includes East Oakland, and was created by Poor Magazine's collaboration with Rebecca Kaplan, Council member-at-large.
The ordinance would be aimed to aid development of majority-affordable housing projects, including Poor Magazine's decade-long initiative to build a small number of affordable housing units in East Oakland, called Homefulness. There are six complete and inhabited units at 82nd and MacArthur, with a total of ten planned, as well as a second development planned for 7600 MacArthur at the site of a former gas station.
For Poor Magazine, the $1,200 in fees required to finish the ten affordable units they are constructing on 82nd and MacArthur in East Oakland is proving difficult to overcome.
"There are a plethora of fees…I have forgotten as much as I remember as to the number and type of fees that one has to go through," said Jones. "The bureaucracy of fees, the number of fees, the amount of fees, are a headache for for-profit developers, so if you are developing housing for very low income residents that's significant because you aren't looking to get this windfall of market-rate rents, so we really want to lower the barrier to entry, because there isn't going to be this big payoff on the other side."
The review process by the city attorney is done to ensure that draft legislation is in compliance with the city's charter and code, and is required before legislation can be voted into law by the full council. For particularly thorny issues, the review process can drag on, however this legislation, which is only a few pages long, has been under review for an uncharacteristically long time.
"I am surprised that this is taking this long," said Kimberly Jones, Kaplans chief of staff. "I thought by now we would have had some word. They are normally quick and efficient in most matters."
The legislation would amend Oakland's city code to expand use of the city's services fund, Fund 2415, to provide $1 million for the fee waiver program, and would be the sole funding stream for it. One of the main questions that will be addressed is whether the monies from Fund 2415 can even be used for this purpose.
As it stands, Kaplan will introduce the legislation to the Council's Finance and Management Committee on January 25, and the legislation, if passed, will sunset in January 2022. Whether it will be re-implemented and survive into 2023 and beyond depends on the legislation's efficacy.
"Right now we need to get housing that is really affordable. This is about getting people off the street," said Jones. "Hopefully [the ordinance] will have proven itself, and we would go for it again. It's difficult to say, because we're at the beginning."
City Attorney Barbara Parker could not be reached for comment.