Now that the federal government has promised to pay for cities to put unhoused people in hotels until September, 2021 Sup. Matt Haney plans to introduce legislation that would direct the city to open more rooms.
Although the hotel program in San Francisco has been a great success, putting more than 2,000 people into safe shelter, the Mayor's Office has been trying to phase it out – mainly on the grounds that it wasn't clear the federal money would still be in place.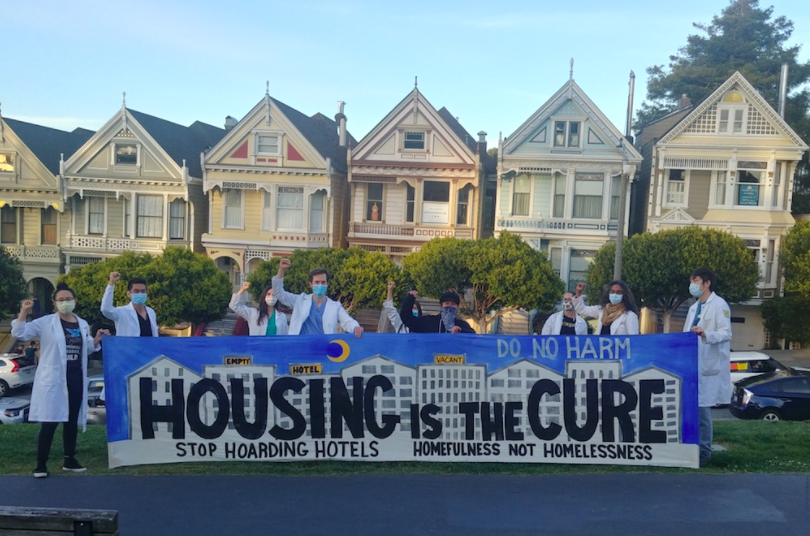 Under the last administration, money from the Federal Emergency Management Agency covered only 75 percent of the cost of rooms and was approved on a month-to-month basis, leaving cities in a sort of limbo.
But that's not a problem right now, since the Biden Administration now says FEMA will pay 100 percent of the cost of getting vulnerable homeless people into hotel rooms for at least the next nine months.
Haney told me that "we absolutely should be" opening more hotel rooms. He said he met with the Department of Homelessness and Supportive Housing and the Human Services Administration today and "it's shameful how slow they are moving and plan to move."
He told me that "they have not moved one person off the streets and into a hotel since November." The only people moved into hotel rooms were 69 folks who were released from hospitals – who without the hotel rooms might have wound up on the streets.
Haney's colleagues have been overwhelmingly supportive of opening more hotel rooms the mayor and the board have been directly at odds over the strategy.
Not only is a way to get people off the streets and into safety, "It's such a good deal for the hotels," Haney told me.
In a signal that the Mayor's Office is wary of more accommodations for homeless people, Mayor London Breed said in a press conference that she doesn't want to encourage people from other cities to come to San Francisco and seek help.
In what is now a viral video, the mayor said:
If you were not on our list … in our homeless system as of April last year, and you think you can come to San Francisco thinking this is an opportunity to get help, unfortunately we are not going to be able to help you. We are not going to jump the line for people who just decided to come to San Francisco yesterday.
Of course, it's pretty likely that a significant number of people who live in San Francisco have become homeless since April. It's also very clear that a lot of local homeless people are not "in the system."
So the mayor seems to be saying that none of them are eligible for help (and certainly not for a hotel room)
"That's wrong and it's cruel," Haney said. Many people have become homeless in the past few months. And they are just recycling a trope to undermine this program when we should be building it up. It's infuriating.".
I also find it interesting that the mayor of San Francisco would say that people who experiencing homelessness are not welcome in this city when the city rolled out the red carpet for high-paid tech workers to move here from somewhere else. They got to "jump the line" by displacing long-time residents; they got to "jump the line" by using private luxury buses to go to work – often interfering with the operations of Muni for the rest of us.
I never once heard London Breed complain about their preferential treatment.