I've never met Tony Bennett and have only seen him perform live once, yet the news this week that the 94-year-old singer has Alzheimer's disease hit me like a punch in the stomach. (He was still going strong—read the 48hills review of his 2019 show in San Jose here, and our tribute on his 90th birthday here.)
Maybe it's the cumulative weight of the icons we've lost lately—Cicely Tyson and Cloris Leachman most recently. Maybe it's the fact that his signature song is a love letter to San Francisco. But it's also Tony Bennett the person.
I saw him in 2004, when he was one of the acts performing at, of all things, Neil Young's annual Bridge School benefit concert at Shoreline Amphitheatre, one of the shows aiding the education program for children with severe speech and physical impairments. Also on the bill that year, in addition to Young, were Eddie Vedder, Los Lonely Boys, Sonic Youth, the Red Hot Chili Peppers, Paul McCartney, and a couple other acts I've forgotten. (With lawn seats priced at about $55, the seven hour show was the best value-per-dollar concert experience I've ever had, but I digress.)
Before the show, I wondered how Bennett would go over as part of what was basically a rock 'n roll show. The audience wouldn't exactly be his usual target demographic. Could he pull it off?
I shouldn't have worried. Coming next to last on the bill, right before McCartney, Bennett walked out on stage and pretty much owned the place. Accompanied by a crack nine or 10-piece jazz band, he gave us exactly what the world expects from Tony Bennett: The Great American Songbook, delivered with style, panache, and boundless enthusiasm. And all 22,000 or so of us, most no doubt drawn to Mountain View mainly to see Young, the Chili Peppers, McCartney, etc., ate it up.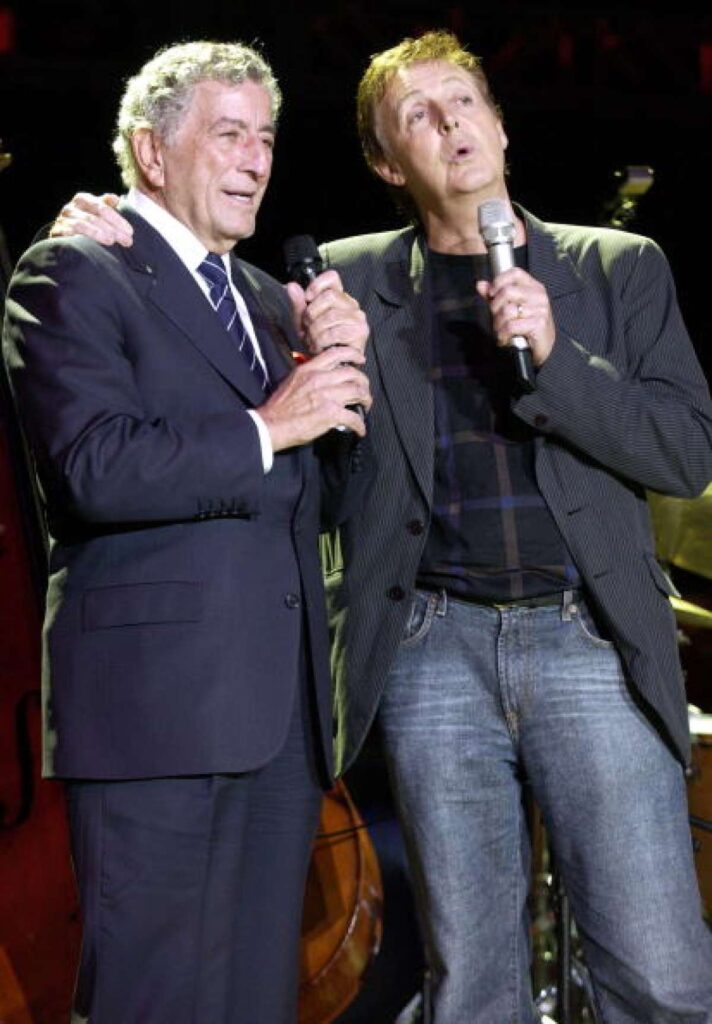 A couple things stick in my mind nearly 17 years later: First, this was a man supremely comfortable in his own skin. Not the least afraid of an audience likely to be unfamiliar with his material and used to very different musical idioms, he looked relaxed, totally at ease, and like he was having an absolute blast. He didn't try to pander to a rock audience or adjust what he did or who he was. He just was, and it was all any of us needed.
The other thing that jumped out me was his generosity. Bennett went out of his way not just to introduce all the musicians in his band by name, but to make sure each one had a turn in the spotlight, a little moment to show off for what was no doubt one of the largest crowds they'd ever played in front of. "Isn't this an amazing group of artists I've got up here with me?" Bennett said, sounding like a man genuinely in awe at his own good fortune.
Help us save local journalism!
Every tax-deductible donation helps us grow to cover the issues that mean the most to our community. Become a 48 Hills Hero and support the only daily progressive news source in the Bay Area.
What a class act.
There are already plenty of stories out there about Bennett's kindness and generosity. I suspect as word of his illness gets around we'll hear many more that haven't been public, much like the outpouring of love for Robin Williams when he died. There are people we love because they're talented, and there are people we love even more because we know deep down that they're good humans and we're damn lucky to have shared the earth with them for a while.
Be well, Tony. We're rooting for you. San Francisco loves you.