Michael Tunk isn't originally from the Bay Area. In fact, the images in his otherworldly collages might suggest he is even a time traveler of sorts from some other place in the galaxy. 
Juxtaposing iconic Americana images of cowboys from the wild west with backdrops of outer space and futuristic, apocalyptic surroundings, we wonder if these characters are merely lost souls out of place and time or Tunk is making overt commentary on our past vis-à-vis a possible dystopian future. Or that time is, in fact, not linear but happening all at once in the way that block universe theory purports. Certainly, Tunk's work lends a unique visual language from a prescient visionary. In times that continue to feel surreal, uncertain, perilous even, his work strikes with a bolder force than ever. A man of few words, the intriguing mystery of his work precedes him.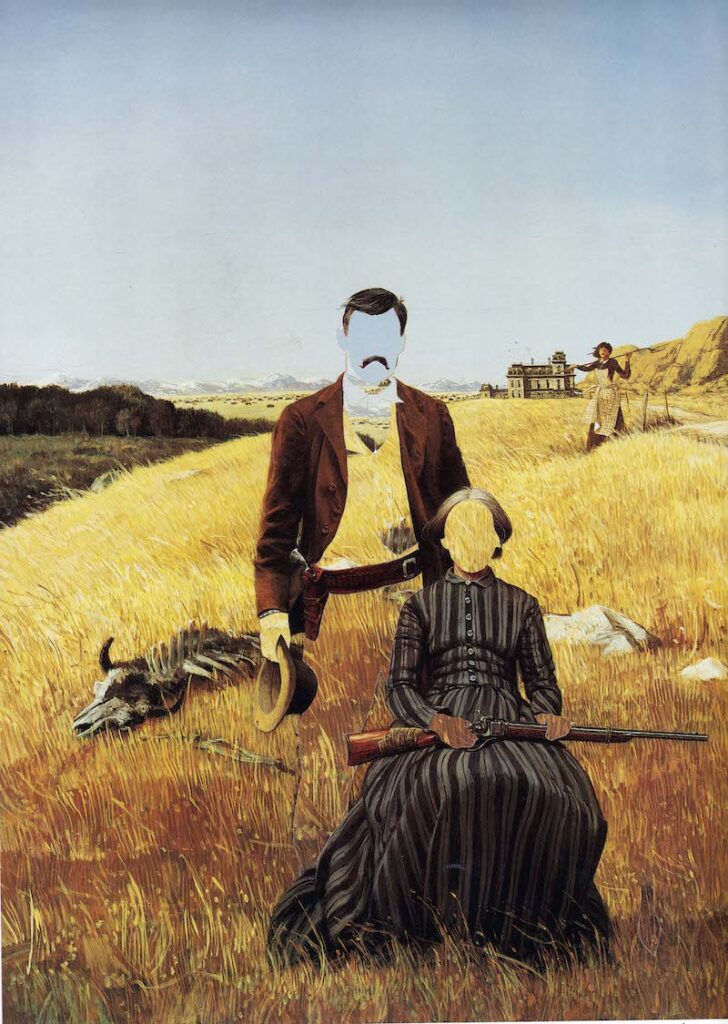 Tunk grew up in a suburb of Chicago called Warrenville. In an unusual trajectory, he found his biological father through a Google image search, and after visiting him several times, decided to move here. Here, at the moment, for Tunk is Alameda, California, which he (perhaps waggishly) describes as "beautiful and safe." He has been an artist since he was a young boy. He used to watch his grandfather draw late at night and started scribbling out images himself in a set of Mead spiral notebooks. Using a collection of X-Men cards, Tunk made renderings of mutant superheroes from the Marvel Comics series.
He says he is inspired by everything, that there is nothing that doesn't inspire him. As non-specific as that is, a theme exists in his prolific work. You could also say there is a madness to his method. "I'm kind of a mess when it comes to my methods, of which I have many. I save everything. I have banker's boxes filled with lots of loose pages," he said. In an old-school approach, Tunk repurposes photographs and magazines he has collected that date from the 1800s to the 1980s and reinvents them by assembling images into layered collages. Using X-Acto blades, the one tool he says he could never live without, Tunk relies on this deliberate and painstaking system for his creations.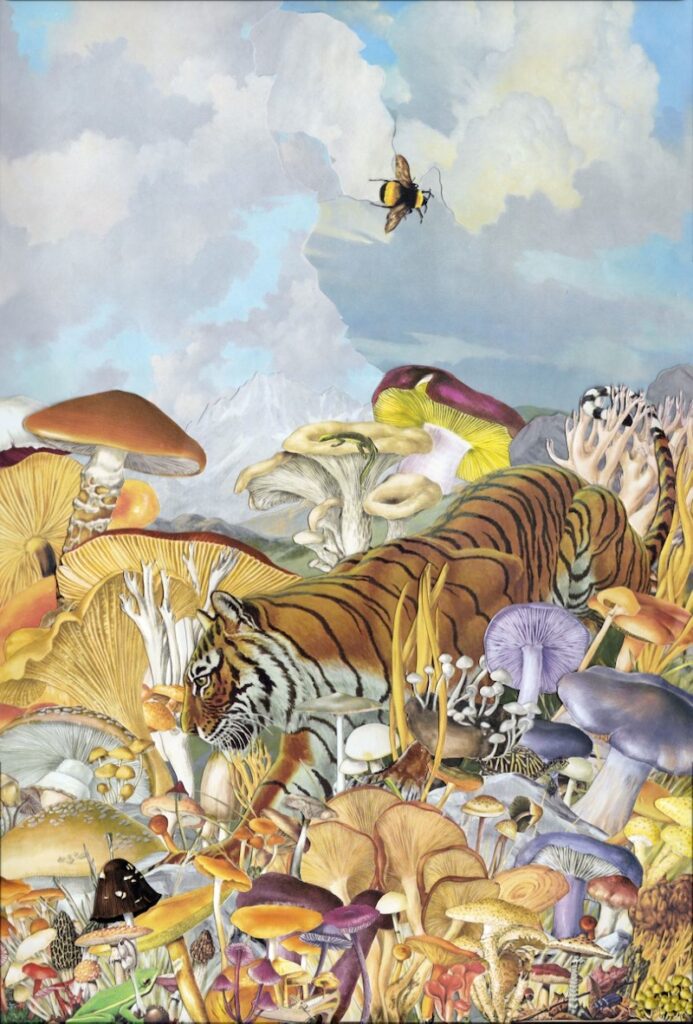 Tunk never uses Photoshop or other computer programs that might make his process easy. Instead, his technique involves slowly carving out images to combine with various discarded detritus to eventually spin into a refreshed incarnation, inventing a new world. An "other" world. One that seems familiar and yet so utterly strange and implausible it gives one pause. Tunk acknowledges his X-Acto method as being an occupational hazard and jokes about a future day in which "carpal tunnel grinds his hands to an octogenarian pugilist's paws."
His imaginative influences take some focus and begin to make more sense when I ask about his other interests. He tersely replies that he likes perusing comic books, playing video games, and hanging out with his young daughter, Tigerlilly. Tunk's work is a kind of visual speculative fiction. In two series, "Invisible Cowboys" and "The Unknown Rider," he depicts pioneers, homesteaders and rogue cowboys in partial transparency, with features missing from their visage imbuing a ghostlike, eerie quality to his characters.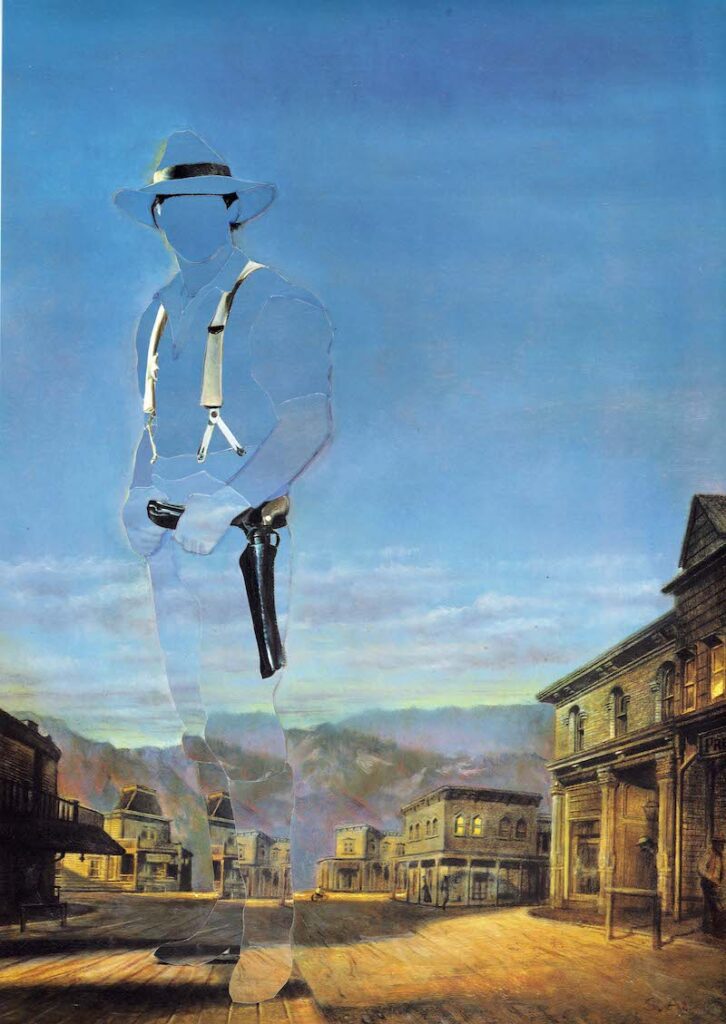 It is in his ongoing series titled, "The Wild West Guide to the Galaxy" that Tunk explores overlapping past with future inside a cautionary tale. Two cowboys appear set for a gunfight but what separates them is not dust and tumbleweeds but interstellar space and planetary gas. In another piece, a cowboy takes cover and aims to take on a grim futuristic scene with just his rifle and raw grit.
As for many, the pandemic has hit the artist hard and Tunk struggles to stay focused on creating new work. "I've been going through somewhat of a rut due to doomscrolling the Internet and having to be teacher to my daughter." Nonetheless, he said he is always working on something whether it's adding to an ongoing series or prepping things from his numerous portfolio books, cutting and queuing them up for new collages.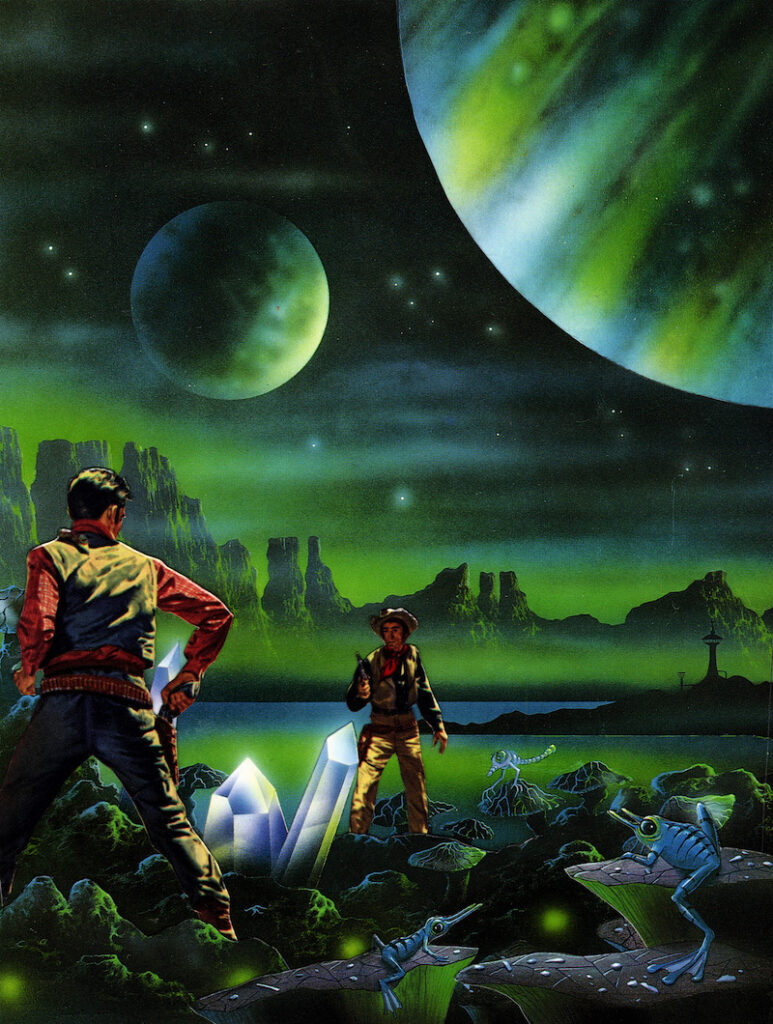 Tunk just finished two large scale pieces for his "Unknown Riders" series. He doesn't currently have any exhibitions lined up, though he is wishful for that to happen sometime soon, saying the lack of opportunity to show work is one of the most challenging aspects of the COVID crisis for him. His advice to himself and other artists in this situation—and to other people in general—is not surprisingly, very simply stated: "Keep on keepin' on."
For more information and to view an abundance of archived images, visit his website at michaeltunk.com or visit his Instagram page.