"Mother Tongue," Kimia Ferdowsi Kline's latest solo show at San Francisco's Marrow Gallery, is a stunning example of art that was birthed during the pandemic. The colorful pieces were given life with papyrus, and incorporate pearls, glitter, beads, and thread.
On a video call from Nashville, Kline talked about how her work has gotten more personal, why it moved to papyrus, and how it expresses the ancient difficulty of human relationships—including the barbs that can lie hidden in a mother's words.
48HILLS How did moving to Nashville change your work?
KIMIA FERDOWSI KLINE Well, it was an accident moving to Nashville. I have a two-and-a-half-year-old who needed childcare, and we didn't feel comfortable hiring somebody in the middle of a pandemic, so we moved home, which is something I swore I'd never do. Growing up in Nashville, I faced a lot of racism, and I hated the experience of being here.
I think first of all, being pregnant forced me to look internally for answers for my painting, whereas before I'd been looking externally. Then obviously, moving back into my parents' house brings a flood of memories and triggers and unresolved issues and all the things that come along with being in close proximity with your family of origin. Because of COVID, there was kind of nowhere to go. It was something I had to sit with and process and face, so all of that I put into the work. Carrie Fisher has this great line, "Life will break your heart. Put it in your art." That's what I always try to do. I think moving back to Nashville brought my closer to myself and my own history. Because of that, the work has grown and gotten much more personal.
From a practical standpoint, I was a jewelry maker in college, and being home in my parents' house, I found my old jewelry box, and there was a string of pearls I'd never used, and that was the moment it clicked for me, like, sew the pearls into the paintings.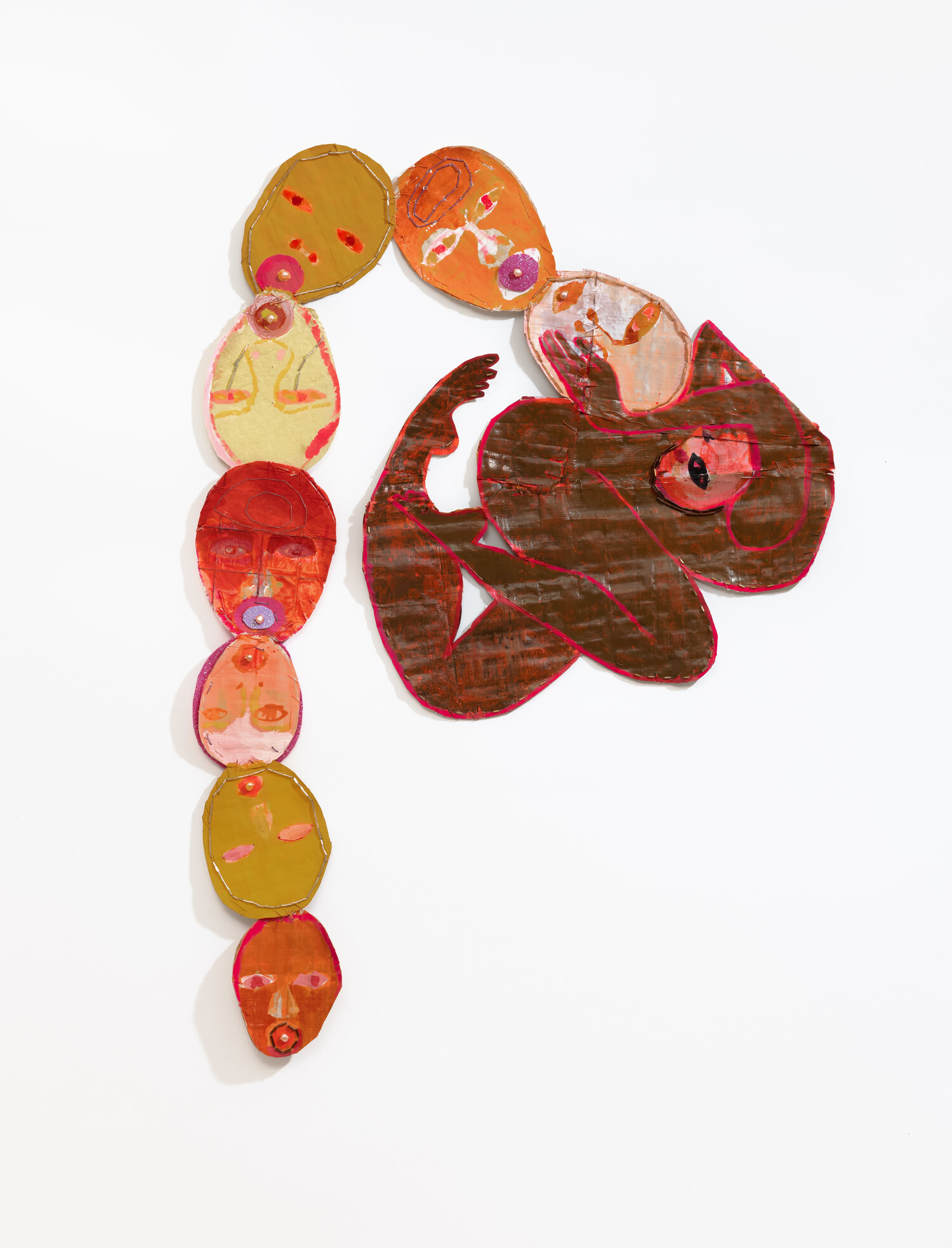 48HILLS Could you say more about how being pregnant changed your work?
KIMIA FERDOWSI KLINE Before I was pregnant, a lot of my work had to do with the body, and the way female bodies are portrayed in media and advertising. And also a lot of it had to do with the landscape of Iran because that's where my family is from, but because I'm a member of the Baha'i faith, and Baha'is are heavily persecuted in Iran, I've never been able to go and visit. So I was making these paintings of longing, of wanting to go to a place I was completely barred from entering. The paintings were about looking out.
The experience of being pregnant, and of literally growing something inside your own body, you turn inward, because you're focused on this new life that's housed inside of you. You're constantly thinking about it, you're hearing the heartbeat and going to doctors' appointments. And it's also a work of art, like my body was building a spine and eyes and feet. And I'm so uncomfortable! It was hell—you're trapped in hell, and there's nowhere to go. So I was forced to reckon with being stuck in a body in a way I had never been before. I had sciatica and nausea, and ligament pain, and don't even get me started on breast feeding. It was like physical torture, and you can fucking quote me on that.
Painting gave me an outlet to talk about what I was going through, which was not pleasant. I mean, in some ways it was—it's magical. Your vagina is a portal that a human being comes through—are you kidding me? It's this insane thing that we take for granted.
48HILLS Why did you call this show "Mother Tongue"?
KIMIA FERDOWSI KLINE I am bilingual, and my first language is Farsi, and it's so important to me that my daughter also speak Farsi. I've been trying to pass that along to her, but it's so hard because my Farsi is very broken. So I've been thinking about that phrase a lot as I'm teaching my daughter language. But then, I was also thinking about how a mother's tongue has the potential to be a weapon. I think we all have phrases or memories of something our mother said, maybe off-handedly, that has stayed with us and that we built an entire neurosis around. So I was thinking about that dual meaning and the importance of your mother's tongue. It's not only the first way you understand language and cadence and sound, but also it can be the architecture or the internal wiring of your self-confidence and your interior landscape.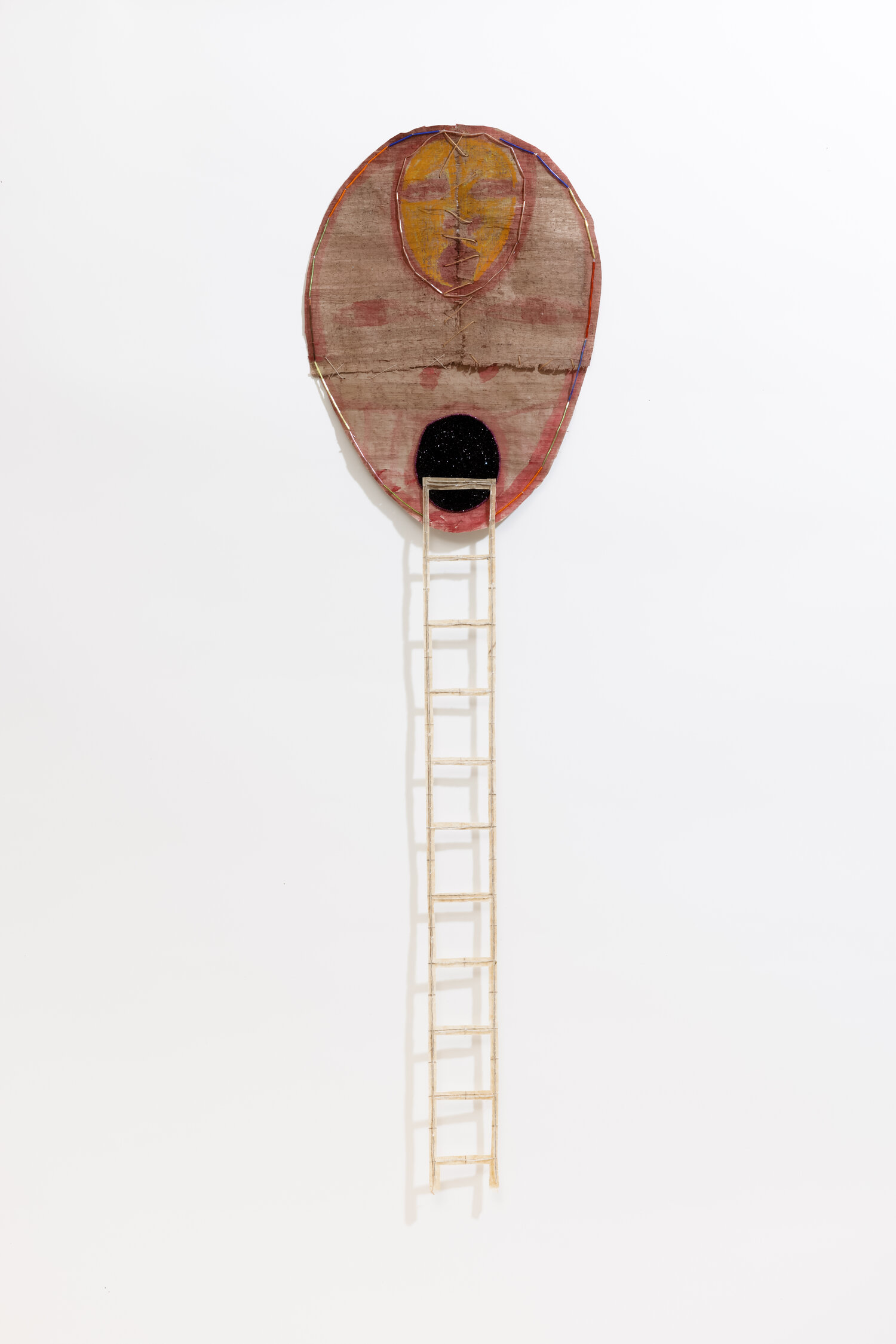 48HILLS Could you talk about the switch from oil painting to the work in "Mother Tongue"?
KIMIA FERDOWSI KLINE I love oil painting, and I think it's very seductive. But there was always something a little stiff and boring to me. I was a bookbinder for a year, so I loved paper. I love sewing and craft and using my hands. I also did sculpture on discarded wood. So I had all these different practices—I was a jewelry-maker, I was a bookbinder, I was a sculptor—but oil paintings always felt like "my real art." And finally, finally, I feel like these papyrus paces are the coming together of the jewelry-making, the bookbinding, and the sculpture and the painting.
What I really like about these paintings is they're so mutable—I can cut through them, I can sew, I can add, I can take away, I can glue on top of it, and they've got this spontaneous flexibility that I think lends itself to the success of the work.
48HILLS How did you start working on papyrus?
KIMIA FERDOWSI KLINE I was pregnant when I found it. I had a residency upstate, and I wasn't able to use oil when I was pregnant because the smell made me so nauseous. So I switched to water-based media, and I was in this frenzy of looking for paper. I was experimenting a lot, and I went to the art store, and I was looking for this Italian paper that I love—it feels like a pillow. They didn't have it, and I opened every single drawer at the art store, and I got to papyrus, and I was like, "What?" I thought this only existed at the Met. I didn't know you could just buy papyrus. It looked like wood, and the color of it is so reminiscent of my skin tone. So I bought a couple sheets and took it to this residency, and I was hooked. That was the summer of 2018, and I have never looked back. I have not done a single painting on anything else.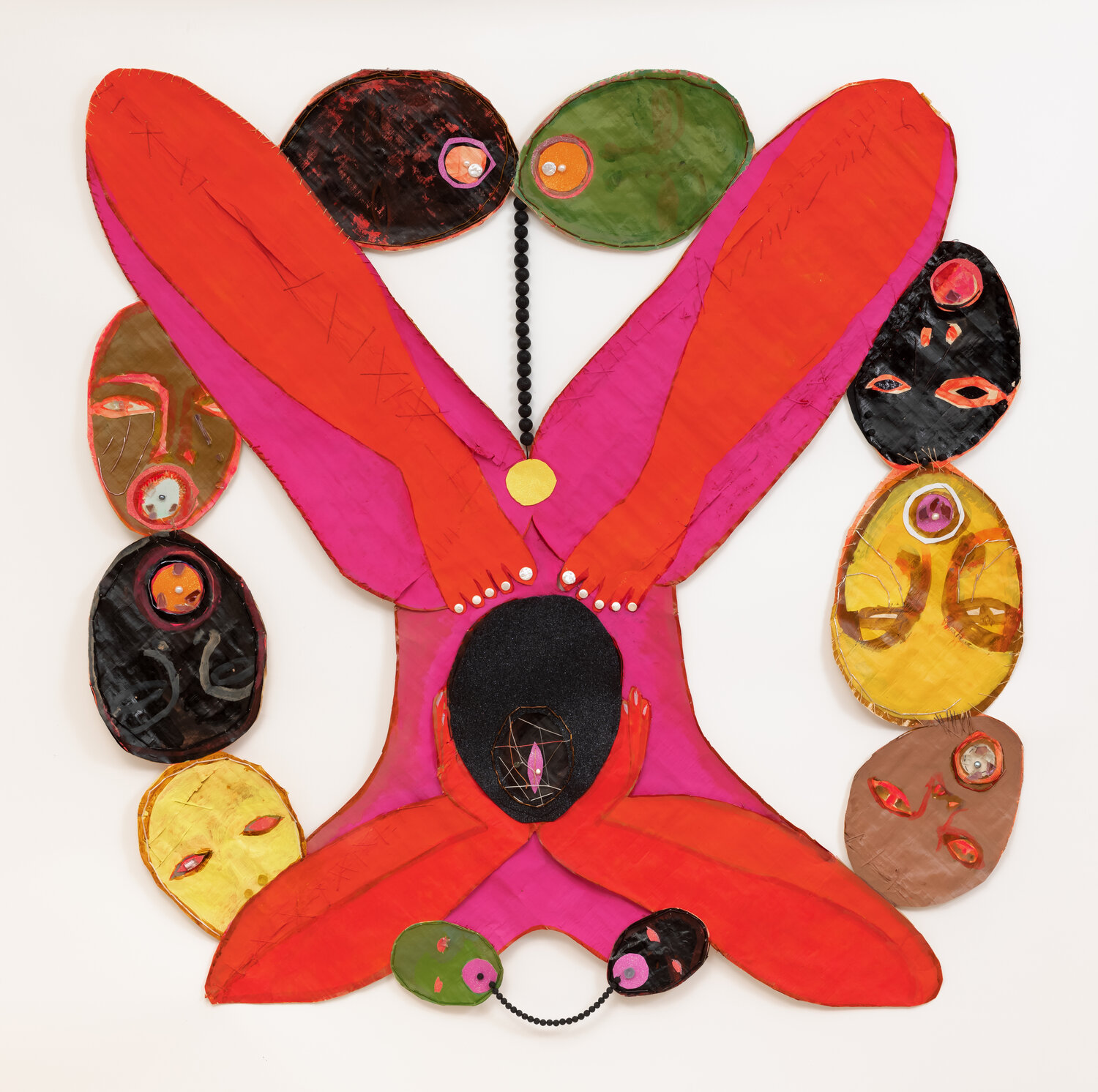 48HILLS It seems like it would be difficult to work on.
KIMIA FERDOWSI KLINE It's not—it's a dream. It's beautiful, and the surface is so evocative. The edges are frayed and it feels very fragile, but it's so durable. It takes ink really beautifully, it takes acrylic beautifully, you can sew into it, it's very forgiving, and it's flexible.
When I lived in New York, going to the Met was such a huge inspiration, and the Egyptian wing always blew me away. I think everyone has a relationship with papyrus, because I think it was the first paper developed by human beings. There is this ancient archetypal association with the material that I think is what I'm trying to get at in talking about human relations. There's this ancient archetypal frustration of needing each otherm and also the wounds we inflict on each other, sometimes inadvertently, sometimes purposefully, depending on who you're stuck being related to.
"Kimia Ferdowsi Kline: Mother Tongue" continues at Marrow Gallery through June 26 by appointment only. Email info@marrowgallery.com for more information.