I just watched a hearing of the Government Audit and Oversight Committee on the status of the disastrous conditions at Plaza East housing complex in the Western Addition, and some of the information that came out was stunning.
For one thing, the city's Housing Authority, which is emerging from years of mismanagement, appears to have allowed the private, for-profit developer that built and manages the public housing to operate with almost zero oversight.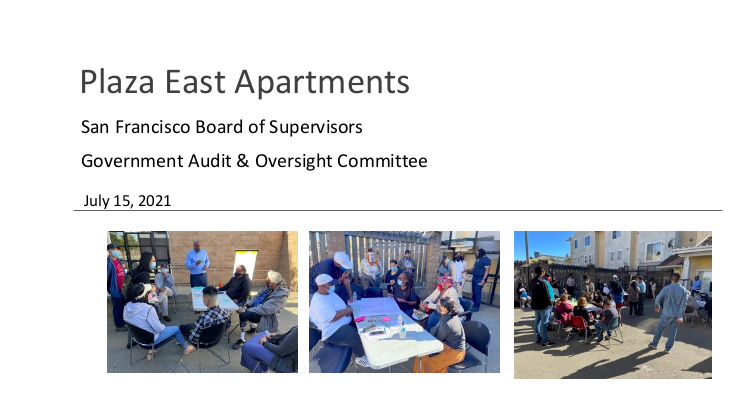 Nearly every question that Sup. Dean Preston asked the public agency in advance of the hearing was referred to McCormack Baron Salazar, which rebuilt the property just 20 years ago under a Housing Authority contract. (Wow, there are a lot of white people running a company that manages public housing, which is occupied largely by people of color.)
Tonia Lediju, the executive director of the Housing Authority, told the committee that the agency's oversight role is limited; "we are hovering," she said.
And without anyone paying attention, the situation at Plaza East has deteriorated to the point where the vast majority of the units need emergency repairs – and most of that work has not been done.
Out of a total of 192 units, the vast majority of which have deferred maintenance conditions that impact habitability, 25 have been fully repaired.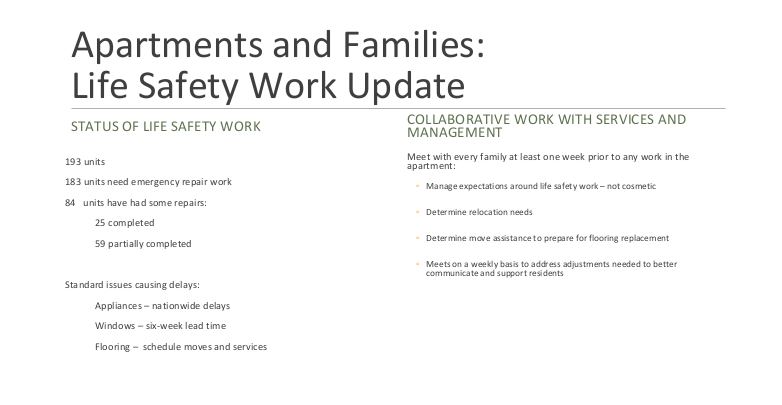 There are nonfunctional appliances, leaks, plumbing problems, rodents, and security issues. Tenants have had to sue.
That doesn't stop the developer from promoting the place with this ad:
With desirable amenities including ample closet space, hardwood flooring or plush carpeting, all-electric kitchen appliances and washers and dryers, Plaza East offers you the best in San Francisco city living.  Our residents enjoy our pet-friendly community, as well as the convenience of our concierge and safety of our night patrol.
Preston has now held two hearings on the problems, and they are only slowly being addressed. Tenants have 21 active complaints with the Department of Building Inspection, and only 4 have been resolved.
In fact, the place is in such bad shape that the developer asked the federal Department of Housing and Urban Development for permission to tear it down and rebuild it – after a lifetime of just 20 years.
That's not a good sign.
These complaints aren't new. The Housing Authority's response is fairly recent.
"I'm concerned that it took this level of hearings and political activism for the Housing Authority to address Plaza East," Preston said.
Lediju said that her agency will work with the private developer—who has been making money on this project since the first day—to "make sure the work is done."
MBS representatives said they are working to repair the problems, which they said stem from a lack of federal funding. They also said it's hard to buy appliances these days and that there's a backlog in construction work. It might be a year before all the units are brought up to the level of full habitability.
Yes, the home appliance business is facing a COVD-driven backlog and it's hard to get contractors these days (although there's a general contractor working on the project now.)
But let's step back here for a second.
The buildings here are only 20 years old. If they are falling apart in that short period of time—to the point where the developer wants to demolish them and start again—something is clearly wrong. There are well-constructed buildings in San Francisco that are in fine shape after 100 years or more, with proper maintenance; there are tens of thousands of residential units where the plumbing, electrical systems, floors, and appliances have lifetimes of far more than 20 years. (I live in one.)
Management of Plaza East has just been turned over to the John Stewart Company, which has a decent record running affordable housing projects.
But I still wonder: How did this happen, for so long, with so little oversight?