Austin Thomas' exhibition Metropolis (through September 3 at Municipal Bonds) is a clamor of geometries. Walking into the gallery, there is an ambience of clarity and stillness amid flurries of movement that is synonymous with a metropolis like New York City, the artist's hometown and foundation for the show. On display is a series of modestly-sized abstract monotypes on found paper using, as Thomas describes, "a vocabulary of rectangles, triangles and trapezoids" that represent the harmonic cacophonies endemic to city life.
Thomas constructs geometric fields of color that find order within chaos; in color block compositions like Formation, intersecting geometries of airy blues and teals against punctuating greys evoke fateful serendipities of crossed paths and chance meetings. The overlapping circles in this work and in others like Circles of Oranges, Berries, and Grapes recall the sense of un-focusing one's eyes at the shifting dance of city lights. Thomas' prints evoke this seemingly-dissonant simultaneity of frenetic noise and contemplative quietude. To be surrounded by crowds and feel totally alone. To be ever-moving and totally still.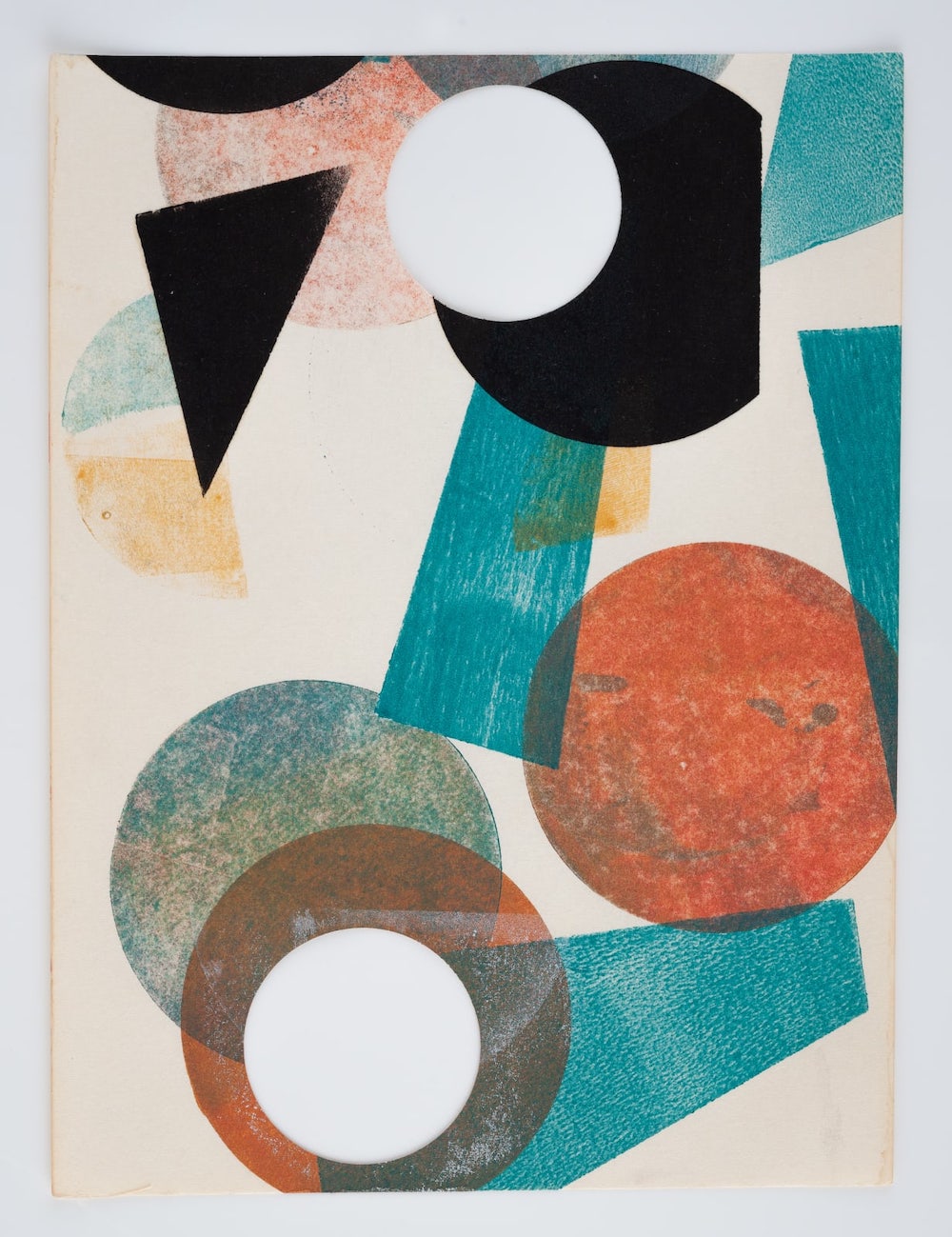 Walking through the gallery feels like a tour of the city's modernist architecture, towering glass and steel angularity rising up from a flowing sea of bodies below. It is possible to imagine the artist tuning out while on a walk, with all else falling away, looking upward to notice the way light and shadow dance across a glass-paned skyscraper. Muted Rectangles, with its gridded composition of yellows, reds, greens, and greys on vintage ledger paper, recalls the glow of apartment buildings at night, each window an orb of unique tungsten and fluorescent lights that recall the human presence within.
In the Netflix series Pretend It's A City, writer and New York City's pundit-in-residence Fran Lebowitz walks the streets of Manhattan, through the always-on maze of bodies, crosswalks, skyscrapers, and traffic. Amid this ceaseless racket, however, the city can sometimes seem to be speaking just to you. Lebowitz remarks on reading various plaques embedded into cement throughout the city, as though they were put there for only her to see. Thomas' prints embody this sentiment: finding singular moments of intimacy and quotidian beauty that perhaps only you might see.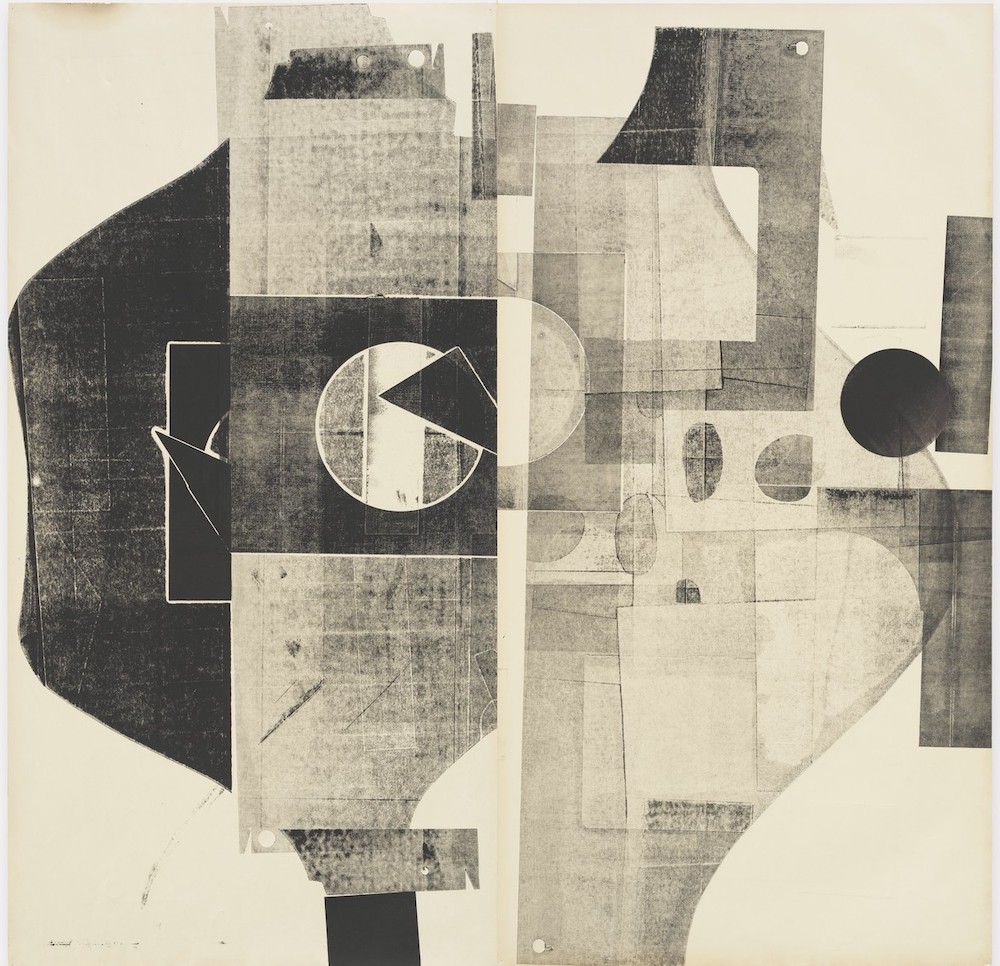 This sense is rendered by Thomas in the visual symphonies of works like Black Holes, Gravitational Waves. The monochrome print's angular geometries merging with organic waves recall the spatial interactions of abstract geometric forms in Constructivist photograms of László Moholy-Nagy. In this crowded composition, some shapes seem to beckon the viewer, like a centrally-placed black trapezoid jutting into a faded-grey circle, affording a moment of pause in the whirlwind.
What is most striking about Thomas' work in Metropolis is the undeniable auditory quality of the prints. Works like Repeating Patterns and Coloring Book (Turquoise) are a city's jazz soundtrack made visual: a syncopated harmony of distinct shapes coalescing on a single plane. They recall Missing Sounds of New York City, an album released during the first weeks of the COVID-19 pandemic by the New York Public Library: an aural love letter to the city of in a time when residents longed for the unflappable din of pre-pandemic city life.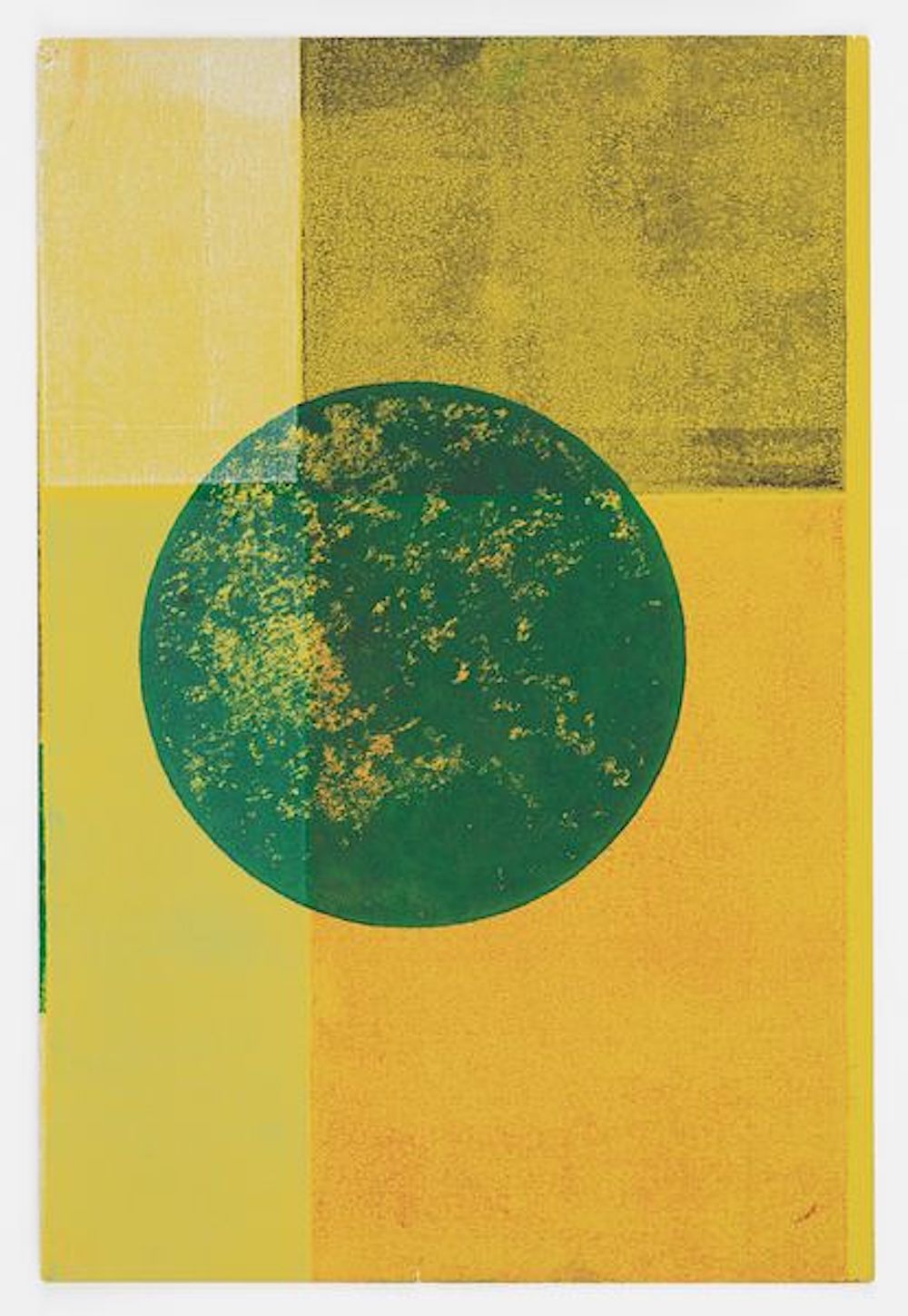 Tracks on that album like Serenity is a Rowdy City Park immediately connect to the dualities in Thomas' work in Metropolis, solace in urban space's vibrant electricity. The percussive honking of taxicab horns, voices calling out to someone down the block, rain tapping against concrete, trains pulling into a subway station with their string orchestras: Contrast and discord somehow become melody.
Though the work draws inspiration from a different city, its presentation at Municipal Bonds in San Francisco certainly brings to mind the unique rhythms and harmonies here. From the ringing of Muni streetcars, to crashing waves and crackling bonfires along Ocean Beach, to the ghostly hums recently emanating from the Golden Gate Bridge, Austin Thomas' Metropolis reminds us that every city sings a song all its own.
AUSTIN THOMAS: METROPOLIS runs through September 3 at Municipal Bonds gallery in SF. More info here.