"Even the San Francisco Department of Health admits this is serious, dead serious. Maybe they realize that air pollution doesn't stay locked in one neighborhood. If our lives are in danger and pollution spreads, it won't be too long before their lives are in danger, too."
Marie Harrison, dedicated community activist for her beloved Bayview who died from chronic lung disease in 2019, wrote those words in the The Bayview newspaper in 1996 in an effort to prevent PG&E from building a new substation in her neighborhood.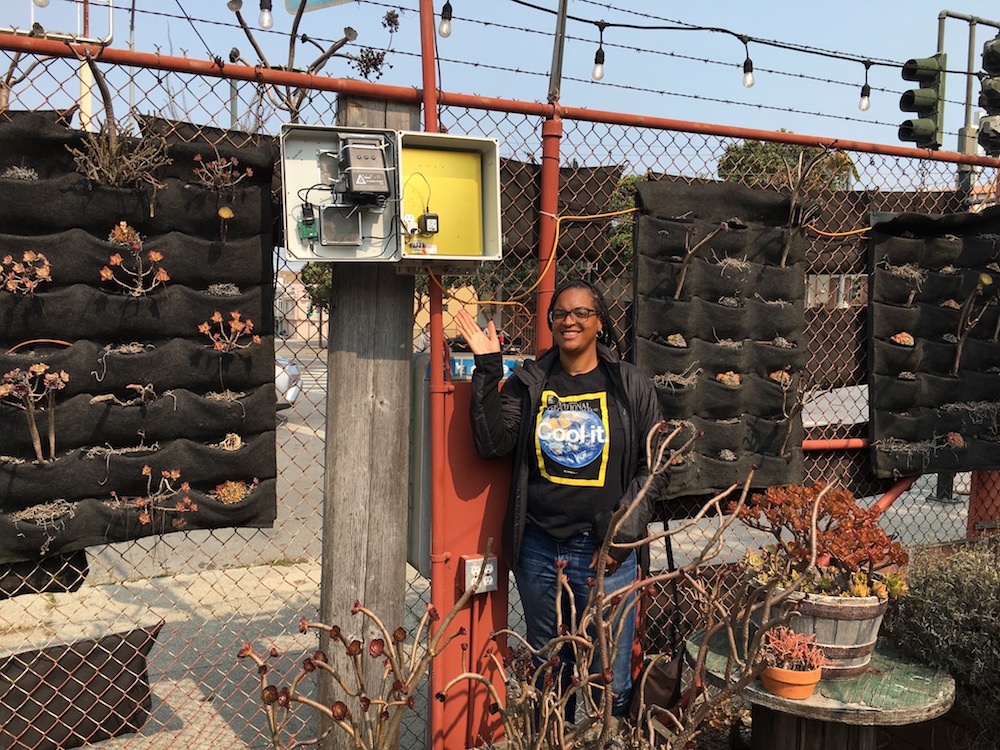 Twenty-five years later, the Marie Harrison Bayview Hunters Point Air Monitor Project, launched this past Saturday, plans to use scientifically rigorous data to back-up her claim that bad air in the Bayview can become bad air for the rest of San Francisco.
"She (Harrison) taught me an immense amount of lessons not just in this work, but in life," said Dalila Adofo, manager for the project, in a Zoom meeting before the official kick-off event at All Good Pizza. Adofo shared a slideshow of the eight Dylos air monitors that, despite the challenges of COVID-19, were successfully placed throughout the Bayview to measure air quality.
The project is funded by the California Air Resources Board thanks to Assembly Bill AB 617, and run by Greenaction for Health and Environmental Justice along with project partners Bayview Hill Neighborhood Association, Bayview Hunters Point Mothers and Fathers, and Literacy for Environmental Justice.
An expert panel of David Chang from Tracking California; Jack Broadbent, Chief Executive of BAAQD; Davina Hurt of CARB; and Dr. Ahimsa Sumchai explained the scientific rigor behind the system. For example, co-locating the system near the government's own air monitoring systems provides additional confidence in the data being gathered.
"This is not a simple plug and play method," Chang said. "We are working with the government's system to double check, and our process is modeled on 40 Dylos in Imperial, CA."
"We all breathe cleaner air because of Ms. Marie Harrison," Broadbent said. "I know because she pushed on us quite hard. "
"Healthy environments are for all and not a few," Hurt said. "We need environmental justice as part of doing business. We have a long road ahead, but we are on that road."
"So many diseases are directly linked to air pollution," Sumchai said. "What's amazing about 94124 is the number of patient visits for adult asthma. That is so outside the norm."
At All Good Pizza after the Zoom conference call, Tiffany Williams, the air monitor tech, explained the nuts and bolts behind the Dylos on site. Williams said that the siting of the monitors depended on accessible spaces with good air flow—coupled with the good graces of willing hosts.
She opened the box and pointed out how the air fed through galvanized elbows and into the Dylos monitor, and that the analysis is then fed into a motherboard, which then sends the data to the IVAN network.
"We want people to go to the IVAN website and see the air in 94124," Williams said. "If you suffer from asthma and it's red, you might not be able to go out for the day."
Williams and other members of the project stress that, unlike Purple Air Monitors, the community owns the data. That critical ownership empowers the community to defend the air they breathe if polluters want to build more emitters in the Bayview, what environmental injustice advocates already call a "sacrifice zone."
Although the air monitoring network was being celebrated, thoughts returned again and again to their namesake.
"I remember the last time we left City Hall together, and I just kept saying 'Marie, I love you, I love you, I love you,'" Leaotis Martin of the Bayview Hunters Point Mothers and Fathers Committee, said. "She got tired of me telling her, but I knew it was probably the last time I'd see her. I had to make sure she knew."
"Marie said we have a human right for clean air and clean water. Period."
"She paid the ultimate sacrifice with her own life, dying of a respiratory ailment, a non-smoker who lived a healthy and vigorous life," Anthony Khalil of Bayview Hunters Point Community Advocates said. "These industrial sites affected her family. Even though her own family was on the brink of survival, she involved her family in the fight for her community."
An important part of Harrison's family – and her legacy—spoke to that fight directly.
"My mother was a dedicated warrior for this community for decades," Arieann Harrison said. "My homage to her is the Marie Harrison Community Foundation, Inc., which pushes for social and environmental justice in the Bayview and communities like the Bayview."
"I believe in the power of the people," Harrison said. "I believe today's Goliaths have a damn good fight on their hands when it comes to messing with us—and all the human race."
The lunch crowd at Third and Jerrold Avenue was a mix of foot traffic from local Bayview residents and day-shoppers sporting fancy succulents from nearby Flora Grub Gardens. All right across from St. John Missionary Baptist Church, Marie Harrison's church and site of her 2019 memorial, where a statement from the mayor to honor Harrison was read:
"We are grateful for Mrs. Harrison's decades of work to ensure residents of this city have clean and safe places to work and live. Those who worked with Mrs. Harrison deeply appreciated her strong moral compass, and she will be remembered for her integrity, wisdom and tenacity."
One question will always remain unanswered. If Harrison had had a Dylos system at her disposal sooner, if a small fraction of the billions of dollars that flowed into San Francisco from tech had gone to this investment, how could Harrison have used that data to defend her beloved Bayview? Her own life? Or the lives of all San Franciscans?
"While Bayview has the most toxic dumps, you are not out of harm's way no matter where you live in the city," Harrison wrote in 1996. "The very wind that should clean the air you inhale and exhale is the same toxic air we all breathe."