Under the Stars is a quasi-weekly column that presents new music releases and a number of other adjacent items. Let's get it!
DE LUX, ABRACADABRA AND DJ GUILLERMO AT RICKSHAW STOP, OCTOBER 16TH
Anybody who has been in SF for a minute knows, DJs who are really deep in the game have multiple styles they like to flex when given the opportunity to do so.
Jacob Pena a.k.a. DJ Guillermo, a co-founding member of SF's internationally-known, all-vinyl, timeless boogie and modern soul party Sweater Funk, has been attempting to pull off a different kind of get-down for a minute. Back in 2018, Throwing Bo promoter Eli Anaya and Guillermo started talking about working together, but weren't sure what shape the collaboration would take. When they saw LA live disco duo De Lux's last SF show three years ago, a sold-out night at Cafe Du Nord, the lightbulb went off. "We knew this was the group we wanted to book, says Pena. "The vibe in the room was so good, everyone was smiling and dancing with wild abandon … it really reminded me of the early Sweater Funk parties in the basement of Li Po lounge with no rules, just good music and all the dance moves you could come up with."
De Lux and Oakland indie dance band Abracadabra will perform at Rickshaw Stop, Saturday with DJ Guillermo touching down with some deep and funky Italo and boogie disco gems to keep the crowd moving, and the positive vibes flowing all night long.
Purchase tickets here.
VARIOUS ARTISTS — 20 YEARS OF BASTARD JAZZ
Listen, Bastard Jazz had to be a quality label in order to give itself such a name.
The imprint first snuck onto my timeline when SF homies The Pendletons started releasing music through its upstart label. Later on, releases from Los Angeles producer and talkbox wizard B. Bravo and Potatohead People keep that name slapping upside my head. But I can't front. Last year's release from Pittsburgh producer Buscrates and 2019 album Yasmin from Kumail solidified this label's spot on my "always peep them out" list.
From its humble beginnings in 2001, Brooklyn's Bastard Jazz Recordings has trailblazed a unique path in the world of independent record labels. Appealing to DJs and music fans from all walks of life, BJR has become known for its eclectic sound and community of global artists from Mumbai to Napoli to New York to Kinshasa. Bastard Jazz's catalogue shows an unrelenting commitment to the vinyl medium, and touches on everything from funk to hip-hop, house music to forward-thinking beats, soul to jazz, and recognizably international sounds. This November, the label will be celebrating 20 years of operation in various incarnations, and is releasing a special compilation and a DJ-friendly 4xLP entitled 20 Years of Bastard Jazz, filled with brand new cuts from its current roster, plus a selection of catalog material—some of it classic, some of it overlooked, and some of it unpressed.
Pre-order here.
KADHJA BONET — "FOR YOU"
For those of you wondering where and when Kadhja Bonet will show up with her own new material, the question has been answered. If you missed the wide-ranging singer-songwriter's intricate remix for Khruangbin and in-depth interview with Laura Lee of the band this summer, no worries. We gotcha covered.
Falling out the sky last week, her single "For You" is packed with feathery vocals and coated with warm synths. It marks her first release on the new label home of Ninja Tune, ideally meaning an album is on the way. It's the first single we've heard from her since 2018's "Childqueen."
Purchase here.
FOAMBOY — MY SOBER DAYDREAM
WHOA! That's what my brain communicated to my ears on the first listen of this album by Portland-based duo, producer Wil Bakula and vocalist Katy Ohsiek.
Both artists are veterans of the experimental musical collective Chromatic Colors, and have a certain ease in concocting these synth-pop, funk-adjacent soundscapes that are dance-oriented, quirky, and always interesting.
This disco-meets-pastel-groove business meanders about topics concerning identity, relationships, gender dynamics, and late-stage capitalism. Now that may sound like a PhD dissertation (for all, we know it was), this duo has arranged the coolest-sounding closing argument on human nature in a mighty long time.
You should really make this purchase here.
THE UMBRELLAS EMBARK ON TOUR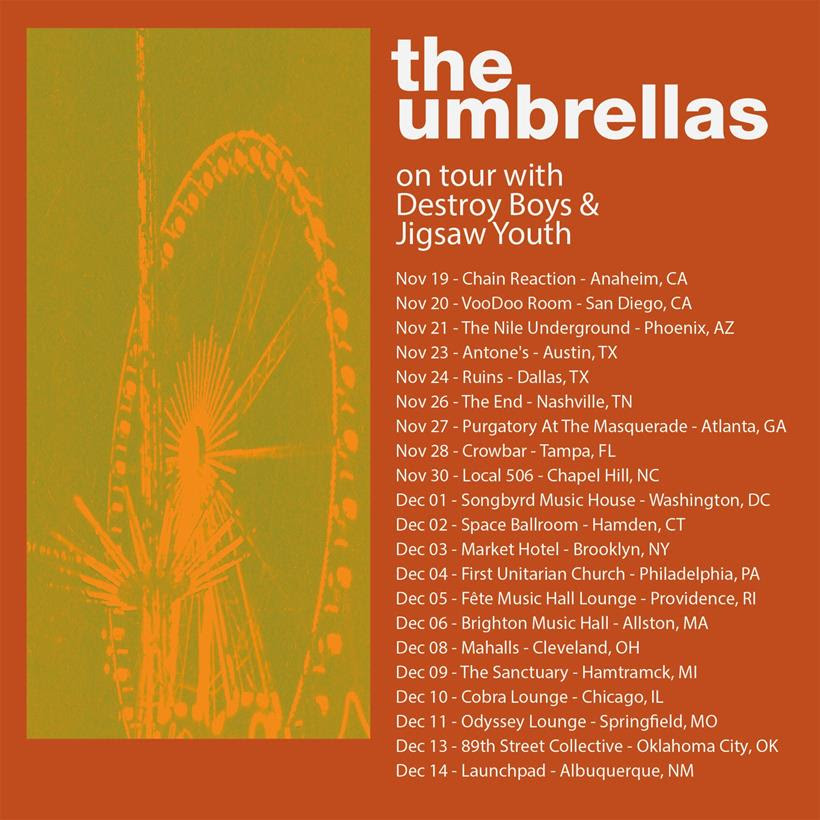 San Francisco four-piece band The Umbrellas just announced a November-December tour that will begin in Anaheim on November 19 and end in New Mexico on December 14. The 21-date stretch will be in support of their dynamic self-titled debut record that stoutly preserves SF's International Pop Underground reputation.
On August 6, The Umbrellas played to a packed (as much as safely possible) capacity crowd at The Rickshaw Stop here in the city. It was a brisk set, just about an hour, that saw the crowd swooning with delight once the band leaned into its song "Near You." Live and in the moment, The Umbrellas are a chompy, tight band who coast along with a confidence and magnetism not usually found in an upstart outfit.
Purchase tickets here.
GANGSTER DOODLES — GANG$TER MUSIC VOL. 2
Back once again, still keeping that practical Andy Warhol steeze alive, Gangster Doodles a.k.a. "Marlon Sassy" has enlarged his rep beyond just an illustrator who makes blunt scribbles of people on 3×3 Post-It notes.
After he put together a stellar collection of tracks by the rappers and talent that inspire his work for the first compilation Gangster Music Vol. 1, back in 2019, it was time to expand the vision.
The last few years have been quite involved for Sassy, requiring an exhausting compilation process via emails, DMs, texts, and a myriad of other electronic forms of badgering and prodding. He released his literary feature Gangster Doodles (The Book) alongside an ever-expanding array of prints, original works, apparel, and exhibitions across the globe. He topped that off with animation projects and a graphic novel in the works. Now, with Gang$ter Music Vol 2, the brand gets to show its teeth just a bit more.
This time around, he's amassed an all-star line-up. Here you'll find hot-tip emerging producers and MCs like Ovrkast, Woodie Smalls, and Big Baby Scumbag to underground perennials like ShunGu, Teebs, Ohbliv, and Knxwledge. There's an appearance by top-flight producer Dâm-Funk and others by established vets like M.E.D., Black Milk, Lil B, and Open Mike Eagle. The album does indeed go bang-bang.
Describing the compilation's cover art, Gangster Doodles says; "Every morning I start my day with a bowl (or 2) of Fruit Loops. Usually, on the back of the box, they have different activities to do. On one of them was a black and white image of Toucan Sam chilling in a tree. In large colorful font, it said you could cut out the image and color it in to create your own version. That idea really resonated with me. Continuing the cartoon cat theme from Vol.1, I chose Felix the Cat to help encapsulate this idea, and then flip it on its head. A black and white album cover that could be left as is, or if the mood strikes, go and grab some markers, pens, crayons, paint, ink and create your own unique doodle versions."
Pre-order your doodles here.