This right here is a bit of Good Taste, your weekly menu of food-related fun facts. Try the shellfish tasting!
Four years in the making, The Bungalow Kitchen by Michael Mina is finally open in Tiburon, literal steps away from where the ferry from San Francisco drops off passengers. If you're looking for an upscale option for brunch or dinner (and, eventually, late night drinks) and to get out of San Francisco for a while, the clubhouse-styled restaurant is a significant new place to consider.
Mina recently restyled his eponymous San Francisco restaurant as Estiatorio Ornos, a Greek restaurant with a "fish sommelier." Some of that former dining room's greatest hits, including his caviar parfait starter and a dramatic lobster pot pie that gets wheeled to the table on a cart, are now on the menu in Tiburon.
But the Bungalow Kitchen is designed to be much more of a casual hangout space than Michael Mina was, or Estiatorio Ornos currently is right now. It's an expensive place for an average diner, but a large à la carte menu doesn't require customers to make quite such high-end choices—you can belly up to the bar with some Grand Marnier and black pepper-glazed duck wings and crinkle cut duck fat fries, for example.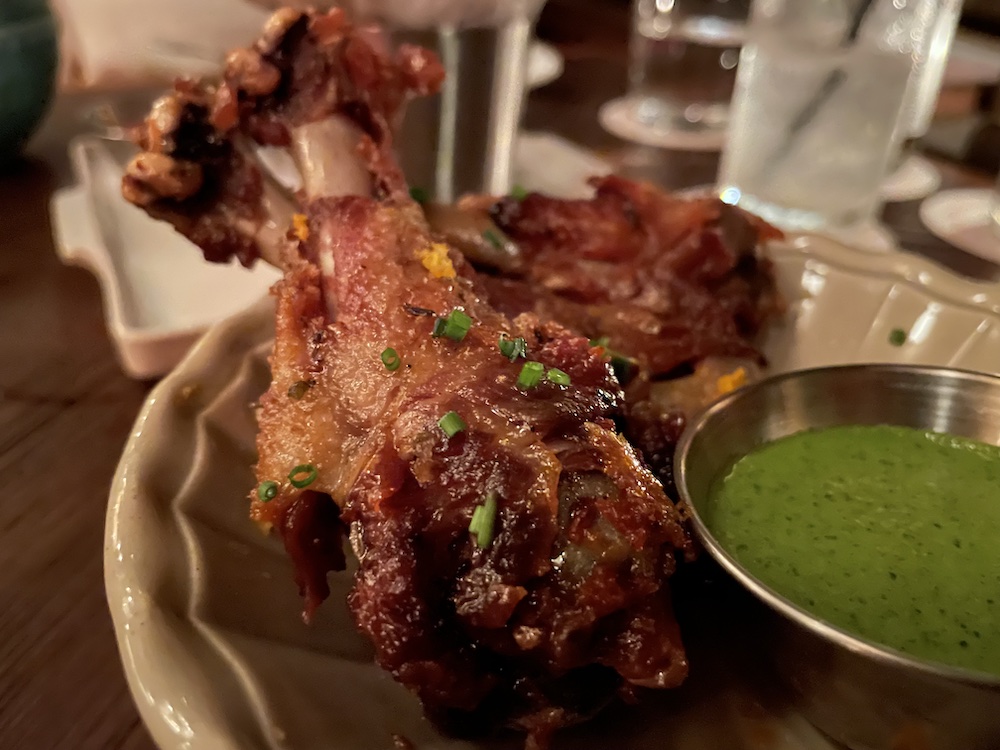 The stars were out when I went in for dinner last week. Sammy Hagar, once a local restaurateur himself with Mill Valley's now defunct El Paseo, was seated at the next table. The sighting instantly put me in a good mood, remembering how gracious Hagar was when I had a paella dinner with him at El Paseo back in 2017. I also spotted Chef Roland Passot, who had an acclaimed French restaurant in San Francisco called La Folie for 32 years, and my server let me know that his name is Michael Bauer—same as the former San Francisco Chronicle restaurant critic.
Mina's partner Brent Bolthouse, a veteran nightlife and hospitality impresario from Southern California known by some for his cameos on the MTV early Aughts (scripted) reality show The Hills, told me that he wanted music at the Bungalow Kitchen to sound perfect, so he hired the same company that designed the acoustics inside the Walt Disney Concert Hall in Los Angeles, home to the Philharmonic. For someone as musically-obsessed as I am, it felt good to be dining somewhere where music isn't an afterthought. Thanks to an invitation from the Mina Group, I was able to try a significant portion of the menu; photos of everything I devoured can be found on my Instagram feed.
Something to note if you've only been eating in San Francisco restaurants (or still staying home): I didn't get the memo that Marin County did away with its indoor mask mandate for restaurants, so it was a bit of a surprise for me to be in a full place where only a few servers wore masks. But there are plenty of open doors and windows facing the waterfront, and plenty of outdoor seating as well. I'll be back for brunch; I hear there's truffle spaghetti.
I heard it through the grapevine: The Oprah Winfrey Network (OWN) has released a teaser trailer for an upcoming series called Kings of Napa, a sibling drama centered around grabbing control of the family's wildly successful Wine Country empire. If you're a fan of The Wire, you may recognize actor Isiah Whitlock Jr., who played corrupt Senator Clay Davis, making recurring appearances in Kings of Napa as the retiring patriarch Reginald King.
Getting strong soap opera vibes with this one, and that's a personal soft spot, so I'll give it a chance. Kings of Napa will premiere on OWN in January, and my Rancho Gordo popcorn will be ready.
If you're still hungry, there's more to digest at Tamara's California Eating.