Every day, I walk with my daughter through the Tenderloin. We are no strangers to hearing gunshots directly outside our building at night. We walk past people using and dealing drugs. Tents line the sidewalk on the block where we live.
Mayor London Breed declared a state of emergency in the Tenderloin last week, calling for the need to respond to the "crisis" in the Tenderloin. While it's true that there is a devastating humanitarian crisis, Breed's plan will only make a bad situation worse.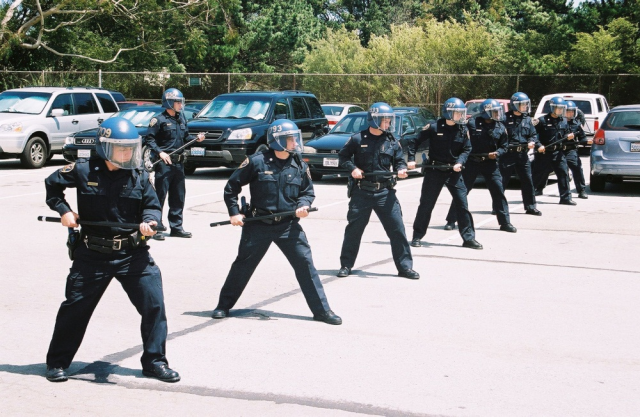 Her plan is centered on more increased policing and surveillance.
As a Black mother and Tenderloin resident, this doesn't make me feel safer—this makes me scared.
Throughout my time in this neighborhood, I've always felt that I'm being surveilled, even in front of my own home. Cops in their cars slow down when they see me, their eyes constantly trying to figure out who I am and what I'm doing. I've been accused of drinking or using drugs. When I pick up my eleven-year-old daughter from school, cops say that I'm loitering. I don't want my daughter to go on living in fear of police violence, and I also don't want a future where she is harassed just for hanging out with her friends and neighbors outside of our home
I, along with my neighbors, are concerned that we will become targets in a plan to over-police the Tenderloin. I've seen the push to crack down on crime repeat itself in the Tenderloin for over 30 years without any improvements to the neighborhood. Too many cops will end up with the wrong people being harmed or needlessly imprisoned, rather than actually addressing their basic needs.
It's clear to me that the mayor and her advisors did not talk to someone like me before making this declaration. For a plan that has been in development for over two months, there has been an unacceptable level of outreach to different members of the community. Why are we – the people of the Tenderloin, who will be most impacted by this plan – just now hearing about this plan in the week of Christmas? Where are the forums for public feedback? Why are my neighbors in supportive housing, where dozens of families live, still unaware of this plan?
The only way where we can become safe is if we come together as a community and start looking after each other. In the African American community, the way we take care of each other has always been helping take care of each other's kids. Instead of putting more power in an institution that has broken the trust of the most vulnerable members of the community, I want to see more money go to communities and organizations that have built strong relationships with Tenderloin residents. We should be at the front of this movement – not the Mayor, and certainly not the police.
Tenderloin community members have already developed proposals to improve our lives and our neighborhood in ways that we know will work. We want true alternatives to policing that won't criminalize our loved ones through programs like the Compassionate Alternative Response Team. We want housing for people on the streets, jobs that will pay a living wage, and drug treatment for people who need it. Why not start there instead of directing valuable resources away from addressing the root causes of poverty that we all experience in the Tenderloin?
The Board of Supervisors will vote this Thursday on Breed's emergency proclamation. I am urging them to take a stand against the proclamation and instead start talking to the people who actually live in the Tenderloin.
Tracey Mixon is a Peer Organizer at the Coalition on Homelesness and a Tenderloin community member for over 30 years. Tracey is a parent volunteer at her daughter's school in the Tenderloin and has worked at the Tenderloin Community Benefit District as part of their Safe Passage Program.