Under the Stars is a quasi-weekly column that presents new music releases, upcoming shows, and a number of other adjacent items. We keep moving with the changes, thinking outside the margins, digging that rare and refined holiday music, enjoying yuletide shows in alternative spaces, watching The Beatles politely break up on film, observing DMX salute Gladys Knight in a very personal way (dude had many levels), and realizing how many things don't happen without Stephen Joshua Sondheim.
It's Under the Stars. Give thanks, SF!
DJ DELON — XMAS IN THE HILLS MIX
We are truly a very lucky site here at ole 48hills. We are located in what I've always thought of as the Mecca for DJs on this planet. The Bay has a nice rotation of mood-setters who always slide us special assortments that go farther than digitized mathematical calculations. DJ Delon, a.k.a Alain Grissette, a veteran DJ who executes a grand command of many genres (funk/indie/soul/jazz/drum and bass/electro/downtempo/breaks/lo-fi/yacht/hip-hop/cinematic/rock/boogie/disco/etc.), is in fact, one of those curators.
And YES, he fought the SF Bay Area electronica wars and won, via founding the legendary Berkeley party Beatdown, an outdoor home where the competing sounds of the day, from house to downtempo, drum 'n bass and two-step garage, could come together under the stars. Later, he held longtime residencies at Lazlo in the Mission … but you know that story, 'cause we already told it.
Today, he provides us with a hepcat groove Christmas that dammit, I'm here for. Let me give the brother some space to explain: "This is a Christmas mix I did a few years back that I think still knocks as an alternative to algorithms," says Delon. "It's a holiday set of mainly '50s/'60s grooves. I've always dug Christmas comps and found nuggets that I can squeeze into sets around the holidays. This mix was for a private party and I went all-Christmasy fire."
Yes, you did my brother. Yes, you did. If you need that extra Xmas look-good-smell-good vibe, DJ Delon is gonna blow your ever-loving wig back.
KELLY FINNIGAN — A JOYFUL SOUND (Colemine Records)
As we head into the most doing-too-much time of the year, it's helpful to try to keep an ear out for material that doesn't ring the same old dusty jingle bells. Kelly Finnigan, the singer-songwriter-producer of the Bay-Area-based soul band Monophonics, put out A Joyful Sound last year on Colmine Records. It's packed with 11 tracks that reference a different time in pop music, one in which soul artists put out holiday records that resonated for a lifetime.
With accompaniment from members of Durand Jones & The Indications, The Dap-Kings, Ghost Funk Orchestra, Monophonics, Thee Sinseers, Orgone, Ikebe Shakedown, Jason Joshua & The Beholders, The True Loves, Neal Francis, Jungle Fire, Delvon Lamarr Organ Trio, Ben Pirani, The Jive Turkeys, The Ironsides, The Harlem Gospel Travelers, Rudy De Anda, Alanna Royale, and more, A Joyful Sound is becoming a nowstalgia classic in its own right.
"Santa's Watching You" is a holiday take on a stone-cold gospel burner by The Sacred Four of which we stated last year, "Only Finnegan could make a cover work that makes you feel like Santa is a creeper. With production tweaks that dip in and out of the non-formulaic lane of retro-soul releases, 'Santa's Watching You' is gritty back-beat soul salvation."
Purchase here.
ROCKS IN YOUR HEAD HOLIDAY FEST @ BALBOA THEATER, DECEMBER 12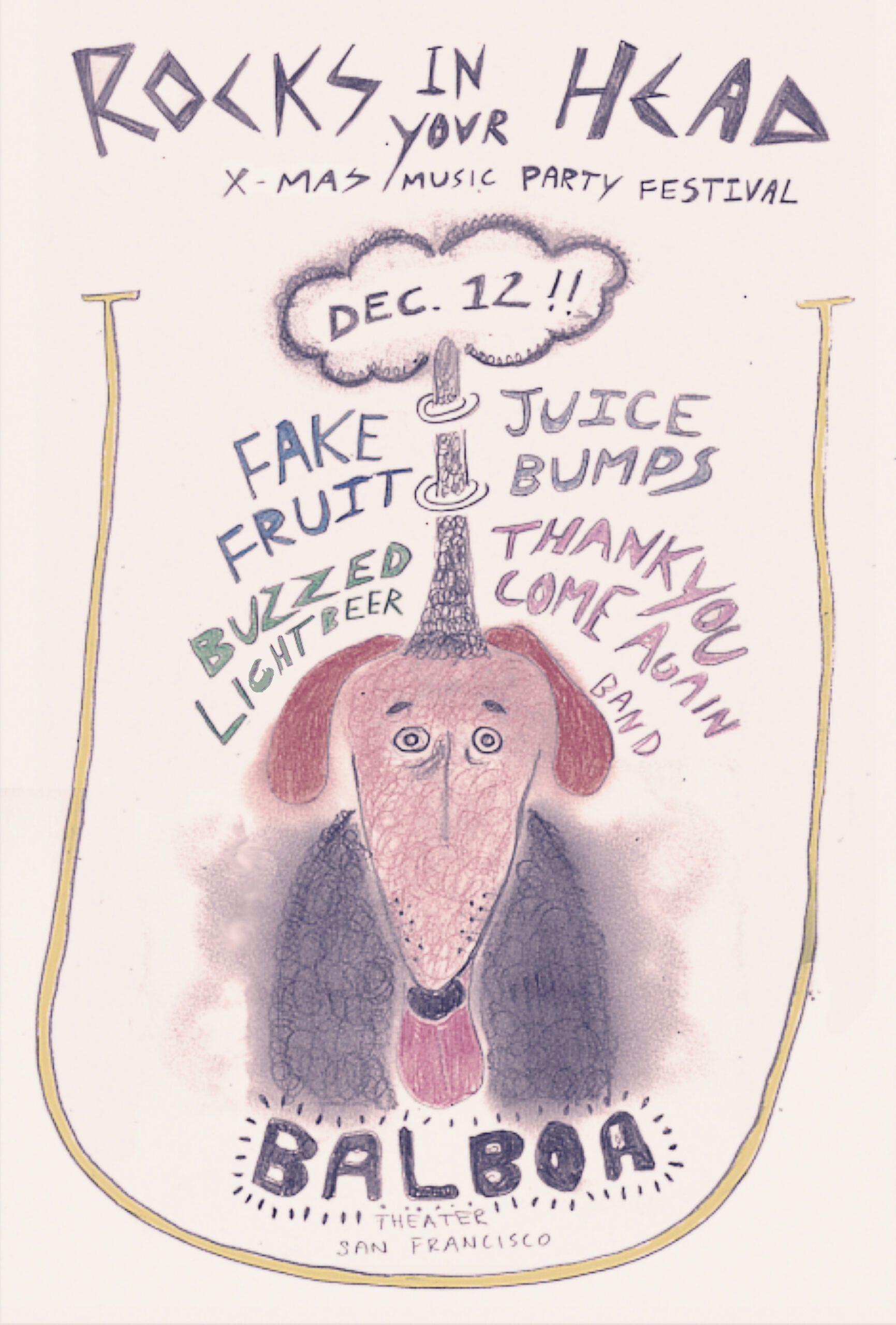 Well-known independent record label Rocks In Your Head, which was founded by label boss Sonny Smith in 2018, will be throwing an indie music holiday party at The Balboa Theater next week. Featuring live bands, craft holiday shopping, and DJs, it's a fun boost to local seasonal yuletide business. Consider the event an update on ways to enjoy live music that employs alternative spaces as different arenas of entertainment. It's a forward-thinking business model that San Francisco, and all cities, need to move toward in the very near future. For an example, look to the organizing work done by musician Andrew St James and promoter Ashley Graham during the pandemic, which they talk about in this interview from earlier in the year.
Doors open at 5 p.m. and bands start at 6 p.m. Expect to hear sets from Fake Fruit, Juice Bumps, Buzzed Lightbeer, and Thank You Come Again.
For more info go here.
JESSY LANZA @ STARLINE SOCIAL CLUB, DECEMBER 9
Canadian artist Lanza will be performing in Oakland next week after completing a month-long stint opening for fellow Canadian artist Caribou. Last year, her remix project 24/7 featured Visible Cloaks, Kate NV, Proc Fiskal, and Loraine James, and was both a fresh treat and proper ramp-up for her next era.
To whit, Lanza just mixed the 76th edition of the DJ-Kicks enduring !K7 records compilation, which was founded in 1993 and is an ageless compendium of electronic music that spotlights up-and-coming artists and legacy producers. Released in November, Jessy's mix fuses several in her artistic circle, including DJ SWISHA, Lolina, and Oyubi. It also includes four tracks by Lanza herself.
"I made this mix to connect the dots," said Lanza in a press statement upon its release. "The songs I included are ones that people respond to everywhere regardless of where in the world I'm DJing. I made this mix in pursuit of the bleary 4 a.m. feeling."
Purchase tickets to the show here.
RAY KEITH — DARK SOLDIER
Ray Keith, sometimes fondly referred to as "Ray Keef," the British legend and one of the top dons of drum and bass will release a biography in December. Dark Soldier chronicles his path to becoming an ambassador of the breakbeat genre that still commands global attention today.
The 650-page book details his journey and life, one that has been fully dedicated to the music. It was penned in collaboration with journalist Dave Jenkins. Dark Soldier (the title is an alias of the veteran producer) will include interviews with UK legends—Keith's contemporaries—Goldie, A Guy Called Gerald, Fabio & Grooverider, LTJ Bukem, Bryan Gee, Jumpin Jack Frost, Nicky Blackmarket, and a host of others.
To get ready to read, listen to this Ray Keith blistering mix of drum and bass from the 2020 Bang Face Weekender, filled with "Ray Keef" classics, choice drops, and proper intensity for a full 90 minutes. It's proof that the DJ-producer is still at the top of his game.
Pre-order the book here.
90 PERCENT OF CONCERTS WILL BE FREE AT NEW BOWES CENTER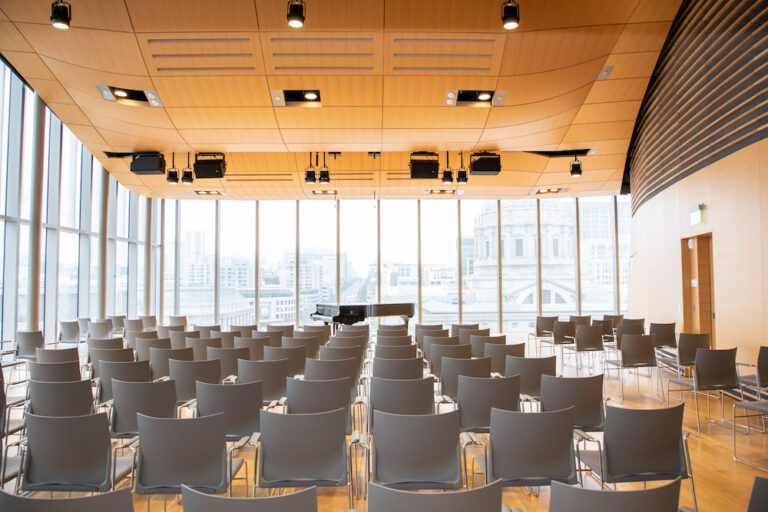 Sometimes you gotta double down on what your platform is putting out to the people, cause the gospel truth can get missed on the first run. As reported here in November by my boss Marke B., The Bowes Center, a new $200 million San Francisco Conservatory of Music facility, will make 90 percent of its concerts free to the public.
For a cosmopolis forced into a state of incessant podhole delirium for the past 18 months, statements like that are paramount, like water to the massively-dehydrated.
Officially named the Ute and William K. Bowes, Jr. Center for the Performing Arts, the building is located on Van Ness Avenue and Hayes Street in the Civic Center. The overtly modern facility includes student housing, classrooms, remarkable concert spaces, practice rooms, and a state-of-the-art sub-basement recording studio-performance space for film soundtracks and electronic music production. The center raised $130 million from donors for its construction, in addition to the original $46.4 million gift from the eponymous Bowes.
True to form, my boss didn't miss a damn beat, and asked the executive director of the Conservatory's Technology and Applied Composition (TAC) program Taurin Barrera if there were plans for any electronic music performances (that's code for RAVE, y'all) in that Bat-Cave sub-basement performance space.
Barrera responded that they envisioned immersive experiences like those of Soundbox, the much-revered (and nigh impossible to get into) experimental music nightlife program from the San Francisco Symphony. Please read Marke B's piece for a thorough account of this major news event. I just had to shine a light on it. Feels like the city is trying to do things for its residents, in some ways. Nice to see and report.