As noted in this space a few days ago, there are still plenty of local film festivals and special events (now back on actual public screens, even) to scratch that itch for new non-mainstream cinema. Of course, the true cinephile addict can never have enough: Can't a time machine transport us back to festivals of yore, when movies never seen or heard from since made their brief appearances, alongside titles more lastingly accessible? Even a top Cannes prizewinner (like the exceptional Brazilian O Pagador de Promessas, Palme d'Or awardee 60 years ago) can become almost impossible to see, at least in much of the world.
Offering something like that wish fulfillment is the return of "Midcentury Madness," a sporadic series at the Roxie through October comprising 18 double bills of now-neglected features from the US. Europe, and Japan. This weekend's selections have a suspense tilt, with Saturday excavating two obscure but striking examples of "vehicular noir." 1957's Plunder Road is an admirably stripped-down (in every department save its shrill original score) heist tale, in which five men in three cars successfully rob an SF-bound train of $10 million in gold bricks. Of course, committing a crime isn't hard; it's getting away with it that's the rub.
This 72-minute feature in widescreen B&W, starring non-star familiar faces like Elisha Cook Jr. and Gene Raymond, echoes the existential economy of better-known films like Clouzot's Wages of Fear and Kubrick's The Killing, as cruel fate doggedly unravels the best-laid plans. It was directed by Hubert Cornfield, a studio executive's son who made just a handful of idiosyncratic genre films. He ended his career in France, where he'd been an early ally of nouvelle vague talents, there making his best-known (but still underappreciated) film: 1969's The Night of the Following Day, an even more bleakly doomed criminal caper involving a blond Marlon Brando and Rita Moreno as a junkie.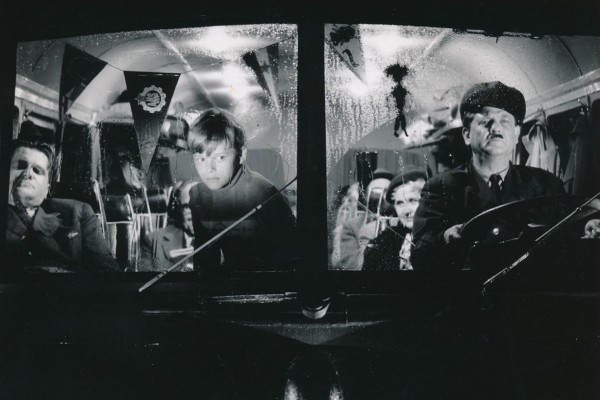 Plunder Road's co-feature is considered one of the best films made in newly-minted nation Yugoslavia before its relatively liberal Communist government encouraged a boom in international co-productions from the early '60s onward. Those latter movies were designed primarily for Western audiences. But the 1958 H-8… is very much a local project. It's loosely based on a road tragedy of the prior year, when a reckless driver caused two other, larger vehicles—a long-haul truck bearing sheet metal, and a commercial bus with 22 passengers—to collide on a rainy night road between Zagreb and Belgrade. Eight people died, but not the hit-and-run perp (never caught), from whose partially-glimpsed license plate number the title comes.
This precursor of 1970s disaster movies starts out in docudrama mode, then becomes more soap-operatic as we dive into the mini-dramas around travelers whose lives might or might not shortly be snuffed out. Variably bickering, leching, thieving, flirting, and parenting, their intrigues provide a cross-section of humanity rendered poignant by the context—and tense by the fact that we are soon told which seats will prove fatal ones. The screenplay toys with us by having the characters keep switching placement, unknowingly playing musical-chairs with their own lives. H-8… was a career peak for director Nikola Tanhofer, winning festival prizes and going on to be considered one of the best-ever Croatian movies long after the Socialist Federal Republic of Yugoslavia met its protracted, bloody end.
This Midcentury Madness installment continues on Sun/13 with two intriguing-sounding German thrillers: Helmut Kautner's 1950 Epilog, another fictive disaster recap, this one about the sinking of a luxury yacht; and Peter Pewas' 1956 serial-killer suspense tale Many Passed By. Both days the separate double-bills start at noon in the Little Roxie. More info here.
If the Cold War shivers induced by the films above have become familiar of late due to certain current events, you might be interested in another Roxie event on Mon/14 only. Then, the big auditorium will show Sundance award-winning 2020 documentary The Earth Is As Blue As An Orange. It's Kyiv native Iryna Tsilyk's portrait of a single mother and her four children living in a literal siege state well before the latest, more grandly scaled Russian military incursion. All proceeds will go to Razom Emergency Response, which is directing aid (particularly medical supplies) to the Ukraine in coordination with other humanitarian organizations. More info here.
For those disinclined to brave The Batman's lines (or those for just-opening Pixar feature Turning Red), there are several enterprising and eccentric alternatives amongst new arrivals to both theaters and streaming this weekend:
All My Friends Hate Me
Slipping into the Opera Plaza without much fanfare this Fri/11 is British TV director Andrew Gaynord's first big-screen feature, which also played SF Indiefest last month. It's a nicely deadpan black comedy in which Pete (Tom Stourton), the birthday boy attending a country-estate reunion of college friends in his honor, begins to fear he is the object of some cruel practical joke.
The ominous wrong notes start being hit even before he arrives at the imposing country estate secured for the weekend, until Pete feels he is being subjected to the death of a thousand small (and some not-so-small) cuts. Written by the lead actor and fellow thespian Tom Palmer, it's an effectively discomfiting mix of social satire and paranoid thriller—marred only by a climactic turnabout in plot logic that I just couldn't buy.
Ultrasound
A not-dissimilar sense that "something is off here" is the whole impetus for this debut feature by director Rob Schroeder and writer Conor Stechschulte. It starts simply enough, with Glen (Vincent Kartheiser of "Mad Men") experiencing a suspicious road accident that all too conveniently leads to him being taken in by some awfully friendly locals (Bob Stephenson, Chelsea Lopez). But none of this is just as it seems. Eventually we see that Glen is a subject under the dubious "care" of a medical researcher (Tunde Adebimpe) and a trauma counselor (Breeda Wool). Women keep becoming pregnant, including the much-younger mistress (Rainey Qualley) of a politician (Chris Gartin).
For a long time we are deliberately mystified, as time blurs, reality is called into question, and certain roles turn out to be role-plays. But rest assured the puzzle-pieces do eventually snap together, turning a somewhat dry if droll narrative experiment (adapted from the scenarist's own graphic novel) into a rewardingly ingenious construct. It's a sort of lo-fi indie spin on the politically charged, sardonic diabolical-conspiracy terrain of The Manchurian Candidate, a movie that looks more prescient with each passing year. Magnet is releasing Ultrasound to limited theaters and On Demand platforms Fri/11.
Fauna
Likewise playing with viewer expectations of any straightforward storytelling or genre pigeonhole is Berkeley-based director Nicolas Pereda's short, barbed latest feature. Luisa (Luisa Pardo) and Paco (Francisco Barreiro) are actors visiting her family in a dusty Mexican backwater where everything feels a little off-kilter, a faintly hostile challenge—whether it's buying cigarettes (sorry, the whole town is out) or going to a bar where Luisa's relatives insist Paco "do a scene," as if acting were a party trick that can be done on command.
Halfway through Fauna's simultaneously terse and spacious 70 minutes, someone is asked to describe a novel they're reading, and suddenly that becomes the narrative, even as it involves some of the characters we've already met. Shot in long widescreen takes, this shaggy-dog exercise cloaks its sociopolitical commentary under seemingly casual, aimless absurdism. The end results may frustrate some, but they can also provoke in an intriguing and humorously original way. The film opens Fri/11 at the Roxie.
Deviltry: "Offseason," "The Exorcism of God"
It's actually easier to follow the malevolent supernatural forces at work in these two new indie horror films: They too may be tricksome, but at least we can be certain they're up to no good.
The first thing I saw by writer-director Mickey Keating, 2015's Pod, was so infuriating—basically 80 minutes of people yelling at each other in the guise of a sci-fi horror movie—that I swore I wouldn't see another. Then, promptly breaking that promise, I liked his B&W Repulsion-ish Darling and Most Dangerous Game riff Carnage Park quite a bit. This latest, Offseason, is another homage of sorts, to the likes of Carnival of Souls. Marie (Jocelin Donahue, from Ti West's memorable House of the Devil 13 years ago) drives from New York to the Florida Keys with boyfriend George (Joe Swanberg) upon being informed that her late movie-star mother's gravestone has been vandalized.
It's all the more troubling because mom (Melora Waters) absolutely did not want to be buried there, in a frequently storm-lashed hometown whose residents supposedly made a "deal with a demon" generations ago. Upon arrival, the visitors are informed the bridge to the island will soon be closed for the annual off-season. Then George disappears, Marie is trapped alone, and things get very weird. Shot in and around New Smyrna Beach, the film is beautifully atmospheric. Not for the first time, however, one feels Keating's script is a too-thin pretext for stylistic exercise: The setup is fine, but not enough happens to build sufficient steam before our spooky ride is abruptly over. Offseason releases to limited theaters, Digital and On Demand platforms Fri/11.
Arriving in the same formats on the same day, and in contrast to that slightly undercooked scarefest, is the bonanza of excess that is The Exorcism of God. Venezuelan director Alejandro Hidalgo's second feature is a throwback not just to the original 1973 Exorcist (which it specifically quotes in some shots), but to that film's most demented mid-70s exploitation knockoffs, while throwing in plenty of very 21st-century jump-scare horror. Father Peter (Will Beinbrink) is an American priest living in Mexico, where's he beloved by every orphan, nun, mother, peasant, and other figure that might have escaped from the kind of 1940s movie in which Bing Crosby wore a priest's collar to inspire the "simple people" with heavenly backlighting.
He's so saintly that Beelzebub wants his soul, natch, tempting the padre with a possessed woman tied to a bed a la Linda Blair, albeit with very erect nipples poking through her PJ's. Years later a series of inexplicable child deaths leads him and college Father Michael (Joseph Marcell) to a prison where another woman (Maria Gabriela de Faria) is in need of exorcism. This lively, very pulp-Catholic mess leaves no sentimental or Satanic cliche (including pea soup) unregurgitated, and is both handsomely shot and relentlessly silly. At the end it seems to be setting up an Antichrist's-path-to-world-domination sequel, a la the Omen movies, something that is definitely to be encouraged.