Aya de León is a prolific author with books including A Spy in the Struggle, a story about an attorney working for the FBI sent to infiltrate an African American eco-racial justice organization; Queen of Urban Prophecy, wherein a young rapper tries to use her platform for climate justice; and Equality Girls and the Purple Reflecto-Ray, a kids book about girls using their superpowers to fight sexism.
De León, who directs UC Berkeley's Poetry for the People program and teaches creative writing at the university, says she's been putting climate at the center of everything she does for the last several years—ever since Hurricane Maria devastated Puerto Rico. In response to that event, de León wrote Side Chick Nation, (which Naomi Klein called "gripping feminist heist fiction") as part of her Justice Hustlers series that focuses on social justice issues with sex workers as protagonists.
Black people are often those most affected by climate chaos, de León says—but we don't usually hear those voices in environmental discourse. So she organized the free virtual Black Literature vs The Climate Emergency conference, streaming on YouTube Live at 12pm, Tue/5.
De León has been writing climate fiction for about five years, but she says she still feels isolated, partly because she thinks so much of the work is dystopian. She'd like to change that.
"I've become obsessed by what I'm starting to think about as a literature of winning," she says. "Where's the literature about us fighting and building a movement when we thought all hope was lost, but we did it? That's the story I want to write, and I want to see it in fiction and nonfiction. I want poems and plays and screenplays."
Scientists are clear, she says, that we do have time to avert the worst of climate disaster. And it's in everyone's best interests to change—even for the people who profit off fossil fuels, so their children and their children's children will have a habitable planet.
"Nobody is going to get out," she says. "However much space travel these billionaires invest in, there's still nowhere to go. We cannot yet imagine what it's going to take to change this, but it's possible."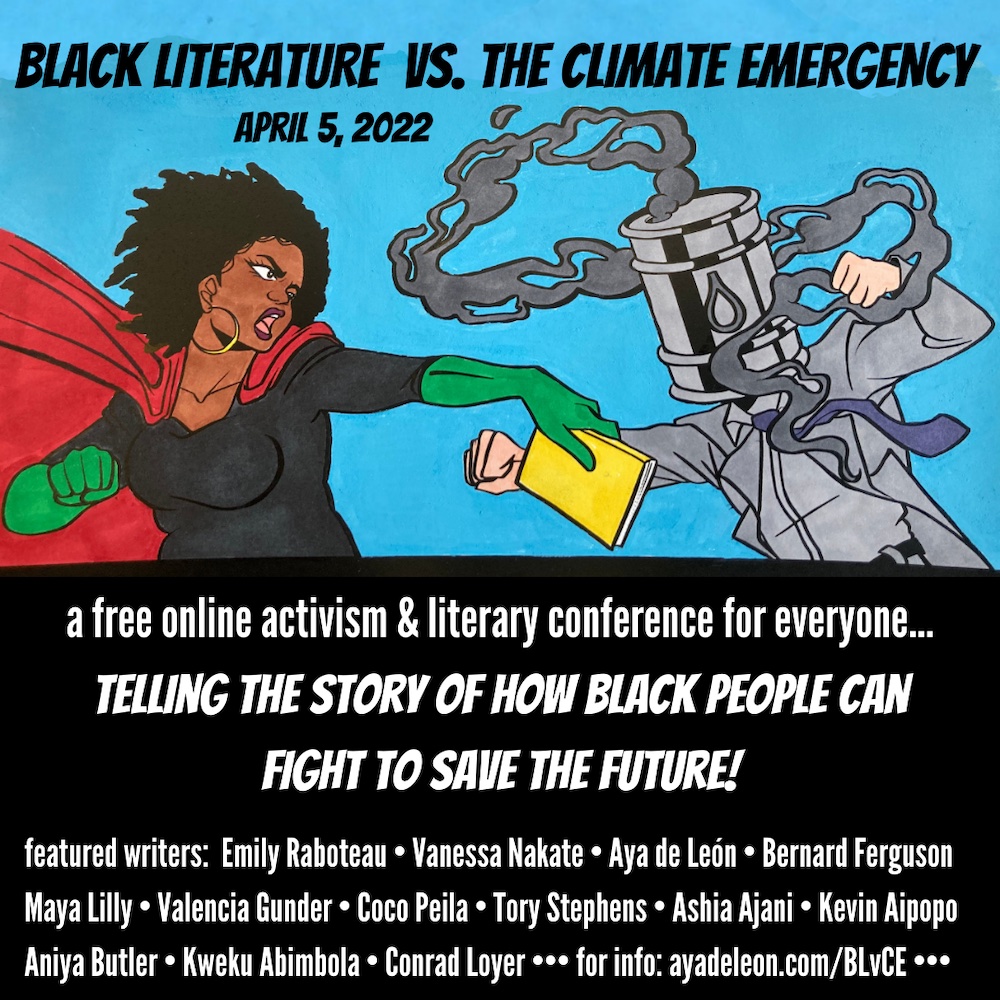 Pulling together Black writers is central to that, she thinks. For the conference's nonfiction panel, she reached out to writer and City College of New York teacher Emily Raboteau after reading her piece, "Climate Signs," in the New York Review of Books; Ugandan climate activist and author of A Bigger Picture, Vanessa Nakate, and Valencia Gunder, who lives in Miami and is the National Organizing lead of the Black Hive at the Movement for Black Lives, will also join.
De León says she loves these writers work and is excited for them to talk to one another.
"They're from different parts of world and different generations, so what a conversation," she says. "And it's one you don't see. In climate, there are all these panels with white people, and on a good day there's one of us."
Looking for other fiction writers to join her on a panel, de León came across Tory Stephens, who directs Fix, Grist magazine's solution lab. To moderate she asked Maya Lilly, a climate activist who has produced work about the BP Gulf oil spill and on Black Lives Matter and the prison economy, among others.
De León knew she wanted a bigger panel for poetry and that group will have Bernard Ferguson, the Bahamian author of The Climate Sirens, Coco Pella, a performer and recording artist who served as the Director of Hip Hop & Climate Justice at Youth Vs. Apocalypse, and Kweku Abimbola, author of Birth Elegies. De León also invited three poets who were part of a climate residency at Poetry for the People—Aniya Butler, a 15-year-old in Oakland who also works with Youth Vs. Apocalypse; Kevin Aipopo, a community activist; and Ashia Ajani, an environmental justice educator.
Ajani grew up in Denver and they started organizing in high school about police brutality. Growing up in a city, they thought about climate differently, they say.
"Environmental issues have always been on the forefront of my brain, and many of them are about land use and gentrification," Adjani says. "In Denver, you have this urban sprawl, and what populations are disposable and pushed further to the margins?"
Now Ajani works as an environmental justice educator with the Mycelium Youth Network. They got into slam poetry as a teen, and their poetry book, Heirloom, comes out next spring. Ajani looks forward to the conference, which is followed by a live Zoom party.
"I think one thing that's fascinating for me to see is the range of experience around the Black diaspora and our relationship to climate," Ajani says. "To see the range of how people are approaching it is so beautiful and how to address the severity and what are the solutions based on our perspectives."
BLACK LITERATURE VS. THE CLIMATE EMERGENCY Tue/5, online, 12pm-6pm PST. More information here.