Spring Fever is in full bloom. We are currently free of mask mandates and protocols (for now), and 4/20 is just around the corner. What should you do besides get high? Get high outdoors or at a party… with other people! Or just celebrate on your own, we have got you covered.
While there are lots of cannabis events in the next two weeks to celebrate the high holy stoner day. I am going to focus on the day itself, April 20, 2022.
Head over to 420 Hippie Hill in Golden Gate Park where the comedy stoner party is back in action with Berner, Jeff Ross, Hannibal Buress, and many more comedians and DJs. (Plus, oddly and controversially, Mike Tyson.) There will also be special tributes to Robin Williams and Bob Saget. To satisfy your stoner needs, there will be food trucks and a cannabis farmers market with legal weed sales. All this takes place for FREE at Robin Williams Field from 9am to 5pm.
Oakland is hosting the 420 Festival at Liberation Park from 12pm to 8pm. This outdoor festival promises over 50 vendors, a skating rink with shoe rentals, Puff and Paint classes, food, drinks and movies on a big outdoor screen. Admission is FREE but you need to sign up at Eventbrite which will also give you options to rent skates and pay for your Puff and Paint session.

Maybe outdoor parties among many people are still not your thing? Might I suggest going to your favorite dispensary's smoking lounge with friends and creating your own party. I've been hanging out at the Barbary Coast lately. It's been really fun. You just have to buy something—you know there will be lots of specials—and check in. Once seated, they usually provide water, lighters, matches, wicks and ashtrays. Check with your favorite for any special programming for 420. Other places with an indoor smoking lounge in SF include Moe Green's, Vapor Room, Bloom Room, Urbana on Geary, SPARC on Polk St, the Apothecarium on Market and Union Station SF.
For some of us, just going to the dispensary is a big change after two years of delivery. I found out I have enough Customer Loyalty points saved up at Barbary Coast for discounts on my purchases for at least a year, maybe two. I can only cash my points in when I'm in the dispensary, so they accrued for a long time during the pandemic. My budtender was so impressed he gave me a high five.
Feel like getting away for the day? Why not take the 420 Weed and Wine Emerald Triangle Bus Tour for a day of grape and cannabis fun. Hosted by the Mendocino Experience, it leaves at 8am from Fisherman's Wharf and returns by 6:30pm and costs $239.
"Departing early from San Francisco, we journey across the world famous Golden Gate Bridge up to a rich, rustic corner of Mendocino County, where we sample all of the best experiences Mendocino County has to offer." promises the listing.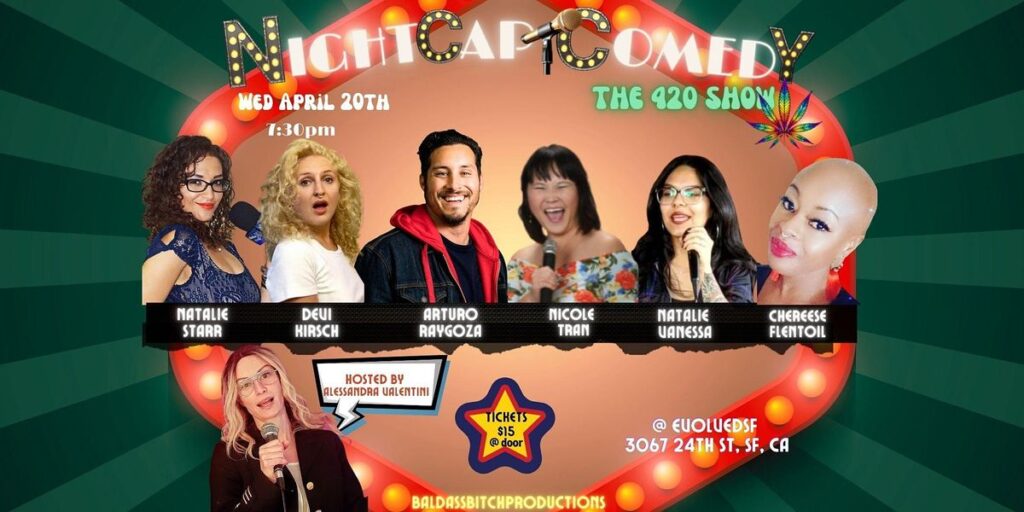 Want more stoner comedy? Head over to the Mission for NightCap Comedy's 420 Show and first anniversary party at Evolved SF, an art gallery on 24th Street at 7:30pm. Entry is $15 at the door and $10 online.
Feeling more like getting high and losing yourself in music? House of Godz 420 will feature local San Francisco House Music DJ artists Lisa Rose, Miss Liv, Queen Lisa, Robert Raya, Foolie, Kenny Cordeiro, Robert Raya and more. Entry is $10 into Record Bar SF on Eddy from 8pm to 2am.
If you feel like a stoner movie, the Balboa will be playing the Coen Brothers stoner classic The Big Lebowski starring Jeff Bridges as "The Dude " at 4:20pm for $15. Tickets are available at the theater or online.
You can also create your own 420 party with friends, family, or simply, your pet, whatever makes you feel safe, happy and high.
I have two recommendations for your party.
First, Garden Society's new line of pre-rolls called Rosettes. Not only are these goodies packaged for the Spring, they smoke well and are effective. I've known Garden Society for years for their infused chocolates, but these are the first pre-rolls of their I have tried.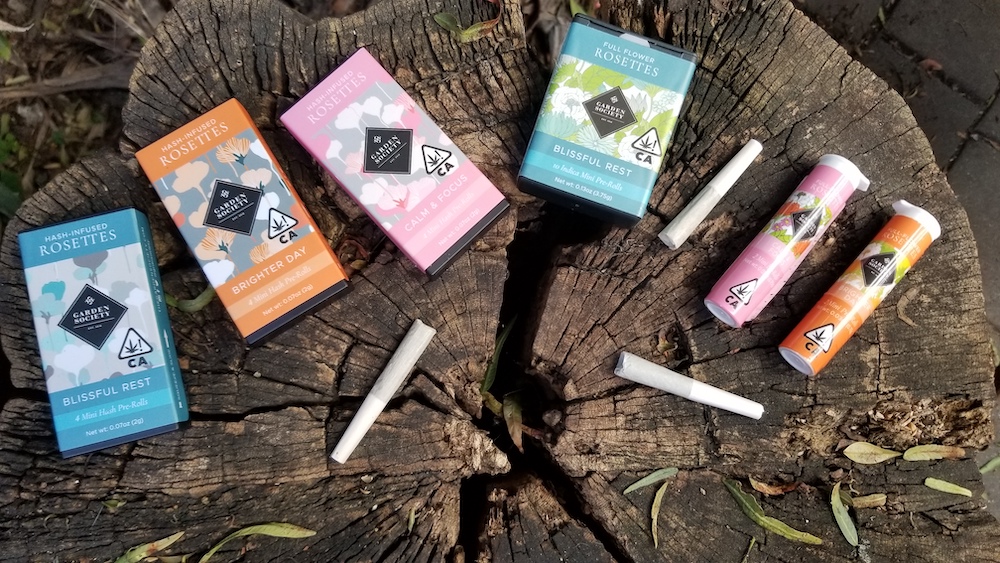 Garden Society created three levels to choose from, Brighter Day (sativa), Blissful Rest (indica), and Calm & Focus (Low dose). There are also infused gummies and chocolates with the same categories if you prefer to eat your weed.
The rosettes come full flower or with a hash kicker. I tried White Buffalo (sativa) with 22% THC, SBP (indica) with 33% THC, and Harmony Rose (low dose) with 8% THC. Of course the hash infused joints add a significant kicker. I really enjoyed them all.
Garden Society is available through Sava and many local dispensaries. They will make great gifts too.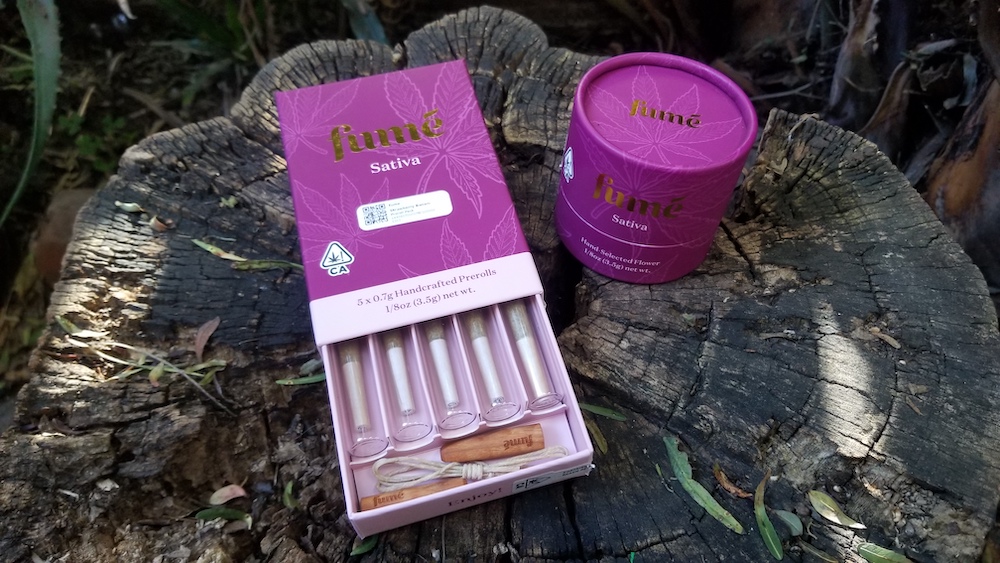 Next, Fumé is on a roll with great flower! I tried their Cherry AK (sativa) with 23% THC when they sponsored PUFF, the queer, cannabis, drag show, and it rocked. Now they are debuting their Strawnana (sativa) with 35% THC for 420, and I am a big fan! Not only is it great cannabis, but their packaging is beautiful. Makes it feel like a celebration to smoke. Fume is available through Eaze delivery and at most local dispensaries.
There are so many ways to enjoy 420 this year. I remember last year at this time, I tried putting ideas together for a big party, and it was just too soon. We are no longer in that situation, so get out there, express yourself, celebrate and get HIGH!
Now it's time to light up!