Hello there, you've got your eye on Good Taste, a weekly look at the Bay Area food world. Today, we're taking a look at some fun specials that celebrate Pride this month.
If, like me, you enjoy seeing the colorful treats that various bakeries, ice cream parlors, and restaurants come up with for Pride Month, you're in the right place. With all that's happened locally surrounding this year's upcoming event to dampen spirits, I hope these recommendations can offer a spoonful of joy and whimsy in June. After all, if the Hollywood Pride Parade could get Xtina in a strapon, we can at least eat something with glitter on it.
Pride Sundae at Humphry Slocombe
The Pride Sundae from Humphry Slocombe Ice Cream tops any ice cream flavor with glittery pink cotton candy and Froot Loops. It kind of looks like a Muppet to me — can you see it, too?
Rainbow cake at Noe Valley Bakery
If you're looking for a straightforward rainbow cake, you can buy a whole cake or slices at Noe Valley Bakery.
Say It Louder Collection at Kokak Chocolates
Kokak Chocolates introduced a new Pride Month collection this year, and it's gorgeous. If you haven't tried this Castro shop before, know that it's deserving of the tiara crowns it in the above video. You can also order online for nationwide shipping.
Root Down Farm Chicken Porridge at Hilda and Jesse
The LGBTQ+-owned North Beach restaurant Hilda and Jesse, which famously offers a weekly brunch for dinner, is donating 10% of sales from this dish, a partnership with the queer-owned Root Down Farm, to LYRIC, the center for LGBTQ+ youth.
MackBox Desserts and Confections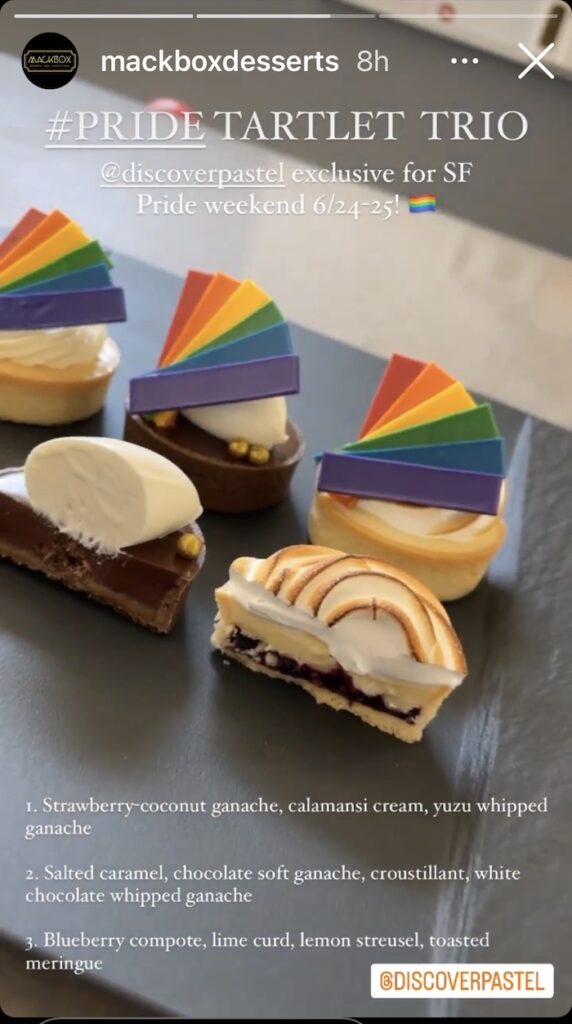 The Oakland-based MackBox is donating 10% of all sales this month to The Trevor Project, which focuses on suicide prevention for LGBTQ+ youth. You can order direct or via Pastel for San Francisco pickup. I love ordering Mack Estrada's OG Snack Box on weeks that it's available for delivery in the city.
Support a LGBTQ+ eatery
If you'd rather offer broader support to a place with LGBTQ+ ownership this month, I'd recommend going to Brenda's French Soul Food (or Brenda's Meat and Three) or Shakewell for lunch or dinner, loading up on Boichik Bagels (they disappear quickly!), or grabbing some Fun Buns (cinnamon rolls and other sweets) at Chadwick's. For more ideas on where to eat during Pride Month, check out OpenTable's list of LGBTQ+-owned restaurants in the Bay Area and Liam Mayclem's recommendations, which include an Oakland Black Pride restaurant and bar crawl on June 24.
Keep eating with your eyes at Tamara's site California Eating.