Maya Herbsman is one of the most prolific intimacy choreographers in Bay Area theater, particularly for indie theater. Under her guidance, we've been privileged to witness personal scenes with actors that were erotic, violent, relaxing, and terrifying–all within the actors' own comfort zones. I'm glad she got a chance to show how damn funny sex can be in Killing My Lobster's Let's Do the Sex, which runs through June 11 in SF and June 25 in Oakland.
That's not to take anything away from Nicole Odell, who is KML's new artistic director and the proper director of Let's Do the Sex. Odell's contributions were all the more apparent on opening night, when she had to fill in for an actor who caught COVID. (PianoFight still requires masks and checks for vaccinations at the door.)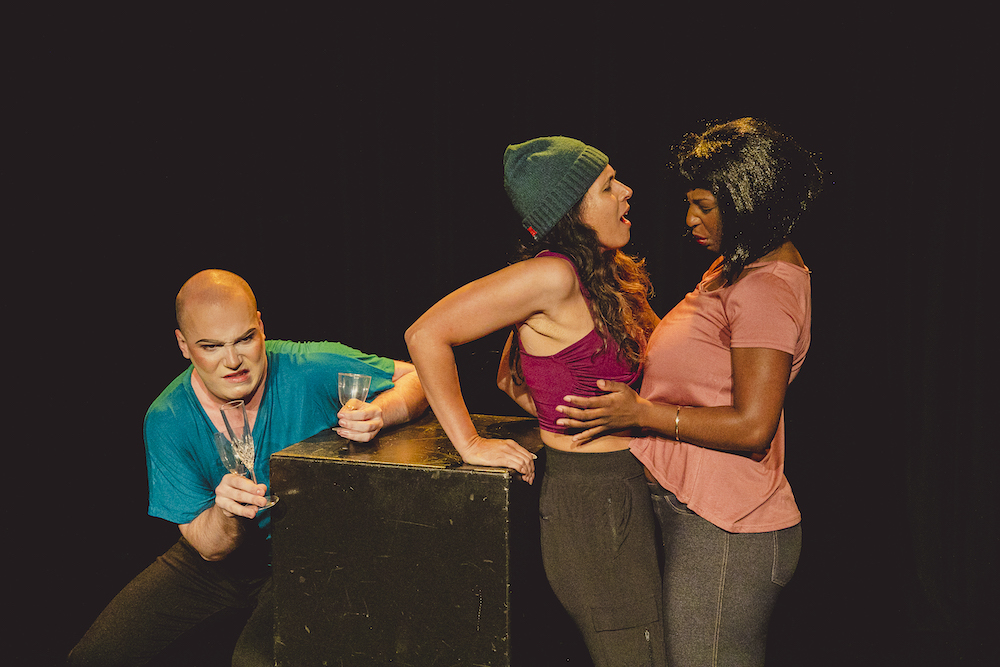 It's also not meant to take away from the work of Akaina Ghosh, the talented performer who served as this show's head writer. Sadly, this is one of the last works we'll see from Ghosh for some time, as they'll soon be attending NYU Tisch's MFA graduate acting. But if you gotta go, you might as well out with a show about people banging.
As the title suggests, KML's latest show is all about the awkward moments that result in the "o" face: from the overly-specific fetish of ASMR to adapting Google Maps so that you can find the G-spot; from the historical cousin-fucking of Albert Einstein to the sexual awakening of a Potterverse fanfic author. Sex is one of the most natural acts a living creature can commit, yet even after millions of years, it remains as mysterious as it is tantalizing.
The irreverence kicks off with the traditional KML opening music number, this one reimagining the Willy Wonka & the Chocolate Factory tune "I Want It Now" as an ode to horniness. From there, we get 23 sketches (and one outro song parody of "Seasons of Love") covering classic hallmarks, like getting "the talk" before you had off to the prom, to only watching Bridgerton so you can fast-forward to the nakedness. A recurring sketch throughout the night sees the Grimm Brothers fairy tale of Cinderella sex at an apparent Eyes Wide Shut-type party that involves a glass dildo instead of a slipper.
And yes, porn is touched upon. The first time sees many of the classic archetypes (hot mom, delivery guy, etc.) delaying their mutual satisfaction just to make sure they aren't committing incest. It's a cute bit about how the format's most popular categories have changed in recent years, but the use of the tropes is done in such a way as to be anachronistic. Better is the following porn sketch, which involves an attractive couple in a BART station whose dirty talk is drowned out by an oncoming train.
Indeed, the best parts of the show are the ones that are actually the most realistic. These include a quick funny sketch about having the perfect answer to give why you won't sign a petition. Another involves parents entering their child's room to find action figures stuck in compromising positions. One the best involves two friends at a bar catching up with a third friend, only to learn that the third friend has become a nun because "Jesus is [her] sugar daddy" who always has her on her knees. Sure, the quick, 30-second sketches mostly work great (one about pollinating flowers doesn't land as well as it could), but the more fleshed-out, five-minute bits make for the most involving material of the nearly-hour-long show.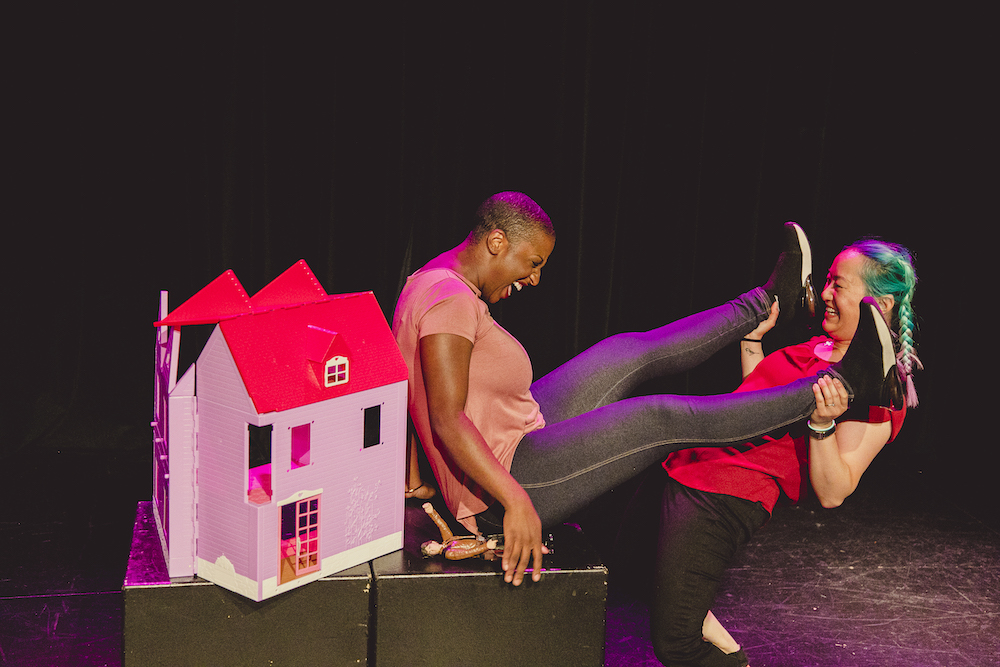 Carrying us through time is Odell's cast of both KML familiars (Isabel To, Ashley Jaye, Laura Domingo) and newcomer Chris Steele. The latter, a seasoned drag performer (their personas include Polly Amber Ross, Peter Pansexual) is clearly having a blast with the numerous costume changes and wig attachments as the show demands. They also nearly steal the entire show as the focus of a sketch about "gay couple-mirroring" done literally. To is such a natural fit for KML, it's hard to believe this is only her second show. Sketches featuring her as a bro-ish flower (yes, really) and a dedicated Greenpeace petitioner are just two highlights.
As the program says Ashley Jaye has been in a KML show before, I've probably seen them, though I can't recall off-hand. Their turn as the aforementioned Potterverse fanfic-writer is something that likely stick in the memory. Domingo and Odell herself know the workings of KML well enough to show their best.
Though not perfect, KML's latest is fun hour about the foibles of making the beast with two or more backs. In a way, Let's Do the Sex lives up to its namesake: it may not be the best ever, but it certainly made for a pleasant evening, surrounded by strangers in masks.
LET'S DO THE SEX runs through June 11 at the original PianoFight, SF. It then runs through June 16–25 at PianoFight Oakland. More info and tickets here.