Under the Stars is a quasi-weekly column that presents new music releases, upcoming shows, opinions, and a number of other adjacent items. We keep moving with the changes, thinking outside the margins, and witnessing the arrival of new Bay Area venues bursting with live music.
WELCOMING THE GUILD THEATRE WITHOUT FEAR OF MISSING THE LAST CALTRAIN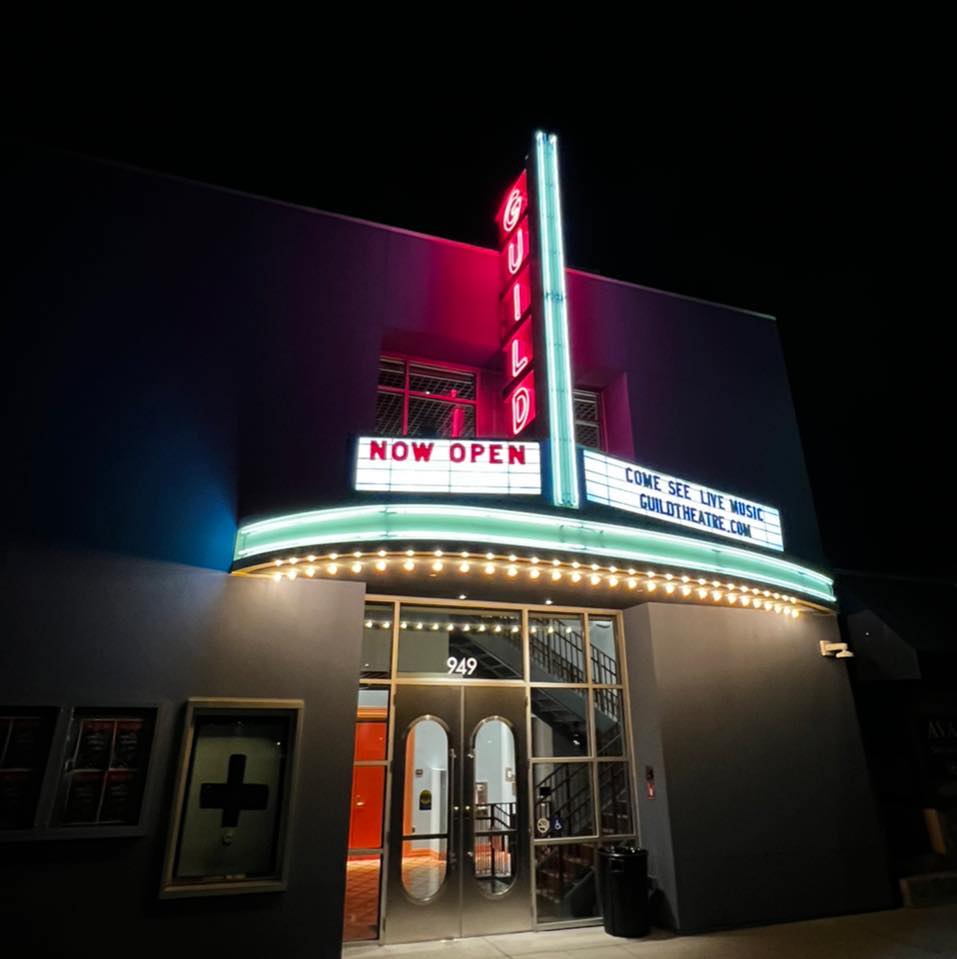 The Guild Theatre in Menlo Park is about an hour ride on CalTrain from 4th and King in SF, and advertises itself as "a not-for-profit music and event performance space bringing live music and entertainment to the Peninsula region." With a 500-patron capacity, the venue has been open since February. According to its Facebook page, it provides yet another intimate assembly hall for the Bay Area's live music aficionados.
With artists like Kamasi Washington, Les Claypool, Femi Kuti, and Bebel Gilberto scheduled to play at the locale this summer, consider it a blessing … and with the late Caltrains running at 11:50pm from Menlo Park on weekdays, you are sure to make it back to the city in time without missing the end of The Guild's concerts. Add this theater to your live music rotation, for sure.
Go to its site for more info.
STR4TA, "NIGHT FLIGHT" (BROWNSWOOD RECORDINGS)
Last year when Gilles Peterson linked up with Jean-Paul "Bluey" Maunick, a former member of Brit-funk bands Light of the World and Freeez in addition to current member of Incognito, they brought back a slept-on but very key part of Black British musical history. STR4TA is the new wave jazz funk project these two long-time friends and collaborators wound up designing, determined to shape new musical possibilities inspired by their shared formative era.
The duo's debut album Aspects, released to great acclaim last March, was the first material Maunick and Peterson had put out together in over a decade. A remix EP followed that featured Melé, Dave Lee, Greg Wilson, and Dave Aju adding their touches to the material.
"Night Flight," a B-side and superior electro-street-soul track, has finally seen the light of day in a digital release. It takes that time period's grooves, turns down its improv turns, and shapes a cooled-out funker of a joint that would fit perfectly in any boogie-friendly record bag, ya dig?
Purchase here.
MARTA SANCHEZ AT CALIFORNIA CONSERVATORY, BERKELEY, FRI/24
Marta Sanchez, a pianist and composer from Madrid who has resided in New York for over a decade and studied for a Master's degree at NYU, develops complicated jazz arrangements that stick with you long after you've heard them. Her most recent project, Spanish American Art Museum, has received glowing reviews from the New York Times, Downbeat, and even the Wall Street Journal. People in 2022 are looking for these types of sophisticated arrangements which employ punctuated rhythm that adjusts what has come before. Sanchez's compositions speak of the moment. With three playing dates in the Bay, it's cause for celebration. 6/24 at California Conservatory in Berkeley at 8pm-9pm, 6/25 at Mitchell Park Community Center in Palo Alto 7pm-10pm, 6/26 at Center of Music in SF 8pm-11pm.
For more info go here.
RAKIM AND DJ JAZZY JEFF AT THE INDEPENDENT, SUN/26
Rakim and DJ Jazzy Jeff are two figures who properly represent the figures of emcee and DJ as they pertain to the foundational aspects of hip-hop culture. They both reside on the Mount Rushmore of this thing we call rap. Keep in mind we kept losing legends by the year, so if you have not seen these two innovators, do not miss this historic moment.
Grab tickets here.
ST. TROPEZ, "OLDER SELF" EP (SANJAY VORA MUSIC)
Oakland's indie-rock quintet St Tropez's new EP "Older Self" is breezy and atmospheric, painting the genre's outer reaches in cool colors for repeat observations. The EP is said to be an ode to changes, hardships, and personal evolution that the bandmates have experienced and endured over the years. Comprised of Jeremy Fisch (drums), Aki Ehara (bass and producer), Lalin St. Juste (vocals and sounds), and Sanjay Vora (vocals, guitars, keys, words), the band exhibits a deep love of 1960s folk, dub, Afrobeat, and electronic music. The group is a welcome, seasoned alternative in the local indie scene. We as listeners benefit from St Tropez's ability to zag into the blissful ether.
Purchase here.
DRY CLEANING, 'DON'T PRESS ME' (4AD)
London-based band Dry Cleaning announce their sophomore album Stumpwork's October 21 due date by sharing the lead single "Don't Press Me," complete with video. Stumpwork is the follow-up to New Long Leg, the group's debut full-length and one of 2021's best albums, according to all the purple pants platforms you follow—and us too.
We loved it. And we thrilled when Dry Cleaning performed last December at The Chapel with our own local indie-rock fave band Fake Fruit, who opened for them in proper form.
And we understand it may seem quite ridiculous to announce an album release what like, four months in advance? But when a band such as Dry Cleaning comes along with beautifully-bizarre takes on indie-pop anthems that mesh psych and prog influences, it's worth everyone's time.
According to introvert, observationist, and lead singer Florence Shaw, lead-off "Don't Press Me" is about the pleasure of gaming, and the enjoyment of intense and short-lived, guilt-free experiences.
"The words in the chorus came about because I was trying to write a song to sing to my own brain, 'You are always fighting me/You are always stressing me out,'" she says.
Pre-order here.
FOAMBOY AT POPSCENE, JUNE 28
My Sober Daydream is a pay-your-own-price steal of an album from the Portland-based duo of producer Wil Bakula and vocalist Katy Ohsiek. Their group Foamboy makes feeling bad, bump. Cosmically so. With delicate melodies, and jazz-meets-disco heel-turns.
Who knew that one of the most existential Gen-Z-ennui takes on gloom could be a serpentine-wonky earworm of a debut album from some Pacific Northwest eccentrics? Rainy days and Mondays, Carpenters, we know that tune … blah blah blah … Yeah, I wrote that, and a bowl of digital grits too. Nobody read it, and that's kewl.
But hey, Foamboy will be playing live, here in SF!
It's rare you get a band who takes the music seriously but themselves not so much and somehow it all makes sense. Popscene? You done good. Foamboy will be supporting HAIKU HANDS and playing beside our buddy DJ OMAR and Abracadabra.
Get tickets here.
BLUES IN THE CITY WITH MARCUS SHELBY AND DR. RUPA MARYA AT MOAD, JUNE 30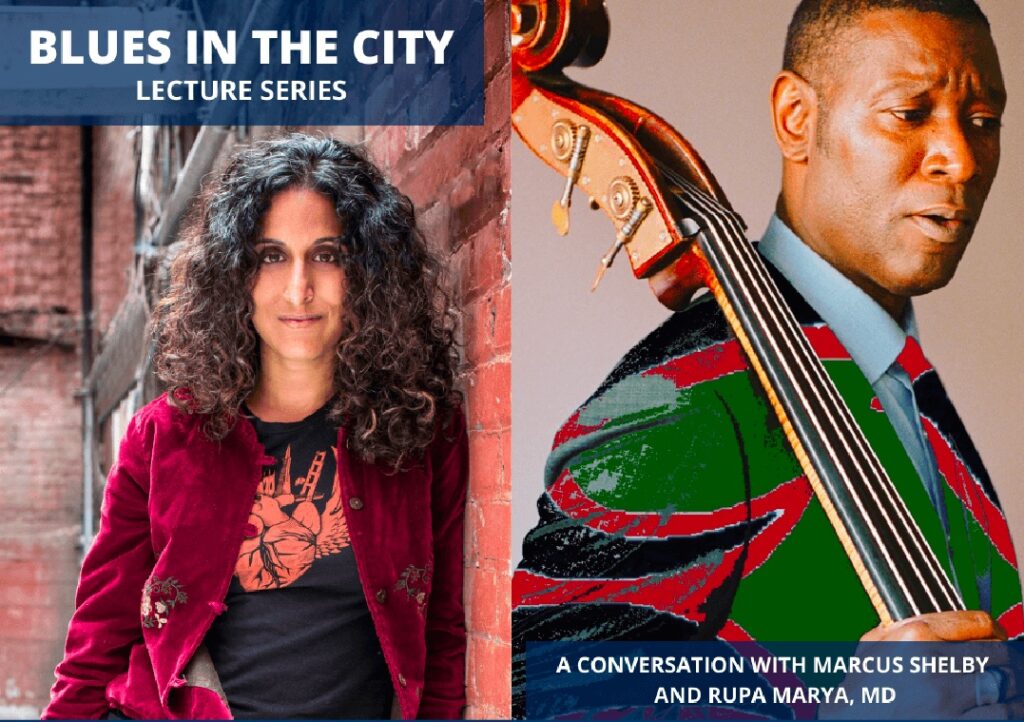 It seems more and more these days we depend on the arts to check in on the community.
Join composer-educator Marcus Shelby and Dr. Rupa Marya, associate professor of medicine at UCSF, co-founder of the Do No Harm Coalition, musician-composer, and co-author of the recently released book Inflamed: Deep Medicine and the Anatomy of Injustice, for an in-depth conversation and Q&A.
This event will have Shelby sharing musical work-in-progress from his forthcoming suite Blues in the City, commissioned by Yerba Buena Gardens Festival. This is the second installment in a three-part performance and discussion series exploring how the current perfect storm of challenges for disenfranchised and underserved communities keeps impacting the most vulnerable in San Francisco.
More info here.