Under the Stars is a quasi-weekly column that presents new music releases, upcoming shows, opinions, and a number of other adjacent items. We keep moving with the changes, thinking outside the margins.
If you're wondering about what makes San Francisco's heartbeat. I'll tell ya. It's Fatsouls.
Said Adelekan started Fatsouls Records in San Francisco in 2007, following more than a decade of successful event staging. With constant releases of energizing music, the label has earned a solid reputation in dance music. Fatsouls Records was founded with the idea of offering organic, soulful music with a focus on Afrobeat, soulful house, deep house, minimal tech, and other Afro rhythms.
Never the cookie-cutter house factory, this is the deep heartbeat shear.
Detroit's own Mike "Agent X" Clark helms Motorcity DJ Tools Vol.1, the first edition of the DJ Tools run for the label. It includes four top-quality Afrotech-house tracks that are guaranteed to warm you up, and lock you in on the floor, no matter the location. Check them out here. As you listen, you can hear the label's commitment to the preservation of house music's purity. Fatsouls aspires to create expressive dance music that pushes and reflects the culture.
That's the San Francisco I know. OK, let's get it!
Lalin St. Juste, Vertulie (7000COILS)
Lalin St. Juste and her genre-bending band The Seshen have been a fixture in the Bay Area music scene for over a decade. Lalin's solo career officially began in 2021 with the release of her debut EP behind my eyes, which was released via 7000 COILS, a label and art house she co-founded with Dan X (a.k.a. KKINGBOO) that is dedicated to elevating the queer voices of the African and Caribbean diaspora through the creation of digital and live portals and sacred play, through a wellness lens.
Lalin is back with Vertulie, named after her maternal grandmother. The first installment in a two-part EP series is an ode to St Juste's ancestors and Haitian faith, and serves both as a love letter and sonic healing salve. The Gerbode Foundation funded the project, which was developed in conjunction with Women's Audio Mission, the San-Francisco-and-Oakland-based nonprofit organization founded to empower women and nonbinary creatives in the music business.
"I Believe In Things," the EP's debut single, is an acoustic meditation on the strength of silence and the fury of calm, with St Juste's voice rising over the guitar-based composition.
Purchase Vertulie here. It's available Fri/3.
Erie Bazaar and Free Community Flea Market, June 5, Public Works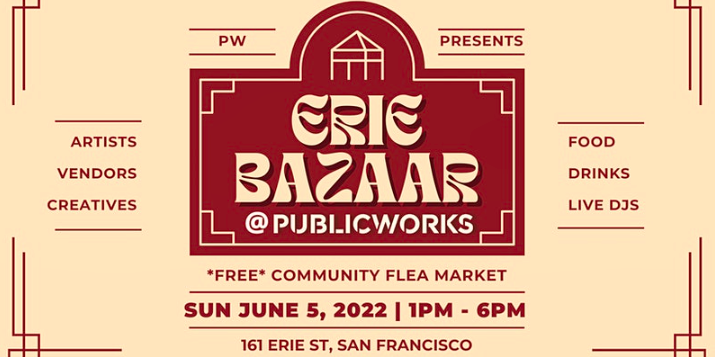 Erie Bazaar is a monthly, free, public pop-up bazaar featuring Bay Area producers, creatives, artists, and performers. This place shines a light on people who contribute to what makes San Francisco cracking. The event will feature over 20 local merchants outdoors on the patio and within the main room, as well as beverages and music from Public Works' resident DJs. There will be raffle prizes and other surprises as well. Everyone is welcome, as long as they're above the age of 21.
For more info go here.
A Tribute to Alice Coltrane, June 10-11, Museum of the African Diaspora and Yerba Buena Gardens
An all-star panel discussion and a live performance honoring Alice Coltrane's life and work will be free and open to the public on the second weekend in June.
If you heard Brandee Younger and Dezron Douglas' Harlem-based harp and bass combo Force Majeure from a couple of years ago, the groove-centered "Gospel Trane" surely lingered with you for a spell. They caught Alice Coltrane's essence: the track will lull you into a trance. The American jazz musician and composer Coltrane was an outstanding pianist, and one of jazz's few harpists. Beginning in the late 1960s and early '70s, this trailblazing Black woman from Detroit made several inescapable masterpieces as a bandleader after her husband John Coltrane passed.
A June 10 panel, reflecting on her life and impact, presented by the Yerba Buena Gardens Festival, will take place at The Museum of the African Diaspora. It will feature jazz legend Reggie Workman, who performed and recorded with both John and Alice Coltrane—as well as a who's-who in the history of jazz. Also joining the discussion is saxophonist Richard Howell, whose rich career includes work with Etta James, Charlie Haden, and Don Cherry; and Destiny Muhammad, a masterful and exploratory musician who builds on the legacy of pioneering jazz harpists like Dorothy Ashby and Alice Coltrane. It will be hosted by Bay Area arts journalist Andrew Gilbert (San Francisco Chronicle, KQED, Bay Area News Group.)
The next day, Coltrane fans will thrill to a performance at Yerba Buena Gardens Festival with Reggie Workman and Brooklyn Raga Massive's Jay Gandhi (on the bansuri), Mari Tanaka (tanpura) and Sameer Gupta (drum set and tabla), drawing on her love of Indian music and culture. A cast of Bay Area jazz mainstays joins the celebration, including powerhouse tenor saxophonist Richard Howell, pianist Kev Choice, bassist David Ewell, and jazz harpist and vocalist Destiny Muhammad, whose entrancing sojourns into classic Turiya albums like Journey in Satchidananda have helped raise awareness of Alice Coltrane's beatific music.
For more info on the June 10 panel, go here. For more info on the June 11 performance at the Esplanade of Yerba Buena Gardens, go here.
J.Rocc, A Wonderful Letter (Stones Throw)
Jason Jackson, also known as J.Rocc, has been making cultural music in Southern California since the Lakers played at The Forum. We must hit the facts first before I double down on that choice of the word "cultural."
J Rocc is royalty. He created the Beat Junkies in 1992 with Melo-D and Rhettmatic, although he has done just as much on his own as he has in a group context. In the mid-1980s, he began DJing with a California outfit called PSK. The Beat Junkies, which included core member Babu as well as future talents Shortkut and D-Styles, quickly became a crucial force in the growth of instrumental hip-hop. In addition to several mixtapes, he has produced music for Stones Throw Records. I could go on and on, but you get the idea. He's a legend.
Now, "cultural." It is rare when a DJ can move through styles, genres, moods, trends, and cultures, maintaining a connection to the roots. On his new full-length album A Wonderful Letter, J Rocc rides through such numerous terrain with ease. We get gritty hip-hop with Frank Nitt, documentary style with MED, big dubby soul with legendary Steve Arrington, low-end boom with Egyptian Lover, and some special dancefloor 4/4 bizness on his own with the standout track "Dancing With The Best".
These are all the flavors you would find at a typical house party, red cup style, from a DJ attempting to touch everyone.
Snatch that letter here.
FOXTROTT, The Motion/Looking For Your Love
MH Delorme, is a self-taught singer, songwriter, and producer from French-speaking Montreal who records by the name of FOXTROTT. Since the release of her first EP Shields in 2013, her genre-defying, one-of-a-kind experimental pop has been turning heads. Delorme has worked on creating her own musical universe, pairing intricate, raw-yet-elegant productions with a strong sense of melody and commanding, soulful vocals. Her Polaris Prize-nominated 2015 LP A Taller Us and her trilogy Meditations I-II-III from 2018 were both released on esteemed UK imprint One Little Independent Records.
Her recent The Motion/Looking For Your Love, a self-released two-track album, features not only the respected creative's comeback, but also a fresh voice, approach, brighter colors, and contributions from OURI on cello and harp.
"I enjoy the brief form of the diptych in music, where one piece resonates with the other in a conversation," says Delorme, the former Red Bull Music Academy Mentor and 2021 Best Original Music award-winner at the Canadian Screen Awards for her work on Wendy Morgan's "Sugar Daddy."
"It's a mini-universe of its own," she continues. "After a few years of navigating the music industry with its ups and downs, I wanted to reconnect with spontaneity, ease, and the joy of sharing music. By moving away from more rigid structures, I feel a renewed enthusiasm. Honestly, I feel like I am just getting started."
With immediate plays of the singles by Benji B on his Radio1 show, it's a glowing return.
Glad to have you back.
Purchase the release here.
Mark de Clive-Lowe & Friends, Freedom: Celebrating The Music Of Pharoah Sanders (Soul Bank Music)
Mark de Clive-Lowe, an electronic jazz pioneer, pianist, producer, and re-mixer, has an enviable reputation as a cross-genre creative artist who combines acoustic, electronic, and world music to explore issues of belonging and identity. Jazziz's description of him as "equal parts jazz, house, hip hop, and broken beat musician" was spot-on. The piece continues: "long before jazz hybridity became a worldwide sensation, de Clive-Lowe was busy crafting its blueprint."
Freedom is a live concert recording made at the Blue Whale in Los Angeles, where Mark assembled a Los Angeles-based collective comprised of very accomplished and suitably-talented players who are as creative and adventuresome as the MDL himself. Having Teodross Avery on saxophone, Corbin Jones on bass, drummer Tommaso Cappellato, and Carlos Nino on percussion would be enough. But adding the highly-renowned spiritual jazz vocalist Dwight Trible to the mix puts this celebration on high. Just a side note … it's so refreshing to hear MDL play an acoustic piano. Sometimes you forget, with all the other contraptions he's mastered, that piano is the base and root.
It's out in July, but pre-order it here.