Although the Board of Supervisors more than a year ago allocated $3 million for an alternative to cops harassing homeless people, the money is unspent and it will be January, 2023 before a pilot program is up and running, city officials said today.
In a hearing at the Government Audit and Oversight Committee, Mary Ellen Carroll, director of the Office of Emergency Management, said her office is aiming for September to issue bid documents for a contract to manage the Compassionate Alternative Response Team.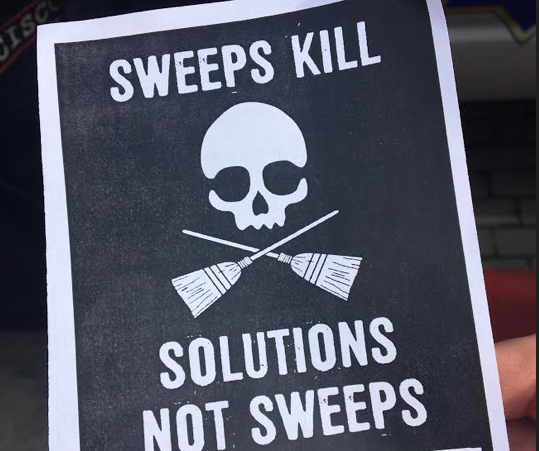 That could mean the CART teams would be on the streets in January, at the earliest—which means the money has been sitting around and nothing has happened since the supes decided that the cops weren't the best response to homelessness.
We're talking a grand total of $3 million, a tiny fraction of the $700 million that the city spends on the Department of Homelessness and Supportive Housing and the $750 million that goes to the cops. (If you do the math, it's less than two-tenths of one percent.)
That would pay for a one-year pilot program that could save lives, avoid trauma, and create an important new model for how cities address complaints about homeless people.
But it became clear at the hearing that while the city's Departments of Homelessness and Supportive Housing and Emergency Management say they like the idea—and the evidence shows it makes tremendous sense—nobody at City Hall has been pushing to make this happen.
Sup. Myrna Melgar, who asked for the hearing, said she wanted "to move this conversation forward," and asked that the committee continue to monitor the progress of the program.
Sup. Dean Preston, the committee chair, was a bit more harsh. "This city can move fast," he said, noting that when retail theft became a big issue in Union Square, more cops were on patrol in days, and the Tenderloin Linkage Center was opened in a matter of weeks.
"This administration has not made [CART] a priority," he said.
In fact, Carroll said under questioning from Sup. Connie Chan that her agency still has no specific outcome parameters for the Request for Proposals document. There are no metrics for whether the program is succeeding or not.
I get that it's hard to develop metrics for a program that aims to help homeless people instead of criminalize them. But it's been more than a year. From what I got out of the hearing, Breed's administration has shown no interest in making this happen.
It fits in a pattern: This is an idea driven by the supes and community activists, not the mayor. So it gets put on the shelf, despite the fact that it could save tens of millions of dollars and many lives.
Maybe—maybe—this will happen next year, but only if the supes keep the pressure on.