As a socialism-lover with an affinity for anarchy, I've tried without success to pinpoint the precise moment when I stopped rejected the jingoism I was spoon-fed in my youth. Perhaps being born and raised in (supposedly) the most left-leaning city in the US had something to do with it, but there was no one moment when I stopped reciting the flag pledge (written by a Christian Socialist who made no mention of God) and became the guy who spent this 4th of July burning the flag. There was no specific catalyst, just a lifetime of incidents that made me despise Old Glory. Dare I say the change was, like me, progressive.
Whatever it was that got me here, I'm now the guy who scoffs at all claims of this being the "land of the free". No, this is the land where the Bay Area-born VP—the first woman of color to hold the position—can somehow hold a straight face as she says "Don't come" to needy immigrants at the border.
She may as well have been speaking directly to B (Hernán Angulo) and G (María Victoria Martínez)—presumably "boy" and "girl"; neither is addressed by name—the two New York-based DREAMers at the center of Martyna Majok's Sanctuary City (through August 14 at the Berkeley Rep). Both of their mothers brought them to the Liberty State from Latin America long ago. Aside from some legal red tape, the two would otherwise be considered US citizens.
But the red tape is there. So, in a post-9/11 world where everyone with an accent is regarded with suspicion, B and G live under threat of being deported back to a "homeland" neither has seen in over a decade. That is, until G's processing goes through and she finally gains citizenship. This, of course, opens the possibility of green-card marriage to B, but that suddenly raises more questions than it answers.
Sitting in the packed Peet's Theatre on the West Coast premiere's opening night (where CO² readings via Aranet4 peaked at 771ppm before dropping; that's with everyone masked and vax-checked), I thought of how this was the second show I'd seen in a month revolving around green-card marriage. I thought about how I hoped there was a flashing light advisory (there is), because as much as I dug the way Cha See lit up David Reynoso's set—which resembled the condemned remains of an old YMCA building—those lights will occasionally flash in a way bound to give someone a seizure.
I also thought about how I skipped out on both my junior and senior proms. Our two leads reluctantly decide to attend together, leading to a long, funny sequence featuring Backstreet Boys tracks and corsage-pricking, and ending with the literal and figurative proposal. Watching it, I couldn't help but chuckle to myself, since attending prom means these characters went through one "quintessential American" activity that I never did
Hilarious and sad moments like this are when the show, directed by David Mendizábal, is strongest. Finding out what makes B and G tick is what makes us root for them to succeed. Even when we don't have the highest opinion of this country, we hope these two (played with affection by Angulo and Martínez) will end up in a position where they don't have to worry about anything as demeaning as deportation. The addition of a third character, the openly-queer Henry (Kim Fischer), almost acts as a counterpoint to the duo's quest for citizenship. In a pre-marriage equality world under Dubya, Henry represents how "full citizenship" can be a relative term, even for one born here.
Where the show wavers is in Majok's non-linear narrative that makes a great deal of the first-half hard to follow. If the point was to establish the repetitiveness of B and G's everyday lives, that's fine. But the time-skips happen in cinematic-style quick cuts where the characters don't change their clothes. I'm all for experimentation, but this early half of the play would have benefitted from three or four chronological scenes, rather than the bite-sized scenelets that zip by. It's what makes the latter-half, essentially one long scene, more compelling overall.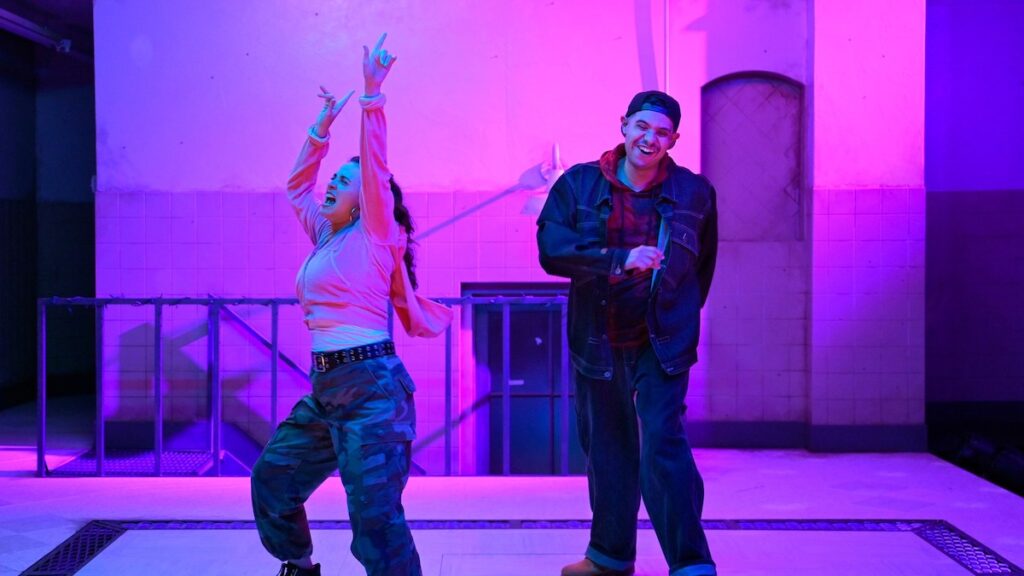 What's more, although we learn about who these folks are as characters, we never learn much about the titular "sanctuary city" in which they reside. Although we know it's in NY, it's never specified where, just as the duo's country of origin is never specified. We only get hints of how their neighbors live, but no clues as to how these two Americanized foreigners are thought of (again, this is post-9/11).
The play ends on an ambiguous note in the mid-2000s, with B and G's marriage plans in jeopardy and the country in such a state that the looming Obama-era silver lining is impossible to imagine. It's one of those ambiguous endings that seems designed to piss off people who want a definitive stamp on their narratives. But have real DREAMers been given such an ending? A decade-plus since the year this story concludes, is the promise of immigration reform any closer to being realized when the aforementioned VP says "Don't come"?
Hell, has the US been a place to be proud of lately (or ever)? The ambiguous ending of this play may be more reflective of our reality even more than when Majok first wrote it?
We may not be sure of the fate of this story's DREAMers any than those we see on the news, which is a damn shame. Fortunately, the Berkeley Rep has produced a show that revels in that most American of tales: the immigrant story.
SANCTUARY CITY runs through August 14th in the Peet's Theatre of the Berkeley Rep. Tickets and info here.