One of the many splendors of talking to theater artists about their lives and craft is the inherent dramatic tenor of the conversations. Such is the case during a phone call with director David Mendizábal, who when we spoke on July 11 was in Berkeley preparing to open Pulitzer Prize-winning playwright Martyna Majok's Sanctuary City (through August 14 at Berkeley Repertory Theatre).
Mendizábal is based in New York City and comes to the production with the keen instincts of an established costume designer and one of the producing artistic leaders of Obie Award-winning The Movement Theatre Company, and associate artistic director of The Sol Project. They hold a BFA from NYU/Tisch at Playwrights Horizons Theatre School and are a 2021 Princess Grace Award Honoraria Recipient.
Sanctuary City centers on two young DREAMers known only as "G" and "B." They are nameless immigrants, non-citizens in America. One is a high school girl (played by María Victoria Martínez) with undocumented parents living in a domestically violent household, the other a boy (played by Hernán Angulo) of the same age entering his senior year in high school, whose mother has decided to go back to her country of origin. Love is everywhere, but never easy and rarely romanticized in this two act play.
The play is a period piece set in the years 2001 and 2006: The first half throws jagged, fractured scenes like javelins at the audience; leaping intentionally to disorient and "endanger" a viewer much in the way the two characters never know if a knock on the door is ICE or someone from Homeland Security coming bring their entire lives crashing down. Act II unrolls in a continuous scene as the two young people struggle to find sanctuary, home, and identity amid their adopted country's bureaucratic tangles and betrayed ideals, and the fragile bonds they share with each other and their families.
Mendizábal is a terrific storyteller and says that during the pandemic they and their partner were "crushed together in a tiny little box apartment in New York" and that in a former life, they were a ballet dancer. "I love muscularity of language in a play. I used to do martial arts and in a past life I was a ballerina. I believe in the gestural body: if you try to intellectualize this play, it's more work for the actors, and the audience won't follow along. The body, the muscularity of where the language lives in their body is something we've explored. Where is safety in the body? Is it in the hands, the belly, the elbow?"
Mendizábal believes having a background in costume design and a preference for highly naturalized choreography leads them as a director to know that a deliberately torn sleeve or a turn of the head can drop an actor immediately from a space perceived as safe to one that is incredibly vulnerable. Curiosity prevails in the rehearsal studio and, dodging the buzzword "collaboration," they prefer the term, "collective intelligence."
The job of a director is to create a safe "container" for everyone's contribution, they say, and for joy, play, and the magical, even doing something wrong. "As a society, everyone wants the answer and to be right, but if we lived in a more 'yes, and' world, we'd find richer, more complex, human dichotomies."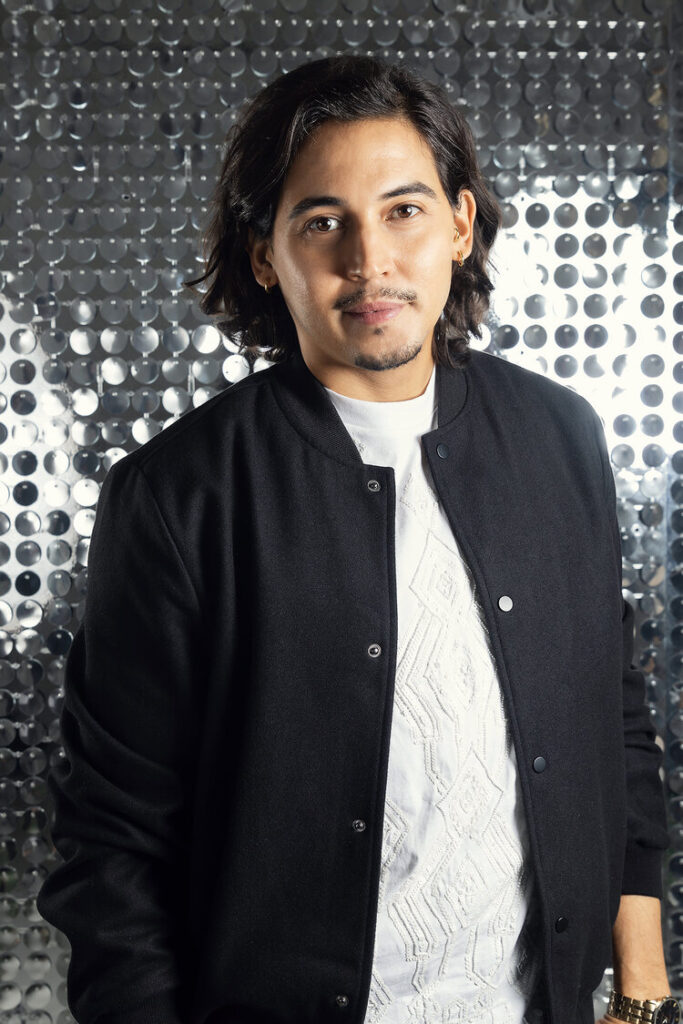 Similar to the protagonists in Sanctuary City, Mendizábal lived their high school experience during September 11 and witnessed the way the world changed during their teens. "Our identity, journey, the relationships that shaped us, love and loss conversations came up in rehearsal. The characters fight for their own idea of sanctuary. For me, my father is an immigrant and so much of the stories in the play are embedded in my DNA.
"During the pandemic, I got to know people in my building, I witnessed loss, found comfort and home and community when I couldn't see my actual family because I feared bringing sickness to them. Sanctuary to me is not a building or a room, it is a feeling of wholeness, belonging, authenticity. To be loved as one's full self. To not have fear that any moment your world could come crashing down on you simply because someone else's rules apply."
For undocumented immigrants, crushing anxiety with danger laced into every corner of the world is nothing new. But the play comes to us in an especially fraught environment, with communities still reeling from the hateful rhetoric of the Trump era and waves of the COVID pandemic.
Mendizábal says two years without live theater combined with social and political reckonings and upheaval mash into a collective clash. "We've all experienced a new kind of loneliness and seclusion. As a theater artist, when it all shut down, I had the sense of, who am I? There's a newfound reverence. It feels even more sacred to gather with people and to share theater that is political. Sanctuary City's politics are woven so deeply into the relationship that's at the center. This is not a didactic play. It's two kids who are trying to find 'normal' life, love, and safety in a world that doesn't allow it."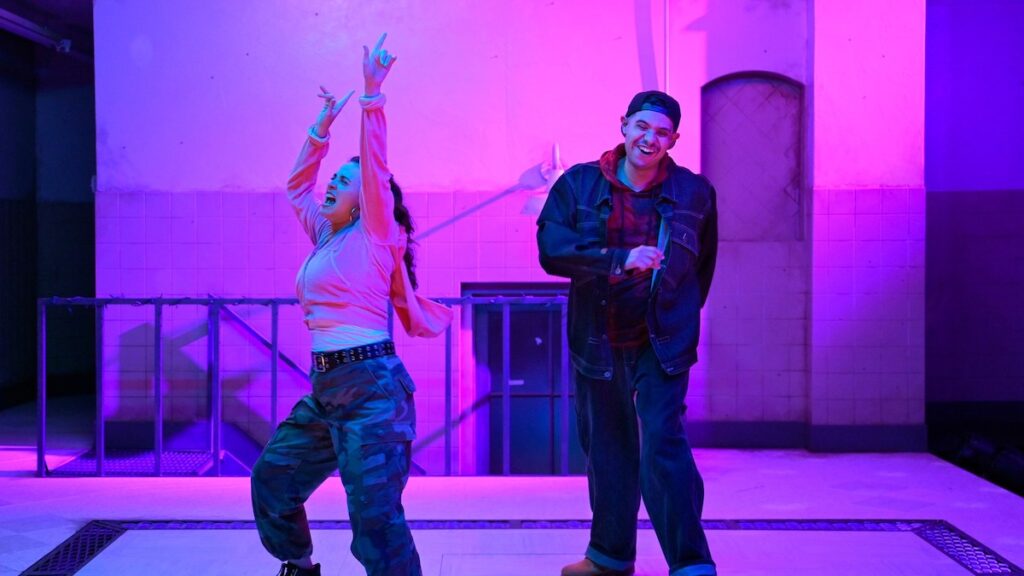 They says audiences observed during preview performances of the play in Berkeley demonstrate openness to a story that may not be their own, but one they can connect to in emotional, visceral ways. "It's absolutely political but I see people connecting to the way politics are immersed in the emotions, the relationship, the humanity. They can see themselves and have the same fears."
Themes in Sanctuary City are evoked with naturalistic lighting that anchors the play in reality and a space that is human and emotional. With a script that spins out a perpetual, cyclical portrait of worry, abstract and real sounds of trains, cars, and the mechanics of the outside world result in a percussive soundtrack that pushes the audience's experience forward, backwards, sideways. Mendizábal says Fan Zhang's sound score presents a sonic cityscape that captures loneliness or, alternately, community. Lighting design by Cha See and scenic and costume design by David Reynoso follow the same principles applied throughout the production: realism, blink-length dynamics, fractured perspective a person could call "snap," colossal humanity, and every level of love.
"Home is fragile and frazzled," concludes Mendizábal at the end of our conversation. "Sanctuary goes from happiness to fear to anger to normalcy to land on never-solid ground." As they said, everyone wants answers. Maybe we'll find them in the "yes, and" Mendizábal advocates.
SANCTUARY CITY runs through August 14 at Berkeley Rep. More info here.