Going into San Francisco's primary election on June 7, it sure seemed like everyone was onboard with a $400 million bond for Muni to improve transit services. Proposition A had support from a coalition of diverse interests: the Board of Supervisors and the mayor, the workers that make up the San Francisco Labor Council, and the barons of capital at the Chamber of Commerce. But despite this consensus, the measure failed to reach the two-thirds majority required under state law.
Though sharing a ballot with the recall of Chesa Boudin may have been the final nail in the coffin for Prop A, there's a broader lesson to be learned: Passive consensus among San Francisco's political establishment isn't going to be enough to save Muni. We're going to have to fight for the visionary public transit system that we all need, and the Democratic Socialists of America's San Francisco chapter is excited to get into that fight.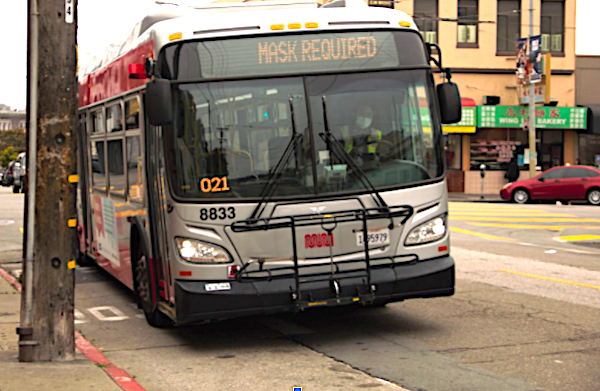 San Francisco's transit network has been suffering from mismanagement and service cuts for years, but since Mayor Breed appointed the current Director Jeffrey Tumlin in the winter of 2019, the essential service for the San Francisco working class has faced simultaneous budget and service cuts, accelerated by the administration's response to the Covid pandemic.
When Covid hit, Tumlin hired a consultant named Jarrett Walker to help the SFMTA, in the words of his contract, "define and build consensus toward a post-Covid network."
Rather than a bold vision for safe, affordable, and reliable transit, the consensus reached among the SFMTA administration was more service cuts. Although Muni received a whopping $700 million in federal bailout money, Tumlin argued that restoring full service would dry out the agency's $120 million in reserves due to Muni's structural deficit, even though that was later rebutted by a Controllers Office report on the SFMTA in December 2021, which showed that the SFMTA would not be running a structural deficit until 2025.
In reality, service cuts are accelerating the "Muni death spiral" and hurting the working-class San Franciscans who rely on it. In a textbook case of austerity politics, cuts lead to more cuts, and the shortcomings of starved public services become arguments used for their elimination.
Despite the widespread cuts that left many San Franciscans disaffected with the withered transit system, the San Francisco political establishment—spearheaded by Mayor London Breed—decided to go ahead with a Muni infrastructure bond. It's worth noting that even if it passed, Proposition A would not have been enough to support a bold vision of transit justice, since bonds limit the scope and scale of city improvements by pegging them to the rate of inflation. They also limit usage to capital improvements like bus yards and equipment, which makes it difficult to achieve a leap forward in service quality that requires increases in staffing.
Although Prop A was backed by every entity of political power in the city, faced no significant opposition, and had more than $1.5 million to spend, the ballot measure ended up below the two-thirds vote needed to take effect—driven in part by a campaign run without much of a field operation.
Prop A's failure is an indictment of the broader status quo perpetuated by the mayor and her appointed SFMTA administration, who falsely claim we must choose between affordability and service reliability. To bring funding to transit, we must embrace and invest in a bold, inspiring vision that rejects this false binary.
The Democratic Socialists of America is an organization focused on a working-class agenda, which is why we're getting into the fight for robust, reliable, fare-free transit by making a campaign for "Free Muni, Full Service" a local priority.
Working-class San Franciscans have had enough of long waits, inefficient routes, 10pm cutoffs, and fare enforcement putting Black and brown riders at highest risk, all amidst a climate catastrophe driven by fossil-fuel use.
Imagine a transit system that is a free public good like a library, and where taking electrified, climate-friendly buses and trains is quicker and more reliable than driving or taking an Uber from one end of the city to the other. What if instead of our mayor vetoing a fully-funded pilot for Free Muni SFMTA joined BART in seeking out a transit future less reliant on fares for funding? What if public transit could lead the way in San Francisco's progress toward its Climate Action Plan and Vision Zero goals?
We need a mass movement, a multi-racial coalition, to rise up and fight for this vision — riders, union members, people with disabilities, non-English speakers, fare-enforcement abolitionists, anti-poverty activists, and everyone who relies on Muni to meet their daily needs. If we want public transit to truly be a public good, we must re-imagine what Muni looks like, build a multi-racial working-class coalition, and fight like hell for it.
San Franciscans interested in joining us in the fight can visit bit.ly/freemuni-launch to register for our kickoff rally and join us Saturday, July 23 at noon at Dolores Park.
Gwen McLaughlin and Nayeli Maxson-Velazquez are members of DSA-SF