It appears the Chron will stop at nothing, even ignoring the basic facts, to attack people who question the real-estate developer model of market-driven housing.
Take Heather Knight's column, posted today, about housing development in what the city planners like to call "the Hub."
Here's her argument: Sup. Dean Preston asked (and I have to say, given the history of market-rate housing and displacement in the city, it was a reasonable request) to look at the impacts of upzoning the Van Ness and Market area on nearby vulnerable communities.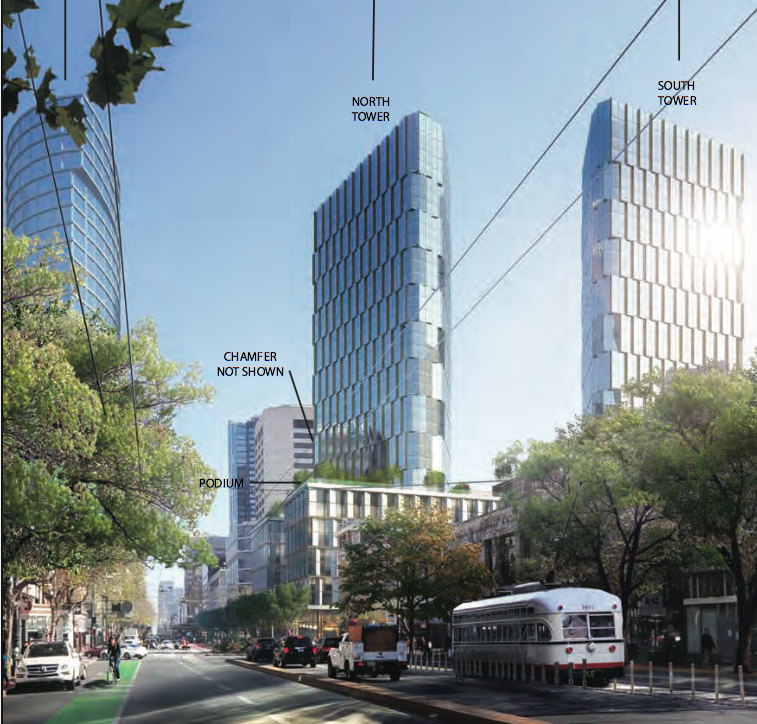 But, she says, that study never got done—and because of that one fact, that one lapsed study, thousands of desperately needed housing units were never built:
The 25-month pause for a report that never happened means no progress has been made on luring developers to plan housing on those sites in a city with a severe housing shortage and a mandate from the state to build 82,000 new units by 2031.
The delay, by the way, was for six months (which is nothing in the world of big real-estate development) and at any point after that city planners could have come back with the same proposal.
But more important, two things have happened since July, 2020:
A global pandemic and massive supply-chain interruptions, combined with a move out of cities by people who can afford to work remotely (exactly the population these new condos would target) has completely upended the economics of building highrise housing in San Francisco. It's not that the city won't allow new construction; upzone all you want, this stuff isn't getting built. Because that's how the capitalist housing market works: It's all about return for investors, which isn't there right now.
And in the meantime, state legislation has effectively upzoned all of these parcels anyway, so the local rules Knight complains about no longer apply.
Any developer who wanted to build any project that would have been allowed under the 2020 Planning Department proposal could have used the new state laws to build that highrise luxury tower anytime in the past year.
The delay in a study that no longer had any purpose made no difference at all.
Knight quotes the Yimbys, but not one developer who wants to build there and sees the zoning as an issue. That, I suspect, is because there aren't any.
Knight likes to blame Preston, who distrusts the developer agenda, and John Elberling, who was working on affordable housing in San Francisco when most of the folks at the Chron were in diapers (Heather might have been in preschool), for the lack of new development in the Hub, just as the paper blamed him for opposing a project that could have led to massive displacement in Soma.
But that's missing the point, as Knight so often does. Upzoning doesn't suddenly, magically lead to any housing, much less affordable housing. Not unless private developers decide they will make enough profit building on the site that they go ahead with projects.
Making enough profit means providing enough return to investors, and these days by definition that rules out apartments or condos affordable to most people who work in San Francisco.
Knight knew this. From an email Elberling sent to Knight before the story was published:

From his email after the story came out:
Your column posted today in the Chronicle about the "Hub" district area plan, "The latest housing failure: Thousands of units delayed for a study that never happened," is factually false and misleading, and omits/misrepresents TODCO's point of view as clearly stated to you via previous email.

As we clearly wrote to you, State housing density bonus laws passed since 2019 already allow – imposed, actually – a 50% height limit increase that any Hub owner/developer can use for new housing development now WHICH IS A BIGGER HEIGHT INCREASE THAN THE DRAFT HUB REZONING EVEN PROPOSED! But you omitted this crucial and conclusive information completely from your column.

The fact is, due to that, NOT ONE HOUSING UNIT HAS IN FACT BEEN DELAYED, let alone "thousands," as a result of the lesser proposed height limit increases of the Hub plan being delayed for any reason. Current zoning allows residential use in the Hub already. Any owner/developer can propose new projects at any time making use of the State Density Bonus for a 50% height increase above current limits, and that has been true throughout most the last three years.

So not one unit has been "delayed" waiting for such a zoning height increase. THAT'S ALREADY HAPPENED. This supposition is made-up nonsense – or propaganda? The actual reason no new housing projects have been proposed in the Hub district is that they are not financially feasible at this time for many reasons. This is true citywide as well, and has been widely reported by many publications.

Please correct the inaccurate statements in the column, including the headline, and please accurately and fully quote our point of view.
If I see a correction I will let you know.
This is, of course, much bigger than one column and one dispute. It's about the fundamental nature of the city's housing crisis—and the deep dispute is whether we trust the private market, which helped create the crisis, to get us out of it.
Preston suggests that, at a time when the private market isn't interested in building housing (much less any affordable housing) that the city ought to look to the Hub as a place for more social housing.
That's again a much bigger issue: If, as appears to be the case, private for-profit developers are not building housing now (there are more than 50,000 units approved in San Francisco and unconstructed) and the state wants to see 84,000 units built in this city, perhaps we ought to be rethinking the role of upzoning and talking about the failure of speculative capital and the role of government in actually creating housing for people who need it.