You're reading Good Taste, a weekly look at food in the Bay Area. The column took a break last week to recover from eating at Outside Lands and is back to give flowers to a true San Francisco classic.
Greens Restaurant is a place I've long recommended for calm and quiet celebrating—if you want an unstressful birthday meal, for example, this is an ideal place to consider. Opened and originally operated by the San Francisco Zen Center in 1979, Greens is a living love poem to the beauty and grace of vegetarian cooking. It's now one of the city's rare restaurants that still preserves the charm of the Old Bay. And with a history of four women serving as executive chef—currently Katie Reicher, previously Denise St. Onge (who's now at Sorella), Annie Somerville, and Deborah Madison—Greens centers divine feminine energy as much as fresh produce.
My friend and old roommate worked as an assistant pastry chef at Greens in the late '90s, so I was lucky enough to try a lot of dessert components before actually getting to dine there. The purity of the produce, sourced from the Zen Center's Green Gulch Farm in Muir Beach, is what I still remember the most, and what keeps me returning. If the quality of your fruits, vegetables, and herbs are brilliant, you don't need to apply more than your imagination and a soft touch to showcase them on the plate.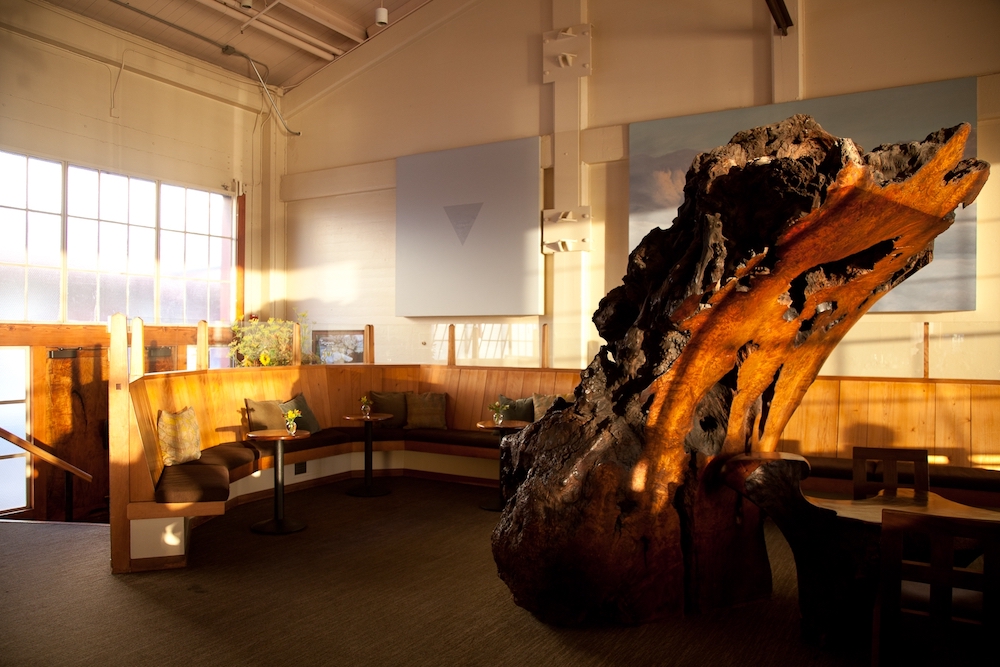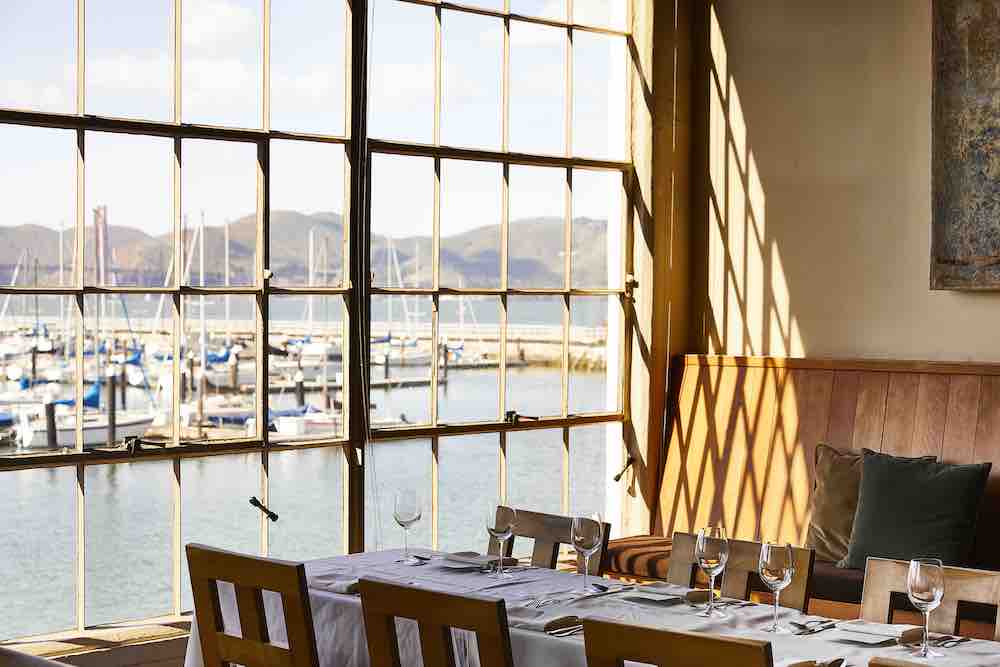 I ate at Greens four or five times over the years and treated myself to an epic lunch in late February 2020, which turned out to be one of my last meals in the Before. When the restaurant invited me back this year to be a guest at the first two installments in the Summer Dinner Series, it felt so wonderful to be back in the warehoused Fort Mason restaurant, which features Buddhist art and furniture made in a Japanese style out of California woods. It struck me how few places there are left where you can feel a certain San Francisco timelessness.
Chef Reicher, who has worked at Greens since 2015 and was promoted to executive chef in 2020, studied under Somerville, just as Somerville did under Madison. Perhaps Reicher will also follow in Somerville and Madison's footsteps as an author of cookbooks. She creates a new menu each month for regular service, and her collaborations with other local women chefs give her a chance to explore international ideas with a California sensibility.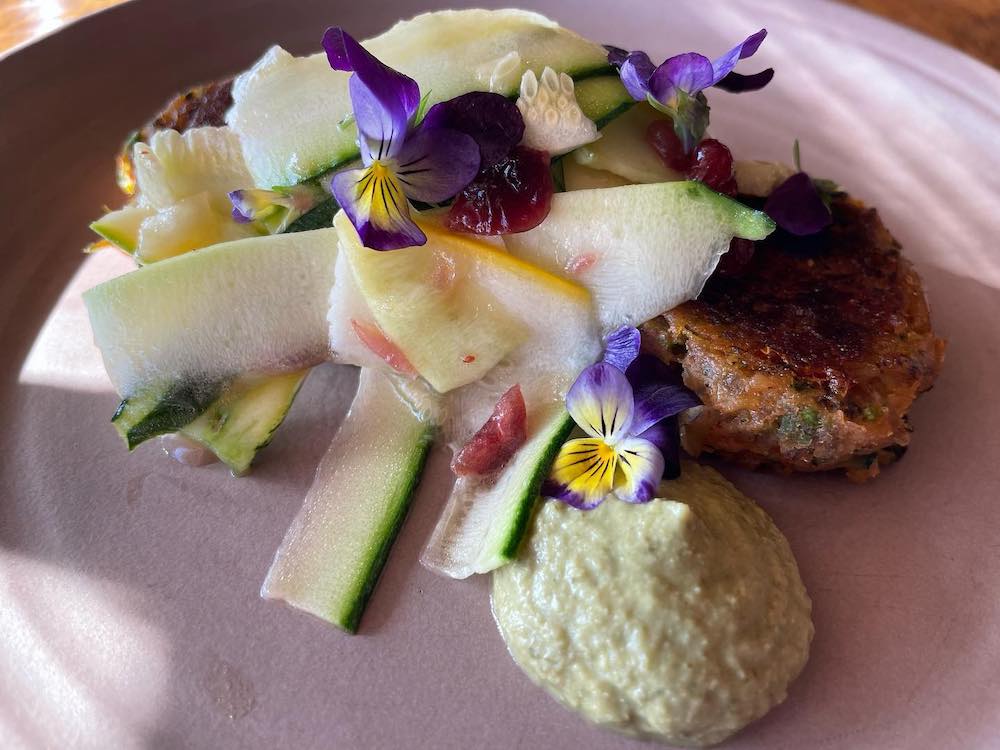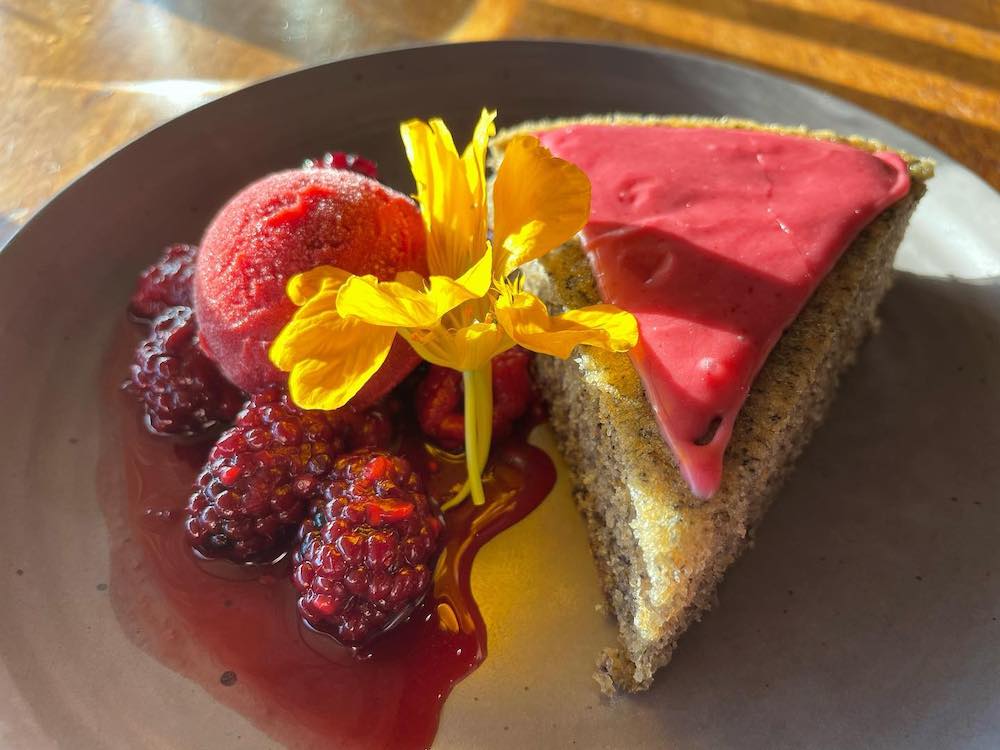 Her July collaboration with Crystal Wahpepah, the chef-owner of Wahpepah's Kitchen in Oakland, featured ingredients sourced from Native American tribes around the country. For example, an entree of hand-harvested wild rice griddle cakes with sundried maple tomatoes, zucchini, pumpkin seed sauce, and summer squash salad utilized rice grown by the Ojibwe tribe from Red Lake in Minnesota, while a blue corn cake with mixed berry compote and berry sorbet showcased blue cornmeal from the Ute tribe in Colorado.
Last week's collaboration with Heena Patel of Besharam, a vegetarian Gujarati restaurant in San Francisco, brought revelatory dishes like sabudana khichdi, a tapioca and sweet potato porridge with toasted peanuts. They served a family-style entree of moong dal and Navratan korma, a curry with fresh vegetables and dried fruits, and a pistachio kulfi affogato with Masala chai and rose petals for dessert.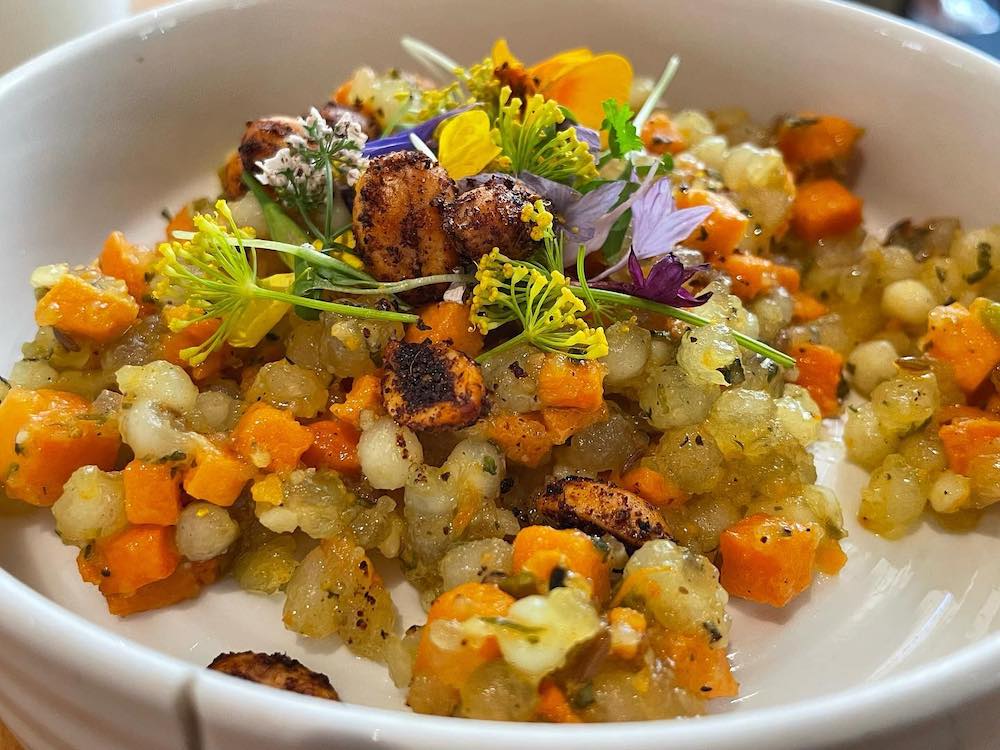 That Greens has survived a pandemic and many fickle food eras before that is a testament to its quiet mastery, and I hope it's around forever. The next edition of Greens' Summer Dinner Series, which benefits Foodwise, takes place on Sept. 28 with Chef Adiam Tsegaye of Oakland's Mela Bistro.
Keep the food party going at Tamara's site California Eating.