At Rickshaw Stop on Sunday night, Maryam Qudus—a first-generation Afghan American kid of working class immigrant parents and head of local project Spacemoth—paused her set, crammed to the nanosecond with screeching audio tape loops, sound reverb, and hellfire cosmic lo-fi bedlam, to express gratitude.
"Hello, lovely people of the Bay Area" she addressed the adoring crowd. "We can say that, because we are, too."
Qudus and her band were playing their first album No Past No Future on the final day of the Outside Lands Festival during an official nighttime event. Qudus was carrying on a tradition, a continuing Bay Area connectivity running through the weekend's performance lineup.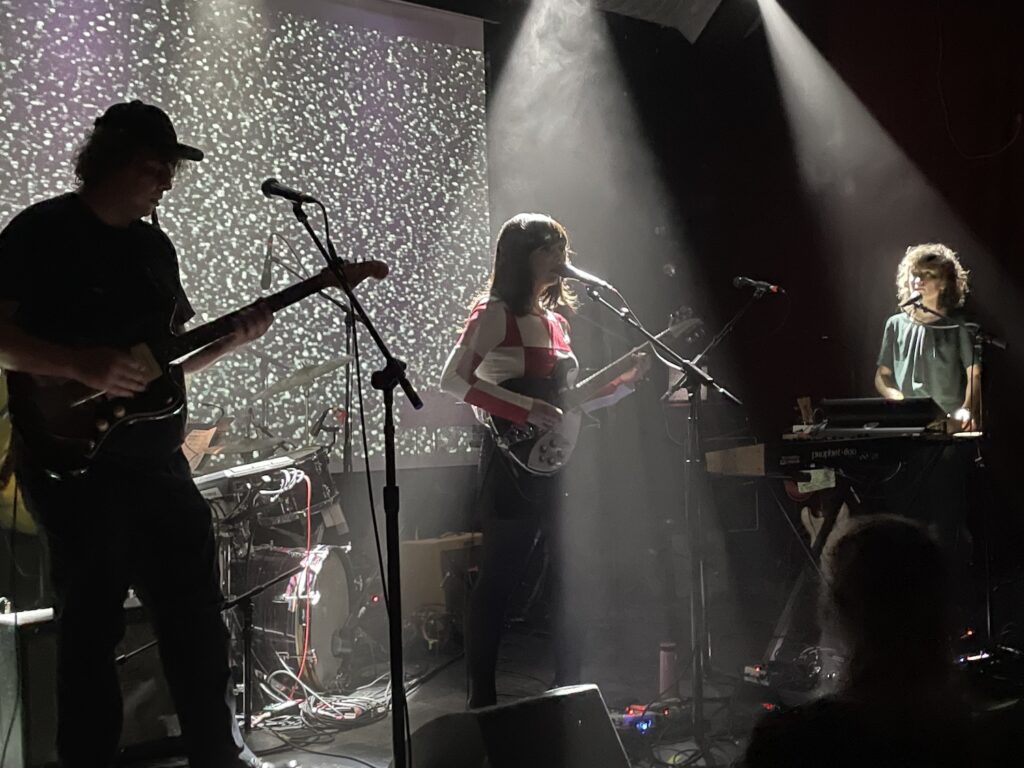 From the closing act on Friday night (Phoebe Bridgers, who attended the festival as a child and got to live out her dream of headlining) to Oakland luminaries Green Day, who closed out the Saturday show, finally getting their chance to play the festival after a decade of missed opportunities, local history was on the stage. San Francisco rapper Larry June and Oakland electro-funk outfit Planet Booty also left their mark on the local fest, as did other Bay Areans.
But not like this. In Spacemoth's inventive astral pop, dealing out hallucinatory balladry and ancient synths ability, we may have a future Outside Lands headliner in our midst. Thanking: "I've spent many evenings here dancing, having fun, and I'm sorta doing this now, only I'm on stage."
It's odd how highlights, even cutting-edge pyrotechnics from a three-day extravaganza at Golden Gate Park, can't compete with genuineness and humility that emanates from a little club set.
Look close, for the good. The majority of Outside Lands 2022 existed in the context of its time: In a rush to return to a state of normal, whatever the hell that means these days, at least in this country, things are gonna be weird, awkward. 
Messy.
Sometimes even broken. No. I'm not talking about the City of San Francisco, side-eye, although it could fit that description at times. Patrons of Outside Lands this year, mostly older teens and young adults, tried to play catch up. Went in extra hard. 
Here's a lesson for the young folk. Vaping and drinking, in direct sunlight, all day, could and did lead said young folk to being dragged out of Post Malone's Sunday closing set due to, well, let's call it exhaustion. Those who didn't fall out were shuttled via Muni busses and trains after the headlining performance at night. Patrons left to their own devices, went spilling into the blocks, flooding the avenues, buying luggage pack cases of Modelo for their saunters to who knows.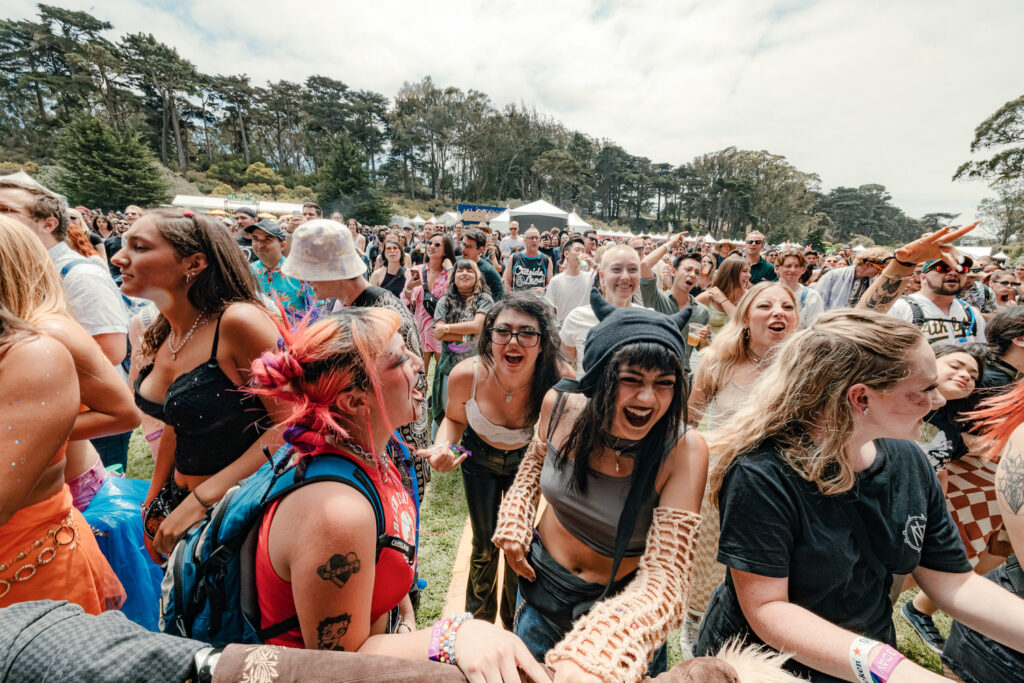 (Like everyone else, I too heard the melodious sounds of Green Day on Saturday ringing from 38th Ave and all the way down past the University of San Francisco on Masonic.)
The deluge of patrons heading back downtown after the final Sunday performance had Muni putting drivers on the 5 Fulton route who had to stop buses heading in the opposite direction, asking their co-workers for the exact route they were supposed to be taking. Add to that weekend gridlock all over the Upper Haight, Western Addition, Panhandle…. It was confusion all around for this full-tilt boogie of a weekend.
While last year's Outside Lands was the comeback, this year was the return. For all the accouterments.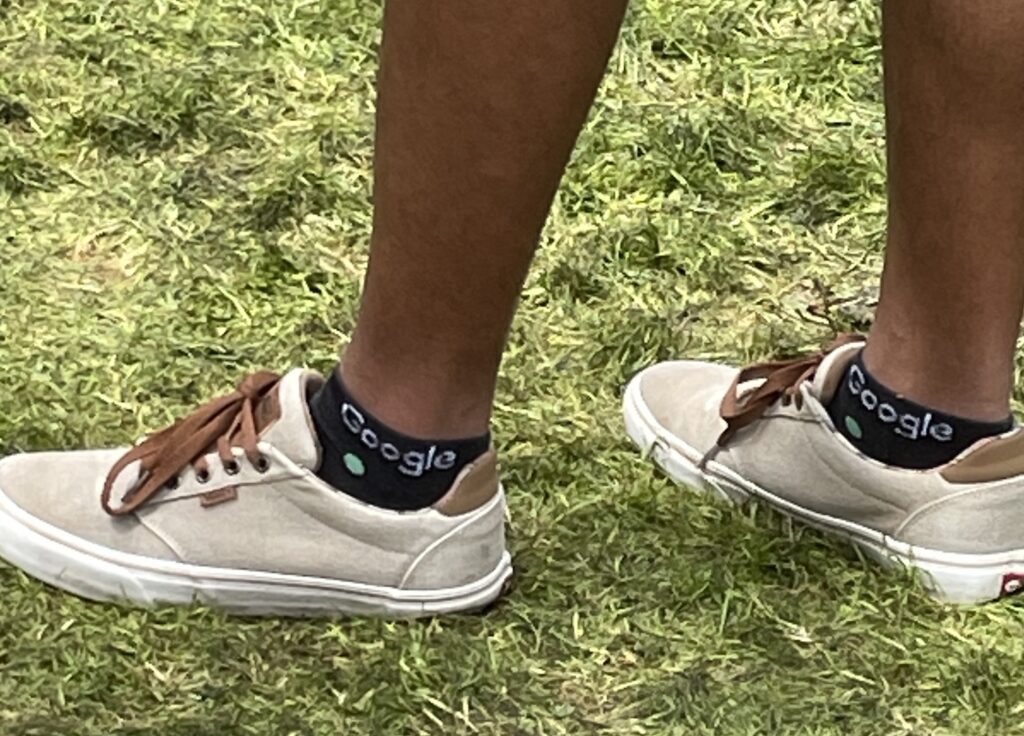 Teenagers from Burlingame, attending for the first time, illegally crushed White Claw and other hard seltzer water cousins, discussing "fire" fake IDs and "legit" funnel cakes on the shuttle bus in. Young women with flowers in their hair (too young to understand the meaning of that in Golden Gate Park) were jumping and skipping across the festival grounds en route to the mellow vibes of Faye Webster on Friday, with her "shrug emoji" country-not country, slo-mo, drive-by leisure stylings.
Saturday had a sweet spot of acts that managed to take place early enough for those searching for early brunch audio accompaniment.
The Linda Lindas, who opened the Lands End stage at noon sharp, kicked off the day's celebrations with a combination of riot girl grit and general delight. Gina Schock, the legendary Go Go's drummer, even joined them on stage for a performance of "Tonite" from that band's essential '80s record, Beauty and the Beat.
It was phenomenal, and they played to a huge crowd for an hour, somewhat unfortunately drowning out the excellent, heavily atmospheric, free-jazz-mystical, punk-as-fuck, and groove-teetering performance by Brookly-based artist L'Rain at the nearby Sutro stage. 
"Come closer, let's have a little party. Hello, San Francisco" declared Stones Throw label artist Benny Sings, aka Tim van Berkestijn of Dordrecht, Netherlands. Even though he had to cancel a December Bay-Area gig last year, his constituency—young men in Google socks (bold choice) and young women either wearing Tik-Tok-inspired outfits or barely anything—all got reacquainted, amid non-stop vaping, to the soul-pop groove.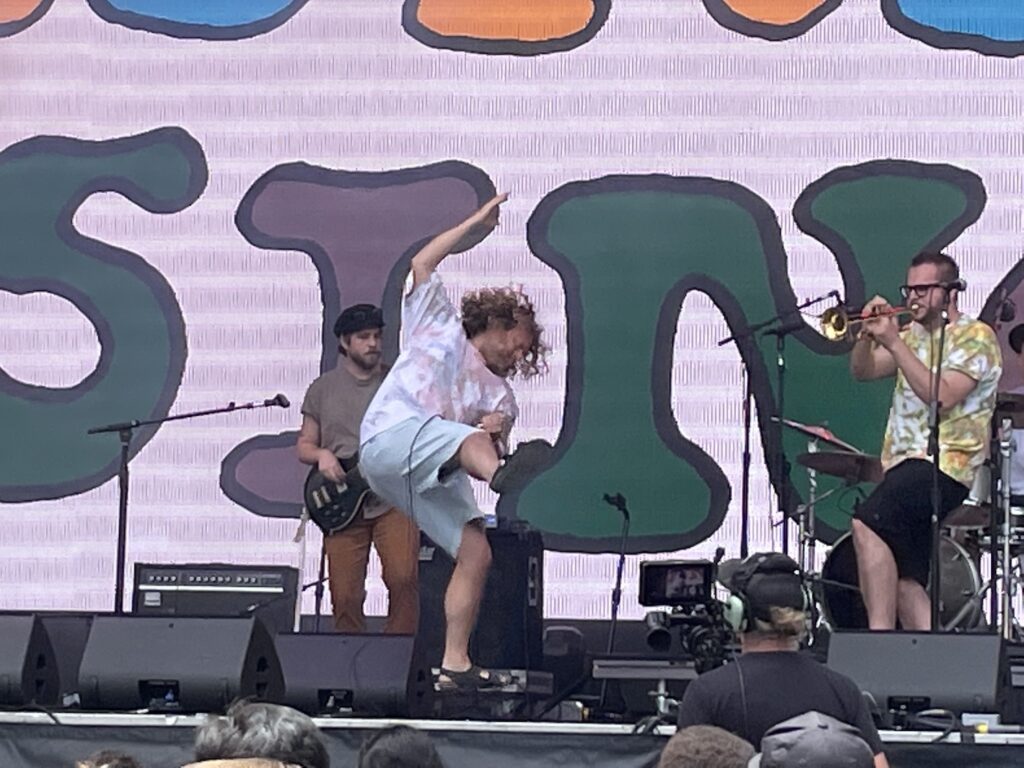 It made the funk adjacent low-simmer bop of "Not Enough" from his 2019 City Pop record an easy choice for the jam of the afternoon. Doing what seemed like calisthenics, jumping around, instructing his band to extend vamps, letting the crowd get nice with it, his set put everyone at ease.
Just in time for Robert Glasper. I gotta admit, I did not know how the top contemporary jazz artist, coming of the initial Blue Note fest at the Krug Winery in Napa last week, would do with this crowd who seemed, let's just say it, rhythmically challenged at times.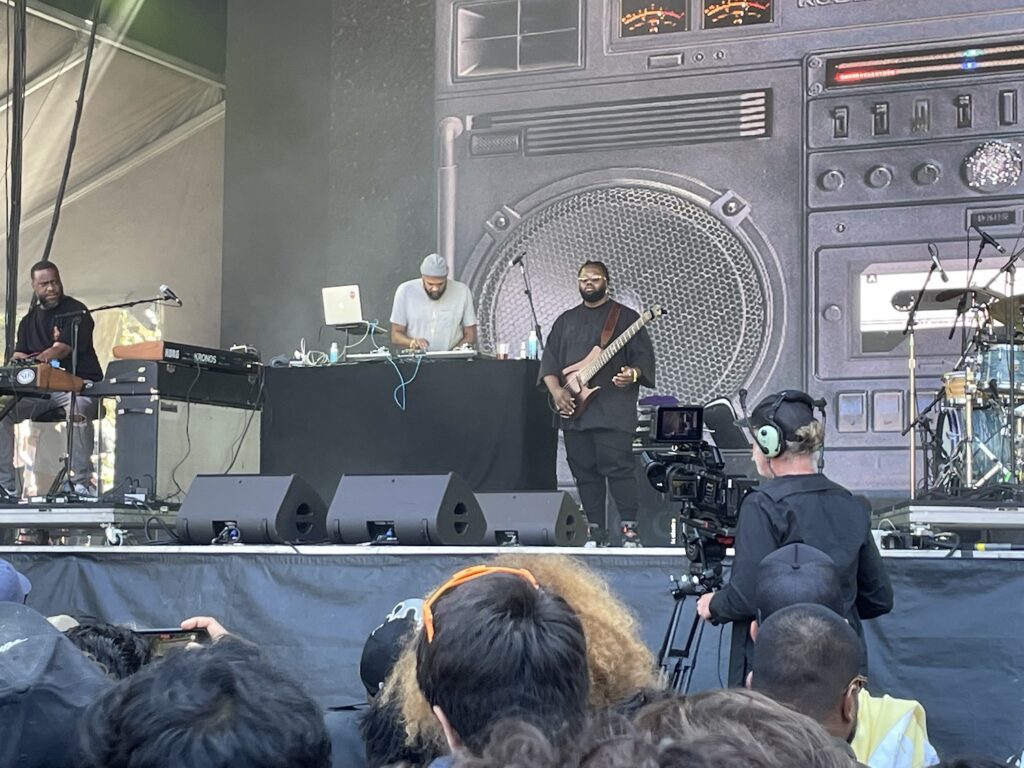 His band, steeped in creating retro-futuristic soundscapes, with a one-man rhythm machine drummer and a DJ who is one of the few working with a band who actually adds nuance, not just the old scratchy scratch sounds, made this 50-minute set exceptional.
From "Black Superhero" to "Smells Like Teen Spirit" and then closing out with a recontextualized "Everybody Wants to Rule The World" with the DJ running De La Soul's "Stakes Is High" vocal over the jam session continued Glasper's finesse for being contemporary and inventive without dulling the medicine.
So yeah, it was a festival, full of many types of highs and lows, that operated as a multiverse.
But yeah, don't get me started on those bathrooms, Jack…