It tickles porn performer and director Vanniall to think of a viewer taking in her 100-money-shot compilation Wow! That's What I Call Cumshow! all at once, thrilling to her climaxing over and over again, in a variety of locations and during diverse moments in the multihyphenate's adult career.
Such a bounty of Black trans sexual joy, directed by its own protagonist, is lamentably rare in the mainstream porn industry. But it will be available in an online–only program on Wed/24 at the SF Porn Film Festival (Wed/24-Sun/28), a unique annual Bay tradition that looks to feature envelope-pushing productions from the world of XXX.
Vanniall is precisely a kind of performer that the festival looks to honor. The New York-based Xbiz award-winner is sexy as hell, self-made, dedicated to the art of smut, and outspoken when it comes to inclusion in an industry that, in its worst moments, can be quite tokenizing of its talent.
How bold is Vanniall? The short answer lies in an article that the popular cam artist wrote for Huffington Post, in which she came out of the closet as a seropositive porn performer. She penned the op-ed less than a year after learning her diagnosis, just as Vanniall was really getting to know the stigmas wielded against sex workers living with HIV/AIDS. It serves as an essential primer for anyone looking to learn the basics of seropositive porn—and how standard industry practices can further marginalize even undetectable performers.
Shortly after its publication, the industry organization that keeps records on STI tests necessary for a performer to work with most major production companies, signed a pledge to advocate for HIV/AIDS discrimination in porn.
Vannial's makes it clear in her influential article that HIV/AIDS education is essential for keeping all porn performers safe—and not in the way sero-fearmongers might believe.
"It may be hard for some people to understand," Vanniall wrote. "But someone who knows they are HIV+ and is on medication can be safer to have sex with than someone who just thinks they are negative."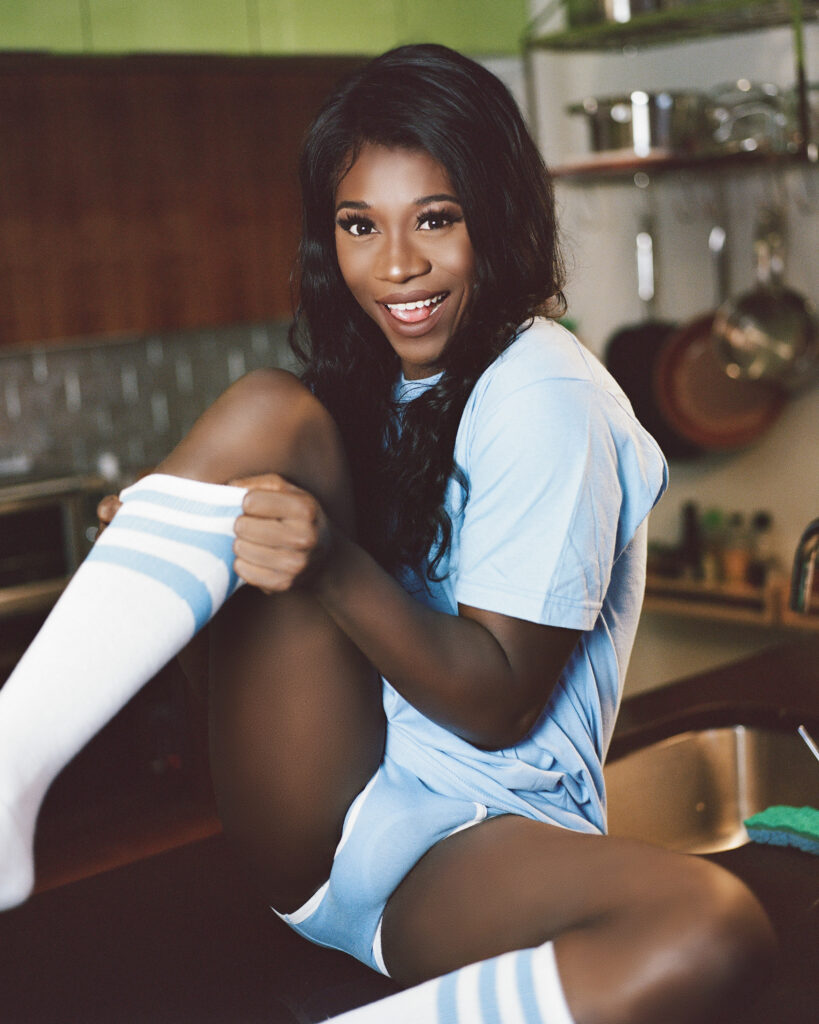 Harm-reduction-inspired swoon! One's Vanniall-crush deepens upon learning that the director-performer also served double-duty on her "Big Brother"-style parody series MostlyPics House. And even better, if you're local: the festival will be screening an episode from that production, featuring an arachnophobia-inspired hookup between the sculpted Smash Thompson and the auteur herself, as part of a program screened simultaneously online and in-person at Brava Theatre on Fri/26.
Vanniall took the time out of her busy schedule—but really, check the answer in which she talks about all the projects an XXX performer has to take on to make it financially—to answer some questions from us. Read on for expert opinions on unending internet censorship, self-facials, and why every hard worker needs a kitty (or three.)
48HILLS What was your reaction upon learning that WOW That's What I Call Cum Show had been selected for the SF Porn Film Festival?
VANNIALL I was pretty excited that they'd be screening this compilation, since I think it's not only a really interesting piece showing the evolution of my craft through 100 cam shows across several years, and completely different studios. It's also a frankly-hilarious thing, to think of someone sitting in a theater and watching for an hour and 42 minutes.
It may have been too funny a scenario, because they choose to put it in the online section—I like to think, due to time.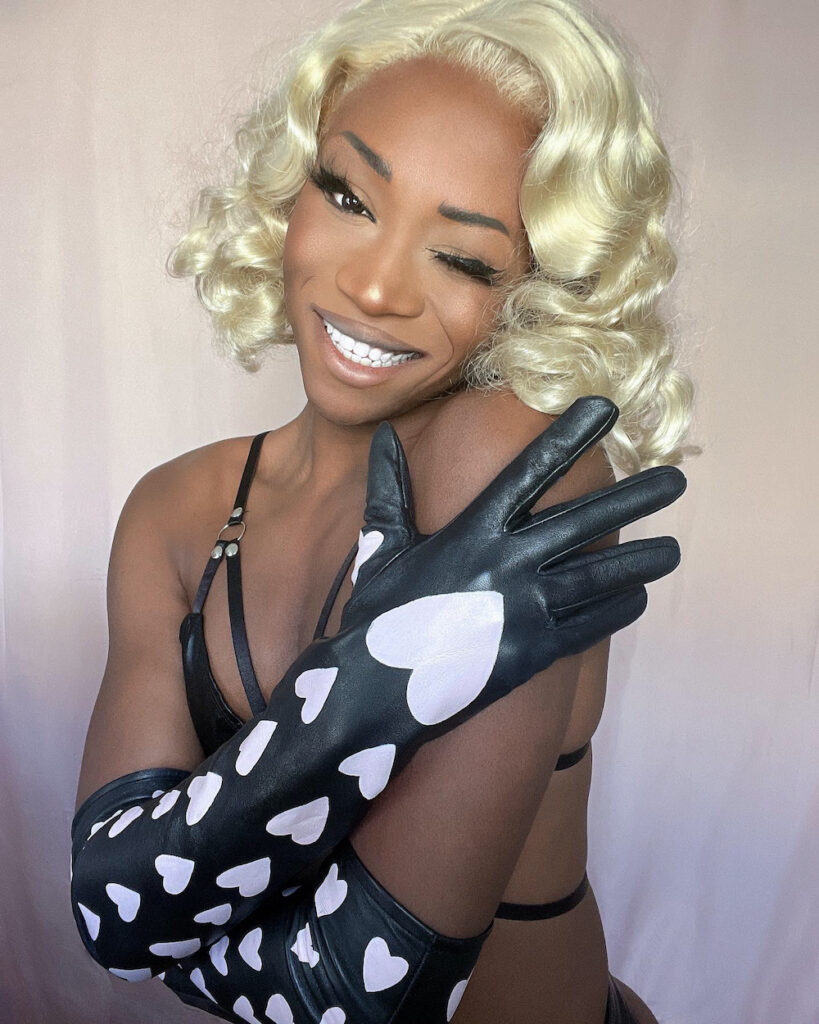 48HILLS Was entering it in film festivals on your mind when you produced "WOW"? What was the motivation behind producing such an epic collection of 100 climaxes?
VANNIALL Yes, I actually created that compilation specifically to submit to film festivals—specifically the SF Porn Film Festival! There had been interest in my other self-produced clips before, and I am working on some long form fiction projects. But I wanted to have something both new, just for the festival, and also to represent the erotic art form [camming] that may in fact be the most common type of erotic media, but is very rarely thought of even as "pornography" when discussed in the mainstream.
People know camming exists, but they don't realize it pays many more models than [more traditional porn shoots], and frankly, makes people a lot more money as well. "Feed" platforms like OnlyFans have switched that up a lot, but I think making selfies or vertical shows for the feed often feels closer to camming, kind of an extension of cam culture that you see represented through those sites' systems of tipping and client interaction.
48HILLS You said in a statement that, "Usually festivals that screen porn are known for abstracting sexuality a bit or sandwiching it between plot, making things more 'erotica.' And the audience is there for porn made arty, and not celebrating porn as it usually is already." Where does the line between porn and art lie, anyway (is there one?)
VANNIALL I don't think there's a line. Pornography, I think, was legally defined in this country in a case where a judge said, "I know it when I see it." For many people, that's meant the definition of pornography has had more to do with disgust and shame than what's technically included, how it's shot, etc. All of that is to say what has been said a thousand times: Art is subjective.
I think it's important to have festivals for porn, to both destigmatize and celebrate something most people consume, but rarely with proper appreciation for the creators.
I'd say porn is satisfying form of art for many people as well—excepting those who regularly wank it to a Pollock. And probably Pollock.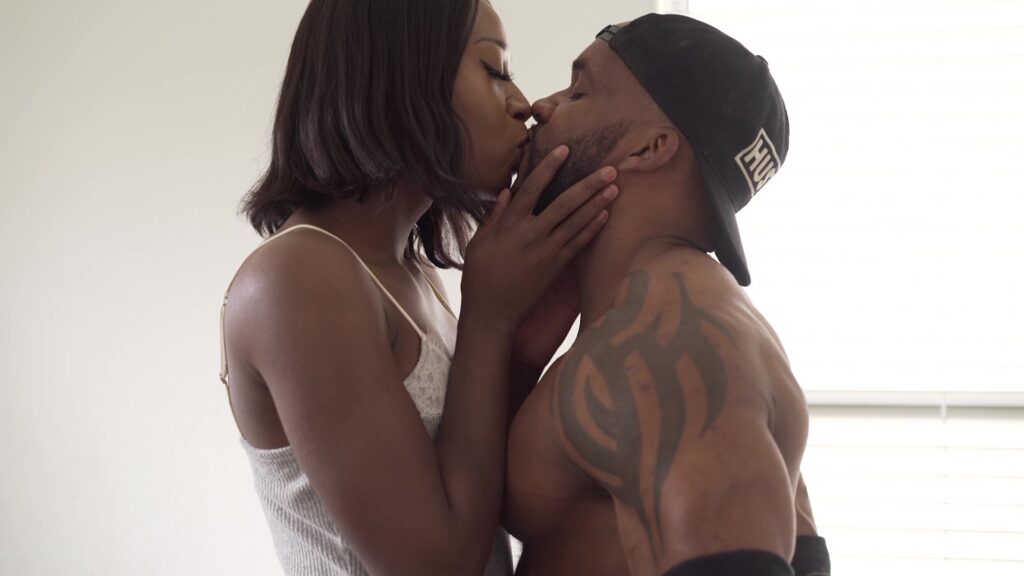 48HILLS You are also in the cast of MostlyPics House, a reality parody series, from which an episode featuring you and Smash Thompson was selected for a festival screening as well. Tell us a little bit about that production. Were you involved behind the scenes of the series?
VANNIALL Yes, that's actually one of my self-produced series! I directed and produced it, cast the other performers and paid them as a studio would. It was one of the first things I produced, so I admit I had a lot of learning to do. I am grateful to the stars like Smash, Claire, Kai, and Kingsley who were experienced, professional, and patient with me as I worked my way through it.
You might have to ask the festival if I'm supposed to talk about this kind of thing, but they actually specifically reached out to me about wanting to feature the MostlyPics House—I originally just planned to submit the compilation I crafted for the festival. So that was really flattering!
48HILLS You close your epic HuffPo op-ed with your ambition to be a mainstream porn star. What motivates you to be a part of the mainstream porn industry?
VANNIALL Two reasons. A natural exhibitionist impulse that lends one towards fame instead of away from it—and honestly, perhaps more importantly, a survivor instinct to create a career that is as resilient as possible.
As sex workers, we can lose any platform at any time. Platforms like OnlyFans and Chaturbate have allowed me an incredible amount of freedom and control over my work, but banks are single-handedly deciding they don't want to do business with sex work platforms.
So I'm attracted to the traditional industry, partly because I still need stability, and also because I need access to distribution channels for media like DVD in case we lose the internet. Luckily, the existence of these indie platforms has lead to more worker negotiating power, and thus a much more educated and egalitarian (and safer) industry in many ways. It's now more possible for someone like me to have and enjoy a mainstream career.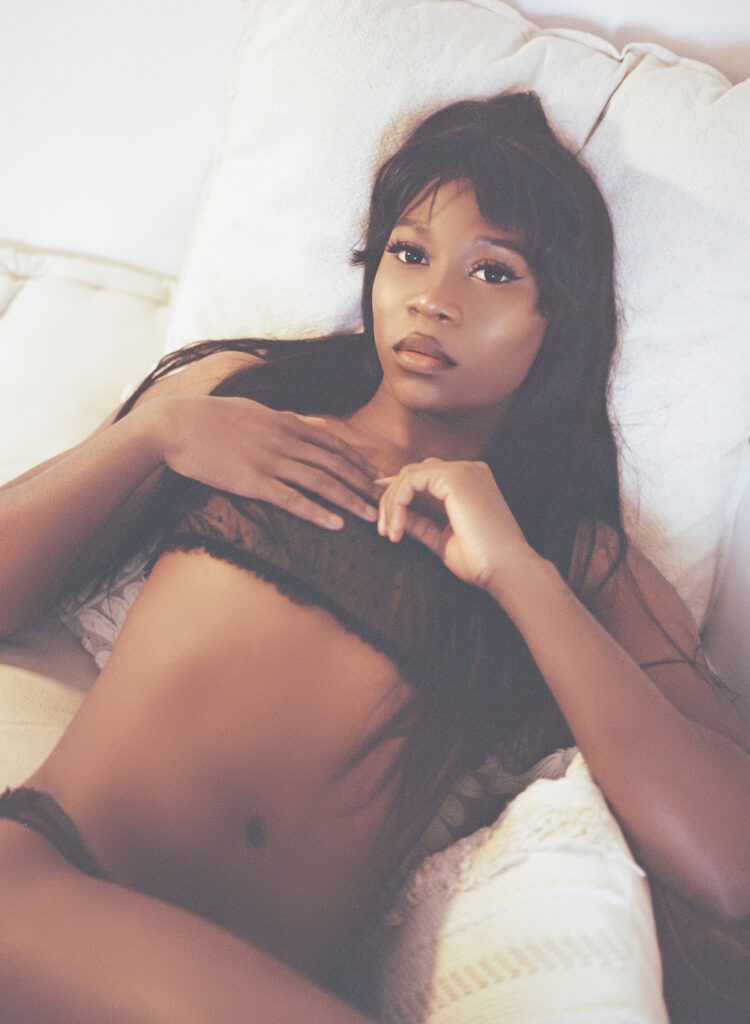 48HILLS Can you share a little about your current income streams? I'm not sure if people are familiar with how multi-talented performers need to be to make it work financially in the porn industry.
VANNIALL Sex worker platforms are highly discriminated against by companies like Mastercard, banks, and governments, so we have to be prepared at any time for any platform to go down. Really, diversifying your income stream as much as possible is pretty important.
At the same time, there's a network effect from sites like OnlyFans—at some point they get a certain amount of saved payment information and a certain amount of the creators and it just gets bigger from there.
Really, people being on a site is its biggest asset. It's also hard to maintain a lot of traffic to multiple sites. So most people kind of end up with one main cam profile, one main feed site, one main clip stores, and then a lot of social media and tube site profiles for promotion. For me right now, those main sites are OnlyFans, Chaturbate, and ManyVids.
Cam sites and clip stores have some on-site promotion, but OnlyFans keeps everything paywalled and doesn't have on-site promotion. So it's very very important for sex workers to have access to social media and be able to interact with regular folks to keep their income up.
I've recently dealt with my Instagram and Reddit profiles being taken down, and then put back up after I appealed and was told it was a "mistake." That really hurt my income. Losing Tumblr hurt a ton. I thought I would never recover after that—but managed to.
Losing access to Pornhub payments and not being able to claim fan uploads also hurt a lot. Sex worker groups worked incredibly hard to get first-in-the-industry features, like being able to claim a video that was uploaded of you and get its full historical advertising income for it. Pornhub had actually become a better site with better management, but a few NY Times articles later, and they lost all credit card processing. No worry for the models that were actually using that site.
Events like this festival, and working in the mainstream industry can also be helpful, to get fans looking for your face and finding ways to pay you.
48HILLS You've been an important voice for sero-positive performers in the industry. What does the porn business need to work on in order to be a just place for people living with HIV/AIDS?
VANNIALL I'm really glad that my article had some impact, though I have to say I'm really following in a long line of activists, many who have been dealing with HIV a lot longer than I have.
A long-time goal has been to end the practice of simply blacklisting HIV+ performers, but rather have an opt-in database where recently-tested, un-transmissable performers could be correctly marked as safe. It's important to have access to not just employers, but the inclusive database, since we still need to test and plan safety around other STIs.
Testing also has to be made more accessible, or the other work won't really impact most performers. Right now performers doing "trade" (shared rights production where they both produce and sell the clips) still test regularly and try to work safely—but free clinics and doctors covered by healthcare are not allowed into the mainstream database. For mainstream scenes, performers are forced to pay for very expensive tests so that they are logged in the database. There's nothing stopping the industry from investing in a more inclusive database that ensures free and accessible testing.
I think it was important to come forward about how quickly the HIV diagnosis impacted me and devastated my career options and how that felt explicitly linked to having built a career in adult entertainment … But I really did had to come forward, because I didn't have much choice if I wanted to continue working.
A lot of people have struggled for a long time on this, and I do hope being open about it happening to me, while it was happening, has helped them.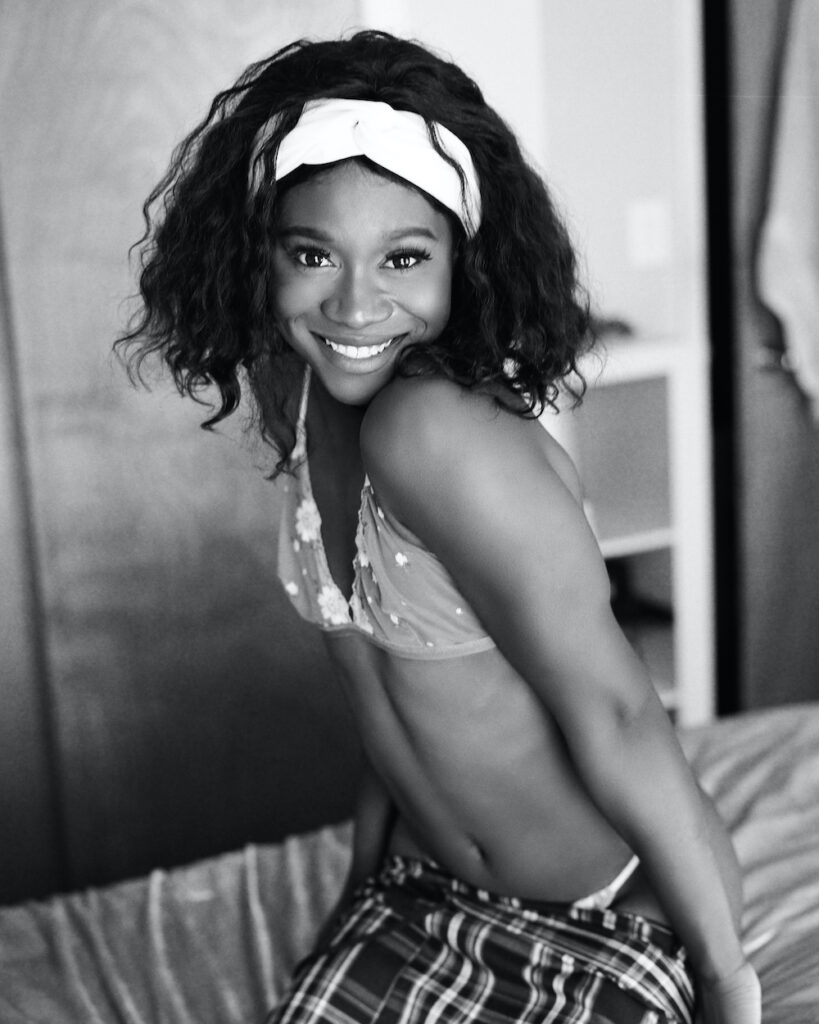 48HILLS I heard a rumor that the Adult Performance Artists Guild threatened HuffPo with legal action over your piece? What is the situation there?
VANNIALL It had to do with a mention and a link [that I included in the article] to prior harmful statements from leadership at the group. It says it's a sex worker union, but has kicked out friends of mine for complaining about stuff like racism among the leadership.
I went kind of soft on them, really, just saying they had released harmful statements and linking directly to one of them. But they managed to get all mentions of their group and that link removed [from the article], as well as having some removed about the testing standards, which I still believe is accurate.
HuffPost thought it wasn't worth risking having to take down the whole story, so I understand why they just removed those few lines. I didn't really have much control over it, and I do think what APAG did was wrong.
We should hear and respond to criticism, not completely silence it. They could have just put out another statement instead of removing evidence of their past mistakes. But they've become quite controversial as a group and individuals, so I don't think I have to spend much time further publicizing their actions.
What was amazing was the amount of support that poured in from other folks while that was happening. PASS [the industry-standard Performer Availability Screening Service] came out strongly in favor of revised standards and more inclusive testing, and a ton of studios reached out, and most of the performers I know reached out. So we've moved on without APAG.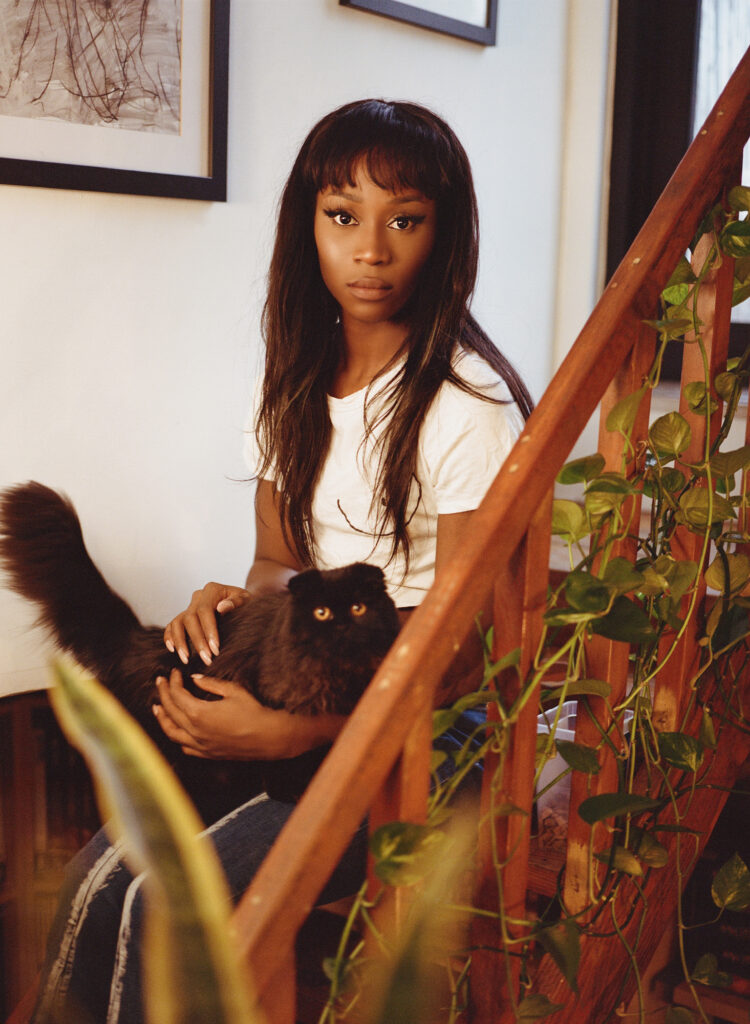 48HILLS You have three black cats. Please make the case for having one of these superior beings in one's life.
VANNIALL You can't have just one, you need two, or ideally at least three.
Honestly, the cats have been really amazing. It's hard as someone handling everything yourself work-wise to have a regular schedule or a lot of energy to play, so while I love dogs, I've appreciated how independent cats are. Also, how much they will instigate contact in a soft way—having something come up to me for a cuddle is wonderful. It's nice to be reminded that you deserve a cuddle (even if their motives are likely entirely selfish. evil little critters.)
I have two older sisters; Cabinet and Ryuko, and a nine-month-old with a Cinderella complex whose name is GMO. Sweethearts in their own way and all pitch-black! I simply couldn't get through life without them.
Vanniall has two movies in the SF Porn Film Festival this year. WOW That's What I Call Cumshow! will screen online as part of the Wed/24 "FORE/PLAY" program, $25-60 virtual festival pass. An episode of MostlyPics House will screen simultaneously online and in-person as part of the "REEL/SEX" program at Brava Theatre, 4:30pm Fri/26, $15 single event ticket or $50-60 for in-person festival pass. More info and tickets here.