The San Francisco Labor Council supports Proposition E, the affordable-housing measure on the November ballot. So do the Building and Construction Trades Council, the teachers union, and the firefighters union.
But if you look at a wildly misleading ad by the opponents of the measure, who support the competing Yimby-backed and tech-bro funded Prop. D, you might get the completely opposite message.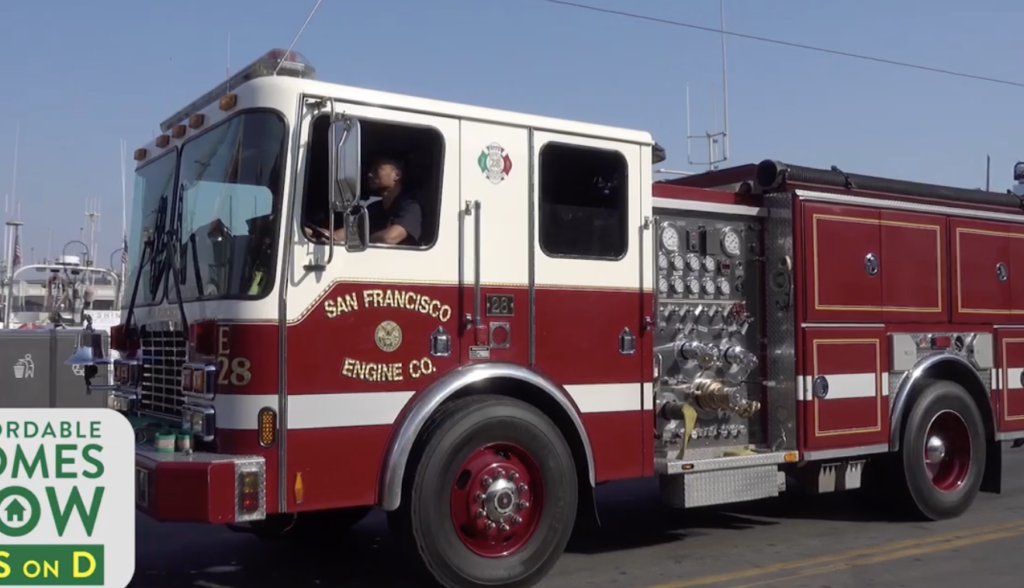 Political ads are often misleading, and sometimes intentionally inaccurate. But this one goes in a special category:
The ad features a teacher, two carpenters, and a San Francisco fire truck. It urges voters to support Prop. D so that "teachers, nurses, firefighters and workers like us" can afford to live in San Francisco.
The labor groups supporting those workers are not supporting Prop. D.
The measures look fairly similar, and backers of both claim that their version will create more affordable housing in the city. But there are critical differences. Prop. D defines affordable housing so widely that developers who build for people who make as much as 140 percent of area median income—that's $155,000 a year for a two-person household—will get special treatment.
Two union teachers at the top of scale might come close to that. Two union nurses or firefighters might hit that income.
But according to federal guidelines, people at that level can pay more than $4,600 a month for rent—which is market rate in much of San Francisco.
So developers who are building market-rate housing will get to skip the normal community-input and planning process.
Prop. D also allows developers to move forward with expedited permits even if they aren't using unionized workers.
Prop. E has a more narrow definition of affordable housing, capping at 120 percent of AMI, and requires developers who want special treatment to use unionized workers trained with union apprenticeships. It's no surprise that labor supports Prop. E, not Prop. D.
The biggest financial backers of Prop. D are John Wolthius, who co-founded Twilio, Marco Zappacosta, CEO of Thumbtack, and Ben Spero, a tech venture capitalist.
State Sen. Scott Wiener is a major proponent.
Prop. E was sponsored by Sup. Connie Chan, and its largest funder is the Plumbers Union. Five other supes—Gordon Mar, Aaron Peskin, Dean Preston, Hillary Ronen, Ahsha Safai, and Shamann Walton—voted to put it on the ballot.
It's backed by almost every progressive organization in the city.
Prop. E supporters now say that the ads are not only misleading—they're illegal. You can't use the city seal in a political campaign—and that's what the ads, featuring a city fire truck, do, according to a Sept. 26 complaint filed with the offices of the city attorney and district attorney.
From the complaint:
The Committee's campaign video prominently depicts a fire truck bearing the official San Francisco Fire Department seal, and this video is now being disseminated on multiple social media platforms. The seal that appears in the video matches an official seal used by the San 

Francisco Fire Department and the City and County of San Francisco. … By producing and disseminating a campaign video that uses the San Francisco Fire Department emblem, the Committee has violated San Francisco Administrative Code Section 1.6(c)-(e). That provision states, "every person who … without prior approval of the Board of Supervisors, uses … any reproduction of facsimile of the Seal of the City and County of San Francisco in any manner whatsoever is guilty of a misdemeanor." 

In addition, the Committee has violated Elections Code Section 18304, which provides, the "reproduction or facsimile of the seal of the county or the seal of a local government agency in any campaign literature … in a manner that creates a misleading, erroneous, or false impression that the document is authorized by a public official" is guilty of a misdemeanor. 

By publishing this campaign video with the San Francisco Fire Department seal, the Committee is pushing a false narrative intended to mislead voters into thinking that their position has the official endorsement of the San Francisco Fire Department. Finally, the use of an official San Francisco Fire Department seal violates state law prohibiting the use of public resources (including government seal) for political campaign purposes
In other words: the ad gives the impression that the Fire Department, or at least the firefighters, support Prop. D. That's inaccurate.
Mayor London Breed supports Prop. D and opposes Prop. E. This is a big deal in housing policy, pitting the well-funded Yimby movement against labor and affordable housing groups.
Both City Attorney David Chiu and District Attorney Brooke Jenkins were appointed by Breed.
If either of them even opens a serious investigation into this before Election Day, it will be a huge political surprise.