The pandemic, obviously, has scattered much of our nightlife to the four winds (Gusty, Breezy, Sniffy, and Gale) and it's been interesting—and sometimes tragic—to see where everyone has landed.
Right now I'm here for the good news, including the return of one of the most ambitious and lovely party crews. As You Like It 12th Anniversary party (Sat/1, 2pm-8pm, El Rio, SF.) sparks back up with ace NYC duo Musclecars—literally eight people in Berlin last month told me they are the best thing—plus Madre Guía, Nina Sol, and Woo. You can also pick up local techno wiz Christina Chatfield's record "Ascent/Descent" on vinyl, and the party benefits National Network of Abortion Funds.
"What we've been through the past two years has really shaken up my perspective about what parties are for, and what we're doing overall," As You Like It honcho Jeremy Bispo told me when I asked about the choice of El Rio, a much more intimate afternoon space, for their big shindig. (He throws the party with William Wardlaw, Kylie-Ayn Kennedy, Brian Spak, Gehno and Timothy Aviance, and others.)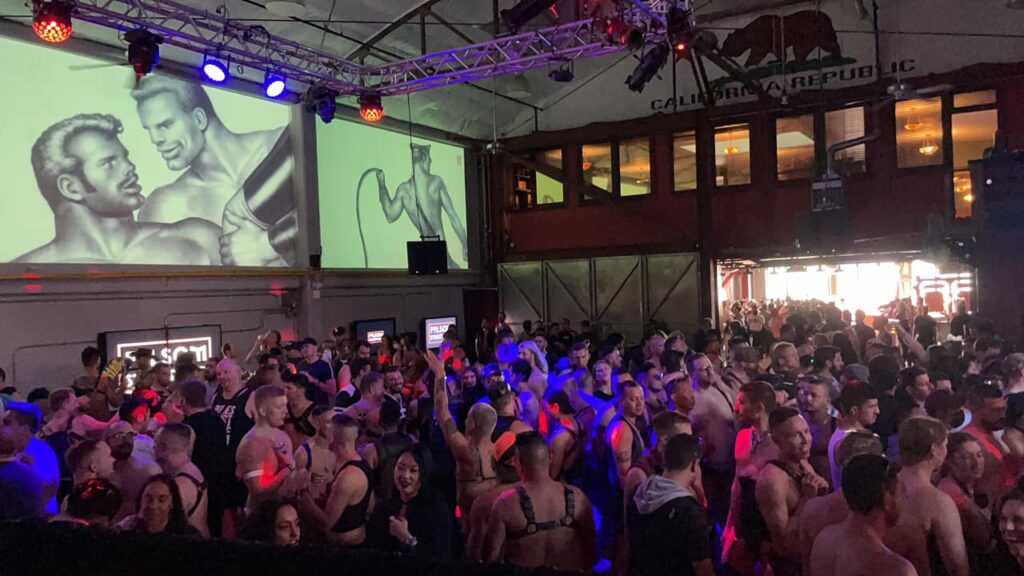 "I used to follow my own instincts and just go for it when it came to building big events," Jeremy said. "But now I'm concentrating on listening to the community, and really doing things that support this very special thing that the Bay Area has. We're so unique, and right now on such shaky ground in terms of what's left, what venues, what artists are still here, what we have to work with. It's much more about rebuilding and community to me now."
Jeremy and I had started our conversation last Sunday at The Foundry (1425 Folsom, SF.) where he is now the events manager and booking coordinator. (I had been celebrating Folsom Street Fair all day so was melting into one of the cavernous dance floor's couches. The fair was great, btw.) That space, with two DJ areas and an industrial-underground vibe, is in the process of rebooting from its previous incarnation as the Folsom Street Foundry, with some of the most interesting events in the city and a refreshing philosophy, especially for those of us looking for more early evening entertainment.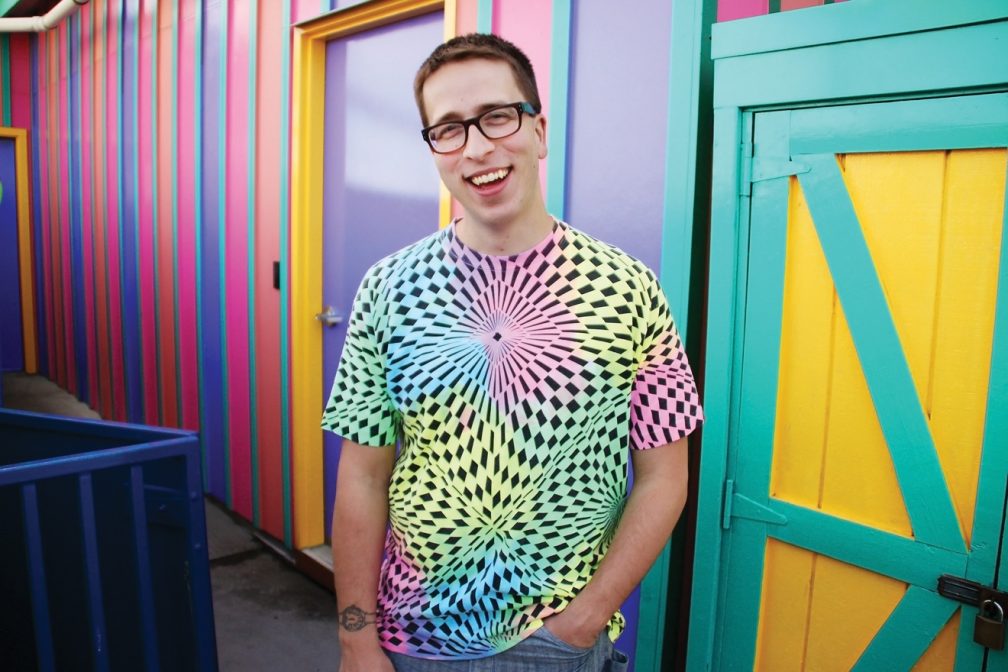 A new menu of gourmet bites from Chef Patricio Duffoo (they are yummy!) and cocktails by Pablo Guzman (also yummy!), plus more happy hour and daytime events—Thu-Sat, 5pm-late, featuring awesome local players and a Sunday tea dance, 3pm-10pm with local crews taking over under the skylights—help fill what Bispo calls "the liminal space" between work and late-night.
"Some of us are easing back into things, or have other responsibilities now, which mean we can't go all night every night," said Jeremy (who's been doing triple party duty, as he's also a talent buyer and artist liaison at Public Works). "We want the Foundry to be the place you unwind or pregame with friends, grab a bite and a drink, listen to some awesome music, and just brighten things up.
Don't worry, there's also a couple late-night goodies happening as well, like this cute party with one of my favorite people, DC DJ Keenan Orr, on October 9. And new owner Alan Aronoff is an old school rave head, so expect some appearances from Wicked crew members and Sunshine Jones as well. Keep track on the Foundry's Facebook and RA pages.
MORE PARTIES OF NOTE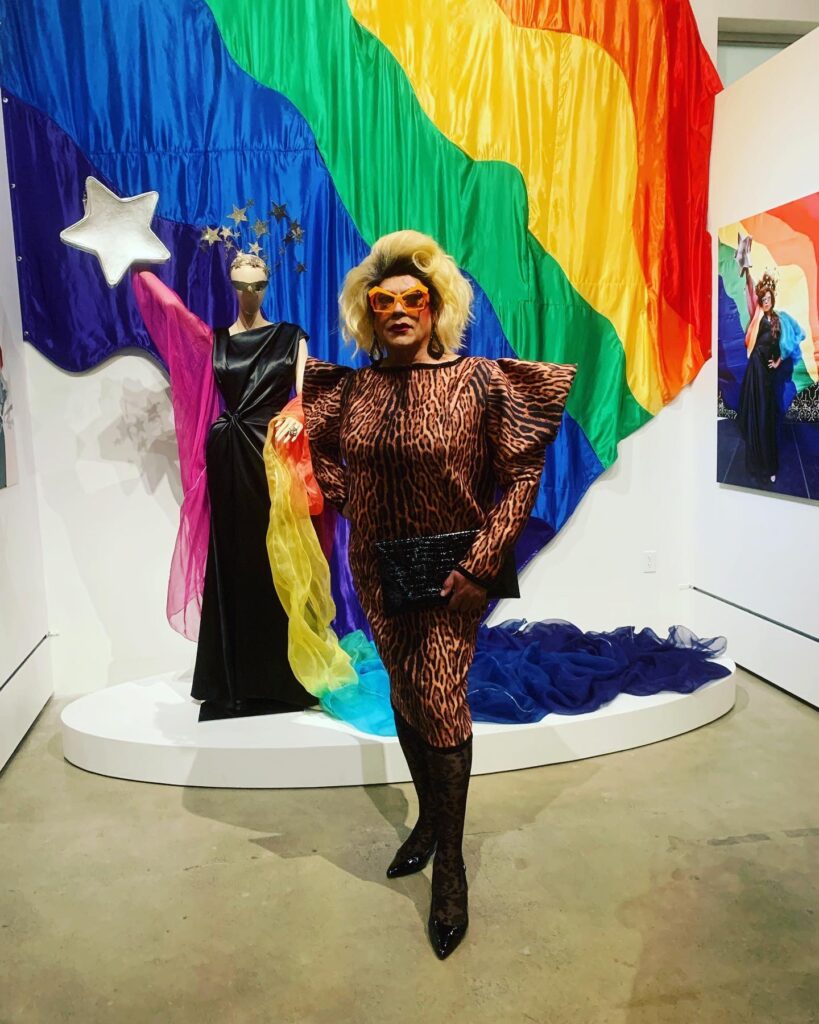 FRI/30: JUANITA MORE EXHIBIT OPENING + AFTERPARTY You can't get much more fantastic than drag royalty Miss Juanita More, and a new San Francisco Arts Commission Gallery exhibit of the past 30 years of her outfits, activism, and naughty photos of cute boys opens Fri/30, 6pm-8pm, more info here. Then, follow the fab to the afterparty with DJ Rolo to new events space Four One Nine, more info here.
FRI/30: 11 YEARS OF DIRECT TO EARTH Brilliant techno collective Direct to Earth is still beaming the best underground sounds our way (has it really been more than a decade???). This blow-up features SPFDJ, Etapp Kyle, Max Gardner, and our own international superstar Lindsey Herbert. As they say, "It's time to Zorg for the familiar affair." 9pm-4am, F8, SF. More info here.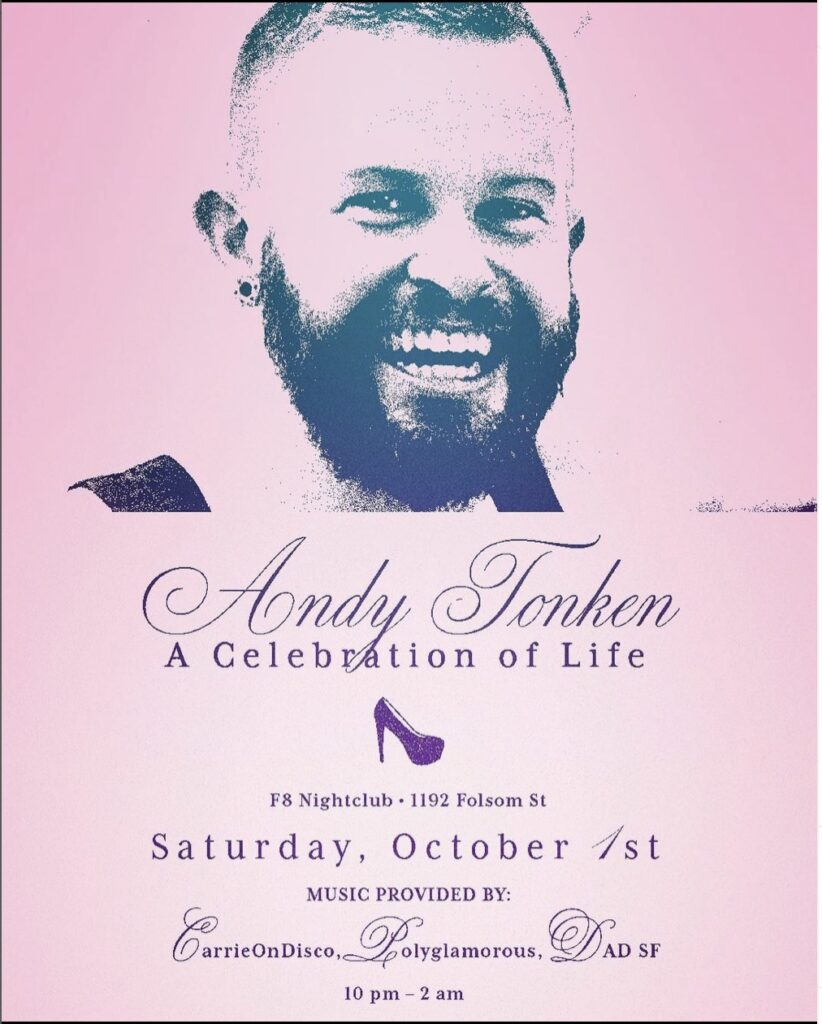 SAT/1: ANDY TONKEN CELEBRATION OF LIFE Andy Tonken was an adorable and incredibly sweet, constant presence on the gay club scene. Last month he was murdered by a hit-and-run driver as he crossed a street in Oakland. This celebration of his life and spirit will feature CarrieOnDisco, Polyglamorous, and Dad SF. Also, #bancars. 10pm-2am, F8, SF.
SAT/1: FUNDRAISER FOR PRINCE WOLF DJ, host, and kind-hearted gadabout Prince Wolf was suddenly taken ill and has been in the hospital. This is a fundraiser and tribute to a lovely friend and scene-builder. Contribute online and/or come to the party with the Go Band DJs, Bus Station John, and more. 9pm-2am, Eagle, SF, more info here.
SAT/1: CARL CRAIG Lately I've been returning to the second-gen Detroit legend's masterpiece "Bug in the Bassbin," not least because my husband bought me a sweet new woofer for my birthday. He's long drifted past that wiggy jazz-electronic-cutup phase of his music making, but he might still whip it out? 9:30pm-3am, Great Northern, SF. More info here.
SAT/1: QUICHE Absolutely terrific outdoor party returns with special guest Cay Horiuichi, a Japanese-American trans DJ specializing in "nonlinear sonic scapes with friends on the dance floor, Cay weaves in humidifying sounds from house, electro, jungle, to ambient, aiming to warp time and the gender binary. Rapture. Ecstasy. Euphoria. Time is just a construct. Love is infinite." 7pm-2am, SOMArts, SF. More info here.
SUN/2: SUNSET SOUND SYSTEM FALL PICNIC Family time outdoors! Doc Martin, Kimmy Le Funk, and the glorious Sunset Crew spin you into the angled, orange light at Lagoon Park in San Rafael, 11am-7pm, more info here. Then hit the afterparty with he Were Crew at Monarch in SF, 8pm-late, more info here.
SUN/2: CASTRO STREET FAIR Harvey Milk launched this neighborhood showcase in 1974 and its been a chill annual party ever since, with some wonderful DJs playing all around Castro Street. 11am-6pm, more info here.