It's no mistake that Killing My Lobster's latest holiday-themed show opened on Black Friday. Christmas shopping is so notoriously stressful that it inspired Tobe Hooper to dream up The Texas Chain Saw Massacre. Between the discomfort of Thanksgiving, the mania of day-after consumerism, and the overall anxiety of the not-over COVID pandemic nearing its fourth year (now joined by influenza and RSV), one could do with a little levity to take their mind off the seasonal garbage fire of life.
Fortunately, KML has a fantastic track record for holiday material, including a classic live sketch about a Jewish TV channel not having enough Chanukah material for a 24-hour programming block, Facebook Live quickie sketches on Giving Tuesday, and last year's holiday radio plays in The Jane Austen Extended Universe. There may not be much chainsaw-massacring, but the Lobster folk know how to mine December frustration for laughs and pathos.
So, one had much to look forward to this past Black Friday, when KML premiered A Very Special Holiday Special (through December 3 at PianoFight SF and through December 17 at PianoFight Oakland). Directed by Nikki Meñez of Queer Cat Productions and NCTC, the show was head-written by journalist Kate Elston, a KML regular and "co-blost" of the podcast Vicious Cycle.
If you're familiar with Elston's work and her anecdotes from the podcast, you can't help but wonder how much she's being channeled through KML performer Laura Domingo. In the intro and closing sketches, Domingo fancies herself as hosting a classic holiday TV special from the comfort of her living room. Well… actually, it's the living room of an acquaintance who was gathered with friends (Molly Cahen, May Ramos, Imran G, Charlie Gray), all of whom are perturbed by Domingo's evocation of the lily-white, irritatingly hetero specials of the past. Still, no need waste a cover of "Christmas (Baby, Please Come Home)" – aka "that song from the opening of Gremlins."
Thus begins 18 sketches of holiday hilarity lambasting everything from how Home Alone wouldn't work with modern technology to the "accuracy" of the Dickens Fair to how '90s toys came with far more choking hazards than those of today. (Though the '80s kid/'90s teen in me couldn't help but notice most of the toys shown were from the former decade.) We see the inherently creepy Elf on the Shelf get even creepier. We find out that Ariana Grande and warlord Genghis Khan dueting on "Baby, It's Cold Outside" makes that problematic tune even skeevier. And yes, there's even a sketch lampooning that far-reaching shit pile of consumerism known as QVC.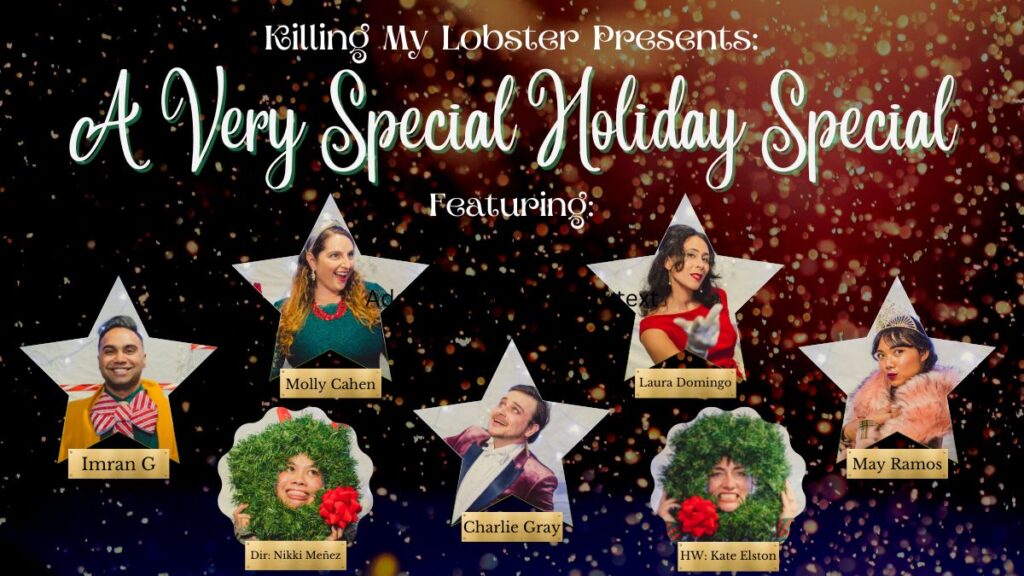 As mentioned, Christmas always brings out KML's A-game, and Elston and her co-writers are in fine form this time. From the opening sketch about how the notoriously reviled Spirit Airlines works as a great proxy for skipping holiday gatherings, to a repeating motif on how SF homes aren't very welcoming to door-to-door carolers, a great many laughs are pulled from the holiday and the conflicting messages it sends. One of the best may be the aforementioned QVC sketch, in which the always-entertaining Charlie Gray and newcomer Molly Cahen—both Jewish—confront the existential crisis of hawking garish Chanukah products to the fly-over states.
Another winner is a retelling of 'Twas the Night Before Christmas in which a holiday-stressed mother (Domingo) just wants a few minutes away from her kids so she can smoke. More gold is struck during the filming of a 1946 Xmas Eve special in which the performers just can't seem to perform "Jingle Bells" to the director's idiosyncratic satisfaction. When your "weakest" sketch is a one-joke piece about how Jesus was probably an ugly baby, then you've got a good lineup on your hands.
And it doesn't hurt that Meñez and Elston have a strong, able cast on hand to carry the whole thing. Though Cahen is the only KML newbie in the group, the UCB alum has fantastic timing and tone-reading. In addition to the QVC sketch, she also shines as the shocked mom who didn't realize this version of the Dickens Fair would be so raunchy (which the real Dickens Fair would probably love to distract from the bad PR they're currently facing). KML mainstays Gray and Domingo slip easily into the show like comfortable seasonal sweaters, livening up the stage every time they step on. May Ramos leaves a large impression, despite their small stature, winning in the roles of pop princess Grande and creepy Elf who projects their "Naughty" list onto members of the audience. And if you only catch Imran G's opening spot at the Spirit Airlines CEO, then your night will not have been wasted.
At the start of the show, artistic director Nicole Odell briefly removed her mask so as implore we audience members to keep ours on when not drinking. Much like other indie theatre companies lately, she stressed the necessity of COVID safety measures as not merely for the sake of health (which it is), but also as a community responsibility. With a cast of diverse of various racial, gender, and religious identities, having one of them fall ill is a blow to progress made in representation on stage. Although PianoFight doesn't have many of those measures left, it's always a relief when a company they host still does.
As such, should you feel like spending an hour out of the house during the cold month, there are good times to be had laughing at a show featuring a support group for former cast members of The Muppet Christmas Carol. Lord knows Fiona Fitzjingle could use the support (you'll know when you see it).
KILLING MY LOBSTER'S 'A VERY SPECIAL HOLIDAY SPECIAL' runs through December 3 at PianoFight SF before moving to PianoFight Oakland December 8-17. Tickets and further info here.