Sing "Hallelujah, c'mon get happy." San Francisco's "Good Judy" Connie Champagne is taking Garland fans over the rainbow once again with her latest show, It's Judy For Xmas!.
Backed by a couple of swells (jazz bassist Daniel Fabricant and pianist Barry Lloyd) and joined by some surprise guests, the multiple award-winning entertainer is set to perform an intoxicating mix of carols and classics popularized by the stage and screen legend and unexpected numbers—"Have Yourself a Merry Little Christmas," "Back In Christmas Town," and "Hanukkah In Santa Monica"—come rain or come shine.
Champagne is best known to everyone from rocker fellas with umbrellas in their mitts to the well-to-do up and down Park Avenue for resurrecting Garland in stage productions of Christmas With The Crawfords (2001), Judy's Scary Little Christmas (2002), Imagine Judy Garland: An Evening With Connie Champagne (2003), Goodbye Yellow Brick Road (2007), and The Boy From Oz (2016).
No Johnny One Note, Champagne has also garnered plenty of attention for playing starlet Neely O'Hara in Phillip R. Ford's 1992 stage production of Dolls (a campy send-up of the 1967 cult classic Valley of the Dolls), backing Bay Area New Wave legend Debora Iyall, performing with swing outfit The New Morty Show and neo-cabaret group Connie Champagne and her Tiny Bubbles alongside former Cockette Scrumbly Koldewyn, and two Thrillpeddlers shows: Pearls Over Shanghai (2009) and the Marc Huestis production, Marat/Sade (2012).
After following the yellow brick road for three decades, Champagne told 48 Hills that she's finally considering retiring her Judy character (with a big send-off, of course!) But first, we spoke about the new show, which hits Martuni's with fascinating rhythm this weekend (Sat/10-Sun/11), how she brings Garland to life, and why it's so hard to stay out of her own way when playing what seemingly comes so naturally.
48 HILLS How is It's Judy For Xmas different than previous Garland shows as far as setlist and performance?
CONNIE CHAMPAGNE Every show is different, but this year I'm collaborating with the "Crown Prince of Cabaret" Barry Lloyd, and he has a hell of a number he's singing that involves the audience. I don't want to give it away but it's a showstopper. And we have some special surprise guests, too.
48 HILLS For so many people, Garland has been distilled down to her Dorothy character, a friend of the gays, a substance misuser, and/or Liza's mother. How did you first discover Garland and how do you sum her up as a singer/actress and person?
CONNIE CHAMPAGNE As a little girl, like everybody, our family watched The Wizard of Oz on television, but I really wasn't a big fan, per se. Allen Sawyer cast me as Judy Garland in Christmas With The Crawfords at Artfull Circle Theater, and I approached the role as a character, using physical mannerisms and real emotions, but not as a caricature.
By the time the show hit New York, our NYC director, Donna Drake, had everyone else in the show play their roles as camp caricatures, but she had me play Judy as real. I heard a rumor that in ACT's upcoming production of The Wizard of Oz, which I understand will be directed by Sam Pinkleton, Dorothy will be portrayed that way as well. Smart. Too bad I'm not 19!
48 HILLS As an actress and a singer, how much of your Garland performances is acting and how much is singing, and how do you balance the two?
CONNIE CHAMPAGNE Singing is acting. You don't break character to sing. Well, I don't know how academic you want me to get here, but bad community theater or bad Broadway or bad any kind of theater for that matter is when the actor stops acting and just sings, like, "Here's my beautiful voice, blah, blah, blah," with nothing behind the eyes. That's just bad. 
Singing is just sustained talking. It's a monologue or dialogue if it's a duet. When the moment is so elevated that you can't speak anymore, you have to sing. It's a secondary activity—you sing but you don't drop your character. I mean—that's just, well, bad. My mom was an acting teacher and she always hated the musicals because inevitably she'd get the singers who were so precious about their voices. So I became aware of that early on.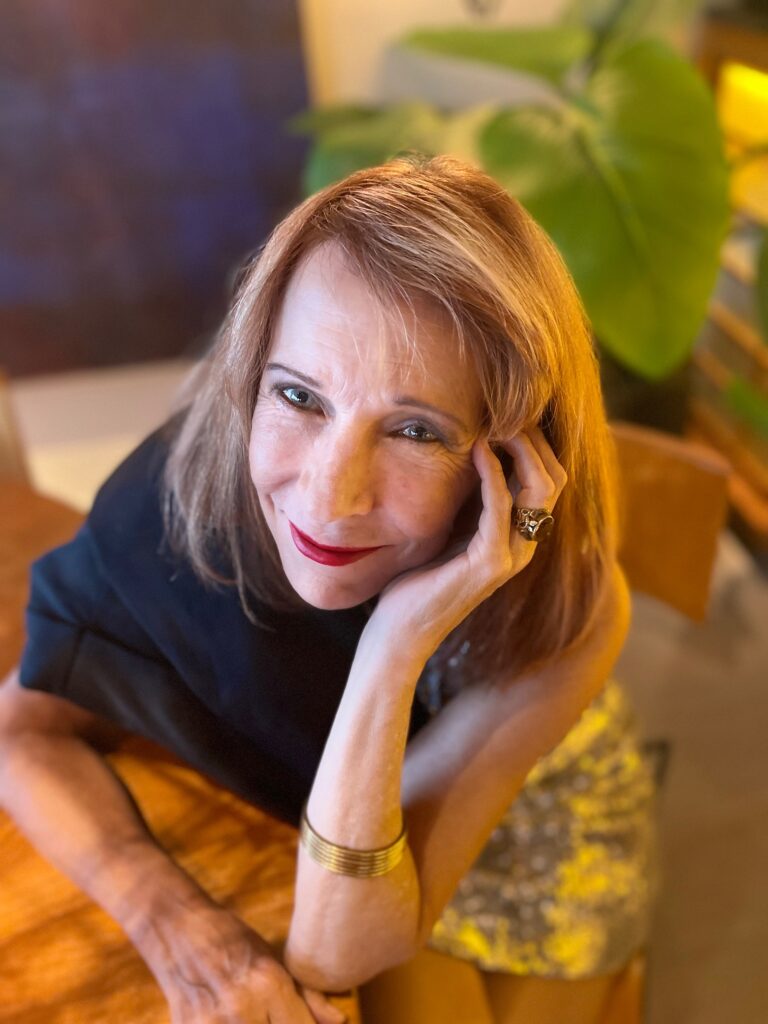 48 HILLS After you were cast by F. Allen Sawyer to play Garland in Christmas With The Crawfords, what inspired you to continue doing Garland performances?
CONNIE CHAMPAGNE Because I got hired and paid. Plus, Judy Garland is a fascinating character with so many layers, and each director has a different take on who they want this character to be. I am an odd type and I wasn't getting cast from auditions. So I was typecast. And yes, there are many other characters I can do and yes it's been frustrating at times, but I've made peace with it mostly.
48 HILLS You're credited with breaking the single-genre rule for cabaret performers and have also performed songs of varying genres as Garland. For those who don't understand why this is important, can you speak to what it meant to break out of what was expected of cabaret performers at the time?
CONNIE CHAMPAGNE I've always done that. When I first started out with Scrumbly Koldewyn and Beth Custer, we had a band called Connie Champagne and her Tiny Bubbles and we did songs by David Bowie and Lou Reed right next to songs by Noel Coward and Irving Berlin. That was unheard of in those days. Everything in cabaret at that time was Andrea Marcovicci and Karen Akers and, forgive me, all that crap. I felt trapped by it. And so it would take me years to get to the Empire Plush Room. The Mabel Mercer Society had no use for someone like me. God(dess) bless Justin Vivian because they took what I was doing and ran with it. Paula West, whom I very much respect, has been singing Bob Dylan for a while now.
But sir, I don't mean to sound arrogant, and most of the fellas who saw me at the time are gone now, but Tammy Hall can attest it's true—I sang songs outside the Great American Songbook long before any of these lovely ladies and gents. I broke out of the box. I did it first.
As Judy Garland, I recall singing at the Plush Room with Scrumbly and we did the David Bowie song "Win," which has the line "You've never seen me hanging naked and wired…Somebody lied, but I say it's hip to be alive." Something about that line was so visceral and it spoke to me at the time. The chorus, "All you have to do is win," isn't that perfect? But so hard to do, to stay out of your own way—when you're Judy Garland, especially. I don't think she had a mindful, quiet, calm day in her entire life.
48 HILLS Next year marks the 60th anniversary of the "Judy Garland Christmas Show," which has been both panned and praised by critics and fans. What are your thoughts on it?
CONNIE CHAMPAGNE I love that show! I mean, the Peter Gennaro choreography, dancing Santas, and that guy from "Petticoat Junction"? What's not to love?
48 HILLS You've done Garland in so many contexts. Which way haven't you done her that you'd like to attempt?
CONNIE CHAMPAGNE Well, now I have two ideas! One is to reenact the TV show we just discussed! I'd love to do that! Kat Robichaud as Liza; it would be fantastic. Or, and perhaps more seriously, I've spoken to Allen Sawyer about this. A long time ago, I was doing the musical Club Inferno and Vivian brought Rufus Wainwright to see it. He came up to me and said, "Oh you're a genius" and that sort of stuff.  I told him how I wanted to do a show of Judy singing songs she never sang, and he told me, "Oh, I'm renting Carnegie Hall and doing her whole show." I thought he was joking!
Well, of course, he wasn't. Fast forward, I'd like to do a farewell concert at the Herbst Theater or The Victoria, have a 10-piece band, do two nights of my Judy At Carnegie Hall show—songs that we have accumulated over the last 20 years. This year or next year will probably be the last Judy Garland shows I do. If it is next year, it would be wonderful to end my career as Judy with a big celebration. Not being a rockstar or the son of a rockstar, we would need an angel. So if you are a producer or a group of producers, I'm pretty sure it would be an excellent investment. You can reach me at www.missconniechampagne.com. 
It's JUDY for XMAS Sat/10-Sun/11, 7 pm, Martuni's, SF. $40. Tickets and more info here.