Through a view of parks and public spaces, San Francisco painter Cherisse Alcantara reflects upon the history, struggles, and continued presence of the community of the SOMA Pilipinas Cultural District and the developing South of Market neighborhood. In observance of this urban world, her works are meditations on transience, dwelling, and belonging.
"Living in our hyperactive society, I feel estranged from space and time," Alcantara told 48hills. "Painting allows me to find duration within this modern life and to gaze slower and longer. It's when I feel most alive."
Alcantara spent her childhood in the Philippines. In her teens, her family migrated to the Central Valley of California, where she graduated high school. She found solace in art classes while adapting to a new country, language, and culture.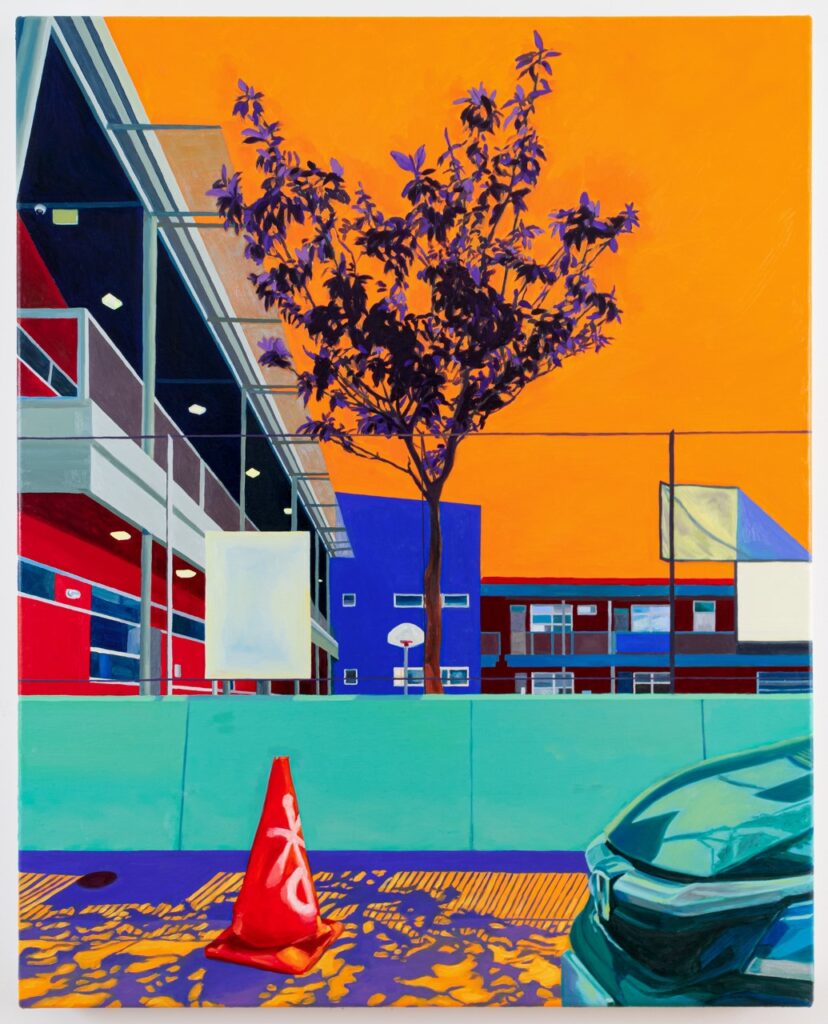 "I did not pursue art right away after high school and tried different career paths including healthcare," Alcantara said. "Coming from a Filipino immigrant background, pursuing art was simply out of the question."
There came a time, however, when she decided it was her only path, that it always had been. Embracing it amid fear and doubt, she attended UC Berkeley, completing a BA in Art Practice in 2013, and later getting an MFA in the same discipline in 2021 from the Pennsylvania Academy of the Fine Arts in Philadelphia. After grad school, she returned to San Francisco and currently lives in the Richmond District.
Initially, Alcantara was driven to explore herself through her work. Now, she longs to be free from the ego, to see what lies beyond.
"I contemplate my surroundings and the world around me with openness, with an empathic gaze, yet also with criticality and humor," Alcantara said. "This shift in my practice makes me happier and feels more meaningful."
What captures her attention are not the places she initially finds beautiful, but those about which she is uncertain. Informing her work are Luigi Ghirri's photos of the Italian suburbs and plants, the works of Ed Ruscha, and Utagawa Hiroshige's ukiyo-e prints of landscapes and everyday life.
"Van Gogh, Milton Avery, and Northern European painters like Vermeer and Jan Van Eyck also guide me in the way they painted the particularities of things," she added.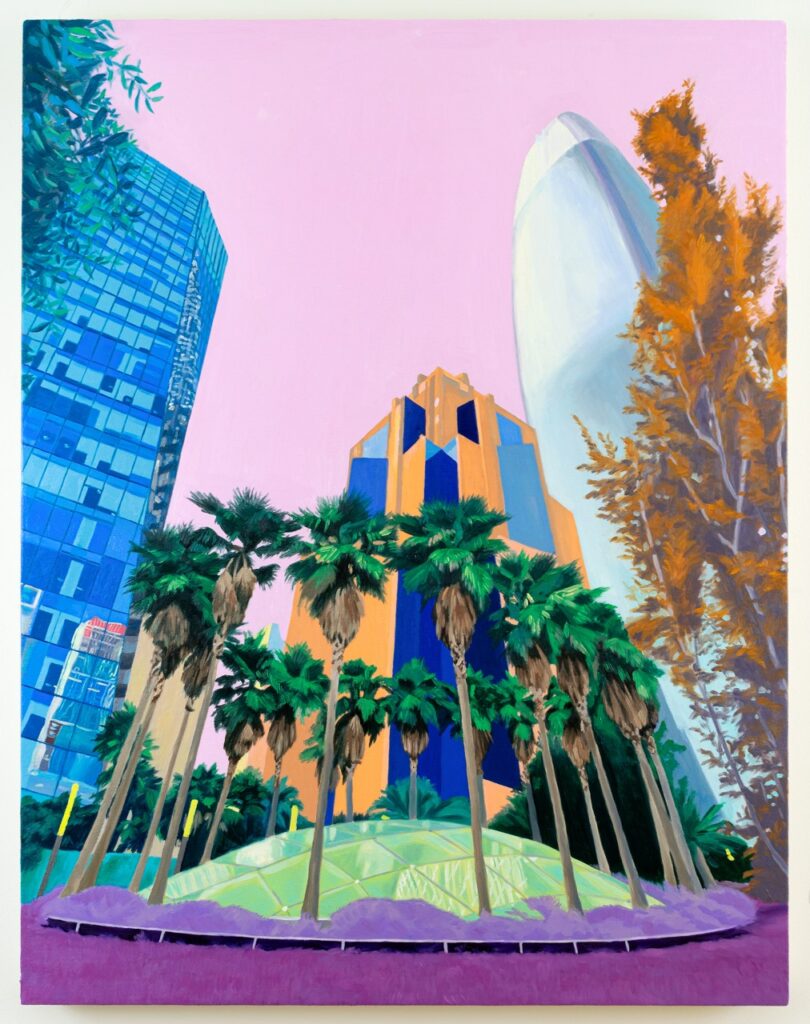 If Alcantara could spend a day with one artist from throughout history, it would be Francisco Goya. As cause, she cited an unforgettable experience visiting the "Black Paintings" at the Museo Nacional del Prado in Madrid.
"It is carnivalesque, complex, and mysterious," she said of the work. "It contains both laughter and something dark."
Alcantara thinks of herself as both an intuitive and precise artist. She likes the element of surprise, and is fascinated by the possibilities provided by the visual language of color, and the liberties afforded an artist's interpretation.
Working from her home studio, a peaceful space with tall windows and wonderful natural light, Alcantara preps her own supports and grounds for oil paintings on linen and canvas. On a typical day, she is either painting, making sketches, or doing research by visiting sites to take photographs.
Drawn to elements that point to our technological culture, Alcantara works with thinly layered paint and iridescent pigments to create vividly luminous surfaces. Light and shadow, construction and deconstruction, are recurring themes that represent the presence of time.
The arc of her work has evolved from paintings of anonymous figures in contemporary everyday scenes, situated in ambiguous and atmospheric spaces, to her current focus on natural spaces and landscapes. The transition occurred during work on her graduate thesis.
"I think of it as exploring imaginary abstract space that is also a psychological space, yet rooted in material reality," she said.
Upon returning to San Francisco, she initially felt estranged from what was once familiar, seeing things with fresh eyes. She wanted to slow down and learn to live in the present, to embrace the mundane and banal moments that largely occupy our lives. What resulted, was an oeuvre that captures that experience.
Her work is indicative of the need to linger. Having come from a fragmented personal and cultural background, her feeling of home is one of loss and disconnect, inherent in the migration experience. In fact, her childhood home no longer physically exists. She recalls when moving to the United States, packing everything into one suitcase, leaving behind treasured books and objects.
"I will be returning to my home country soon for the first time since we left," she said. "I am interested in seeing it now through the lens of someone in the diaspora."
She references a book that particularly resonates with her. In Species of Spaces, author George Perec writes, "My spaces are fragile: time is going to wear them away, to destroy them. Nothing will any longer resemble what once was … space melts like sand running through one's fingers."
When it comes to her home, neighborhood, the built environment, and nearby landscapes, she is drawn to the histories and identities such places contain, particularly their lingering presence juxtaposed with modern existence.
"The identities and specificities of my subjects—their underlying structure, abstract design, and positive and negative spaces within shapes and colors—are captivating to me," she said.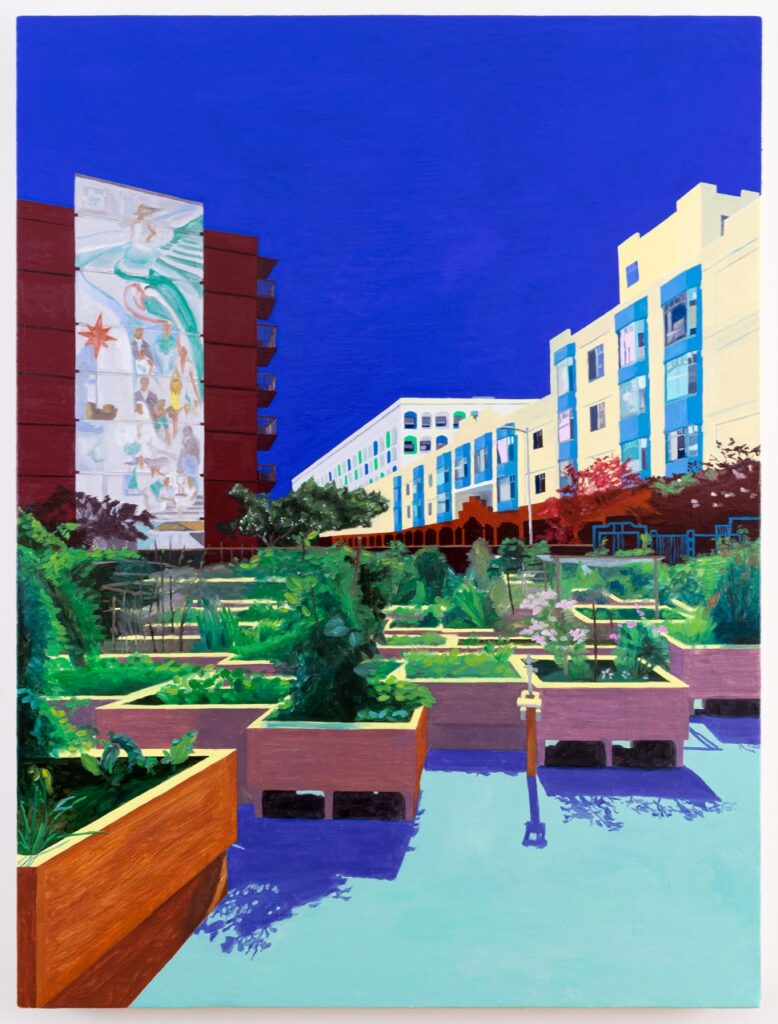 In her most recent project, a residency with Balay Kreative, Alcantara explores this theme via urban parks and gardens within the SOMA Pilipinas Cultural District in a new series of paintings.
Her painting, "Community Garden (Victoria Manalo Draves Park)" honors the legacy of a Filipina Olympian. "Alice Street Community Gardens" depicts the space which overlooks Heroes' Village, an affordable housing center for seniors at Lapu-Lapu and Bonifacio Streets. The gathering space of "Kapwa Gardens and Courtyard (Bessie Carmichael School)," which provides bi-lingual after school programming, are also included in the series.
The artist honors these spaces by spending ample time in the environs before she paints, observing the textures, signs, and shapes that fill contemporary urban life. She reflects upon the beauty and particularities of the sites and the community they serve.
"Rather than utopian ideas of nature or its innocence, I like to think of the directions in which we create and design nature as part of modern existence," she said.
Alcantara is not a didactic artist, and says her works don't offer answers. Instead, she wishes for viewers to ask their own questions and engage in deeper inquiry, along with her, on the places in which we live.
In October, as part of Undiscovered SF, Alcantara exhibited six paintings in the Balay Kreative Visual Arts Grantees' Exhibition at CAST Gallery. She will also be included in the exhibition, "Wander Woman 3," a three-month group show featuring works by Bay Area immigrant women of color. It opens in January at The Katz Snyder Gallery of JCCSF. Alcantara is represented by Vessel Gallery in Oakland.
She will be completing the MFA Dessner Memorial Travel Award from the Pennsylvania Academy of the Fine Arts in late winter and is a teaching artist-in-residence at YBCA through the spring.
For more information, visit cherissealcantara.com and on Instagram.