Many authors have used tales of mystery to dissect society and the self. Agatha Christie took a scalpel to the British upper crust's hypocritical moralizing, Raymond Chandler pierced the silky underbelly of capitalist corruption, Paul Auster tumbled down the staircases of memory and identity, Tony Hillerman and Walter Mosley chased down hidden histories of their respective Native American and Black communities. Christopher Chen's beguiling Headlands, strikingly staged at ACT's Toni Rembe Theater (through March 4), manages a mix of all of those, while adding a slash of generational Chinese immigrant family trauma and a deep slice of San Francisco nostalgia.
Henry (Phil Wong) is a native San Franciscan tech worker—"the villain and the victim" he quips—who has a knockout girlfriend Jess (Sam Jackson) with whom he spends much time drinking beers on the Embarcadero. But his real preoccupation is sleuthing out who killed his father (Johnny M. Wu), an enigmatic man murdered at home in the '90s when Henry was just a child and his mother (Erin Mei-Ling Stuart, always a lovely presence) was out teaching piano. The play's movable, Escher-like set serves as a screen filled with projections of a local nature, such as the glorious city-skyline view from the Headlands, where Henry's father took mysterious walks, or favorite old school city shops and street signs during the charming romance of his parents decades earlier.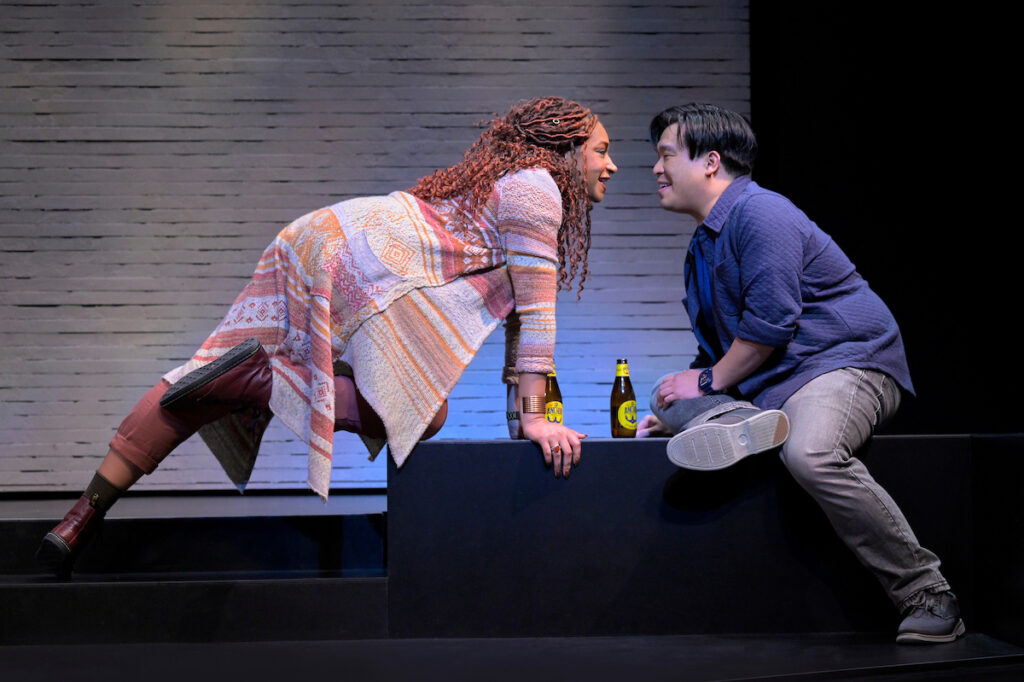 Chen's contemporary, direct language and director Pam MacKinnon's ingenious staging keeps things moving, and along the way we get several satisfying twists and turns—including a heart-wrenching one about how we see ourselves in relationships, which made the audience gasp. Woven throughout is a gentle deconstruction of the "immigrant experience" trope (Henry's mother comes from a wealthy Pacific Heights Chinese family, whereas his father lands in Chinatown with his Wittgenstein philosophy books. Both connect touchingly over their shared Hakka heritage). Even when cliches are occasionally deployed, they're always given a unique spin by being presented through a point of view rarely seen onstage. Leah Gelpe's immersive sound design and Alexander V. Nichols' projections add to the romance and emotional suspense.
I won't give too much away—I'm no stool pigeon—but Headlands will make you fall in love with the city (and Marin, too) all over again, while revealing how cold-heartedness can become a family trait. Through March 5, more info here.
MORE EVENTS OF NOTE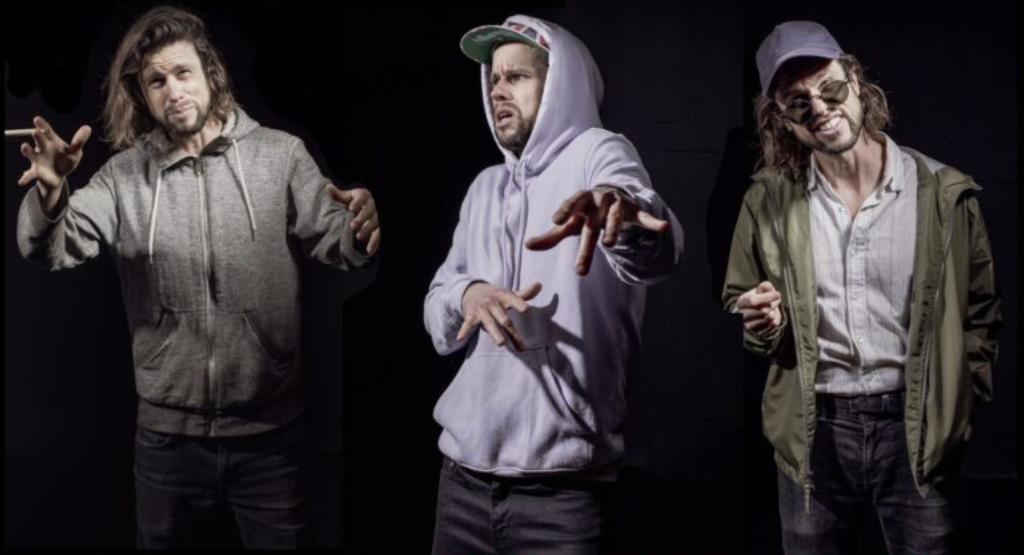 ONGOING THROUGH MARCH 11: DAN HOYLE'S TALK TO YOUR PEOPLE The acclaimed dramatic monologuist revisits many of his beloved characters in the context of the pandemic. "Urged by a friend to 'talk to your people,' Dan practiced his journalism of hanging out in parks, beaches, and playgrounds, talking to everyone he could, and listening to deeply human, comic, and complex stories about the national reckonings around race, power, and masculinity." The Marsh Berkeley. More info here.
SAT/25: DJ BUS STATION JOHN'S CAN'T FAKE THE FEELING: A NEW OLD-SCHOOL TENDERLOIN DANCE PARTY! Throughout much of the late 2000s, I hosted a wet jockstrap night with the infamous DJ Bus Station John at a wee club in the Tenderloin/Polk. No wet jockstraps now (alas) but plenty of dancing to classic '70s and early '80s disco/funk tracks, as he reignites the flames at this spot. Old school good times! 10pm-2am, the club now known as Emperor Norton's Boozeland, SF. More info here.
SAT/25 CHIPPY NONSTOP The He.She.They party is rounding off Noise Pop by bringing in this highly energetic (and highly talked-about) techno etc. DJ to rule over the Public Works dance floor, with Chloé Robinson and DJ ADHD in tow. 9:30pm-late, Public Works, SF. More info here.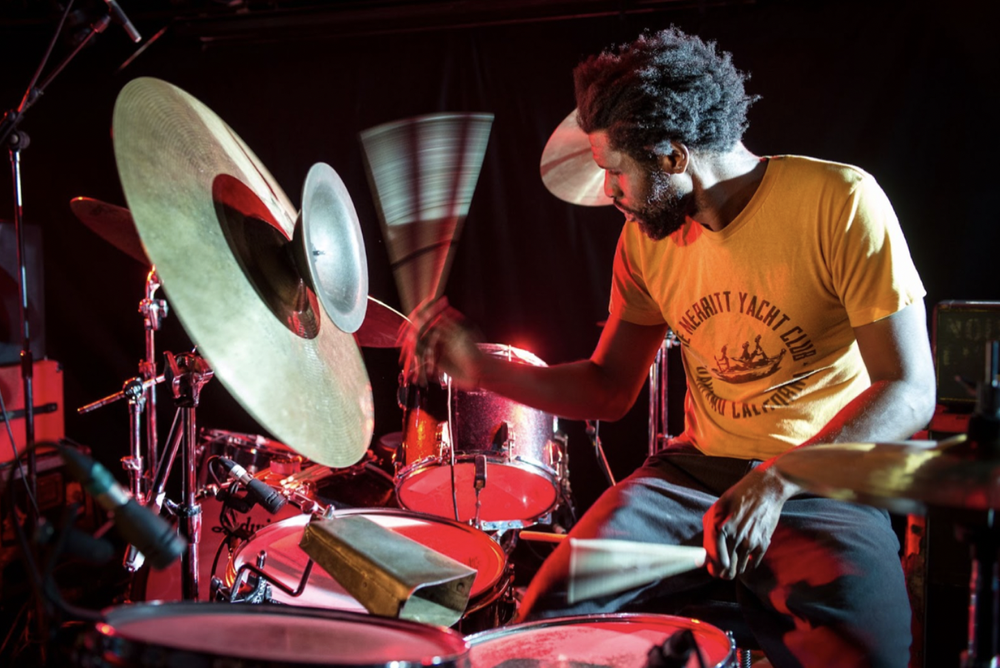 SAT/25: RAVEN CHACON AND MUSIC RESEARCH STRATEGIES Concluding the epic "Drum Listens to the Heart" series at Wattis Institute is this performance of Raven Chacon's 2018 piece American Ledger No.1 ("a score that can be displayed as a flag, a wall, a blanket, a billboard, or a door.") and an audio visual performance by Music Research Strategies titled Ebonics Native Land Acknowledgment. 7:30pm, Counterpulse, SF. More info here.
SUN/26: LOOSEN UP SF DJ Jeffrey Fire its a true treasure, unearthing rare nuggets from the '80s and beyond, and turning them into dance floor gold. I love this idea of a Sunday evening party, so I can freshen up for work on Monday. 8pm-midnight, Underground SF. More info here.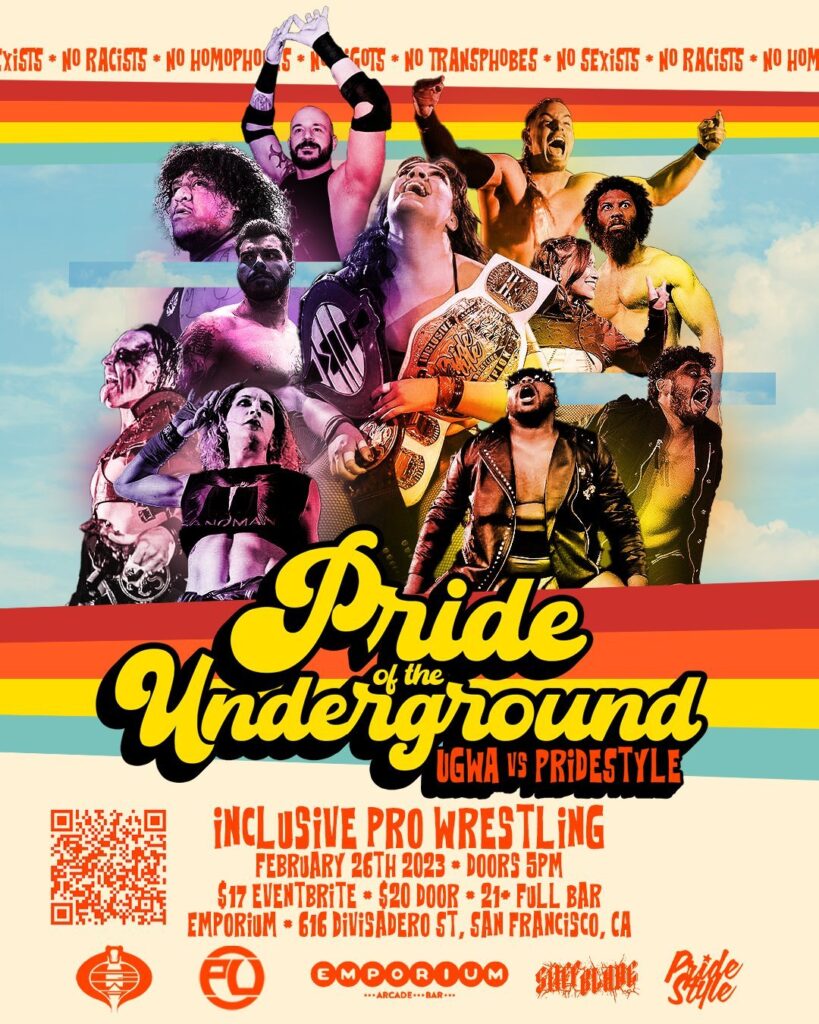 SUN/26: UGWA PRESENTS PRIDE OF THE UNDERGROUND San Jose's Underground Wrestling Association is one of the fastest-growing all-inclusive leagues—and also a raucous, good' ol stomp 'em time. And this showdown with Las Vegas's Pridestyle Wrestling at SF's Emporium will offer plenty of body-slammin' LGBTQIA+ pandemonium. 5pm, Emporium, SF. More info here.
SUN/26: CLUB BLACKSTONE The passing of legendary SF house DJ Blackstone was a blow to the scene, but his memory lives on—his friends have created a grant in his name, which will be awarded every year to a creative person in the arts and nightlife, to continue Blackstone's community legacy. Come dance and celebrate this year's grant winner, and donate to the Music Connects Foundation to fund next year's grant. 3pm-8pm, F8, SF. More info here.
SUN/26: EARTHQUAKE BENEFIT CONCERT WITH ISTANBUL CONNECTION & LA ZULI "In response to the crisis in Turkey and Syria, we invite you to be in community and bring our collective support, spiritually and financially, to all affected. 100% of ticket sales and donations from this event will go to Earthquake Relief in the region. Istanbul Connection is a Bay Area musical collective formed in 2015 when 13 members of the hottest Balkan and Latin bands were gravitationally pulled to visit the city of Istanbul. La Zuli combines the virtuosic talents of violinist Briana Di Mara and guitarist Anis Sehiri. Together they weave fresh original melodies and danceable rhythms influenced by music everywhere from Spain to North Africa to the Balkans and beyond." 6pm-9pm, Ashkenaz, Berkeley. More info here.
SUN/26: BLACK JOY PARADE It's the sixth year of this "hyper-positive" celebration of Oakland's incredible Black community, creating space for unfettered expression, boldness, and pride (also some terrific food, music, vendors). It's super kid-friendly, too. 12:30pm, 14th Street and Franklin, Oakland. More info here.
MON/27: GRACE CATHEDRAL SOUND BATH Immerse yourself in the ambient sounds of musicians Egemen Sanli, Phoenix Song, Sam Jackson, and special guest musician Destani Wolf as they take over the cathedral's sacred space for a soul-cleansing experience. 7pm-8:30pm, Grace Cathedral, SF. More info here.