It's hard to think of a figure more beloved in San Francisco's film and video community (or what remains of it) than Craig Baldwin, who for decades—most of them spent at Artists' Television Access on Valencia—has been mentor, archivist, and exhibitor par excellence to work well outside any commercial mainstream. His own films are utterly singular: While he did not invent the found-footage collage, he's raised it to an incomparable level of imaginative sophistication, blending political critique, pop-culture commentary, historical analysis, and flights of fictive fantasy.
As esoteric (yet fun) as that work is, it has also proved shockingly prescient. The densely ironical play with paranoid conspiracy theory that reflected a societal fringe when Tribulation 99: Alien Anomalies Over America came out in 1991 is now barely separable from everyday US popular discourse.
What are these movies? Documentary? Experimental? Essay? Science-fiction? Ephemeral-film dumpster-diving camp? The fact that they embrace and defy all those categories and more underlines not just Baldwin's inimitable artistic sensibility, but his personality. Anyone who's ever met him can attest that the man himself is also endearing and overwhelming, a restless dervish of ideas and generosity. Like the physical clutter of his basement mancave at ATA (whose piles of obscure vintage celluloid detritus have long been available for other filmmakers' own assemblage needs), they are evidence of an endless, obsessive quest outsiders may suspect they'll only ever grasp the iceberg-tip of. (Which is quite awesome enough.)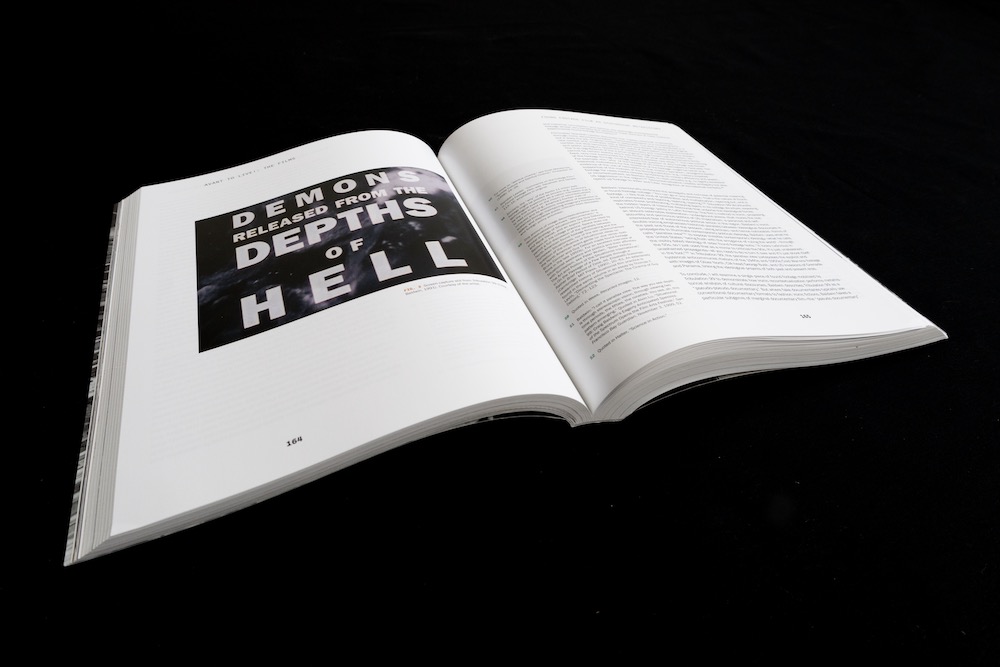 This weekend kicks off a celebratory explosion of Baldwiniana occasioned by the publication of Craig Baldwin: Avant to Live!, a hefty, long-aborning tome edited by Brett Kashmere of INCITE Journal of Experimental Media (as well as Canyon Cinema) and Steve Polta of San Francisco Cinematheque. Its nearly 500 glossy pages are packed with biography, anecdotes, interviews, making-of stories, analysis of individual films, correspondence, personal appreciations, photos, stills, and graphics—in particular a vivid color sampling of Craig's cut-and-paste calendars for his long-running curatorial showcase Other Cinema. Such a hefty catalog might seem overkill, but like his screen ouevre, the subject is an endlessly quotable fount of brainstorms who tends to bring out equally inspired verbiage in others.
A book release celebration on Sun/28 at 6pm will feature a "live multimedia tour" through its contents by the co-editors, readings by contributors, and of course an appearance by guess-who. Also at the Roxie Tue/30 and Wed/31 will be three separate retrospective programs encompassing all of Tribulation 99: 1995's Sonic Outlaws (about Negativland, copyright law, and "culture jammers" like the director himself) and 1999 "compilation narrative" Spectres of the Spectrum, plus excerpts from 1992's colonialism inquiry !O No Coronado! (his first to incorporate original staged elements) and 2008 Scientology fantasia Mock Up on Mu, as well as some seldom-seen shorts.
Those movies seemed such big events in a particular San Francisco cultural life at the time, it was only from reading the book—and noticing their low profile in the larger world now—that I remembered how mostly-disappeared that culture, and that San Francisco, is today. Among his many other admirable qualities, you have to give Craig Baldwin props for still living and making "cinema povera" art in the Mission … as if two tech booms had never boomed, then busted.
The man himself will be at all shows. You can ask him if there will ever be a completion date for the film about the Situationists (a key influence alongside Bruce Conner, the "structuralists," etc.) that's apparently been in the works for years. For more info on the Roxie programs, go here.
This weekend also sees the Balboa Theater commencing a retrospective tribute to a director whose fame, filmography, and silhouette were all considerably larger than that of Craig B., whom we suspect has the metabolism of a hummingbird. A four-day Hitchcock Festival commences Fri/26 with Rope and Psycho, then proceeds through other select greatest hits from the "master of suspense": Shadow of a Doubt, Strangers on a Train, The Birds, Marnie, Rear Window, North by Northwest and Dial M for Murder, ending Mon/29 with perennial San Francisco treat Vertigo. The full schedule is here.
Yes, there are also new movies this weekend, including ones that are not live-action remakes of cartoons, the umpteenth entry in a mallflick franchise, or yet another "how low can he go" vehicle for 79-year-old Robert De Niro.
Chile '76
Manuela Martelli's quietly suspenseful film has the Hitchcockian hook of an ordinary person dragged into perilous circumstances, though its historical-political gist is far from pulp melodrama. Carmen (Aline Kuppenheim) is an upper-class Santiago housewife busy with grandchildren, charity work, and renovations at a seaside summer house. She is the last person one would ever suspect to harbor an opposition activist hiding from Pinochet's military dictatorship—which is exactly why the family priest asks her to do so, taking into her secret care a bullet-wounded young radical (Nicolas Sepulveda).
Carmen's innate morality compels her to accept this risky task. But the stakes are high, her fear of reprisal intense—people are being "disappeared" off the streets by government forces every day—and she is so easily out of her element, as a sheltered bourgeoise having to operate as an underground conspirator. Opening at the Roxie this Fri/26, this a taut fictive flashback to an era of national peril.
You Hurt My Feelings
Nicole Holofcener's latest Manhattan seriocomedy is another enjoyably middleweight look at relationships based on relatable middle-class urban neuroses. Beth (Julia Louis-Dreyfus) and Don (Tobias Menzies) are a longterm couple whose simpatico togetherness others sometimes find a bit much, notably their son Eliot (Owen Teague), an aspiring playwright dayjobbing at a pot dispensary.
But that mutual contentment is jarred when Beth, a writer who teaches at the New School, happens to overhear Don's not-for-publication real opinion of the novel she's been laboring over. This jars her sense of self, just as therapist Don also begins to wonder if he's just not very good at the profession in which he's invested his identity. Meanwhile similar mid-life, mid-career doubts are occurring to Beth's interior-decorator sister (Michaela Watkins) and the latter's actor boyfriend (Arian Moayed).
Holofcener mines an intriguing core conflict here: How to cope when it turns out we were mistaken about what we'd assumed were our identifying strengths? But her expertly played characters are just two-dimensionally amusing, the insights about them cutting only so deep. This diverting-but-mild entertainment is good enough, if not among the writer-director's best. It opens at area theaters Fri/26.
Power Dynamics Corrupt: "Sanctuary," "Influencer"
Two offbeat new quasi-thrillers find inequalities of privilege triggering unpleasant payback. In director Zachary Wigon and scenarist Micah Boomberg's Sanctuary, which opens Fri/26 at the Kabuki 8, Hal (Christopher Abbott) pays Rebecca (Margaret Qualley) to role play scenes that indulge his streak of masochistic self-doubt. But after their latest session, he gives her a farewell present. He is assuming control of his wealthy family's business empire, and can no longer make a fetish of his own weakness.
Rebecca is not at all pleased that this lucrative, perhaps even mutually-emotionally-rewarding relationship is coming to an end. In fact, during the film's "real-time" progress, she utilizes blackmail and other threats to maintain her grip on his life and fortune. Or is it all just another "game" between them?
This sort of thing infallibly titillates some viewers, but better movies have been there and done that. Sanctuary seems terribly pleased with itself given a cleverness level that isn't really so impressive, with credibility a steadily ebbing factor. If Qualley's showy, smirking performance makes Rebecca an unsympathetic figure, there's not much rooting value in Hal, either. This slick, modestly scaled enterprise seems to be a stab at a sexy, naughty date movie, but would probably only work as such if you actually were the kind of person who'd drop a few hundred on an escort just to be insulted. For anyone else, watching that dynamic in progress is more depressing than exciting.
Somewhat better is Kurtis David Harder's Influencer, which appears on streaming service Shudder starting Fri/26. Madison (Emily Tennant) is a blogger who must fake having a good time at a luxury Thai resort for her many online followers. In reality, she is having a sad: Boyfriend Ryan (Rory J. Saper), who orchestrated this trip, bailed on it at the last time, leaving her lonely and insecure. Fortunately she meets CW (Cassandra Naud), a fellow traveler who offers to show her the local sights. When Madison's hotel room is burglarized—and her passport stolen—during one dual outing, this new BFF even offers replacement shelter. But CW may not be the good samaritan she appears, and Madison may very well be naive enough to fall into a serious trap.
That occupies just the first third of this twisty tale. It then goes on to follow our villainess as she stalks yet another influencer-cum-mark—we glean she's already snared several. Things get complicated, of course, though the tension would be greater if there were more depth to the writing. Who is CW? Where's she from? What's that giant chip on her shoulder? Harder and Tesh Guttikonda's script can't be bothered—beyond giving her a large facial birthmark that presumably "explains" why she hates all these globetrotting, selfie-taking pretty people. The serpentine nature of Influencer's narrative holds interest, but as with Sanctuary, its convolutions aren't quite convincing or otherwise potent enough to leave a memorable impression.