Move over, "Sex on Wheels." Make some room on the sling, "Freak on a Leash." Shift your weight a little, "Master & Servant." Beat it, "S&M."
There's finally a new Folsom Street Fair anthem swanning into the playroom, courtesy of adorable local punk quartet Middle-Aged Queers, called "What's Your Favorite Kink?"—and it's the perfect addition to any playlist aiming to whip up a little cheeky excitement.
Elevating an affirmatively filthy message over mood-setting objectification, "What's Your Favorite Kink" manages to squeeze puppy play, furries, the hanky code, "false binary," and even the proverbial kitchen sink into a two-minute saucy blast. (Yes, there is even a Middle-Aged Queers hanky now available, to wear on whichever side you wish!)
In advance of the their performance at 2pm, Sun/24 at Folsom Street Fair's live music stage on 12th Street and Kissling (Kiss Sling?), I peppered Middle-Aged Queers—Shaun, Fureigh, Josh, and Niki—with stinging queries:
48 HILLS What inspired this adorably filthy gem of affirmation?
JOSH: Our love of kink!
48 HILLS How much fun did you have writing the lyrics?
SHAUN: This song pretty much wrote itself after a delightful discussion at band practice regarding more obscure fetishes like balloons or leg braces. There were a few lines that needed to be included, like "puppy play" or paying homage to the hanky code.
FUREIGH: Brings whole new meaning to "suffering for our art."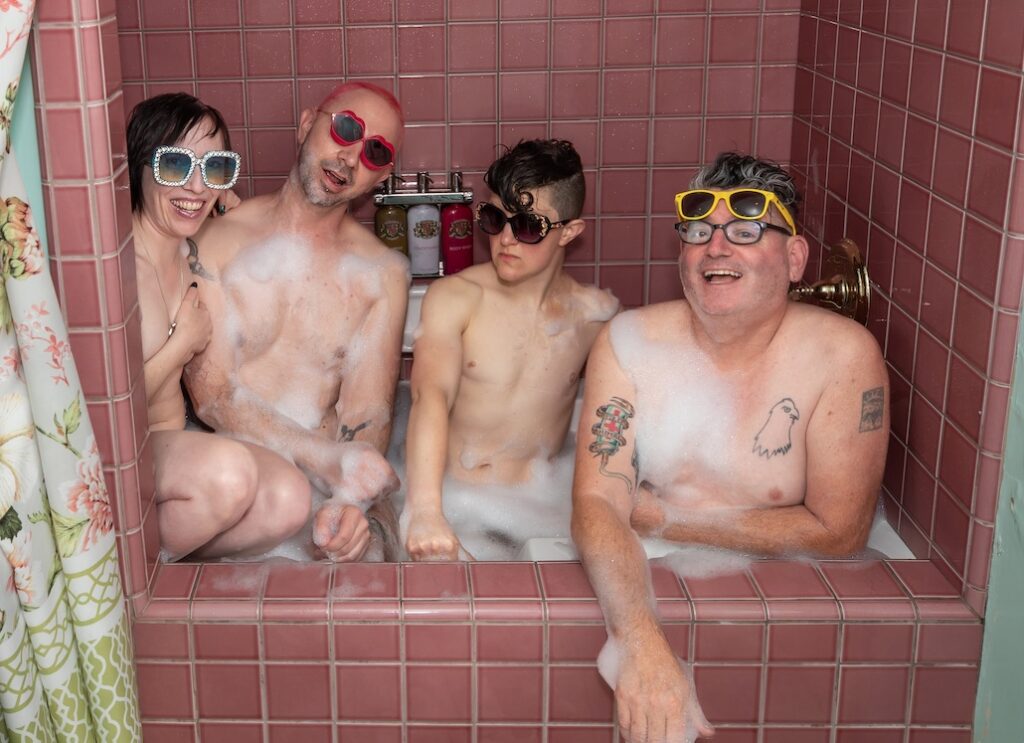 48 HILLS What are your favorite kinks?
FUREIGH: I love book recommendations. Giving, receiving, watching others give… everything about 'em.
NIKI: I'm into Macrophilia with a side of Kitty Play!
SHAUN: I'm into toast fucking. Ya know, where you fuck or get fucked by toast.
JOSH: I'm a proud member of the mile high club. That's when you poop on an airplane … I think?
48 HILLS If Middle-Aged Queers the band was wearing a hanky, what color would it be?
JOSH: Teal and yellow. Right pocket.
SHAUN: Josh is our special "golden boy."
FUREIGH: A balloon! Duh! 🙂
NIKI: A Hunter Green hanky on the Right Side! AND a Red hanky on the Left Side!
SHAUN: I agree with us being a red hanky from the left pocket. Because we're right up your ass, baby!