Consider "Anal Beads," the latest single from local queercore band Middle-Aged Queers—which happens to be a love ballad. Well, of sorts. It's certainly the only song I've heard that takes such metaphoric freedom with the sex toy. Gumballs, pennies, rosaries, piñatas, and "Boats docked at the harbor" are all summoned in the plaintive pop-punk ode, and then there's the bridge: "Oh sweetheart please/ Go gently through the night/ The subtle popping of these moments/ has got me begging you please." It's enough to make one's cheeks go red.
The raucous, delightfully devilish local quartet has been tickling queer mosh-pit fancy for a little while: Its current lineup includes Niki Pretti (drums), Josh Levine (bass), Fureigh (guitar), and Shaun Osburn (vocals). They all come with solid punk credentials—Shaun, for example, who was my roommate for a time in the early 2000s, played with The Cost and Wet Nap before forming this self-explanatorily titled band.
I've been meaning to write about Middle-Aged Queers for a long time, but the pandemic intervened. Now, with the official release of album Shout at the Hetero (with song titles like "London Breed My Hole," "TERF's Up," and "Size Queen") plus a big Valentine's Gay show coming up at legendary Berkeley venue 924 Gilman (Fri/10, 7pm, all ages), it's the perfect time to unfurl their freak flag a little more.

(If you can't make the Gilman show, the next day, Sat/11, they're playing the Knockout, SF, at 5pm-8:45pm for a Queer Punk Happy Hour and Record Release Party, with Homobiles and Erik Core.)
I hopped on a Zoom with Niki, Fureigh, and Shaun to talk about their music, the resurgence of queer punk rock, and why it's important to keep, well, shouting at the hetero.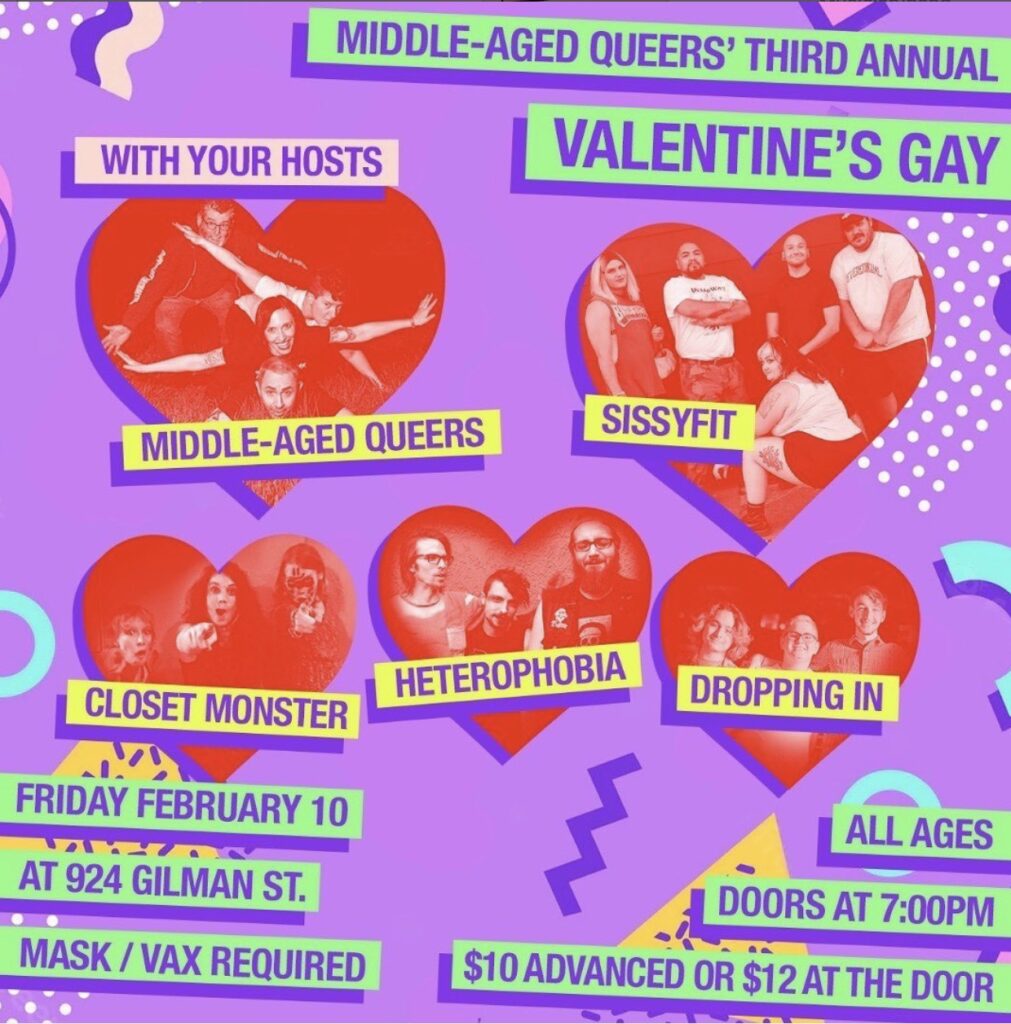 48 HILLS You just played a big farewell show for your queer punk friend-band Lolly Gaggers at Eli's Mile High Club. How did it go?
SHAUN There were tons of people. It was bittersweet—every Lolly Gaggers show should have been that packed. I was standing in the back with Josh and saying who were all these people? For the past four years there's been a pretty familiar group of people who come to the shows. But this was something else.
FUREIGH Cary from Lolly Gaggers said, this is everyone from the the last six years saying, "Oh I want to see your band some time!" actually showing up. Someone I went to high school was there. Someone who told me they put our band's sticker up at a sex club in Berlin was there.
NIKI Obviously our next show should be our last show. Just a string of farewells.
SHAUN There was also a buzz of people coming up to me and saying, I had no idea there was queer punk going on, a queer punk scene in the Bay Area. Someone from San Diego told me how cool it was that we had a thriving queercore scene.
48H Shaun, you and I talked right before the pandemic about how there was a queer punk scene momentum building. Is that still the case now?
SHAUN I think it's still happening, but not in quite the same way. In 2019, it seemed like there were a lot of people who had finished their grad degree and their kids were grown up—it was kind of "older queercore." Now it's the gaybies. I feel like queercore is happening with the youths. I just discovered a new queercore band today from the East Bay called Mommy Mommy. I listened to them a little bit and they are very sultry.
NIKI Are you saying they weren't around before COVID, and they formed during COVID?
SHAUN Yeah, Closet Monster is a good example, they formed after COVID restrictions started lightening up. A band we played with in Florida, Send and Delete, is another recent gaybie band. There's a great scene forming with young people that I wish was there when I was a teenager.
FUREIGH Obviously, larger homophobic discourses are alive and kicking and terrible at the moment, but having been a queer punk teenager that did not feel connected to community around that, it's been really delightful. The joke I make with the band is "Kids love Middle-Aged Queers." I went to Mosswood Meltdown, and a teenager saw me in the pit and shouted "You're Middle-Aged Queers!"
The weekend before that there had been an outdoor, all ages queer- and transcore festival that Middle-Aged Queers played at, and just yesterday someone told me, "I'll have you know, the teens that were at that show and who went to see the trans superhero rock opera are already talking about plans to come next year, so I hope it's happening again." It's really cool to see that energy in the audiences.
SHAUN Also cool, something that I've been very conscious of when playing out of town, is playing all-ages shows. Knowing that teenagers are into us makes booking sometimes challenging but often really fun. You can't play at a bar all the time. In Bakersfield, we just played with this teenage band called Dropping In in the basement of a pizzeria, because that's where the teens could be.
FUREIGH We don't always play with younger bands, but there was a string of dates where bands would ask us, "How do you tour" or "I'm working at a grocery store but I want music to be my life, how do you do that?" And I always want to tell them, you're already doing it! It's really sweet to have those moments of connection, and certainly there were people who tapped me into resources that changed my direction.
NIKI That's so weird, when I was in high school I felt that everyone was in a band. Every kid I knew when I was 14 through 18 was touring all the time and making it happen, but it was so much more affordable to do it then.
FUREIGH You grew up in the East Bay and I grew up on the peninsula. [Laughs.]
SHAUN In the East Bay, rock was one of our biggest exports in the '90s and 2000s. There was more of a DIY circuit. Now, I've noticed bands will do "US tours" that are basically just the East Coast and then the West Coast.
NIKI Not everyone does that, there are still lots of spots in-between and in the Midwest that people can play at, but the infrastructure needs to be there.
48H Speaking of DIY, what did you think about the BART punk show?
SHAUN I love the kids in Surprise Privilege, they actually played the Pride weekend show that Fureigh organized. They started doing shows during the lockdown of the pandemic. They would announce that they would be at some corner in Golden Gate Park, and show up, then rangers would come and kick them out a few songs in. They did two shows at a Chinese restaurant. None of them are of age to drink, they're not going to play bar shows. And they can't play Gilman every weekend.
A lot of venues like the Catalyst in Santa Cruz, Mission Records in SF, they don't exist anymore. There used to be lots more spaces for all-ages stuff. I think it's kind of neat they said, "OK we'll bring our own electricity and our own gear, pay for the fares"—they did everything above board. They researched peak times and off times. They never cease to amaze me. They won't repeat that because it was so ridiculous, but they'll end up doing something else ridiculous.
48H Tell me a little about the new album, Shout at the Hetero. I hear it takes a bit of a darker turn for you?
SHAUN Well, it's not really new anymore! We recorded it 20 months ago and we just got the vinyl from the pressing plant. We kind of broke down at some point and just said, "It's out, it's on the streaming sites."
Because I wrote it in isolation, I was in a darker headspace. It really reflects in that record. I think it's a great time capsule that captures where we were at—the meta "we" and the micro "we" of the band. We kept having to push back our studio time because of COVID precautions, and then we recorded it in a day. There are some interesting things on there that aren't typical of us, like "Surrender, Dorothy," which is six minutes long. That's epic for one of our songs, and most punk.
We did that record, and then we almost immediately started collaboratively writing a bunch of pop punk songs. Yay, we're back to happy! Our new single "Anal Beads" is ostensibly a love ballad, just to keep things interesting.
48H That's a great sequel into talking about the show, Valentine's Gay.
SHAUN A little over three years ago, I was standing in the office of Gilman. There was a new regime running things, queer and trans kids who had taken over the club. I remember hanging out with them and being stoked that all these baby gays were in charge. I looked over and see that Valentine's Day is open on the calendar, and it's a Saturday. So I jumped. I wrote "Middle-Aged Queers" on it, and then after I left I thought, "Valentine's Gay, why didn't I think of that." We did the first one that year with Copy Slut, Pleeay, and Cosmo.
It was really fun. We were still a relatively new band, but the kids showed up. Then we skipped 2021, and Gilman was closed in 2022. I scrambled last year and found another spot—outdoor at Oakland Secret—because I wanted this to be an annual event. So I'm stoked it's returning to Gilman, its rightful home.
48H Who else is on the bill this year and how did you choose them?
Shauners: It's us, Closet Monster, Sissyfit from Stockton, and Dropping In. We've been asking friends from further out who we've played with on the road, or have been wanting to play with. We're still waiting to hear back from a band from Reno called Heterophobia.
48H Wrapping things up with a big question: What is the continued importance of making noise as queers in the current conservative environment?
NIKI During COVID so many people discovered us on the Internet, and were just really excited to know that there was a queer punk band out there saying all these things, because they live in Florida or Texas, or the Midwest or Australia. They were so happy to have discovered the existence of us and people similar to them that are getting the message out there: OK to be who you are.
FUREIGH I've had "defiant joy" as my touchstone catchphrase for the last few years. We're at a point where Texas is now trying to make it illegal to be trans onstage. They wanted to target drag performers, which is bad enough, but the way the legislation was written effects anyone who doesn't project "traditional" gender stereotypes. It's not news to many of us that if they're coming for one of us they're coming for all of us—us being defined as broader than just queer and trans people—so it's important we stick together, and create spaces physically and otherwise, so people can meet up and just be there together. It's pretty powerful. We can use all the joy we can get.
SHAUN We just need to keep doing it so we can outlive our enemies. [Laughs] We were playing an out of town show and there was a biker gang in the other room, which I was pretty sure was there to fuck with us. But one of them came up to us and said they were there to make sure no one caused any problems for us. Things like that, where we're finding this support and connection are really important.