Franz Kafka is one of those artists who prove to be prophets. One particular image of his becomes more prophetic by the day. Already, over past decades, the Prague writer's descriptions of endless searches for justice, labyrinthine journeys through bureaucratic corridors, and elusive figures of authority have been celebrated by admissions that the world in which we live is "Kafkaesque," an adjective that applies to far more bureaucracy and injustice than that Kafka wrote about before his death in 1924.
One of Kafka's most striking and prophetic images opens the unfinished novel, Amerika. On page one, as the immigrant Karl Rossmann arrives by ship in the harbor of New York, "sunshine seemed to illumine the Statue of Liberty," and "The arm with the sword rose up as if newly stretched aloft."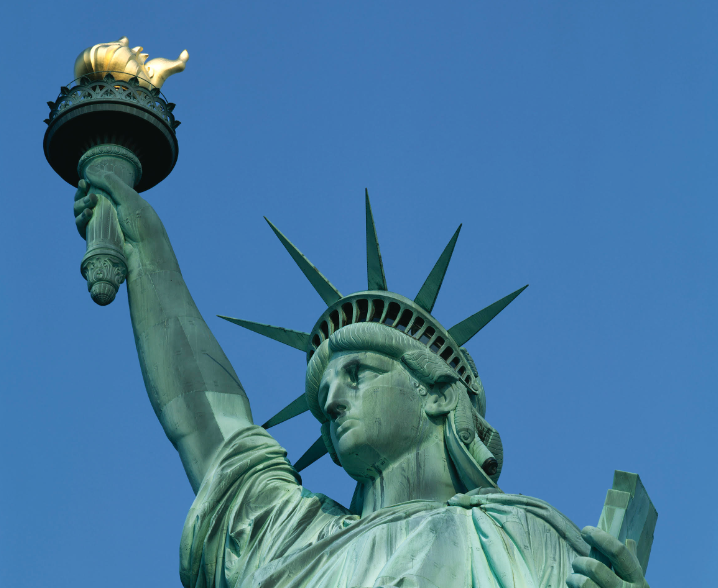 No one but Karl Rossmann had ever seen that sword before, as far as I know. Kafka's substitution of a sword for a torch in the statue's raised arm could have been an unintentional error. The writer never visited the United States, never saw the statue in person. But I prefer to think that the change from torch to sword was intentional: He thought the statue should hold a weapon which would warn all who approached American shores that the country was armed and dangerous.
Certainly, Karl Rossmann finds danger – physical assault, unemployment, lack of a home, in almost every chapter of the book except the last. (The closing chapter where he finds employment in the "Theatre of Oklahoma" offers a more optimistic vision of America, in which everyone can become an artist or at least work with artists.)
While poor, young immigrant Rossmann suffers from poverty and labor exploitation for most of the novel, the United States is not at war when he arrives. But over the years, while the book (first published in English in 1938, unpublished at the time of the author's death) has stayed the same, that opening image of Liberty has become more emblematic of our nation's tendency to be armed and threatening, as the military budget, war preparations, interventions and proxy wars fought with American weaponry continue to escalate.
For which reason I want to modestly propose that an artist or group of artists should construct a new Statue of Liberty, one that replicates Kafka's model.  The new statue need not be quite as large and prominently positioned as the existing monument in New York. It will be noticed wherever it is erected, if it features a raised sword in place of the flaming torch. Call it "Kafka's Statue of Liberty." Let it be known throughout the land.
The Pentagon should pay all the costs of this new artwork, as it will stand in tribute to the military might of the United States. Out of all those unaudited billions in the defense budget, the generals can surely find enough money to subsidize sculpture as well as the music of marching bands.
If some conservatives object that this new artwork will be a mockery of the country for which it stands, where guns and not swords rule, let them say so. I might reply that I find Kafka's statue more representative of our country's past if not its present. George Washington wore a sword every time he put on his uniform.
Then again, if patriots want to argue that we don't need a new sword of liberty, we have more than enough weapons already, we need fewer arms and more diplomacy, I might agree. But I'd still like to see Kafka's statue unveiled.
_________________________________________________________
Joel Schechter is the author of Satire and other books.