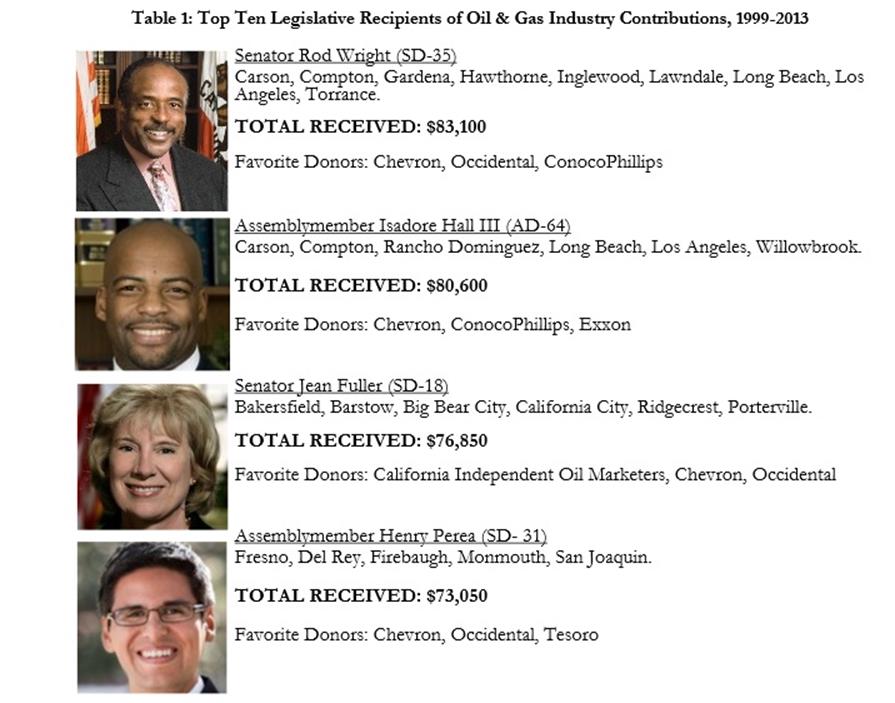 By Tim Redmond

The three Democrats in the state Senate who are now on forcible leave and under legal clouds all took substantial amounts of money from the oil industry, a new study by Common Cause and the Alliance of Californians for Community Empowerment shows.
And while it's hardly illegal to take campaign contributions from the oil industry and its lobbyists, the report shows how special interests can dominate the Legislature – even without bribery.
Senator Roderick Wright, who has been convicted of eight felonies, was the number one recipient of oil money in the entire Legislature, hauling in $83,100 in petrodollars, the study shows. Sen. Ron Calderon, who is facing bribery charges, was seventh on the list, with $64,886.
Sen. Leland Yee, who faces a long list of federal felony charges, was in the top 25, at $33,650 – despite the fact that he doesn't represent a part of the state the produces oil.
The report focuses on an upcoming oil severance tax vote, one that will test the integrity of the Legislature. The bill would add a modest tax to all oil pulled out the ground in California.
"The oil and gas industry does not have to pay taxes on resources they extract in California, a departure from the policy of most every other oil-producing state. Resource extraction can have an adverse environmental impact. Additionally, failing to tax this resource extraction and generate any revenue for California means less revenue for the State's general fund, further contributing to the inadequate funding of programs and services throughout the state," the report says.
The industry has already spent $15 million lobbying the Legislature this year, and has spent $143 million on politics in California in the past 15 years. Which is one reason it's so hard to get an oil-severance tax passed; it's been tried over and over, and always has died in the Legislature.
Assemblymember Tom Ammiano has a grand total of zero in oil-industry money. Assemblymember Phil Ting also managed to get elected without a single petrodollar. Sen. Mark Leno was very low on the list, with a fairly token $5,000 in oil money.
Throughout the Yee affidavit, you seen indications that the senator was desperate to raise money – so much so, the feds say, that he was willing to promise specific favors in exchange for contributions. The case demonstrates how ridiculous our system of campaign funding has become: While Yee was caught on tape, he's hardly the only politician to do the bidding of big donors.
The oil industry is a case in point, and the Oil and Gas Extraction Tax bill that will soon come before the Senate's Education and Governance and Finance Committees. The report shows that the chairs of both committees have received more than $17,000 in oil money.
Nobody will go to jail for this – but it could cost the state of California $2 billion.