Federal judge says that spying on Muslim and Arab communities may have no legitimate law-enforcement purpose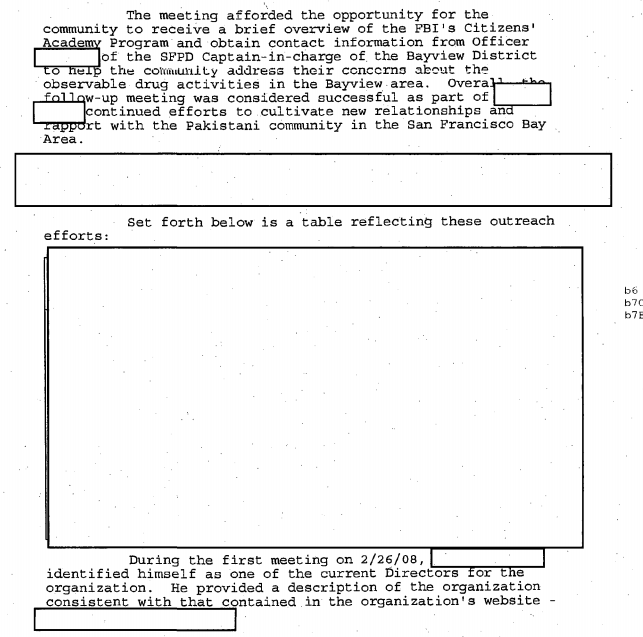 By Tim Redmond
MARCH 24, 2015 – In a major victory for open government, a federal judge has ruled that the FBI can't user a blanket "law-enforcement" exemption to keep secret records about its surveillance programs.
Judge Richard Seeborg ruled that much of the intelligence-gathering the feds have used to collect information on Muslim communities in the Bay Area had no fvalid law-enforcement purpose.
That means documents related to that surveillance can't be kept secret under the law-enforcement exemption to the Freedom of Information Act.
The ruling comes in a five-year-old case filed by the ACLU, the Asian Law Caucus and the now-shuttered Bay Guardian seeking records of FBI spying activities.
The documents already released show alarming patterns of abuse: The FBI routinely engaged in racial profiling and used training materials with derogatory stereotypes of Muslim and Arab Americans.
The documents showed, as the Guardian reported in 2012, that "The FBI's modern snoop program is racist, xenophobic, misdirected, dangerous — and really, really stupid."
Among other things, those materials contained statements like "The Arab mind is a Cluster thinker, while the Western mind tends to be a linear thinker" and that Islam "alleviated some of the weaknesses that inflicted the Arab mind."
The legal brief filed by the ACLU, with the cooperation of the law firm Morrison and Foerster, points out that the FBI has moved significantly away from its original mission of law enforcement, and has directed resources away from crime fighting and into its domestic spy programs.
The agency has released more than 50,000 pages of documents to the ACLU, but in many cases, key elements of those records have been withheld or redacted.
The law allows federal agencies to keep secret documents directly related to law enforcement activities. But as the ACLU argued in court, if the FBI spy program has no credible relationship to any valid law-enforcement purpose, that exemption shouldn't apply.
Judge Seeborg agreed. The agency could not demonstrate any rational connection between parts of its domestic surveillance program and any law-enforcement need, he wrote – which means that exemption to the FOIA act is invalid:
Because the FBI's explanation of the link between its law enforcement activities and the particular documents withheld fails to meet the [applicable] 'rational nexus' standard . . ., the FBI is altogether precluded from withholding information under [the law enforcement exemption].
Now the agency will have to meet with the plaintiffs and work out agreements on further disclosure that may shed more light on the domestic surveillance program and its tactics.
And while the ruling is only a district court decision, and thus sets no formal precedent, it confirms that spying is often different from legitimate law enforcement and may help further efforts to shed light on current FBI activities that involve the surveillance of American citizens who are not suspected of any specific crime.