"Revolutionary New Musical Revue" from classic troupe offers infectious tunes, lusty energy, punchy Pierrot.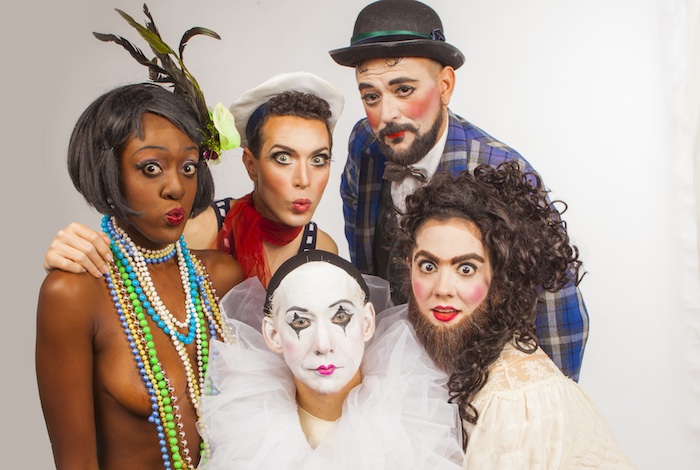 By Marke B.
BAY STAGES Looking for a sweet, diverting break from irony, snark, memes, constant updates, and other such annoying detritus of the contemporary situation? Allons-y!  The enchanted world of the Thrillpeddlers theatre troupe awaits, and new throwback revue Jewels of Paris is a charming antidote to any 21st century cynicism.
The Thrillpeddlers are direct descendants of the Cockettes, SF's classic acid-awash, drag-theatrical anarchists. (Scrumbly Koldewyn, a member of the original Cockettes and a certified local treasure, wrote much of the propulsive, operetta-pinching Jewels of Paris score, which he performs on piano throughout.) That means there's plenty of sparkling costumery, campy classical references, big musical numbers, inventive shoestring sets, gender-blending galore, utterly disarming — and welcome! — sincerity, groaner puns, and gorgeous bare bodies displayed frankly and joyfully.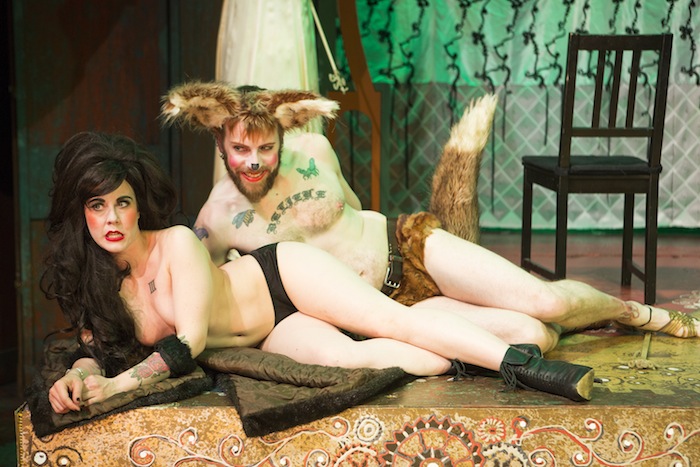 And why not? Jewels of Paris: A Revolutionary New Musical Revue is a tribute to the bawdy, fertile French milieu of the 1920s (and perhaps the SF of a couple decades ago). As Jewels' full-chorus opening number has it, "Everyone's a Genius in Paris," while it trots out loving, if slightly hazy, glimpses of such Parisian luminaries as Gertrude Stein, Ernest Hemingway, Joan Miro, Pablo Picasso, Eric Satie, Sergei Diaghilev, and many more.
But we don't stay gauzed in nostalgia for long, as director Russell Blackwood briskly moves the patented Thrillpeddler "Vaudeville meets burlesque with a touch of titillating grand guignol" proceedings along. Next we're hiding with a nude bearded lady (Bruna Palmeiro) in her mute lover's closet as she flees her circus freak show husband and his goons, or being captivated by a glamorous drag queen torch singer (Noah Haydon) belting out profound lyrics of loss and self-fulfillment, or meditating on life's rich pageant with a well-spoken Pierrot (you knew there'd be a mime in there), played by beloved local stagehound Birdie-Bob Watt.
In one of the two most arresting scenes, Dee Nathaniel as a Josephine Baker-like character is knowingly objectified as coming from a "savage" place in choral number "Love Locks Around a Continent," which blatantly takes on France's colonialism of the time (despite Baker's American roots) — before she steps out on her own in "But Underneath," using her magnetic sexuality and introspective voice to reclaim her individuality.
On the other end of the mood spectrum, we're thrust lovingly into a tawdry Commedia dell'arte-type scene, "Cupid's First Flight," in which cloud-shrouded deities Jupiter and Venus observe an infant Cupid (played by hunky, disrobed Andrew Darling) clumsily try out his quiver of passion, leading to all kinds of confusion down on Earth's forest floor — anthropomorphic foxes, minks, and cocks abound, of course.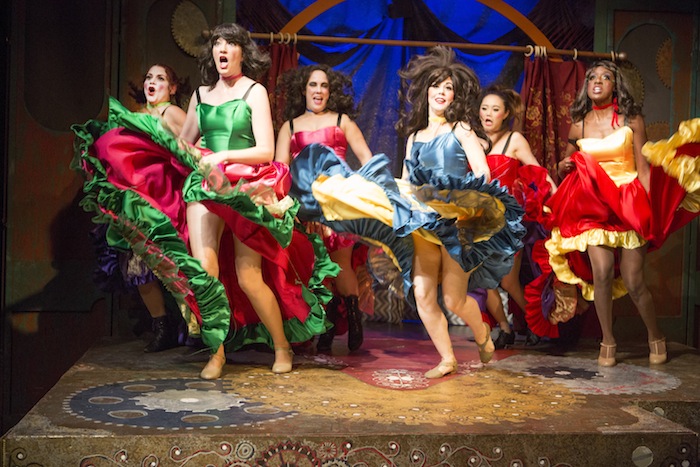 Soon enough however, we're watching Marie Antoinette singing "Let Them Eat Cock," and two hot boys in chef's hats and little else cheekily taking her advice. Or a parade of multisexual beauties breaking into the Can-Can. Or "Quasihomo and Lesmerelda." And then there's that scene in the Art Deco-like dungeon ….
Jewels of Paris is the lighthearted follow-up to Thrillpeddlers smash Pearls Over Shanghai and, as with that show, it turns less on nostalgia for a re-imagined historical period in the Libertine past (or at least a time when one could freely indulge in all the elaborately decorative Chinoiserie one wished), than for a realer San Francisco, now being shrouded in digital fog — a San Francisco where you could still moon the audience out of sheer delight, and where charm and camaraderie went hand-in-hand for the sake of  art and fun, rather than the dollar.
JEWELS OF PARIS
"A Revolutionary New Musical Revue"
Through May 2
Thu, Fri, Sat 8pm
$30-$35
Hypnodrome
575 1oth St., SF
Tickets and more info here.